In this final instalment of a three-part series, we put the spotlight on a SITizen who made a remarkable contribution to his IWSP company through machine vision technology.
Sunny Tan could have ended up pursuing a business degree, if not for his sheer persistence.
The Aerospace Electronics graduate from Temasek Polytechnic had applied for SIT's Mechanical Engineering degree programme but was unsuccessful on multiple occasions.
Closer to the completion of his National Service, he appealed to be accepted into the degree programme of his choice.
Once he matriculated, the 26-year-old seized the opportunity and never looked back. An eight-month Integrated Work Study Programme (IWSP) stint with JM Vistec System (JMVS) Pte Ltd was the perfect testbed to showcase his acquired skills during his course of study.
IWSP-Turned-Job Offer
In September 2021, Sunny was attached to the software team of JMVS, a local machine vision specialist in components and solutions, as a machine vision engineer.
Machine vision uses cameras to capture visual information from the surrounding environment. It then processes the images using a combination of hardware and software, and prepares the information for use in various applications.
Machine vision technology often uses specialised optics to acquire images. This approach lets certain characteristics of the image be processed, analysed and measured.
For example, a machine vision application as part of a manufacturing system can be used to analyse a certain characteristic of a part being manufactured on an assembly line.
It could determine if the part meets quality criteria and, if not, dispose of the part.
One of Sunny's notable contributions to JMVS during his IWSP was developing and integrating ABB Cobot's motion control to work with a standalone vision system. Cobots, or collaborative robots, work in partnership with employees. Unlike traditional industrial robots, cobots are designed to work with humans.
Machine vision, paired with AI and deep learning, expands the role of such collaborative robots in performing production-line tasks, such as picking, sorting, placing and performing a manufacturing line scan. 
Sunny showcased his industry project in the Industrial Transformation Asia-Pacific (Itap) 2021 exhibition at the Singapore Expo, which gathered field experts from across the region.  
He worked alongside research engineer Mr Alvin Tan Wei Wen from SIMTech's Advanced Imaging and Machine-vision (AIM) as part of the Technology for Enterprise Capability Upgrading (T-Up) programme for SMEs. The T-Up programme seconds A*STAR research scientists and engineers to local companies to support R&D projects, develop innovative products, and expand companies' capabilities.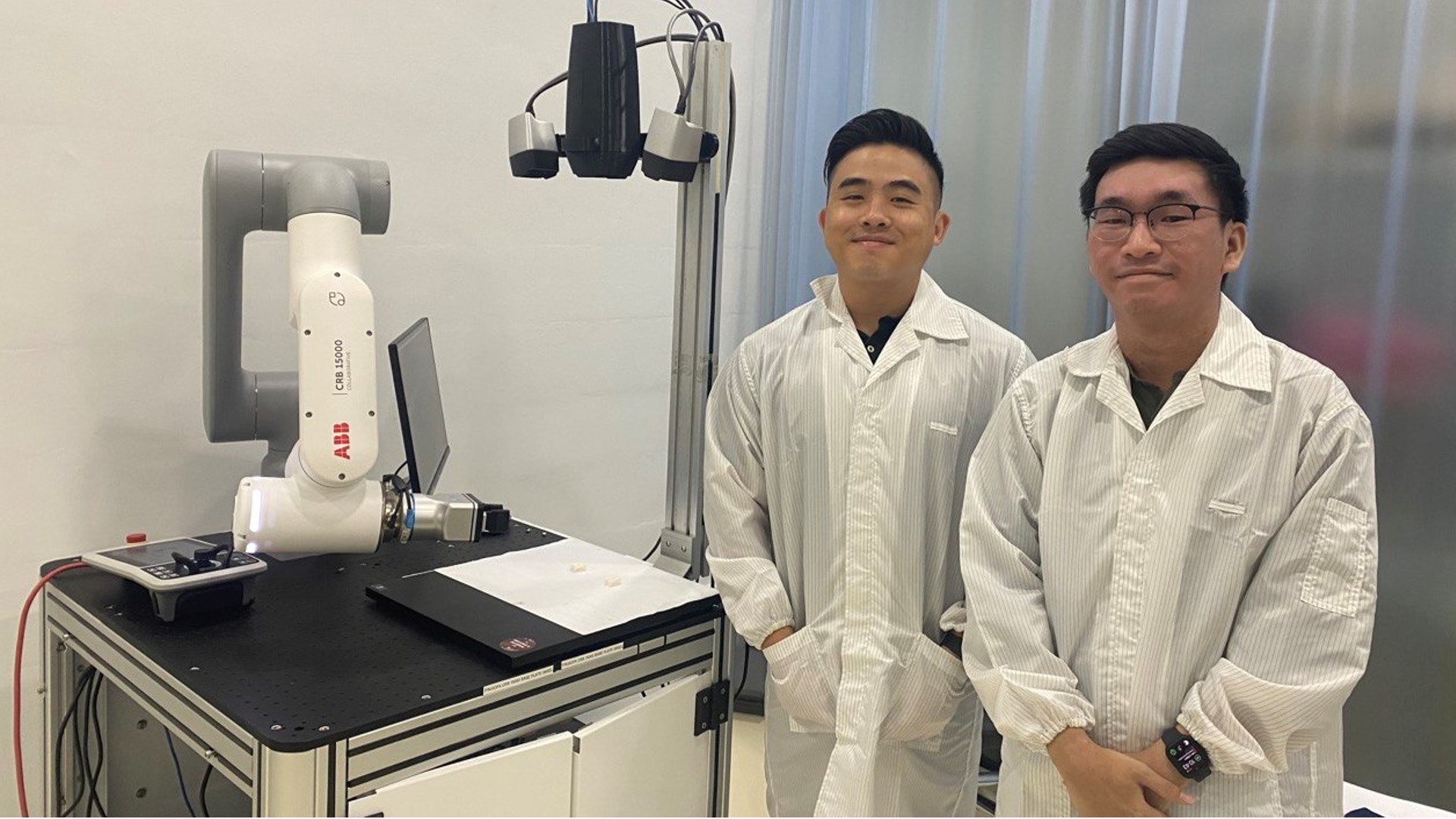 Sunny Tan (left) with his T-Up mentor, Mr Alvin Tan Wei Wen from SIMTech's Advanced Imaging and Machine-vision (AIM). (Photo: Tiffany Ong) 
Sunny said that his T-Up mentor guided him with advanced concepts in the fields of machine vision, 3D stereo imaging and coding, which helped him immensely with the industry projects he worked on.
"My IWSP at JMVS gave me first-hand experience developing new algorithms and software for machine vision applications. The opportunity to develop and deploy my code for actual applications was rewarding," said Sunny.
Following his IWSP, in his capstone project involving JMVS, Sunny developed a defect detection model for shipping boxes using an industry-ready deep learning software Neurocle.
Sunny was offered a full-time job with JMVS before completing his IWSP, which he accepted. He has been employed as an Assistant Engineering Manager with the company since September.
Sunny's career goal is to improve efficiencies in existing manufacturing processes using automation and machine vision. He believes that once a process is fully optimised, it paves the way for enhanced sustainability with more significant waste reduction.
The SITizen-DNA trait of 'able to learn, unlearn and relearn' is one that Sunny resonates with.
In his pursuit of manufacturing process improvisations, he said this trait allows him to experiment with new ways of doing things beyond the tried and tested methods.
"When faced with challenges, I always remind myself not to be afraid to step out of my comfort zone," said Sunny.