The aviation sector is one that has strong potential for growth. The Ngee Ann Kongsi Scholarship recipient Joanna Lee is ready to scale greater heights in her career with the Singapore Institute of Technology's Air Transport Management programme.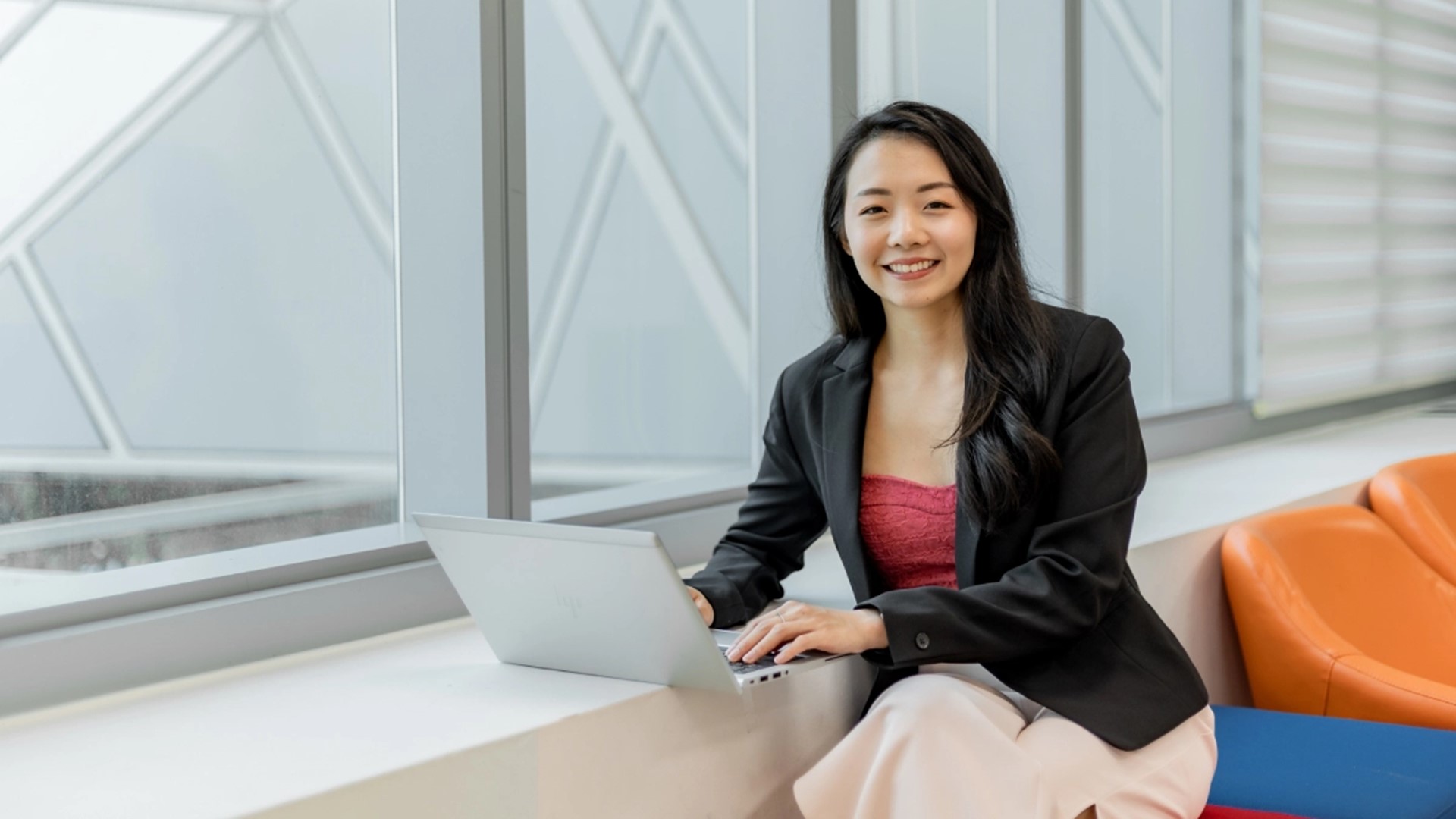 The Ngee Ann Kongsi Scholarship recipient Joanna Lee recently graduated from SIT's Bachelor of Science with Honours in Air Transport Management programme. (Photo: Jacqueline Ho)
Two years as a cabin crew member in Singapore Airlines (SIA) changed her life and Singapore Institute of Technology (SIT) provided her the path to success in a new field.
Joanna Lee is a graduate from SIT's Bachelor of Science with Honours in Air Transport Management programme. This three-year, direct honours degree programme is the first and only Air Transport Management degree programme offered by an autonomous university in Singapore, co-developed with the Civil Aviation Authority of Singapore and key members of the aviation industry.
Having recently completed her degree programme, the recipient of The Ngee Ann Kongsi Scholarship who was selected for her academic performance, leadership qualities and her passion to contribute back to society, reflected on the unique advantages of an SIT education and how the university had primed her for success in true SIT fashion.
From Summer Job to Serious Study
Initially, Joanna planned to study business in university like many of her peers. After all, she has a Diploma in Business Studies, specialising in Entrepreneurship, and nothing seemed more natural than for her to take her learning to the university level.
The SIA stint started out as merely a way to save up for her studies. However, after two years of flying, Joanna's outlook had completely changed. She wanted to make aviation her career.
As a cabin crew member, she was well-versed in the operational side of flying, but she knew she needed to learn more. She wanted to understand the industry from the inside out, beyond crew service and textbook examples.
The Groundwork Behind Air Transport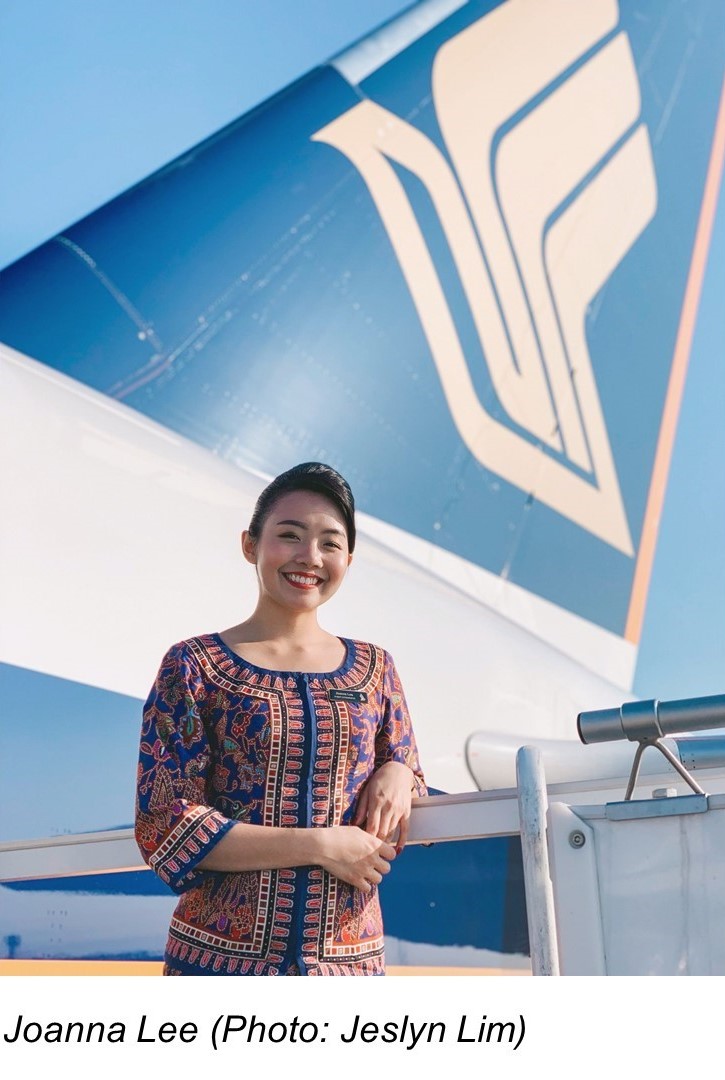 SIT's focus on applied learning and industry relevance made it her choice of university.
"As someone with working experience, I am a firm believer in applied and hands-on learning," said Joanna. She was particularly drawn to SIT's signature Integrated Work Study Programme (IWSP), an immersive on-the-job learning experience that is known to be far more in-depth than the usual internship. Joanna did her IWSP with SIA as a Global and Corporate Sales Intern, putting her studies into practical application. Others in her cohort were posted to airlines, airport and ground handling operators, as well as aviation consultancy firms.
But the IWSP is just one facet of SIT's industry-relevant curriculum.
Joanna spoke enthusiastically about how the holistic programme offerings equipped her with the knowledge needed to succeed in her own personal cause: alleviating airline waste generation.
Her time in SIA had opened her eyes to the amount of waste generated by commercial airline operations, sparking a desire to develop more effective waste management processes for airline operators.
To that end, specialised modules covered in her programme such as Airline Fleet Network and Planning, Revenue Analysis and Management and Aviation Human Factors provided in-depth knowledge, while industry and market-specific resources were readily available for students to further their research. The university regularly invites industry professionals to sharing sessions an and organises site visits to places of importance, such as SATS.
The SIT Pedagogy
All these reflect a guiding principle of the SIT education experience which emphasises skills that revitalise and empower communities over paper qualifications.
Joanna heartily endorsed this belief, having seen it in practice in her own degree programme. "The academic experience in SIT is unique as we get to meet like-minded course mates. Most of the undergraduates in my programme either have working experience or previously come from a related course. This makes it even more fun as we not only learn from classes or practicals, but also from each other."
Outside the classroom, she was an active member of the Judo Club, even serving as vice-president from 2019 to 2020. Learning to be a good team player led to her becoming an effective team member in group projects.
"SIT's pedagogy is focused on applied learning, where the university invests heavily to prepare students for the workforce. This helps us to acquire the skills that can bolster the industries and the larger community, rather than just equipping us with academic credentials," she said.
Why SIT
When asked what she would say to convince others to join SIT, Joanna answered eagerly, "SIT offers a unique way of learning supported by the university's distinctive pedagogy where students are industry practitioners in training. The training encompasses specialised modules, hands-on experience, onsite visits, partnerships with industry experts and of course, its highlight, the IWSP."
Learning in SIT is more about like-minded professionals sharing knowledge and sharpening one another's skills in the process. In such an environment, success is what you make of it. The sky is the limit.
This article was adapted from the BrightMinds Oct 2022 publication with the permission of CareerBuilder Singapore.