Programme Overview
Provider
Singapore Institute of Technology
Application period
10 January to 19 March 2023
The Bachelor of Science with Honours in Digital Supply Chain is a three-year direct honours, interdisciplinary supply chain degree programme with the across domains of ICT, Engineering, and Supply Chain Management.
Digital transformation driven by Industry 4.0 and national digitalisation initiatives, has given rise to demand for DSC graduates. E-commerce and COVID-19 have disrupted traditional supply chains, accentuating the need for digital transformation.
Supply chain and logistics companies are increasingly adopting new technologies and developing new capabilities in artificial intelligence (AI), the internet of things (IoT), and robotics as part of the transformation efforts.
You will possess a competitive advantage given that supply chain and logistics business models and operations are fast evolving with emerging digital technologies. You will acquire interdisciplinary knowledge in three focus areas:
Supply Chain Management will equip you with knowledge and skill sets in designing digital supply chain solutions.

ICT  forms the bedrock of foundational computer science and software engineering is essential for mastery of digital skills.

System and Engineering will equip you with knowledge and skill sets in conducting systems modelling, simulation, and managing the digital supply chain integration projects.
Upon graduation, you will take on technical roles in digital transformation, Industry 4.0, systems and solutions development, and systems and project management in the public or private sectors, or embark on further postgraduate study and join research institutions or academia.
Programme Highlights
Supply Chain 4.0
Supply Chain Solutions Design 
E-commerce Logistics
Cyber-physical Digital Twins in Supply Chain
Industrial Internet of Things and Data Analytics
Introduction to Software Engineering
Machine Learning
Capstone Project
Eight-month Integrated Work Study Programme (IWSP)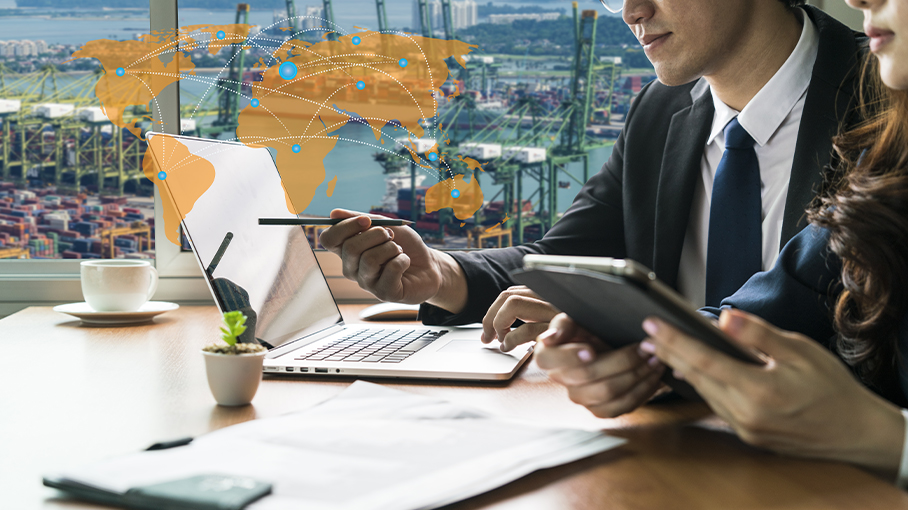 Industry Partnership
With the aim of growing graduates highly valued by the industry, a tight nexus has been forged between the curriculum offered by SIT and the specific skills needed by the industry. SIT works closely with our industry partners to ensure our students develop professional competencies through the Integrated Work Study Programme (IWSP), industry capstone projects, and applied research projects.
Through the established partnerships, students can look forward to gaining work attachment, capstone project collaboration and networking opportunities with SLA's pool of more than 600 members, leading regional supply chain management provider YCH, and premier supply chain technology solutions provider Y3 Technologies.
Integrated Work Study Programme
As part of applied learning, SIT offers extended work placements. Students will undertake an eight-month Integrated Work Study Programme (IWSP) with a company. You will learn to integrate theories through practice, acquire industry knowledge and develop professional skills in a real-world environment. IWSP provides an opportunity for students to immerse themselves in the placement company's business and culture. The practical experience will allow students to smoothly transit into a career upon graduation.
Term-In Term-Out (TITO)
Digital Supply Chain TITO curriculum structure will facilitate a TITO pathway. In each year of study, students will be spending one trimester out in partnering logistics & supply chain companies on a work-study attachment (inclusive of an eight-month IWSP and Capstone). Students will also visit and attend classes at partnering companies taught by industry experts.
Career Options
Supply Chain Solutions Engineer
Supply Chain Analyst
Data Scientist
Software Engineer
Business Process Analyst
Eligibility and Exemption
Diploma holders from any of the five local polytechnics, A-Level / IB Diploma graduates, and holders of equivalent Year 12 qualifications are welcome to apply.
Applicants with a strong proficiency and interest in Computing, Supply Chain, and Logistics are encouraged to apply.
A-Levels / IB Diploma Prerequisites
Obtained a good pass in any two of the following H1/H2 or SL/HL subjects: Mathematics, Physics, Chemistry, Computing, or Computer Science.
Module Exemptions
Subject to approval, diploma applicants may be granted module exemptions, based on the modules taken during their diploma.
Fees and Finances
Singapore Citizen

Subsidised fees per credit

$125.00

Tuition fees: $22,500.00 for SG Citizens / $97,784.00 Non-subsidised fees.
Permanent Resident

Subsidised fees per credit

$262.00

Tuition fees: $47,160.00 for Permanent Resident / $97,784.00 Non-subsidised fees.
International Student

Subsidised fees per credit

$356.40

Tuition fees: $64,152.00 for International Student / $97,784.00 Non-subsidised fees.
Industry Advisory Committee
The members of the Industry Advisory Committee for this programme are:
Mr Richard Lim Cherng Yih (Chairman)
Chairman
ST Logistics
Mr Loganathan Ramasamy
Chief Executive Officer
ST Logistics
Ms Ho Ghim Siew
CEO PRODUCTS PSA BDP
PSA International
Ms Fiona Fong Su Yin
Regional (APEC) HR Senior Director
DHL Express
Mr Hong Ching Chung
Operations Director
Venture Corporation Ltd
Mr Santhosh Ramanuja
Head of Supply Chain Technology
DFI Retail Group
Dr Victor Goh
Chief Executive Officer
Supply Chain and Logistics Academy (SCALA)
Mr Chang Pin Chuan
Senior Vice President
ST Logistics