A three-year applied research project between SIT and a Finnish university surmounted pandemic challenges and turned into a long-term partnership.
It was a serendipitous meeting halfway across the world that kickstarted the collaboration between the Singapore Institute of Technology (SIT) and Metropolia University of Applied Sciences in Helsinki.
When Eija Metsälä, a faculty member from Metropolia University of Applied Sciences, Finland, met a SIT faculty member at the European Congress of Radiology in 2019, she mooted the idea of a potential partnership between SIT and Metropolia University of Applied Sciences. The intent was to give students the opportunity to go on overseas student exchanges to get worldly perspectives through an education grant.
Assistant Professor Frank Guan from SIT's Infocomm Technology (ICT) cluster and Assistant Professor Cheryl Lian from the Health and Social Sciences (HSS) cluster saw the potential in research collaboration and pursued the partnership. Titled the "DOSIS (Artificial Intelligence (AI)-based solutions in dose management) project", the cross-university partnership focused on reviewing research on the applications of artificial intelligence (AI) to dose management in medical radiation imaging and radiation treatment. This multidisciplinary applied research project was funded by the Finish Education Ministry and involved SIT's academic staff and a group of 10 SIT undergraduates.
Intensive Virtual Interactions
Adopting a co-creative teaching and learning pedagogic process, a team of 17 ICT and radiography students from both universities worked together under the tutelage of five faculty members.
Co-creative learning is a pedagogic approach engaging students in taking responsibility for their own and fellow students' learning experience. This strategy combines student, lecturer and area of expertise to create the best learning environment for the student.
The faculty taught students academic writing where they were exposed to a range of peer-reviewed literature. They reviewed information presented in the research and new knowledge streams were created in the process.
The three-year collaboration, which started in 2019, yielded a prolific output including four peer-reviewed journal publications, two conference posters, as well as two oral conference presentations at the 2022 International World Congress of Medical Physics and Biomedical Engineering held at Sands Expo & Convention Centre, Singapore.
The success of the DOSIS project also led to the development of a pedagogical framework that was shared at the Applied Learning Conference hosted by SIT earlier this year.
As with many partnerships then, the COVID-19 pandemic threw a spanner in the works. Travel restrictions meant that the exchange trips originally planned for mid-2020 had to be curtailed. The DOSIS project team pivoted to intensive regular online meetings via Zoom, which proved equally effective and productive.
It was in mid-2022 when both sides finally met in person. The SIT team spent an eye-opening five days in Helsinki touring the Metropolia University of Applied Sciences, getting to know the culture and visiting local medtech start-ups, before taking their turn to play host to their Finnish counterparts.
From left: Asst Profs Cheryl Lian and Frank Guan with SITizens on board a ferry bound to Suomenlinna for a day trip during their visit to Finland in May 2022. (Photo: Frank Guan)
The Metropolia team's visit to Singapore in August 2022 included visits to the SIT campus and Singapore-based companies such as Philips ASEAN Pacific Centre, Siemens Healthineers and SenseTime International AI Innovation Hub.
Capping off the theme on the pivotal role that technological advancements play in creating healthcare solutions, the week-long trip culminated in an online hybrid seminar on 'Artificial Intelligence in Modern Medicine'. The lectures were delivered by a stellar line-up of industry experts, including Mr Sakari Soini, Founder of Disior Finland and Dr Lohendran Baskaran, Cardiologist, Senior Consultant at National Heart Centre Singapore and Director of the CVS.AI research lab.
Surging Forward with Mutual Benefits
Given the success of DOSIS, both institutions decided to bring their partnership to the next level by formalising relations through a five-year Memorandum of Understanding signed on 5 October 2022. This new chapter in the relationship promises multiple benefits for faculty and students on both sides, broadly covering the areas of educational exchange, student internships and joint research.
The Finnish delegation comprising Eija Metsälä (fourth from right) at SenseTime (Singapore) during their visit to Singapore in August this year. (Photo: SenseTime Singapore)
Working on a new applied research project, students and faculty from both universities will work with healthcare and health technology firms on small-scale R&D projects.
SIT students can look forward to further collaborations on research projects supervised by faculty members from the two universities. The possible option of taking credit-earning study modules taught by Metropolia University lecturers is also being explored. Additionally, Integrated Work Study Programme (IWSP) opportunities with Singapore and Finnish companies specialising in healthcare technology solutions are in the pipeline. SIT students selected for Overseas IWSP will be attached to Finnish healthcare and health technology firms for up to 12 months.
"This is like an improved version of the DOSIS project, with the partnership expanded to include industry players such as healthcare and health technology firms. Students could potentially work directly on industry projects in the form of literature study, trial testing or the development of a new technology," said Asst Prof Guan.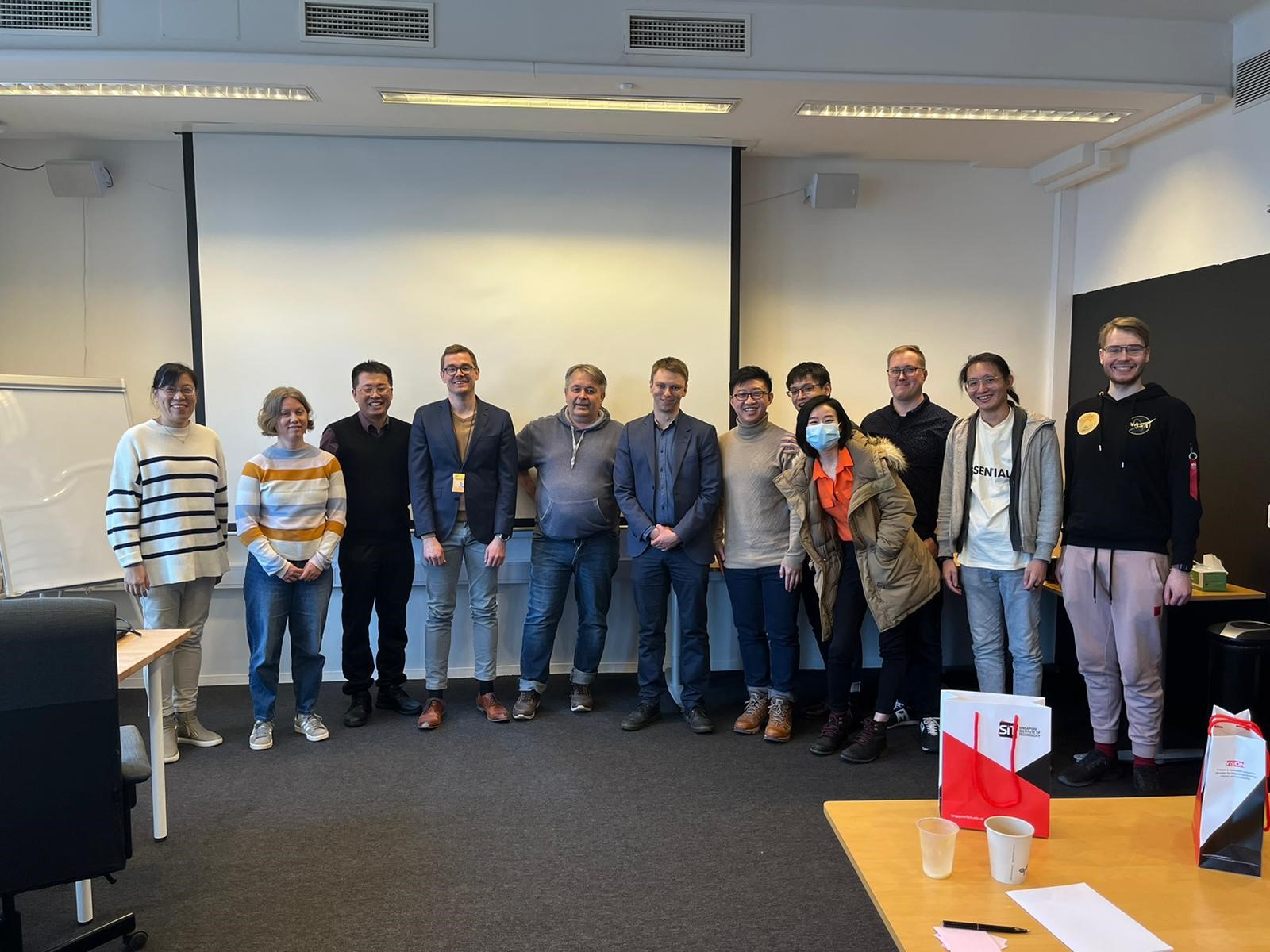 The SIT team at Disior company headquarters in Helsinki during their visit to Finland in May this year. (Photo: Eija Metsälä)
Celebrating Learning Cultures
The past three years has built close friendships and a deepened understanding of each other's academic cultures between the representatives of both institutions.
As Asst Prof Lian noted, the two universities share a similar profile and educational outlook, making them a natural fit for each other. Like SIT, the Metropolia University of Applied Sciences has strong links with business and industry, and focuses on delivering a practical educational experience for students. The Finnish institution also offers courses in varied academic disciplines such as business, design and communications, healthcare and social science, engineering and infocomm technology – all spread out over multiple campuses in the city, as does its Singapore counterpart.
"During our period of collaboration, we saw that students from both institutions were equally enthusiastic and dedicated to their academic work. Culturally, we have similar working styles. With no language barriers or adjustment issues during the whole collaboration, the team reaped a richly rewarding and fulfilling working experience," said Asst Prof Lian.