The SIT-Polytechnic Innovation Centre of Excellence (SPICE), one of four innovation centres within InnoHub, hosted its first industry knowledge sharing session on 14 October 2022 in partnership with the Singapore National Employers Federation (SNEF), supported by Enterprise Singapore (ESG). Targeted at local SMEs, the session, titled 'Enhance Your Competitive Edge Through Innovation', showcased how SIT provides a one-stop solutioning centre to help companies move up the innovation value chain.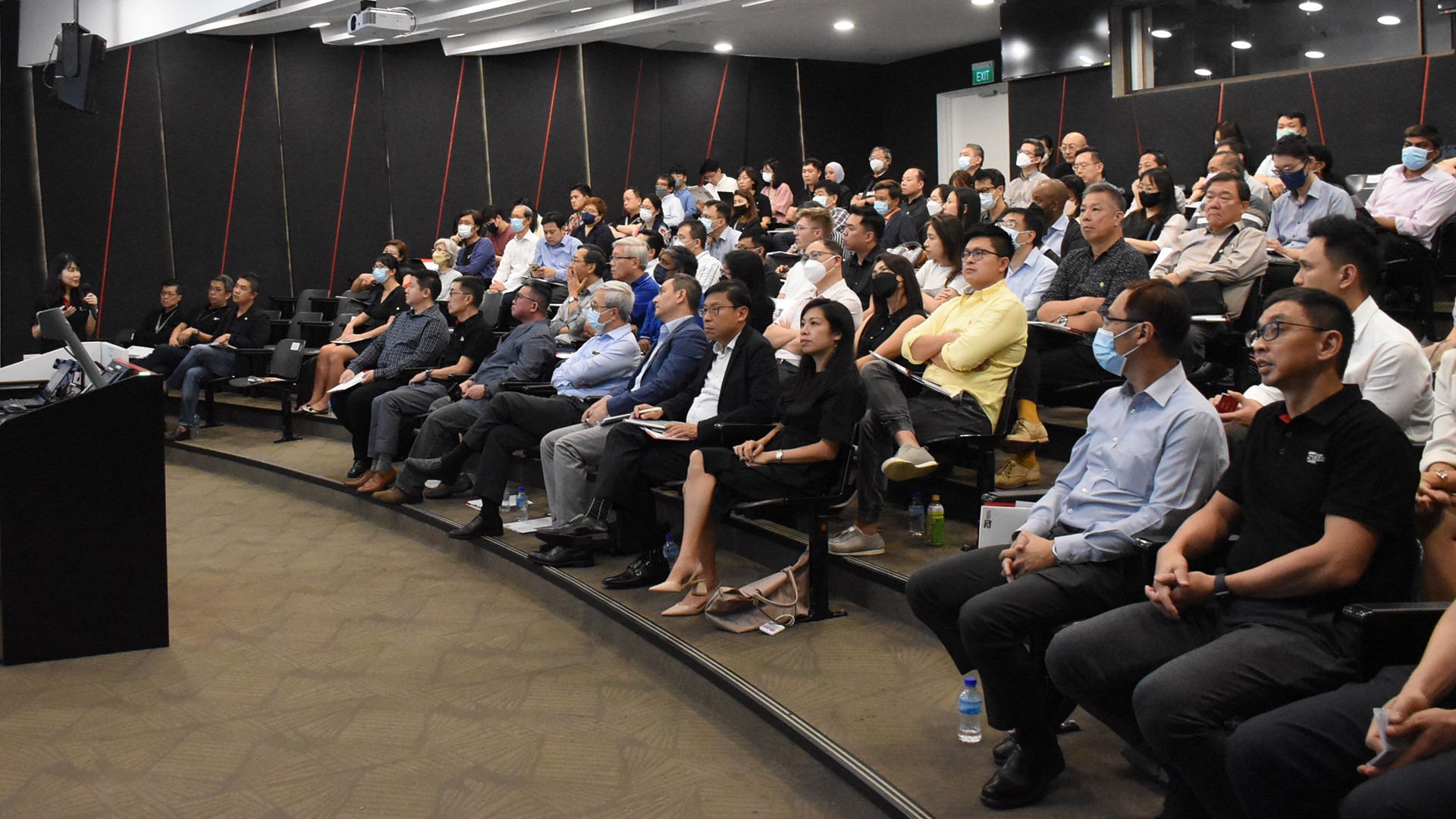 More than 100 attendees from local industries attended SPICE's first industry knowledge sharing session. (SIT Photo: Cloud3 Media)
Having studied the behaviour of crows in detail, the experts at wildlife consultancy Mastermark have found that crows are one of the smartest – and most destructive – birds around.
Certain crows can get especially aggressive at hawker centres as they look to get their fill of food. Their intellect also means that they are able to recognise traps easily and identify familiar faces, sometimes even harassing Mastermark's personnel.
As the firm, which is the largest wildlife consultancy in Southeast Asia, sought to develop a solution to trap these aggressive crows, they found themselves hitting a roadblock. While they know a lot about birds, they were not sure of the best possible ways to catch them.
They knew they needed the technical expertise of the Singapore Institute of Technology (SIT).
"We have a very good understanding of wildlife behaviour, but we are not engineers," said Mr Christopher Wee, Managing Director at Mastermark, at SIT's 'Enhance Your Competitive Edge Through Innovation' event. The sharing session was held in partnership with the Singapore National Employers Federation (SNEF), and supported by Enterprise Singapore (ESG), on 14 October 2022.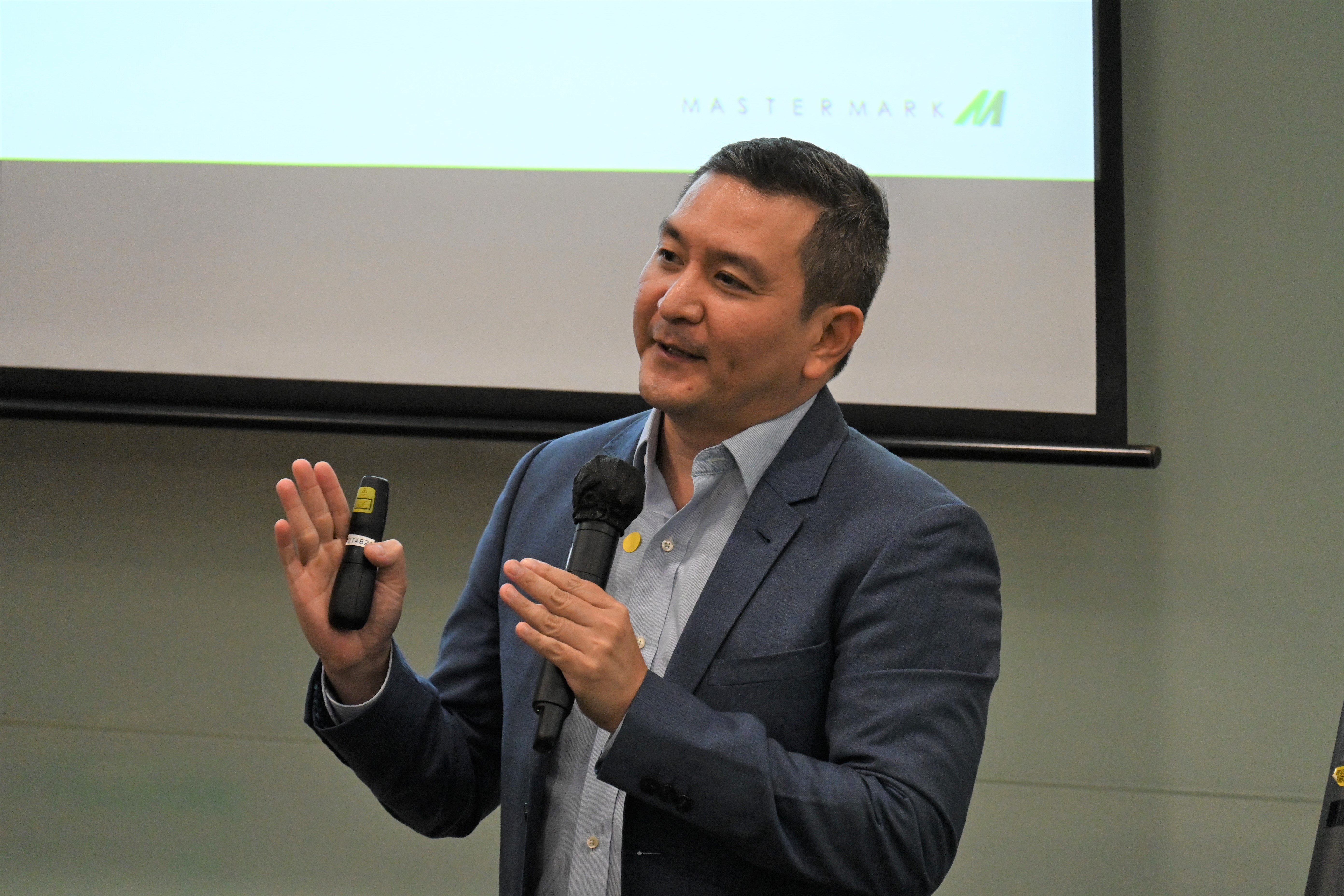 Mr Wee took the audience through the ideation and prototyping process that Mastermark had with InnoHub. (SIT Photo: Cloud3 Media)
Together, SIT and Mastermark developed a gravity bird trap for dustbins, ideal to outfox the smart crows.
A One-Stop Centre for Innovation
It is made possible by InnoHub, a new Applied Research Centre launched by SIT in April this year.
"Every organisation needs to transform or enhance its business through innovation, technology adoption and digitalisation to improve productivity and grow its product or service offerings," said Associate Professor Ivan Lee in his opening address at the event. A/Prof Lee is SIT's Vice President (Innovation), and also the Head of InnoHub.
SIT welcomed more than 100 attendees from various sectors, including the food, engineering, information and communications technology, and media industries. More than half of the participants were from local small and medium-sized enterprises (SMEs).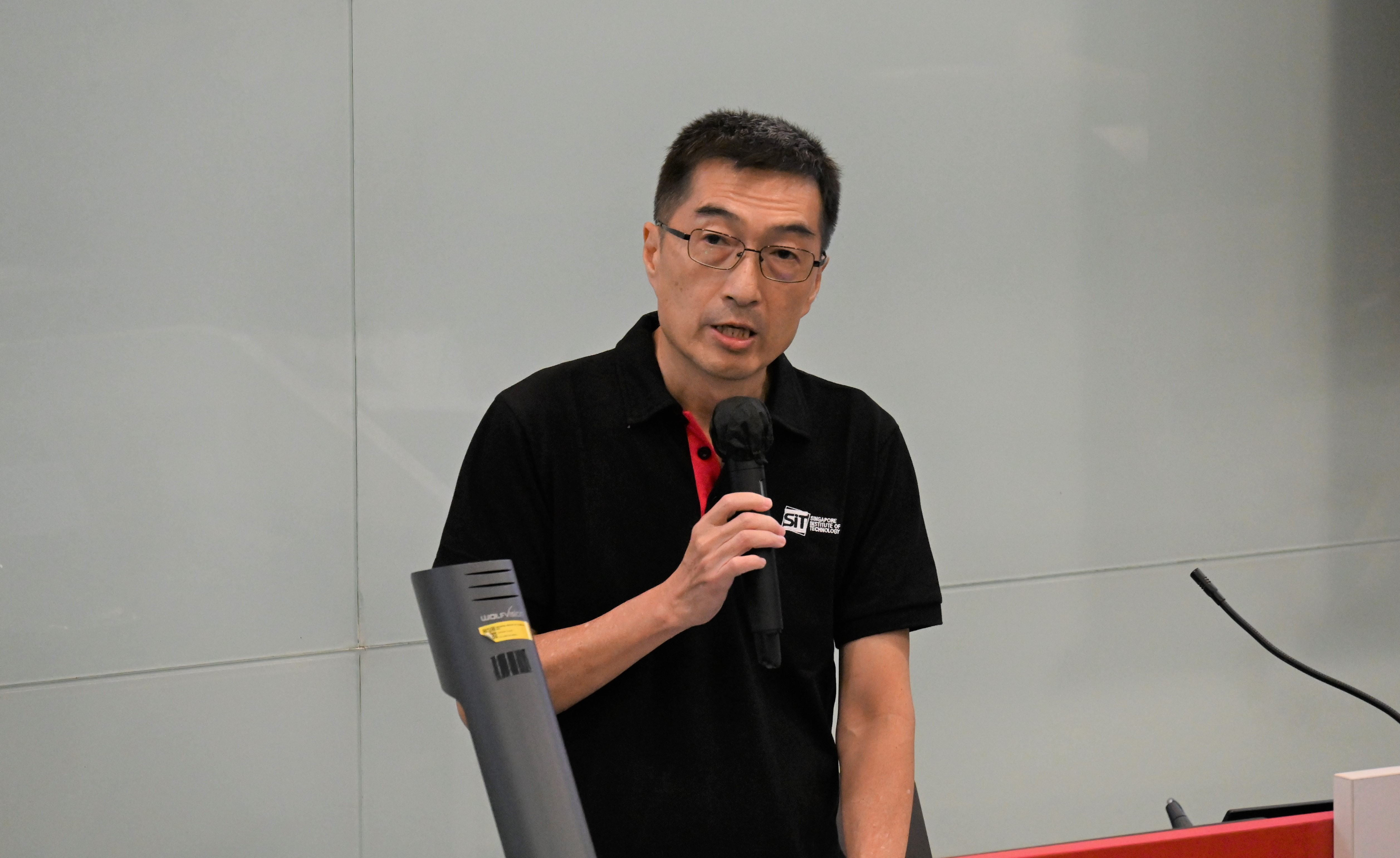 A/Prof Lee shared that InnoHub's objective as a strategic initiative of SIT is to help businesses in their transformation. (SIT Photo: Cloud3 Media)
InnoHub looks to fill a gap in Singapore's innovation ecosystem, noted A/Prof Lee. Despite the need for businesses to innovate, there is a glaring lack of readily available expertise, design innovation, prototyping and sample production facilities here.
Concurring with A/Prof Lee, Mr Wee shared, "We quickly realised that when we approach industry vendors who are able to design a product, they will only do the design part for you. Other stages, such as product assembly and prototyping, have to be outsourced to other companies, which costs time and money."
InnoHub is the missing piece of this puzzle. As a one-stop centre, the innovation process can be seen from start to end – from ideation to product development, from sample production to market testing – since their resources are consolidated within a single place.
This includes SIT's team of Professional Officers (PO) – all armed with years of industry experience – who possess the niche expertise to tackle the complex, multi-disciplinary problems faced by the industry.
Mastermark's gravity bird trap for dustbins took the combined efforts of an entire team of designers and engineers to come to fruition. Initially, Mastermark identified a 'hierarchy' among crows, in which two crows would 'test the waters' to determine that the food was safe for their alpha crow to eat. This meant that the trap needed to stay idle for two waves before activating on the third to secure the right bird.
Through multiple rounds of discussion, InnoHub's POs identified specific item requirements – the choice of motors and materials, how fast the trapdoor should close, a working platform return mechanism – and turned them into workable prototypes. There were quick turnarounds to implement adjustments.
The end product was a targeted, easily deployable, portable and repeatable trap – one that checked every box for Mastermark.
More importantly, InnoHub is open to all businesses, no matter what stage they are at in their innovation journeys.
Local food company Butterfingers similarly shared how they had recently approached the SIT-Polytechnic Innovation Centre of Excellence (SPICE), one of InnoHub's four innovation centres, to develop a new line of healthy food products on top of their usual fare of cakes and desserts.
"SPICE could understand our ideas and rapidly turn them into a project proposal for execution," said Ms Shannon Lua, owner of Butterfingers.
The company has embarked on a series of research and development projects with SPICE and its partners.
Ms Lua shared an introduction to the company and its plans to push out a line of healthy food products. (SIT Photo: Cloud3 Media)
The Complementary Force of Job Redesign
But a company's efforts to innovate and transform can only be considered successful if their staff are on board. In fact, recent studies have found that over 70 per cent of digital transformations fail to optmise their full potential, with the failure to develop and align human capital with digitalisation and business goals being a key reason.
Mr Ong Kieng Hwee of SNEF shared how the federation facilitates business and workforce transformation through job redesign. (SIT Photo: Cloud3 Media)
Recognising the importance of redesigning existing jobs and reskilling employees for continued business growth, InnoHub partnered SNEF for the event to showcase how the centre can provide holistic support for SMEs in their business transformation plans.
Said A/Prof Lee: "While SIT helps to create value for companies by co-developing innovative and commercially-viable solutions, SNEF adds value to their employees by redesigning their roles and functions to support new business solutions."
Mr Ong Kieng Hwee, Director, SNEF, echoed this sentiment: "With many SME employers still facing skill shortages, we hope that the event has helped the participants to understand how collaborations with centres such as InnoHub can meet SMEs' manpower needs for innovation. It is important to prepare and motivate their workforce to embrace digitalisation and innovation initiatives. Organisations can tap on the consultants funded by the Support for Job Redesign under Productivity Solutions Grant (PSG-JR) to redesign processes and jobs and change employee mindsets to ensure that their innovation efforts become a success."