Exemplifying the SITizen-DNA trait of 'Catalysts for Transformation' are four winners of the inaugural T-Up Eagles Awards.
The SME Tech Day held on 28 October by Agency for Science, Technology and Research (A*STAR) served to inspire small and medium enterprises (SMEs) to adopt an innovation mindset for growth and enhanced competitiveness.
Themed "Innovate for a Sustainable Future", the event featured tech-related sustainable solutions from private and public sectors and showcased the partnership between the research community and local enterprises through the Technology for Enterprise Capability Upgrading (T-Up) programme.
The T-Up programme seconds A*STAR research scientists and engineers (RSEs) to local companies to support R&D projects, develop innovative products, and expand  companies' capabilities. Since its inception in 2003, the T-Up scheme has seconded more than 1,000 scientists over 1,000 companies.
A key highlight of this year's SME Tech Day was the inaugural T-Up Eagles Awards, which recognise outstanding students from the Singapore Institute of Technology (SIT) who have excelled in their Integrated Work Study Programme (IWSP) at local SMEs. These students received mentorship from A*STAR RSEs during their IWSP.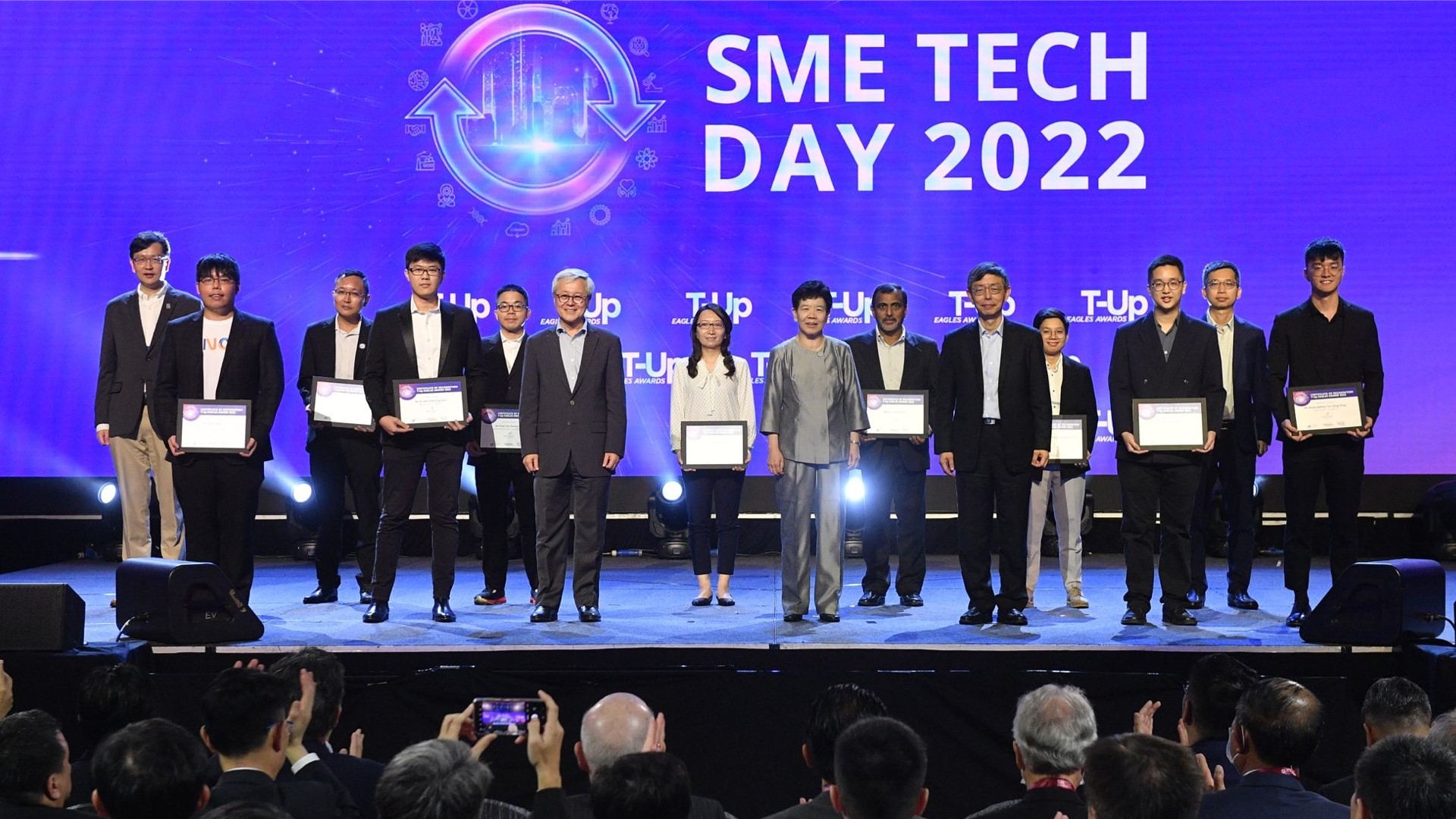 Recipients of the T-Up Eagles Award - Phua Wei Ji (second from left), Jerald Chan Eng Aun (fourth from left), Tang Hong Sheng (third from right) and Andy Ashley Tan (extreme right) - with Professor Chua Kee Chaing, SIT President (sixth from left) at the SME Tech Day Event organised by the Agency for Science, Technology and Research. (Photo: A*STAR)
The IWSP is a distinctive feature of SIT's degree programmes where students undertake up to 12 months of work attachment relevant to their course of study. The longer duration allows students to apply what they have learned in real work situations. 
This year's T-Up Eagles Award winners, Phua Wei Ji, Jerald Chan Eng Aun, Tang Hong Sheng and Andy Ashley Tan are engineering graduates from the Class of 2022. They have demonstrated the ability to improve efficiency and create value through innovation in the real world.
In the first of a three-part series, we celebrate the achievements of these graduates who have done SIT proud!
Phua Wei Ji, 27
Bachelor of Engineering with Honours in Information and Communications Technology majoring in Software Engineering
Wei Ji was attached to Anor Technologies Pte Ltd, a deep-tech company that uses AI and cloud computing for spectral analysis, for his IWSP. He was a software engineer at the company's R&D department.
He participated in developing various software solutions that Anor Technologies offers, including application design, implementation, and testing.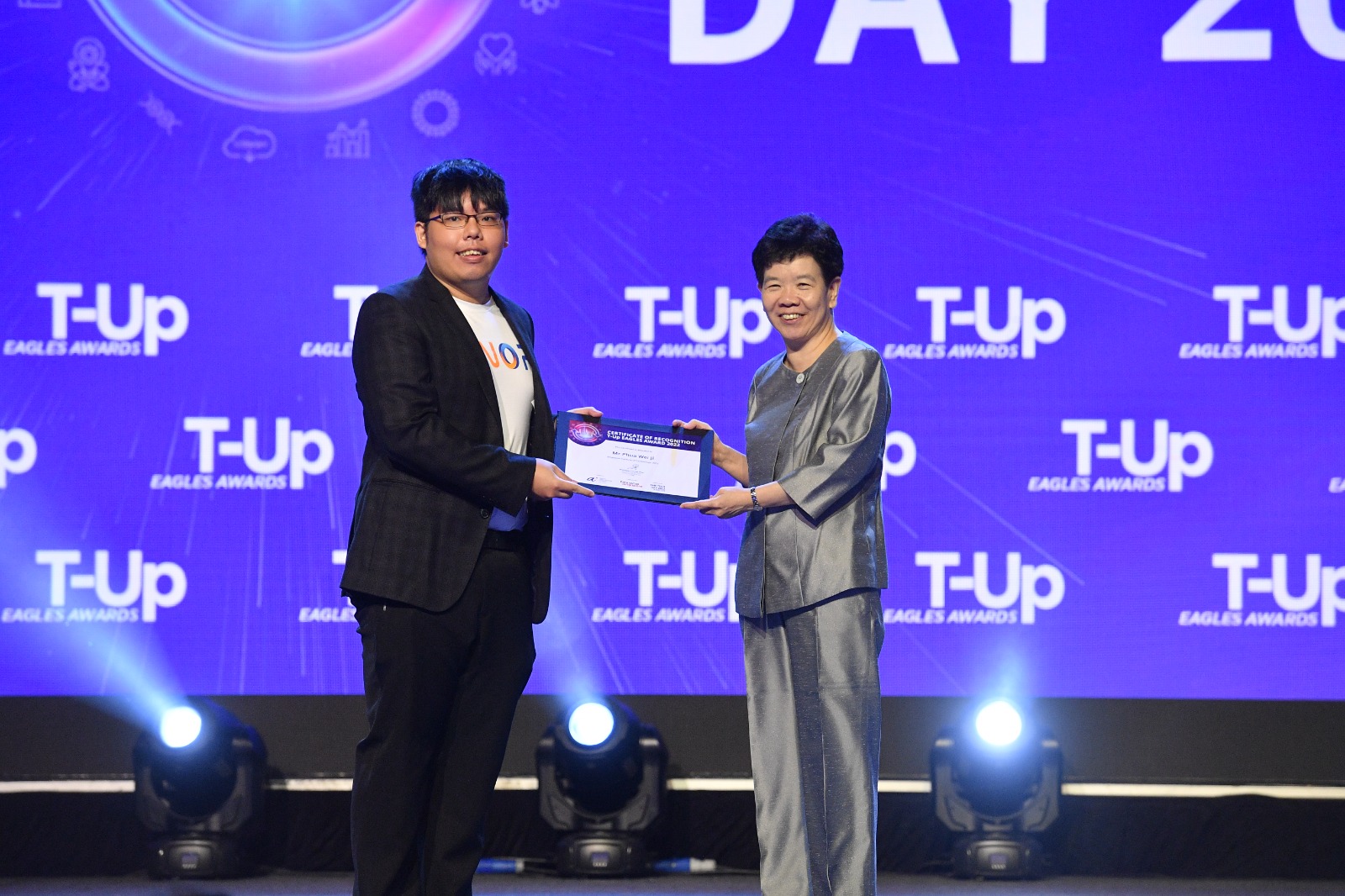 SIT graduate Phua Wei Ji (left) received the T-Up Eagles Award from Ms Chan Lai Fung, Permanent Secretary, National Research & Development. (Photo: A*STAR)
Wei Ji's first project was the development of a web application, Anor Data Analyzer Cloud (ADAC). It is a web portal that allows researchers to analyse collected drug and explosive data files. The user-friendly interface allows the uploading, processing, examination, and management of data files collected by Anor's Terahertz spectrometer device.
His second project was the development of Anor Data Analyzer (ADA) application hosted on Anor's spectrometer device. It quickly collects and identifies the components of drugs and chemicals through its spectral fingerprints, which are collected using Terahertz technologies.
Dr Lim Yee Fun, his T-Up mentor from the Institute of Materials Research and Engineering (IMRE), aided in developing the machine learning models to accurately predict the illegal drugs and explosives for the above projects.
"I have learned about the different types of machine learning models and frameworks used to build solutions quickly and easily. The interactions with my colleagues led me to think from different perspectives," said Wei Ji of his IWSP experience.
Anor Technologies offered Wei Ji a full-time software engineer position after completing the IWSP, which he accepted. He attributes the excellent work culture at Anor Technologies to this decision. He started work in April this year.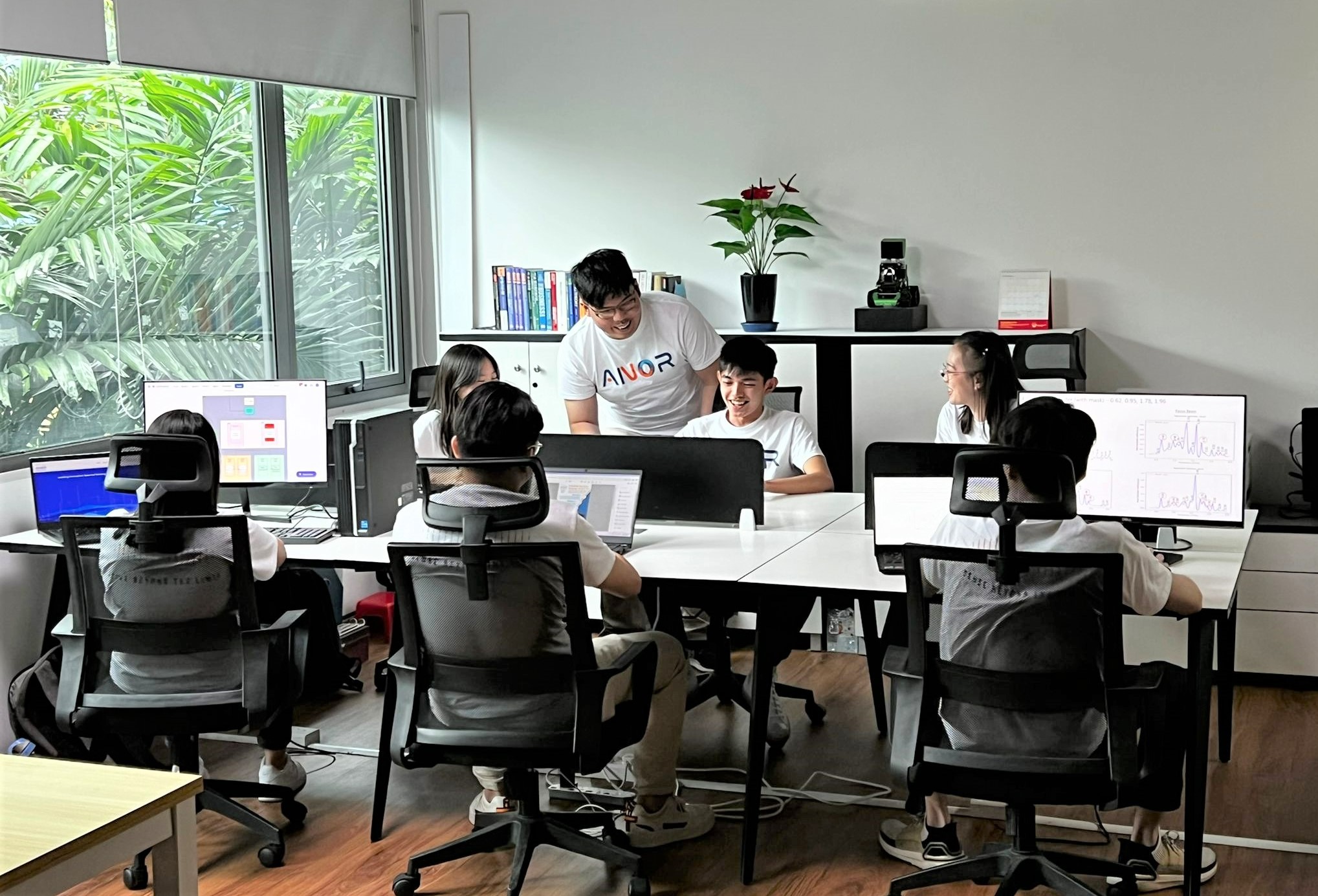 Wei Ji (standing) engaging in a discussion with fellow colleagues from Anor Technologies Pte Ltd. (Photo: Phua Wei Ji)
As a software engineer at Anor Technologies, Wei Ji leads a team of eight interns from the local polytechnics to oversee multiple software development projects.
He hopes to upgrade his skillsets further and in the long run, create software applications that would benefit the community at large.
"Heartiest congratulations to the four winners of the T-Up Eagles Award! This is another testament of IWSP demonstrating the work-readiness of SIT students and providing a talent pipeline to the industry. The IWSP will continue to develop students to be work-ready and relevant to the industry," said Ms Yeo May-Fung, Director, Centre for Career Readiness, SIT.