Pang Chu Hui, from the Class of 2022, gave up a stable career to break out of her comfort zone, go back to school, and embark on a new path. Her studies at SIT gave her renewed confidence and taught her to tap into her strengths and weaknesses.
Pang Chu Hui (centre) with her family members on her graduation day. (Photo: Pang Chu Hui)
Being a therapist has always been a dream of Chu Hui's. However, when she completed her A-Levels, there was no suitable degree programme offered by local universities at the time. Her parents were reluctant to let her go overseas for her studies, so she decided to pursue a Bachelor of Science in Life Sciences specialising in biomedical science at the National University of Singapore (NUS). She thought that it would still allow her to embark on a healthcare-related career.
After she graduated from NUS in 2015, she took up a job as a coordinator with the National University Health Systems, managing the HALT-CKD (Holistic Approach in Lowering and Tracking Chronic Kidney Disease) programme. She was attached to Clementi Polyclinic, where she counselled patients on preventive care specifically using the HALT-CKD Nemo framework, which is designed to empower patients with chronic diabetic kidney disease with skills to manage their own disease by making changes to their lifestyle. Still, being a therapist had always been at the back of her mind.
Taking a Chance on Her Dreams
At her workplace, Chu Hui got to know more about the role of an occupational therapist from fellow healthcare professionals, and realised that it was more aligned with her values and career goals. She also learnt that an occupational therapy degree was being offered by SIT, which meant that she would not need to travel abroad for her studies.
However, life doesn't always go according to plan. Being newly married with a mortgage and a spouse who was studying for his doctorate, she wondered if it was the right time.
Chu Hui spent a year thinking about whether she should go back to school. Apart from the financial sacrifice, she wasn't sure if she would be able to adapt to being a student again, having been out of school for three years.
She spoke to her family again about her interest and seeing how determined she was, they decided to support the idea. This time, she was able to take the leap. Through a sponsorship under Workforce Singapore's Career Conversion Programme, formerly known as the Professional Conversion Programme for healthcare, she got a place at SIT in 2018.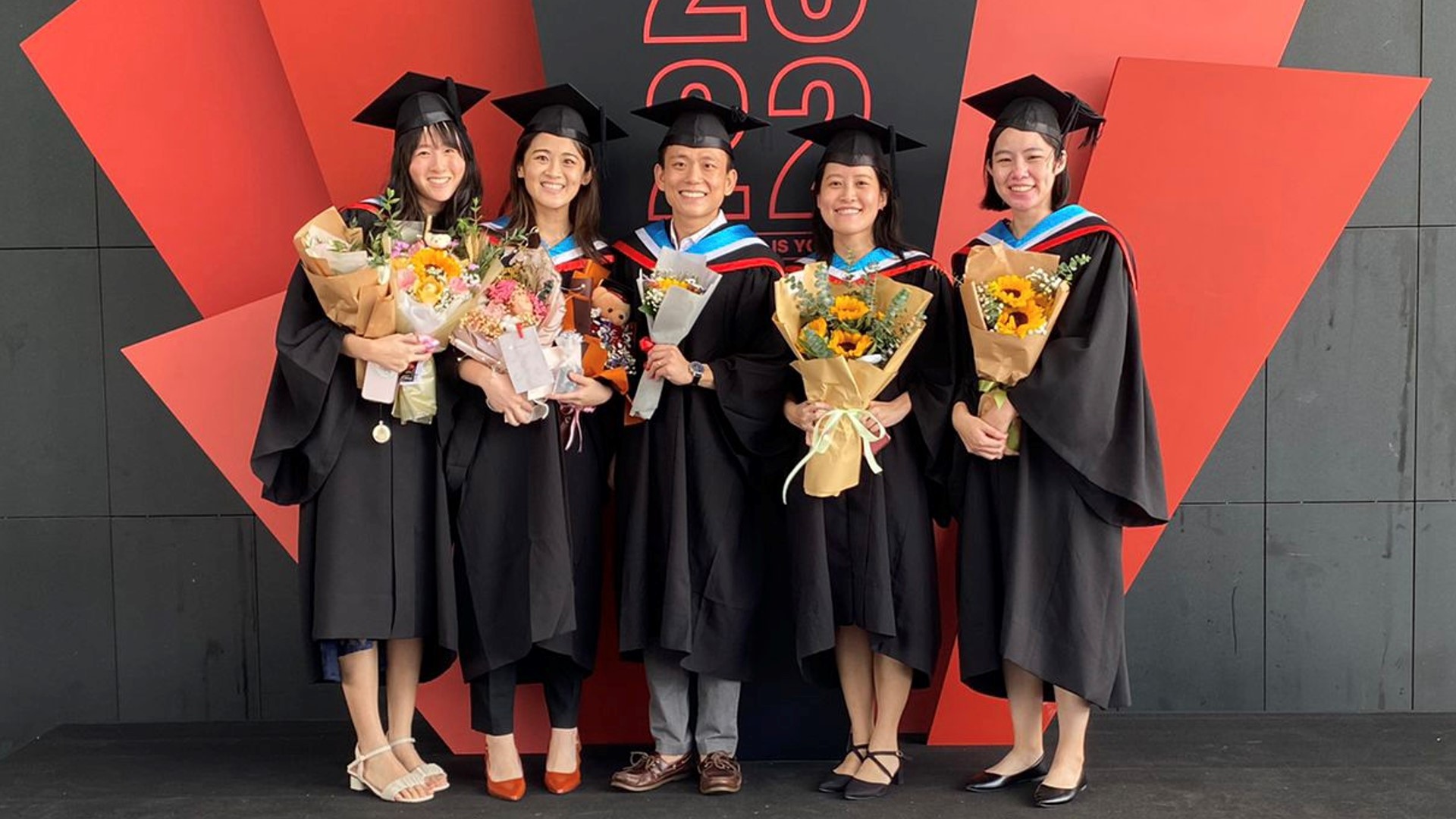 Celebrating her graduation with her course mates (left to right) Kor Xin Yeh, Tuieng Wei Ting, Lam Yeow Hing Bradley, Pang Chu Hui, Tan Bao Zhu. (Photo: Pang Chu Hui)
In October 2022, the 30-year-old was conferred the Bachelor of Science with Honours in Occupational Therapy degree. Since July 2022, she has worked at Khoo Teck Puat Hospital, where she has been gaining broad experience and knowledge in different specialisations.
No Regrets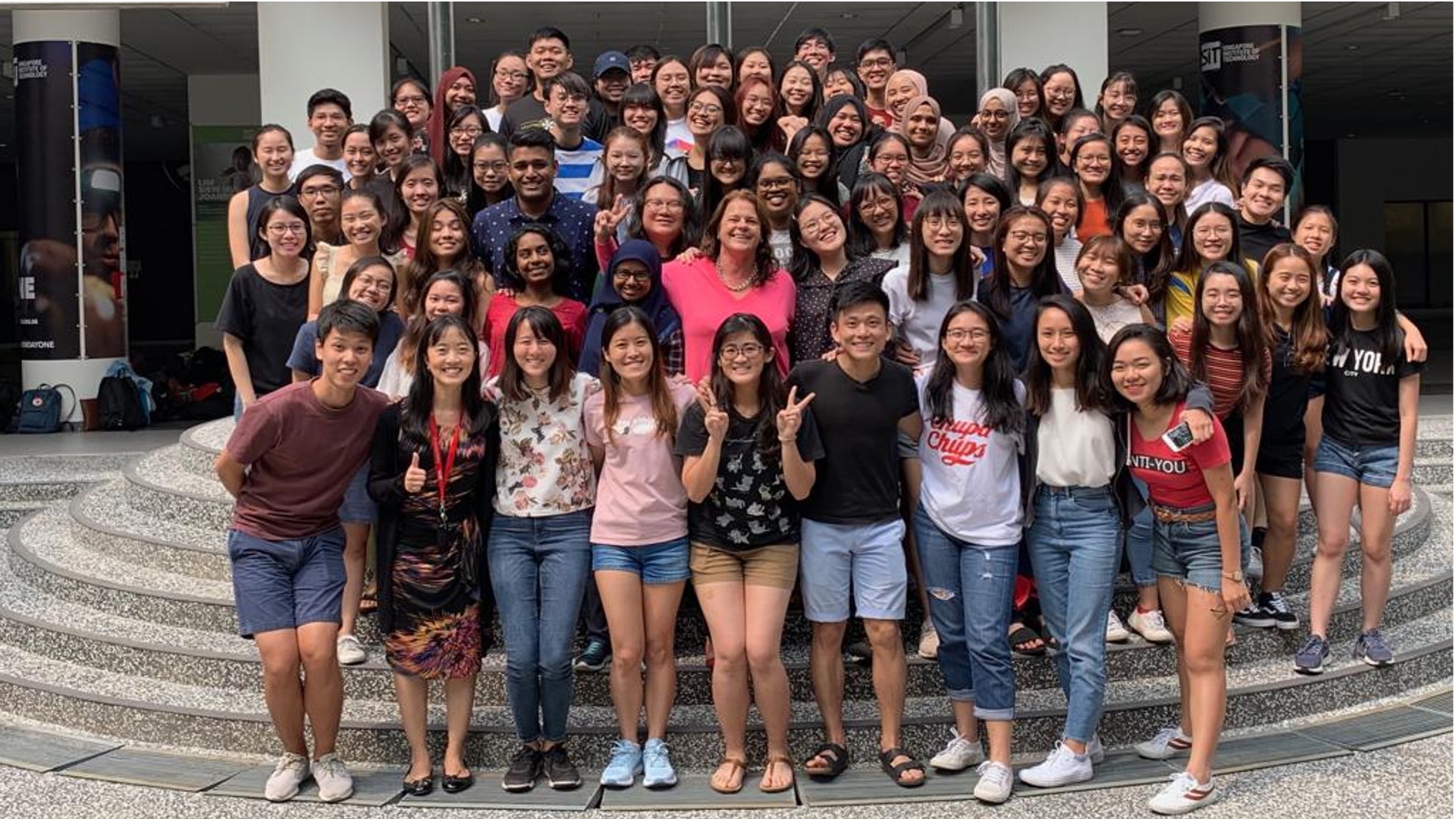 Chu Hui (1st row, 4th from the left) with her course mates and SIT faculty. (Photo: Pang Chu Hui)
Going back to school was a tough slog at times and she found it a challenge to stay on top of the rigorous curriculum. However, she has no regrets about abandoning the 'safety' of her former job to go back to her studies.
"I was once the kind of person who did not like to trouble others. However, my time at SIT has made me realise that we are part of a community no matter where we go. We are not alone and no one is expected to know everything; it is okay to reach out to professors and fellow course mates for support."
The best advice she received from her professor was to use her strengths to help her current clients, and her weaknesses to identify what else she needs to learn to help future clients.
Her advice to those who are thinking of taking a similar path is to go for it.
"It is natural to fear the unknown. Even if you do not know something, don't lose heart. As long as you give it a try, you will stand to gain from the experience. Learning is a process that never ends. Once you overcome your fear or the obstacles to learning, it becomes easier to take bigger chances on your dreams, and on yourself."