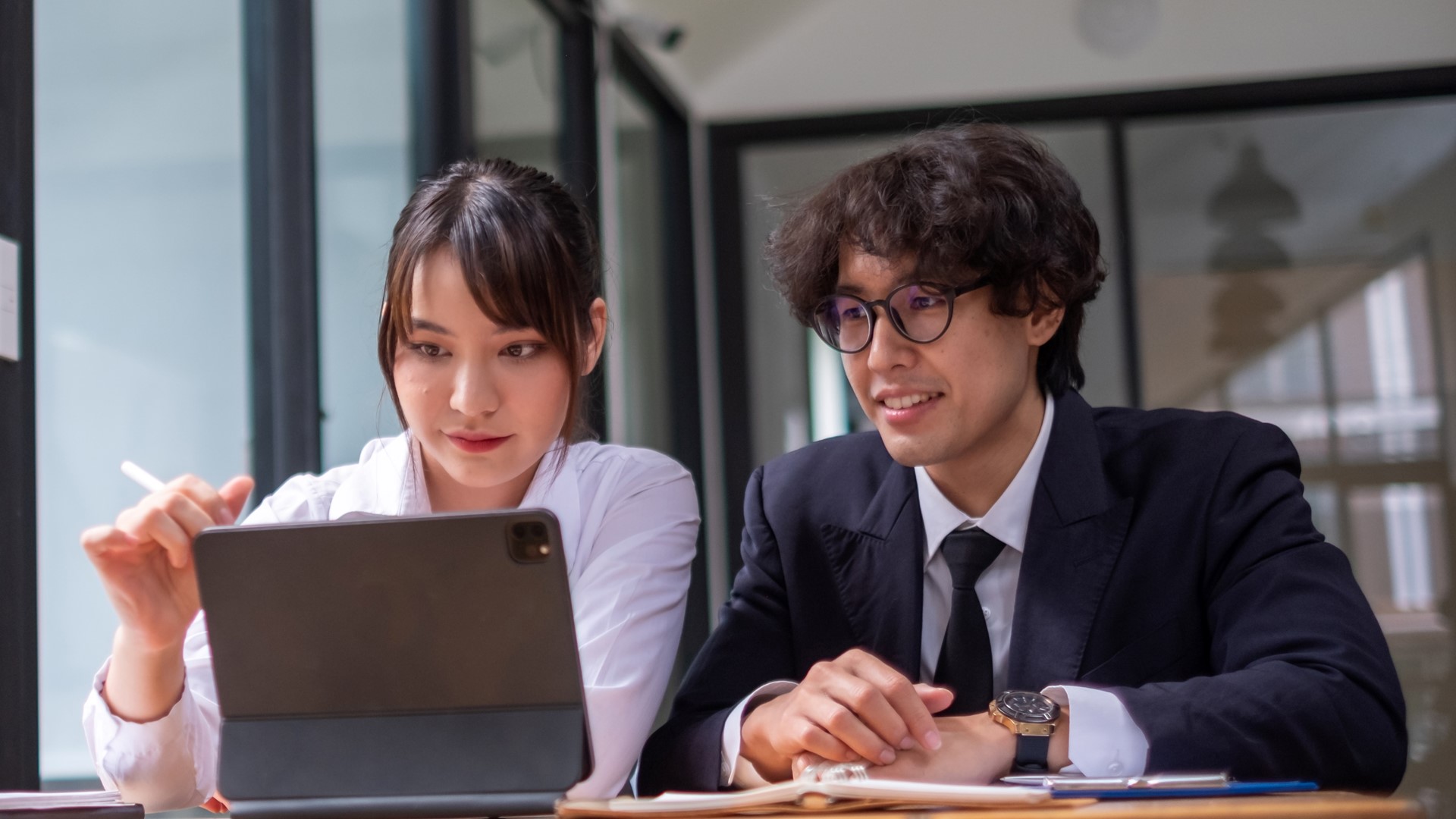 At the Singapore Institute of Technology (SIT), a group of 14 adult learners taking classes in cyber security is also a test case of a progressive workplace learning model. The full-time employees from cybersecurity firm Ensign InfoSecurity are among the pioneers of a unique tie-up with SIT. The university is looking to pilot a curriculum centred around a competency-based learning approach.
By working closely with industry players, the programme upskills employees while acknowledging their competencies in the field. "We recognise their prior skills and knowledge and map them into university credits," said Associate Professor Goh Weihan from the Infocomm Technology cluster at SIT. He is part of the team that designed the programme.
Better yet, the programme avoids eating into learners' personal time. "They study a few days and work a few days. We want to create a pathway that minimises disruptions to their work," he added.
This differentiates it from most part-time degree programmes, where learners are usually not exempted from modules and have to attend classes and complete assignments on their own time.
In return, employers benefit from a highly skilled workforce capable of innovating their business to meet ever-evolving technological demands. Two full-time competency-based programmes in cybersecurity and land transportation, which adopt different approaches in delivering existing SIT degree programmes to various companies, were launched last year.
Carried out in partnership with Ensign, the competency-based programme in cybersecurity is fully sponsored by the company and enrolled employees are expected to remain with the company for the duration of the programme.
The competency-based pathway is a win-win strategy for employers and employees, said A/Prof Goh, as it bolsters companies' talent retention while allowing employees to fulfil their aspirations of owning a degree.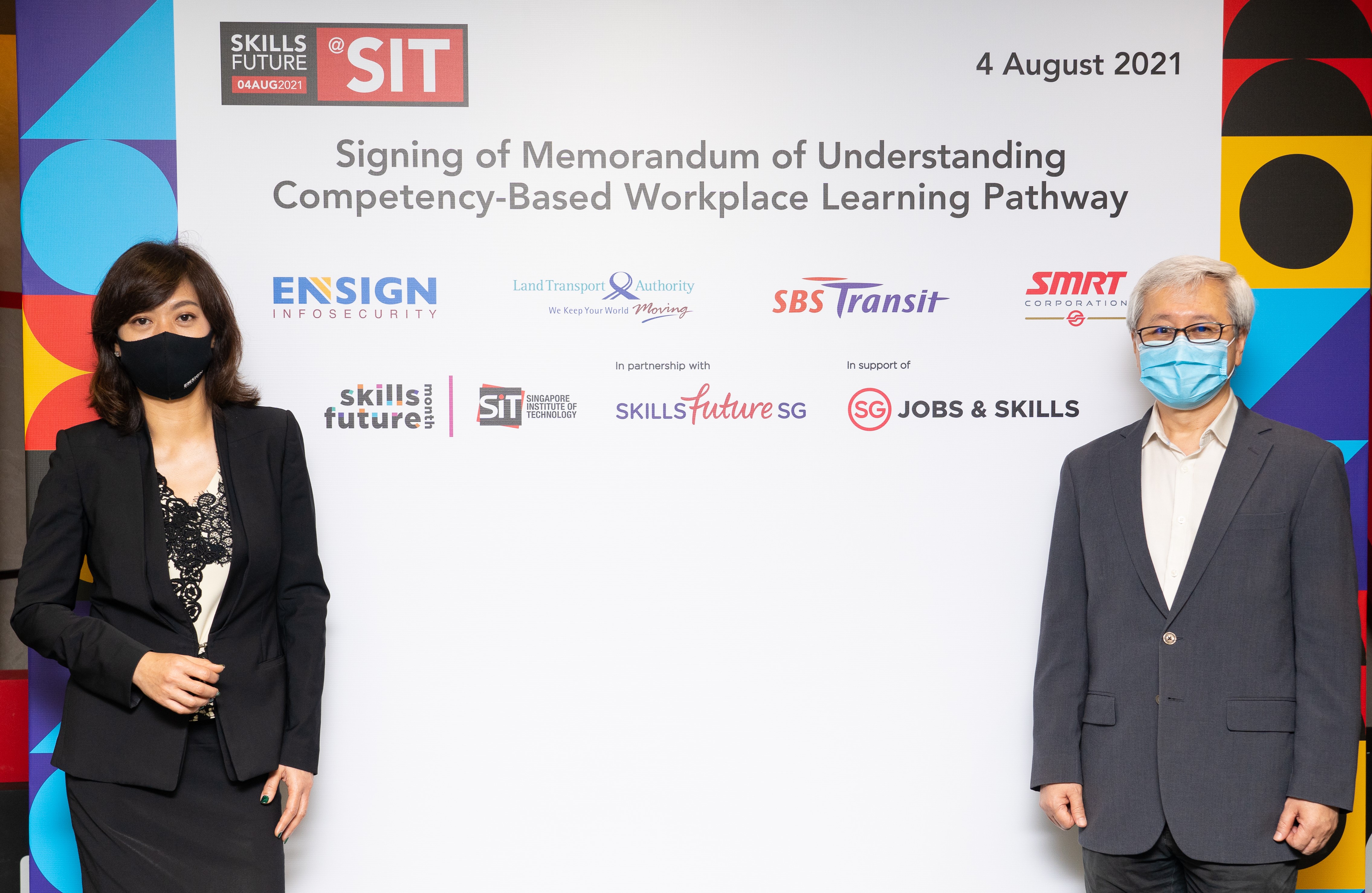 Ms Tammie Tham, Group Chief Executive Officer, Ensign InfoSecurity (left) and SIT President Prof Chua Kee Chaing (right) at the launch of the programme in 2021. (SIT Photo: Keng Photography/Tan Eng Keng)
A Uniquely Designed Curriculum
SIT's Information and Communications Technology (ICT) (Information Security) undergraduate degree comprises 39 modules, including a capstone project, where learners are expected to engage in real-world computing and cybersecurity work.
While the competency-based programme with Ensign is based on this degree, it is also tailored to plug learners' skill or competency gaps rather than focus on relaying pure academic knowledge.
In the first eight months, learners study the fundamentals of computing full-time with SIT and are excused from work while receiving full pay. From the last trimester of Year 1 onwards, they spend two half-days a week at SIT and the rest of their time at work.
"We work closely with the company to ensure that the schedule suits everyone. The company has to be invested in the learning for us to provide the necessary support to the learners," said A/Prof Goh.
The programme does not require learners to take lessons for competencies they already know – a unique selling point of this pathway.
Drawing an analogy between competency-based learning and cooking, Associate Professor Vivek Balachandran, Programme Leader of SIT's ICT (Information Security), said: "If the module is on, say, the basics of cooking and the learner already knows how to marinate, he or she can choose to skip that lesson and move on to learning how to fry, for example."
He added: "This is a holistic approach in understanding what learners have done in their career and what certificates they have taken so that we can exempt them from certain assessments."
If learners do not possess proof of such competencies, other methods are used to assess their knowledge. Some content, such as explaining various types of cyber attacks, is assessed via exams. Other content, like evaluating network security know-how, can be assessed only via hands-on practical work.
Under this provision, the learners from Ensign, whose experience in the field ranges from two to 16 years, can be exempted from up to four modules for a start. The number is set to rise as the university is looking to ramp up its competency-based assessment methods to allow learners to be exempted from more modules.
Key Learnings, One Year On
Scoping and selecting which undergraduate modules should be converted into competency-assessed modules has been a process of ongoing improvement for SIT and its partners.
For instance, the knowledge that deals with theoretical understanding is highly dependent on exam-based assessments and challenging to map to competency-based ones. But modules with hands-on assessments and skills-based exercises can be easily done so.
 "The experience of running this programme for about a year now has given us the insights to assess and convert relevant modules as we move forward," said A/Prof Balachandran.
One new thing SIT lecturers have implemented is a checklist of competencies to help them assess their learners in a structured manner. Learners may be expected to produce supporting documents to qualify for exemptions, such as an endorsement from companies they have worked with on projects requiring those skills.
So far, SIT has effectively adapted the ICT (IS) programme according to the needs of cybersecurity professionals at Ensign.
Ms Chiam Joo Ting (left), Threat Hunter, Managed Security Services, Ensign InfoSecurity, shares, "Lifelong learning is indispensable. Being on this programme allows me to keep learning and be updated with the latest knowledge and skills that I can apply in my career."  
While the learners may aspire to achieve a credential at the end of their studies, the university hopes that they recognise that being able to apply what they learn immediately remains the key benefit of competency-based education.
Credit: Ms Chiam's photo courtesy of Ensign InfoSecurity.