From an intern to a full-time employee and now, a team lead; the IWSP experience fast-tracked the career path of this SITizen.
In 2018, Chum Cong Zhu, a final-year Pharmaceutical Engineering student, was ready to embark on her Integrated Work Study Programme (IWSP).
A unique feature of SIT's degree and joint-degree programmes, the IWSP aims to foster applied learning and develop industry-ready graduates. Under the IWSP, students are attached to companies for eight to 12 months to gain practical, industry-specific experience.
As part of the IWSP application process, the university organised 'Career Nexus', a career networking event for students and prospective employers to meet and interact. "It was like a large-scale job fair for students to find out more about our prospective employers and make informed choices in our IWSP application," shared Cong Zhu, now 28.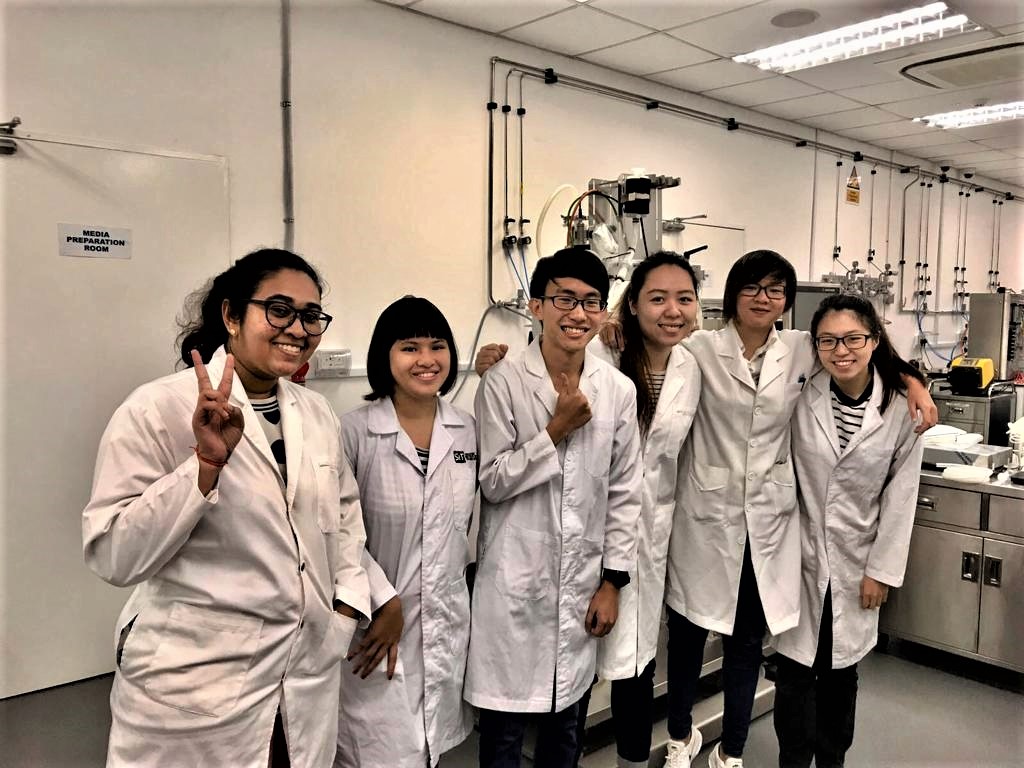 Cong Zhu (second from right) with her fellow coursemates from the Pharmaceutical Engineering degree programme. (Photo: Chum Cong Zhu)
During the IWSP selection process, students who were shortlisted for the jobs they applied to, also went through interviews, a simulation of the real-world job search experience.
Little did Cong Zhu imagine that her placement with AbbVie Operations Singapore Pte Ltd, a biopharmaceutical firm, was the start of a fruitful IWSP experience and the beginning of her thriving career as a biotechnologist.
In January 2018, Cong Zhu started her work attachment at AbbVie with a mix of nerves and excitement, all ready to learn. As a biotechnologist intern, she was part of the process operations team, whose roles included collecting Water for Injection (WFI) samples and performing daily routine sampling of bioreactors.
Experiencing 'Eureka' Moments
During her eight-month IWSP, Cong Zhu saw her theoretical studies and laboratory sessions come to life. Cong Zhu recalled, "At SIT, we worked in a team with small-scale bioreactors during our lab sessions. It all clicked after I had hands-on sessions at the manufacturing plant. It dawned on me that what I had learnt during my laboratory sessions was applicable to the actual manufacturing plant environment as I started working on larger-scale bioreactors."
Standard operating and safety practices, which she learned in class, were heavily reiterated and emphasised during the two-week orientation that the interns went through.
"The hands-on work at the manufacturing plant was an eye-opening experience. We saw how various organisational safety guidelines were implemented in real-life situations, as well as the importance they play in the manufacturing process," Cong Zhu recalled. "The knowledge gained from modules such as current Good Manufacturing Practices (cGMP), fermentation, operational excellence, and process control was also applied to daily operations and assigned tasks during the IWSP."
A major takeaway from her IWSP was the emphasis on teamwork. "At AbbVie, nobody works alone. You are either with a buddy or part of a team. When an individual makes a mistake, the entire team bears responsibility and rectifies the problem without pinpointing anyone," Cong Zhu shared.
From Intern to Team Lead
During her IWSP with AbbVie, Cong Zhu had the opportunity to specialise in bioreactors and fermentation suits.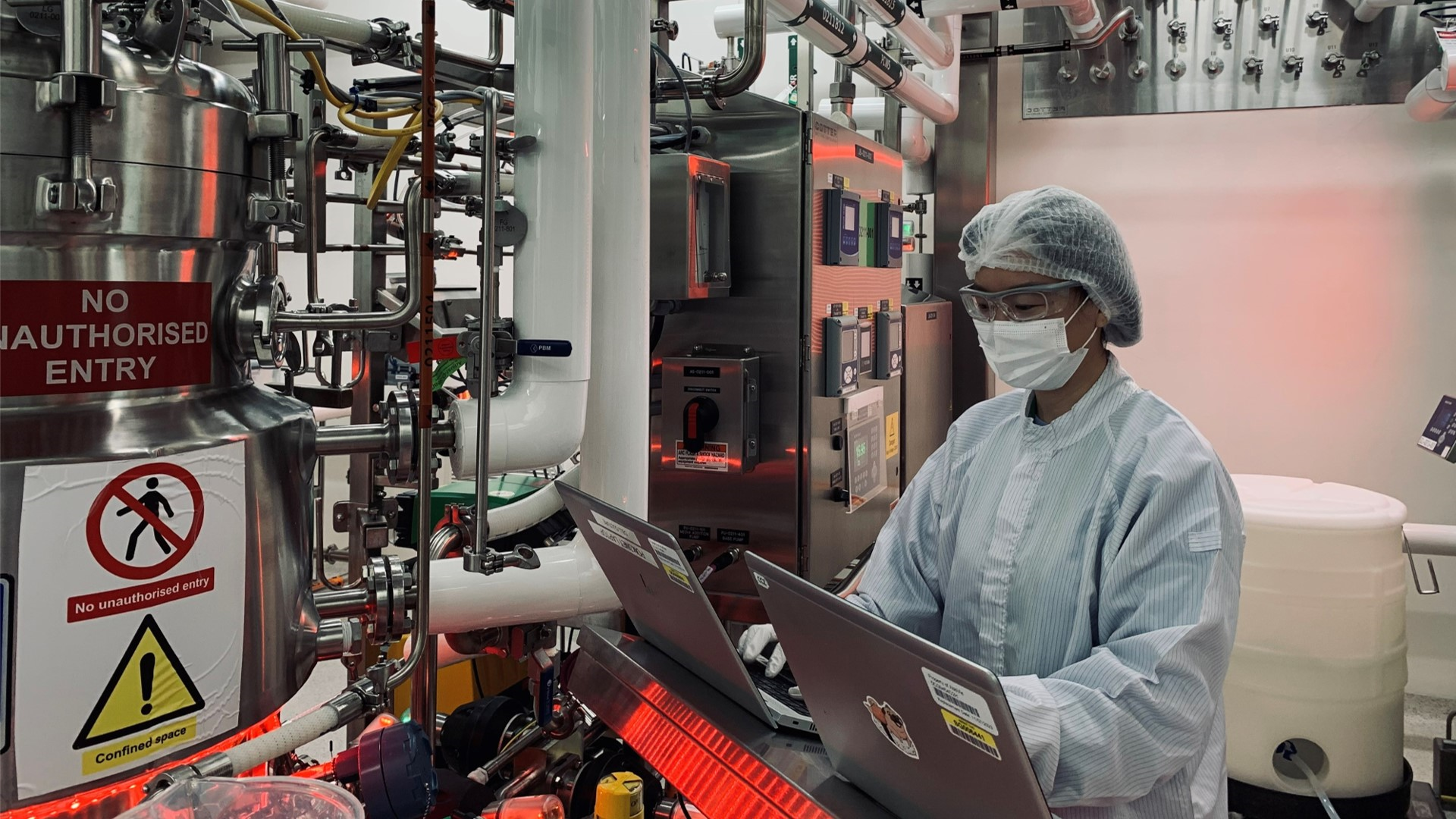 In five years, Cong Zhu rose up the ranks in AbbVie from a biotechnologist intern to a team leader in the biomanufacturing department. (Photo: AbbVie Operations Singapore Pte Ltd)
"I felt that the eight-month duration was just sufficient for me to master the operational processes," Cong Zhu said. "I began by shadowing my seniors and eventually became qualified to sign off supporting processes, such as manual cell counts, probe standardisation, and biological plant water sampling."
She impressed her supervisors during her IWSP stint, where she recommended improving the workflow of the harvest process by integrating two separate processes into one, which would translate to savings in time and resources for the company.
Cong Zhu joined AbbVie full-time in 2019 after her graduation. She is now a biotechnologist and team lead in the biomanufacturing department. As part of her job scope, she performs functions associated with cGMP manufacturing operations within the biologics production facility, and supports the shop floor activities in cell culture operations.
"I like the work culture at AbbVie. The senior co-workers are caring, nurturing and make intentional efforts to check in on us regularly. My work is interesting, and I think AbbVie is a good place to learn and grow. The knowledge and skills gained during my IWSP are useful in my current job responsibilities, making my transition to AbbVie after graduation almost seamless."
Drawing inspiration from the positive experiences she had from her colleagues, Cong Zhu hopes to be a capable team leader and mentor to her teammates.
"During her IWSP, Cong Zhu was already proficient in reading the Piping and Instrumentation Diagram (P&ID), which details the piping and related components of a physical process flow. We placed her on the company's Team Lead programme given her technical competence and ability to offer practical solutions to process-related problems. The programme will further help to stimulate interest in her area of work and hone her leadership skills," said Nicolette Yang, Manufacturing Supervisor at AbbVie Operations Singapore Pte Ltd.