Three final-year student groups were recognised for their outstanding innovations at the annual Food Technology Project Exhibition and Industry Engagement Day.
From reducing food waste to promoting the use of native herbs and preserving ocean habitats, 11 groups of students from the SIT-Massey University Bachelor of Food Technology (Hons) degree programme tackled pressing issues while developing innovative food products from scratch for their final-year projects.
Their design thinking skills and creativity were put in the spotlight at the Food Technology Project Exhibition and Industry Engagement Day held on 14 April 2023 at SIT, where they presented their projects in a competitive pitch and exhibition.
After an exciting round of presentations, three projects were awarded 'Best Product' for their potential impact on environmental sustainability and health while factoring in commercial viability.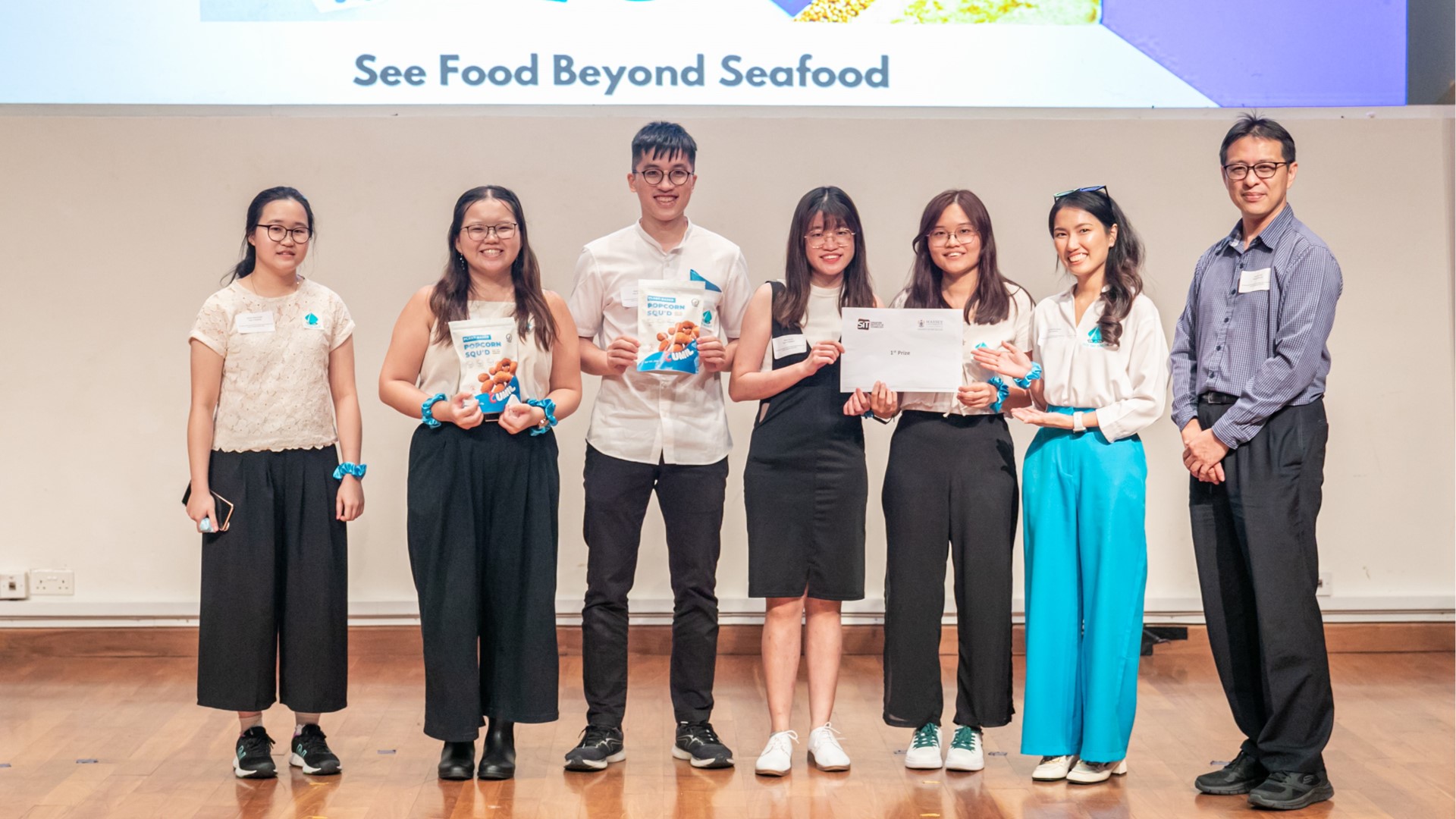 The winning team, 'Sea-No-Meat' received their achievement certificate from Dr. Saw Lin Kiat, CEO of Faesol Pte. Ltd and Industry Advisory Committee Member of the SIT-Massey Food Technology degree programme (extreme right). From left: Esther Ong Su Xin, Tor Shi Qi, Bryan Tan Yi, Ngee Ee Lin, Ng Wanyu, Nur Ifaaf Ismail from Sea-No-Meat. (SIT Photo: RS photography/Mark)
1st Place: Sea-No-Meat
With overfishing and the consumption of microplastics from seafood becoming a bigger problem than ever, Sea-No-Meat sought to satisfy consumers' love for seafood while being easy on the environment and health.
The team also gathered the wish list of their target audience: young adults between the ages of 20 and 30. On top of being sustainable and nutritious, the snack had to be convenient, accessible and affordable.
Their creation, 'Cumil', produced in collaboration with Roquette, a global leader in plant-based ingredients, ticks all of these boxes.
Made from yellow pea proteins and konjac jelly, Cumil is a plant-based squid snack, shaped, steamed and breaded into bite-sized pieces for easy consumption. The bouncy, chewy tidbit has little saturated fat and sodium, is free from cholesterol and trans-fat, and contains dietary fibre, making it a healthier way to tide over peckish moments.
Cumil: Plant-based squid snack by Sea-No-Meat. (SIT Photo: RS photography/Mark)
More importantly, Cumil, being a plant-based snack, contributes to saving ocean habitats while ensuring that any mercury or microplastics commonly found in marine animals are not consumed.
Busy folks can also take heart that Cumil can be deep-fried, air-fried or baked in the oven. In mere minutes, a delectable, healthy and ocean-friendly snack is ready to warm the tummy.
"The packaging is attractive and the high-fibre-low-sodium content makes it eligible for the Healthier Choice Symbol," said Associate Professor Leslie Loo, Director of Programmes,  Food, Chemical and Biotechnology Cluster at SIT, who was one of the judges.
2nd Place: Dipsy
Plant-based, chock full of herbs, tasty and versatile, team Dipsy's Spicy Herb Mayo Dip is a pantry staple for foodies who are strong advocates for health, food security and social inclusivity.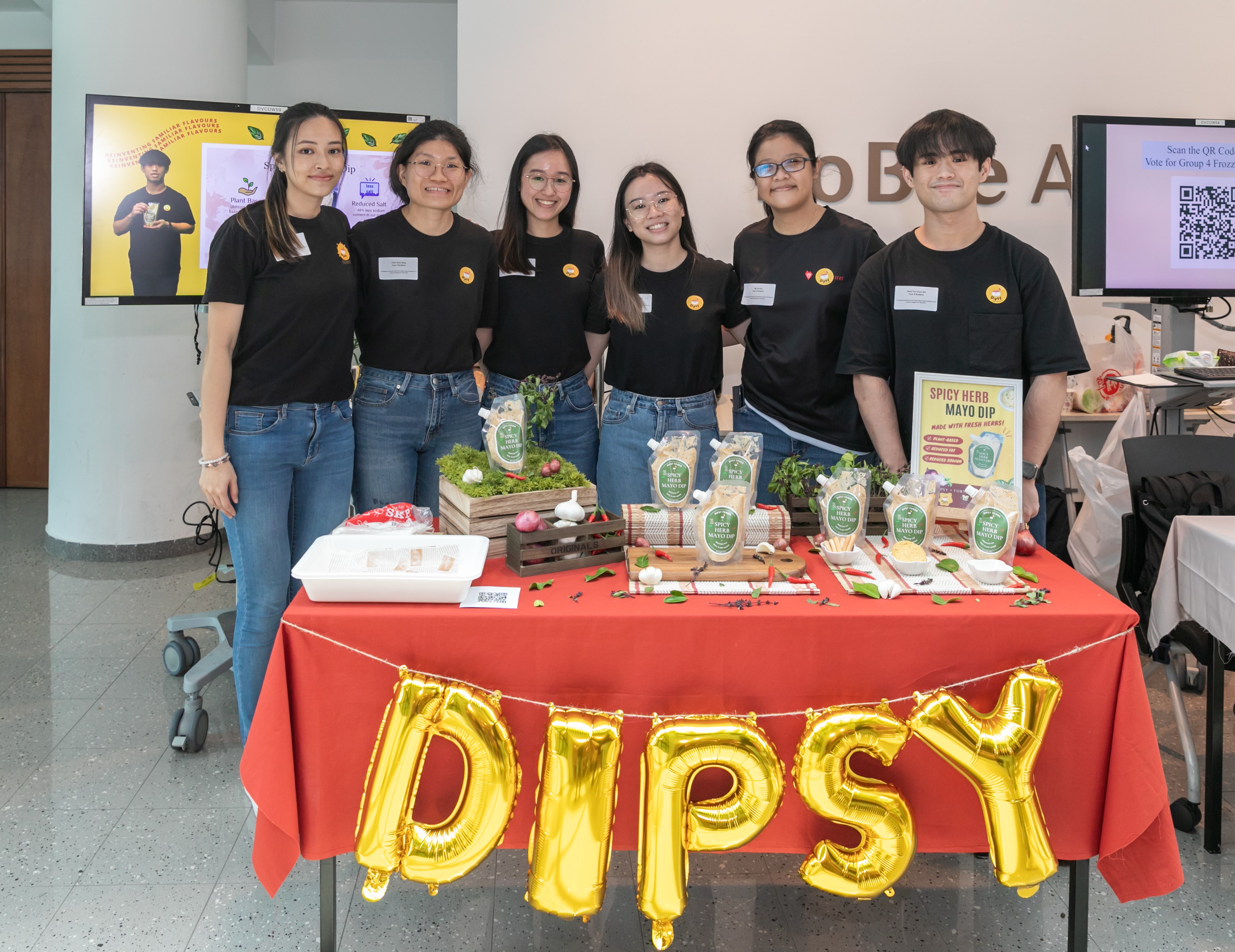 Dipsy members: (from left) Rachel Loh, Chan Wan Qing, Cassandra Fong, Denise Low, Ng Yun Kit and Noel Tan. (SIT Photo: RS photography/Mark)
The fragrant and mildly spicy dipping sauce is created in collaboration between Dipsy and social enterprise Fortitude Culina, which aims to provide fair employment opportunities and career advancement for the visually impaired.
Fortitude Culina operates Kunyah Cafe at the Singapore Management University. This is where the eatery also grows native herbs and spices used in producing the Spicy Herb Mayo Dip. The refreshing dip uses only natural colours and flavours from fresh herbs like kaffir lime leaves, Thai basil, onion, garlic and chilli powder.
In a nod to the government's call to consume less sodium and adopt a better diet to combat obesity and chronic diseases like diabetes, Dipsy also formulated their final product to be one that foodies can enjoy without guilt. As a result, the Spicy Herb Mayo Dip contains a whopping 46% less sodium and 57% less fat than regular vegan mayonnaise.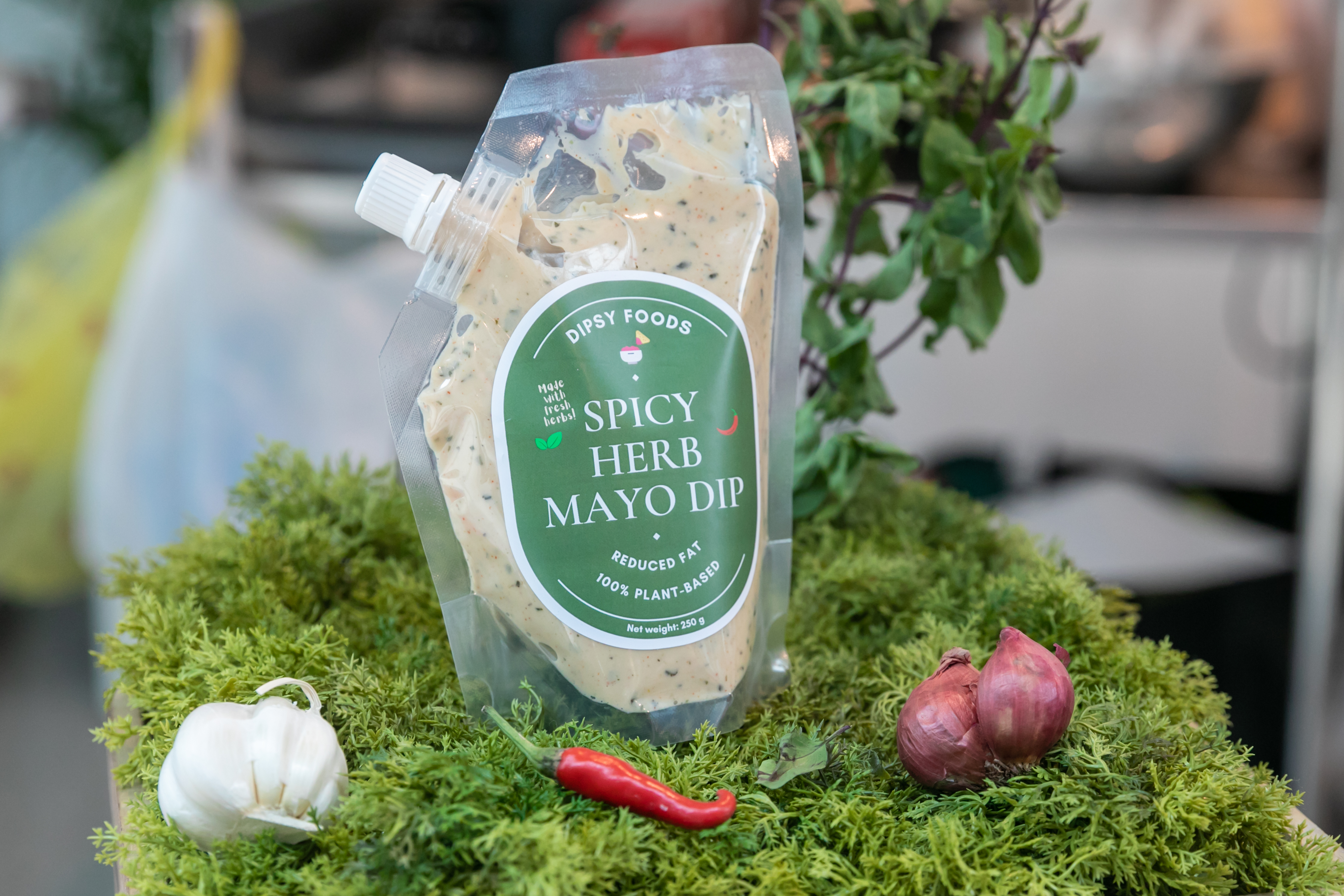 Spicy Herb Mayo Dip by Dipsy. (SIT Photo: RS photography/Mark)
Bonus: the product is also an ideal accompaniment to most foods and comes in a convenient squeeze pouch for easy dispensing.
What stood out for another judge, Dr Saw Lin Kiat, CEO of Faesol Pte. Ltd, was the sourcing method adopted by Dipsy. "It is a value-added creation that incorporates herbs and spices planted locally," said Dr Saw, who sits on the Industry Advisory Committee of the Food Technology degree programme.
3rd Place: Stalkative
Talk about thinking out of the box. Stalkative has developed a winning idea for reducing food waste while creating a nutritious, yummy snack at the same time.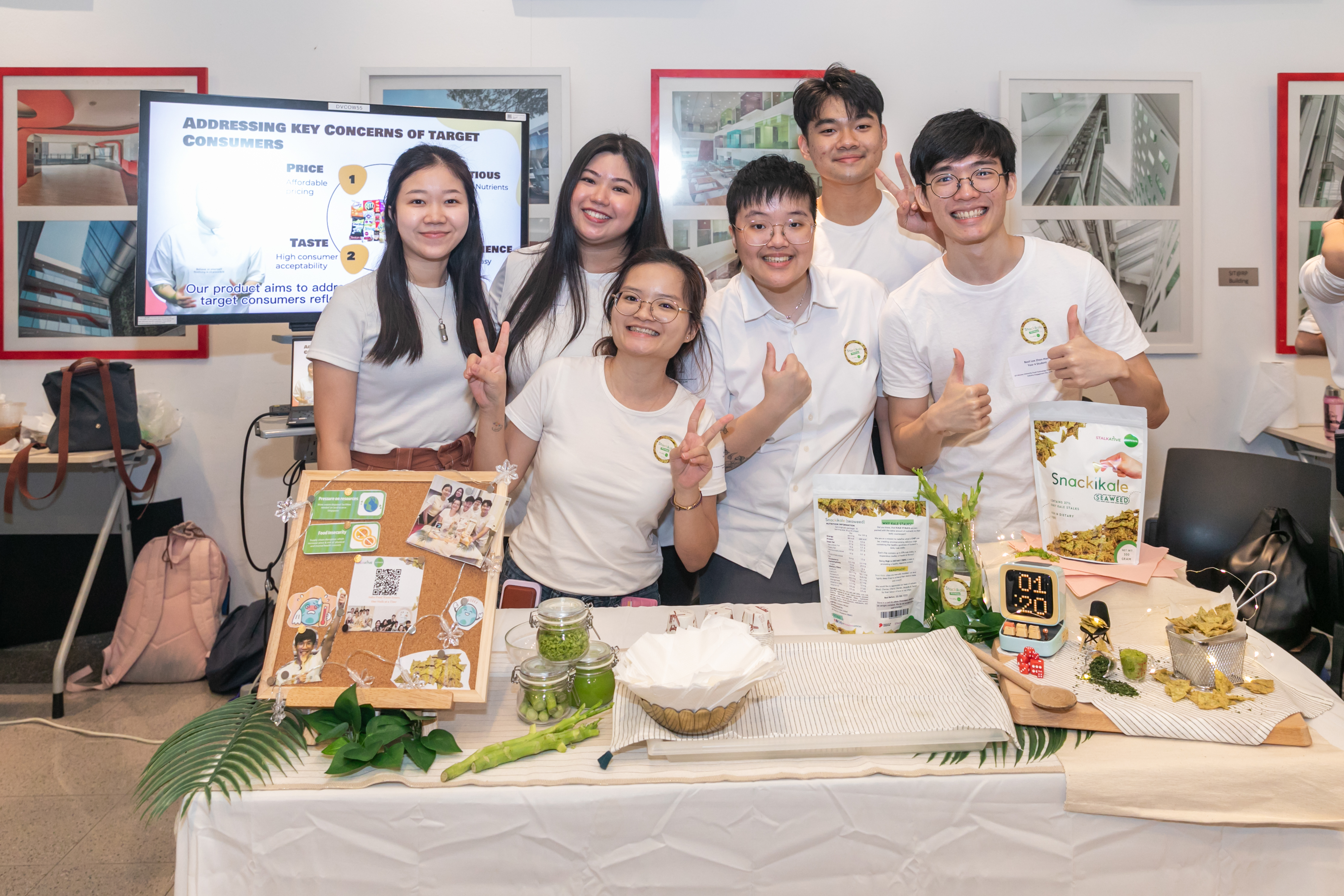 Stalkative members: (from Left) Heng Wan Hui, Cheryl Lim, Tan Cherise, Chia Yin Yin, Darren Ten and Basil Lee. (SIT Photo: RS photography/Mark)
Introducing 'Snackikale', a lightly deep-fried seaweed-flavoured kale chip that taps on valorisation—the process of transforming waste or by-products into valuable resources—to turn otherwise discarded kale stalks into palate-pleasing chips.
For this project, the team worked in collaboration with Sustenir, a local indoor vertical farm, which disposes some 3,600kg of unsold kale stalks each year. With Snackikale, Stalkative can potentially turn this food waste into a new source of revenue for the farm while giving consumers a new and affordable snack option.
A cross between crunchy tortillas and pure dehydrated kale, Snackikale packs an impressive 12.4g of dietary fibre per 100g — the juice and fibre of kale stalks make up 37% of the composition of the ingredients.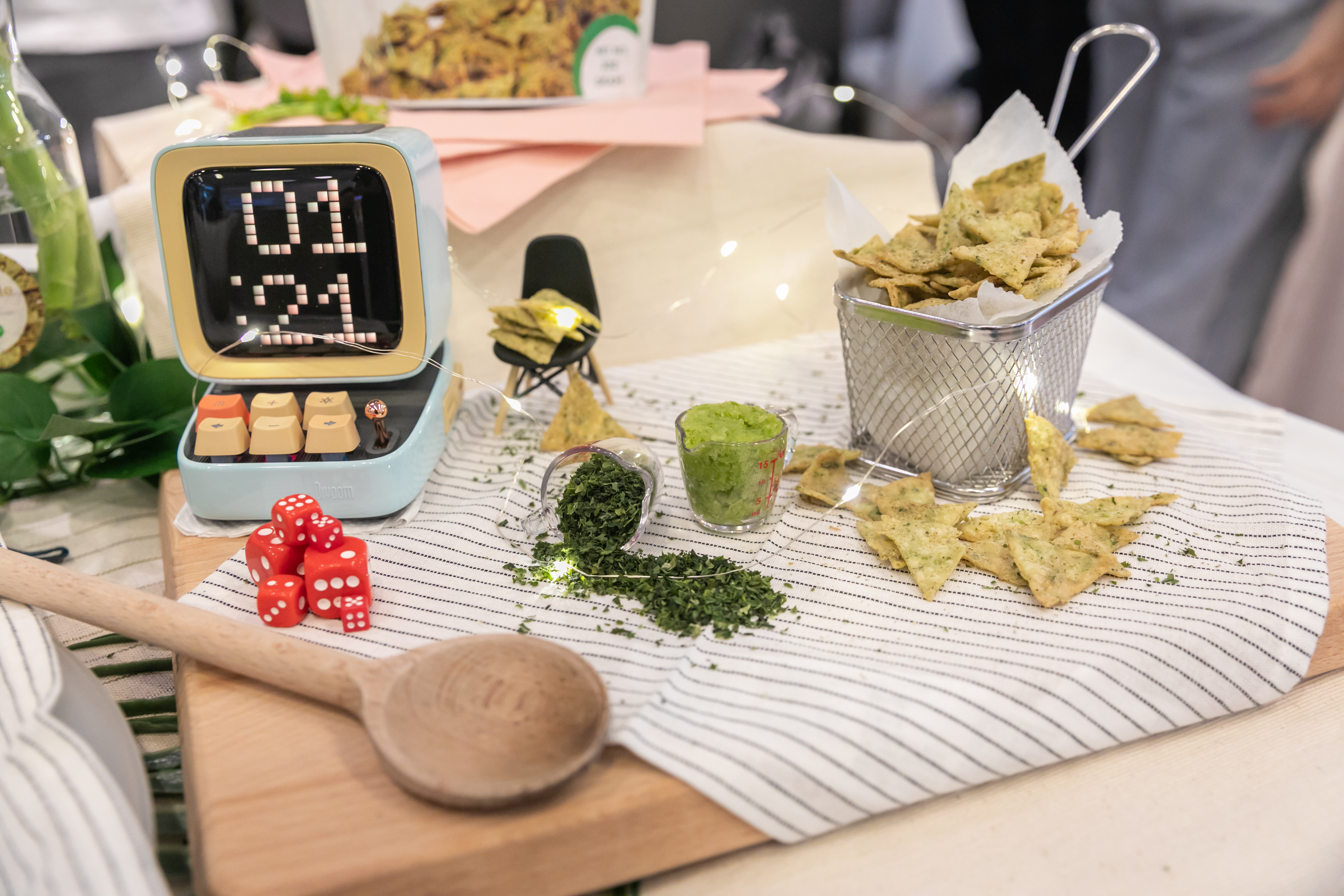 Seaweed-flavoured kale chip, 'Snackikale' by Stalkative. (SIT Photo: RS photography/Mark)
"This group helped address a company's food waste problem by creating an innovative solution through converting waste kale stalks into a delicious snack. Snackikale has high fibre content and is cheaper than tortilla chips," said A/Prof Loo.
The Food Technology Project Exhibition and Industry Engagement Day marks the last day of study for over 60 Food Technology students who showcased their final-year projects and are all set to join the industry as food technologists.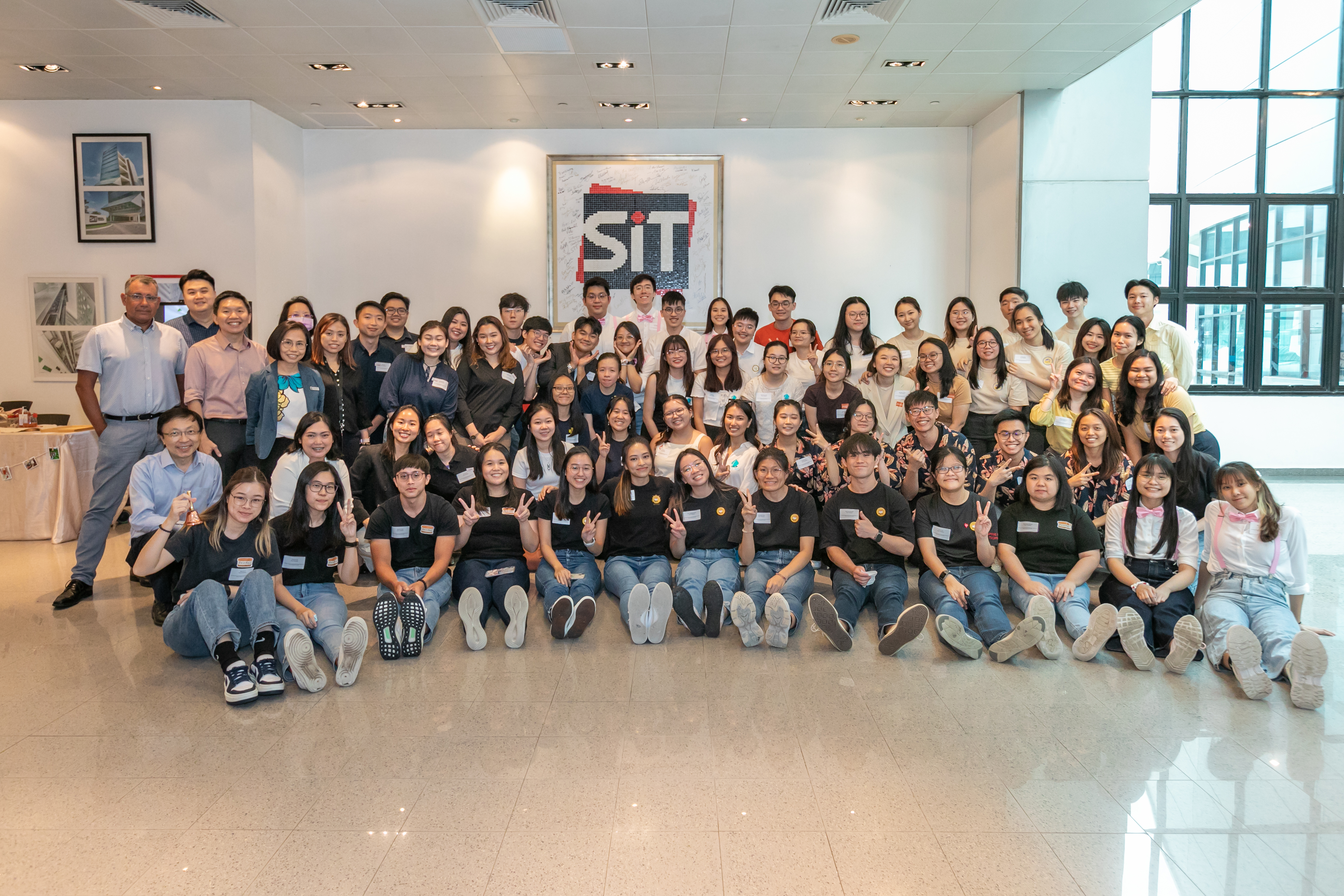 Food Technology students who presented their final-year projects at the Food Technology Project Exhibition and Industry Engagement Day, alongside with SIT-Massey University faculty members (extreme left). (SIT Photo: RS photography/Mark)