Research engineers and students from SIT came together for an ambitious autonomous drone project and emerged victorious at the Singapore Amazing Flying Machine Competition 2023.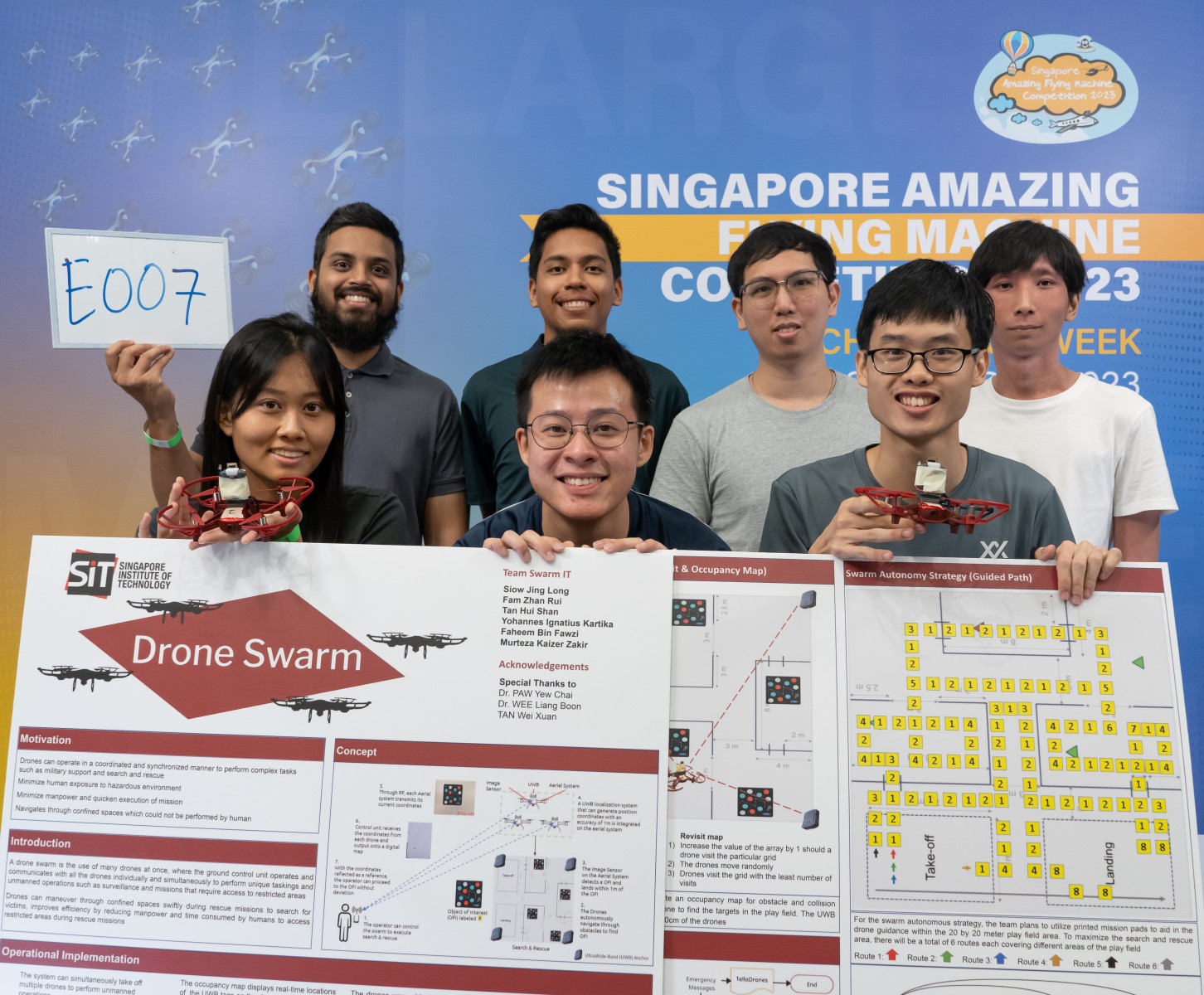 Champion team for Category E - Team SwarmIT from SIT. First row from left: Tan Hui Shan, Siow Jing Long, Fam Zhan Rui. Second row from left: Murteza Kaizar Zakir, Faheem Bin Fawzi, Yohannes Ignatius Kartika, Tan Wei Xuan. (Photo: DSO)
With their hearts pounding and the sound of drones whirring in the air, the team from the Singapore Institute of Technology (SIT) watched anxiously as the project they poured months of painstaking work into was tested by fire in an obstacle course at the Singapore Amazing Flying Machine Competition (SAFMC) 2023. Held at the Singapore University of Technology and Design in March, SAFMC is Singapore's biggest flying machine competition, organised by DSO National Laboratories and Science Centre Singapore, with support from the Ministry of Defence.
This year's edition of SAFMC saw its highest participation to date at 1,981 participants, with over 600 teams competing across 5 categories. SwarmIT from SIT competed in the Open Category E - Swarm, where teams were tasked with mobilising a swarm of 10 to 25 drones to navigate an obstacle course to identify and rescue 10 victim markers, simulating a search and rescue mission. SwarmIT came up with a divide-and-conquer approach, splitting the swarm to search different areas. They were the only team to locate a victim marker placed in a room only accessible via windows to beat 11 other contenders and emerge champions, earning a S$20,000 cash prize.
Drone for Good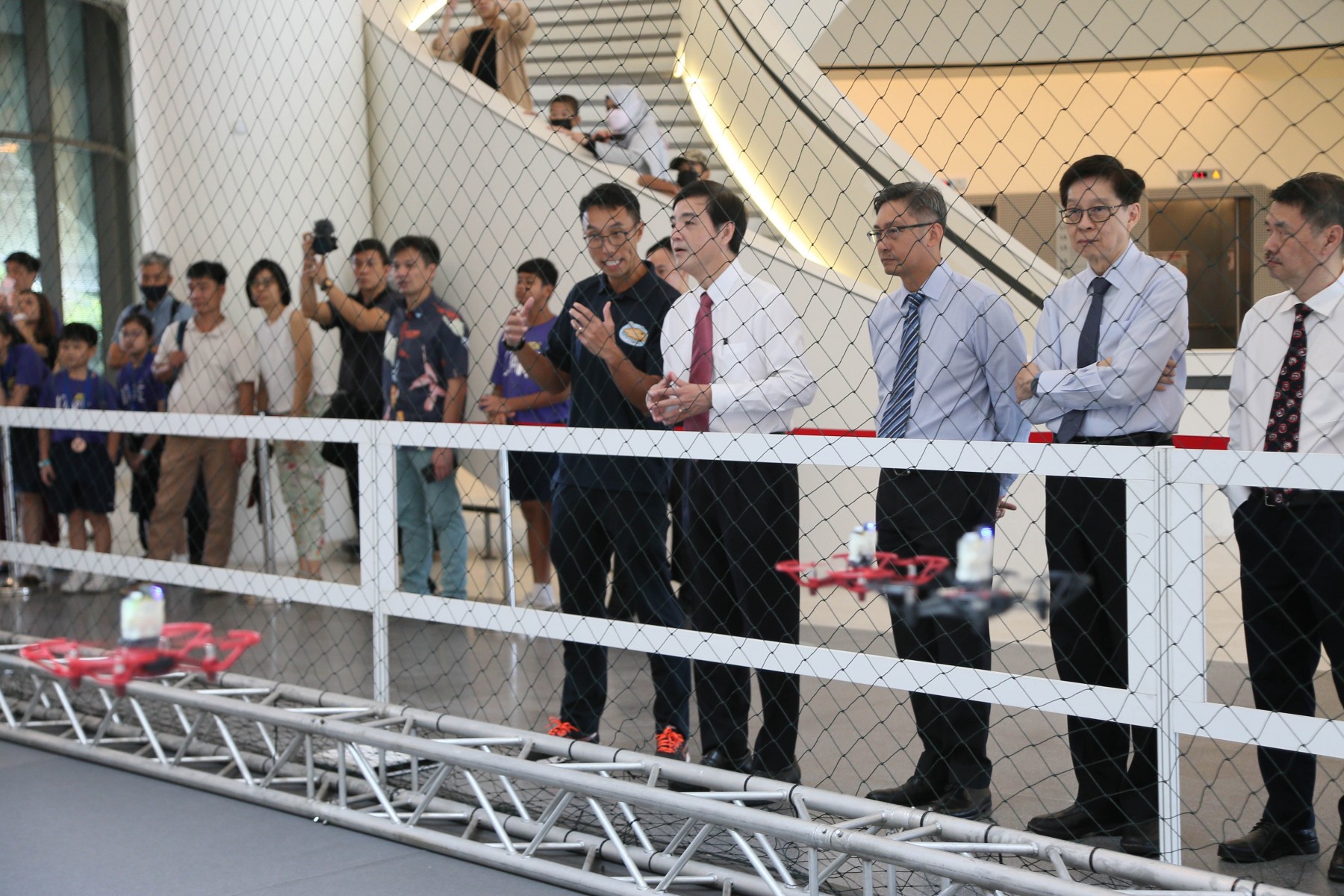 Guest of Honour, Mr Heng Chee How, Senior Minister of State for Defence, witnessing the swarm drones demonstration from Team SwarmIT. (Photo: DSO)
The project's philosophy was simple: use what you're familiar with and elevate it.
SwarmIT comprises two research engineers, Faheem Bin Fawzi and Murteza Kaizar Zakir, and five undergraduates from the Mechatronics Systems degree programme. They are Year 3 and Year 4 students Siow Jing Long, Yohannes Ignatius Kartika, Zhan Rui, Tan Hui Shan and Tan Wei Xuan. 
Pooling their expertise in coding, aerodynamics and controls, the seven members synergised to create the winning project. Some focused on mechanical and electrical aspects, while others specialised in software.
"We developed an interest in autonomous technology through previous projects in our curriculum, and we wanted to develop something useful for society," said Hui Shan. "With the expanding growth in robotics and swarming technology, the team saw that critical missions such as search and rescue could be executed with drones instead of human rescue teams, which could reduce the endangerment of human lives for these missions."
Research engineers Faheem and Murteza, who had worked with SIT professors to write a research paper, "A Distributed Method for UAV Swarm Path Planning", wanted to put theory to the test via this competition. Under the mentorship of Associate Professors Paw Yew Chai and Wee Liang Boon from SIT's Engineering cluster, the team was formed three months before the competition. They got to work quickly, juggling school and work, with late nights spent tinkering with drones. 
Their efforts paid off, as the members successfully designed a swarm of drones that were guided by mapped coordinates and able to target objects. This could be applied to search and rescue operations, as well as offshore deliveries such as delivering to ships at sea. It can even be used for vertical farming, where observation of the crops could be done via image recognition and AI technologies. The model is also scalable, which means drones could be added for more advanced tasks. 
Stronger Together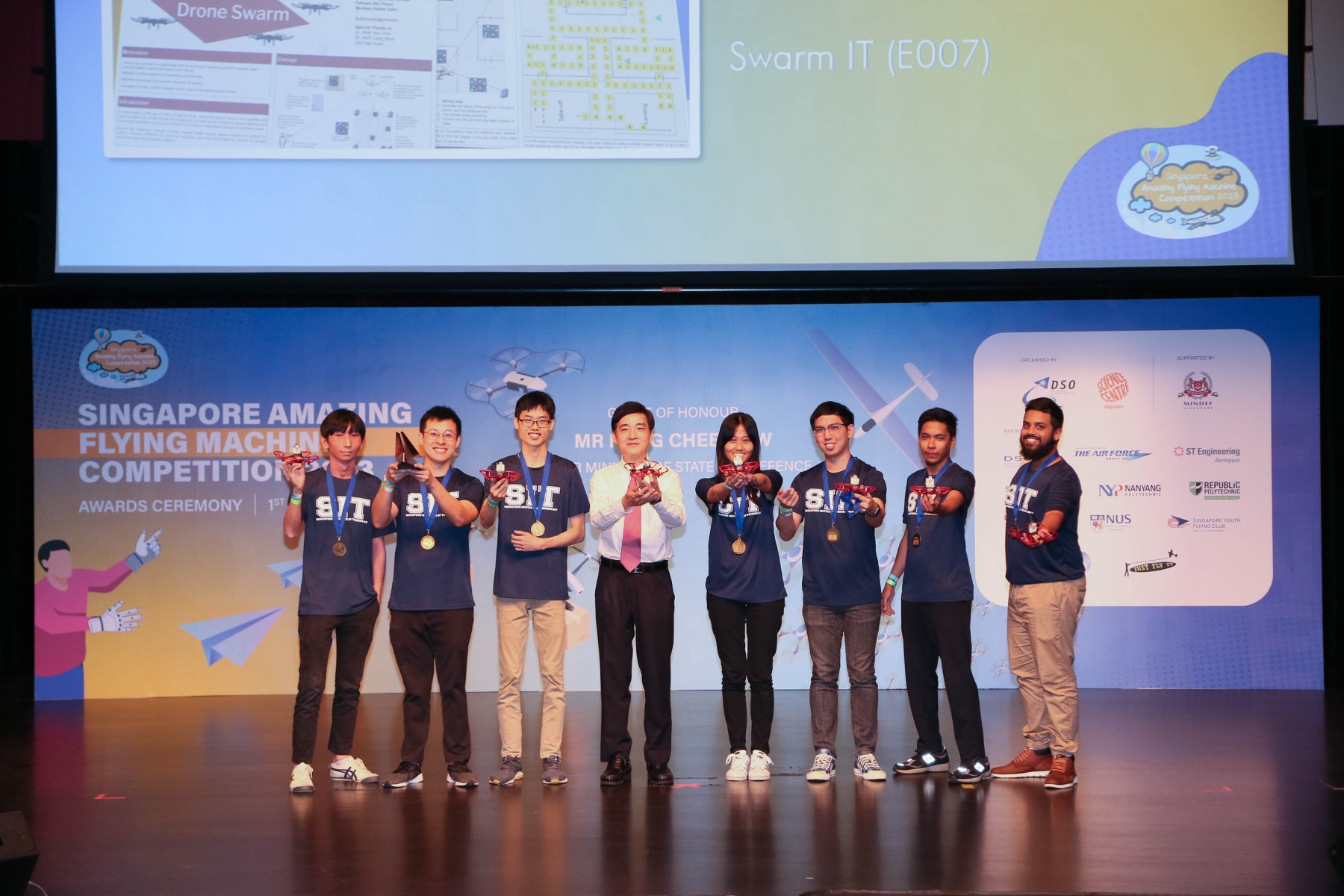 Team SwarmIT with SMS Heng Chee How. (Photo: DSO)
The members' strong team spirit shone through during the process, where they battled one challenge after another together. The testing processes were iterative, tedious, and sometimes frustrating, but the team managed to explore different methods to resolve the challenges.
On the day of the competition, SwarmIT faced an unexpected setback. The drones were programmed to follow a mapped course, but there was an unmapped wall fixture in the room where the challenge took place. Some drones crashed into the wall and did not finish the course as a result. Despite this, SwarmIT was the only team to successfully locate a victim marker, earning them first place. The members shared they have gained far more than the taste of victory.
"The knowledge and experience are very memorable for us. Everyone learnt a lot, not just about swarming but the back-end technology, algorithms, and networking. That technical knowledge was valuable," said Wei Xuan.
SwarmIT's success has also given the research engineers rock-solid validation for their research paper. However, innovative swarming will not end here. Wei Xuan, who is in his third year at SIT, plans to continue the project and further refine it next year after the other members have graduated.
"Working on this project made me really interested in the idea of swarming. I'm keen to build on what we currently have, and my goal is to make it even better next year – more advanced sensors, path planning, navigation and so on," he said.