SIT Punggol Campus taking shape as a hub for transformative education and innovation; Strategic partnerships with top technology companies augment the university's industry-focused curriculum and authentic learning experiences.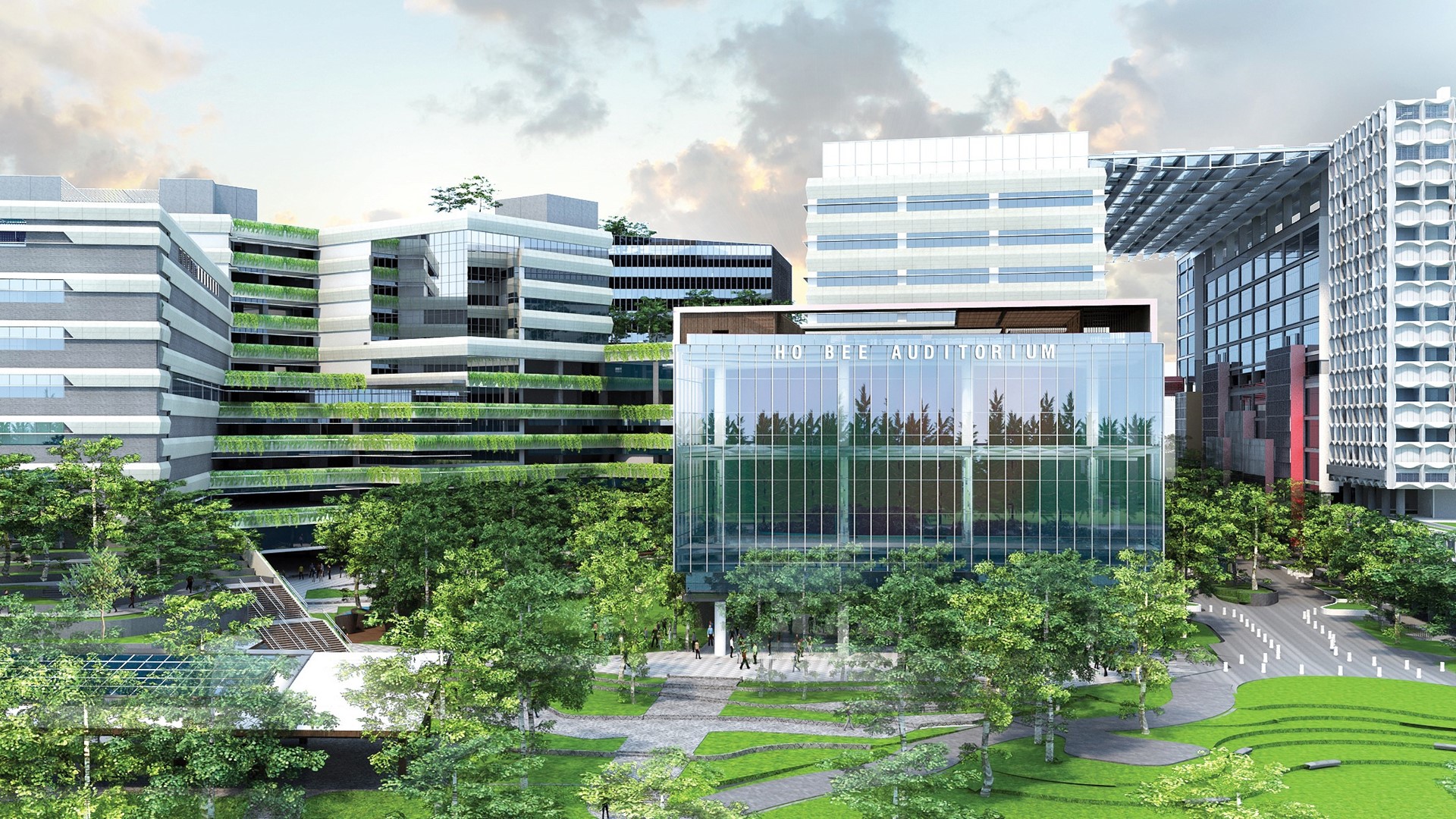 An artist's rendering of SIT Campus Court from the waterfront.
The Singapore Institute of Technology (SIT) marked a major construction milestone for its new Punggol Campus today at a Topping Out Ceremony, graced by Guest-of-Honour Mr Chan Chun Sing, Minister for Education. Strategic partnerships with global technology companies Oracle and Salesforce were recently inked to enhance the University's applied learning and research offerings.
Students and staff who are currently based at the six campuses in Dover Drive and the polytechnics will move to the Punggol Campus in phases, with classes commencing in September 2024 for the new academic year. Comprising two plots – known as 'SIT Campus Heart' and 'SIT Campus Court' – within JTC's Punggol Digital District (PDD), the Campus is approximately two-thirds completed to date and is expected to be operational by the second half of 2024.
A Transformative Education and Innovation Hub through Strategic Initiatives
Ahead of the campus opening, the University has driven collaborations under its Living Labs Initiative to bolster applied learning and applied research. Envisioned to support Singapore as a hub for innovation and talent development, the Living Labs Initiative is aligned with the University's strategic translational research foci and is aimed at opening doors for SIT students and researchers to tackle real-life projects both in and beyond the campus. More information on the SIT Living Labs Initiative is appended in Annex A.
SIT has also introduced the Social Innovation Project (SIP) module for students of all degree programmes from Academic Year 2022 onwards. The module offers students opportunities to identify and address contemporary issues and challenges involving social, environmental and sustainability factors. This enhances students' learning and develops them into effective, inclusive and socially attuned individuals. Students work in interdisciplinary teams to develop social innovations or solutions that address a variety of challenges, such as those related to sustainability and management of the effects of disruptions on seniors or older persons. They can also use new technologies to propose improvements in social services for vulnerable groups, among other potential areas of focus.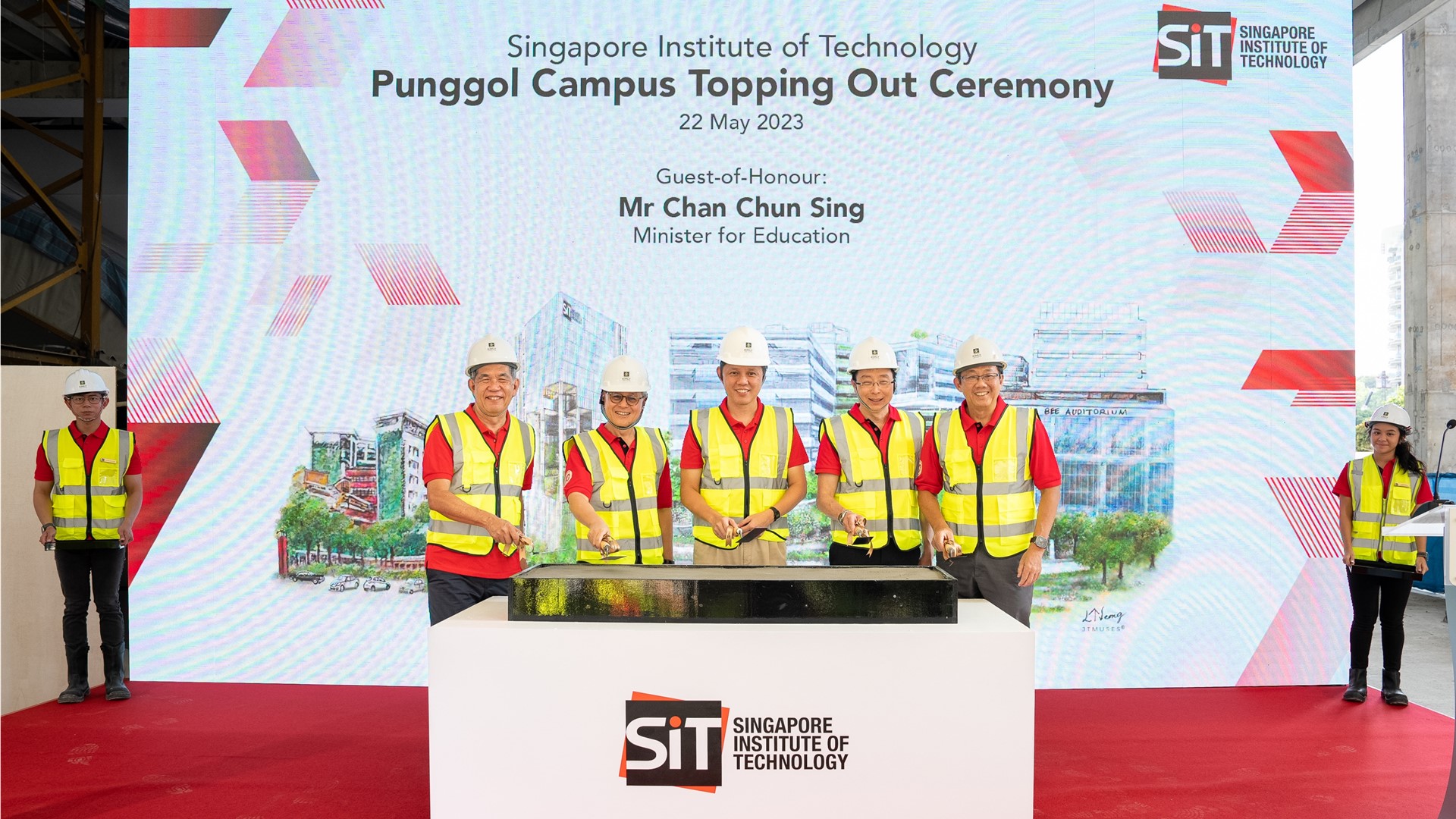 From left: Prof Tan Thiam Soon, Institute Professor, SIT; Prof Chua Kee Chaing, President, SIT; Mr Chan Chun Sing, Minister for Education; Mr Bill Chang, Chairman, Board of Trustees, SIT; Dr Ng Yat Chung, Founding Chairman, Board of Trustees, SIT (SIT Photo: Keng Photography/Tan Eng Keng).
To support efforts in the University's Living Labs and SIP, SIT recently forged strategic industry partnerships to co-develop technological capabilities and opportunities aimed at training the next generation of digital talents:
 
SIT and Oracle Collaboration:

A Living Lab will be jointly established by SIT and Oracle, one of the leading global hyperscalers in the technology sector. The SIT-Oracle Living Lab will feature a dynamic digital 'sandbox' platform that enables SIT students, researchers and industry partners to collaborate on business solutions and innovation. SIT will leverage Oracle's expertise and technologies such as database management and cloud computing. Internet-of-things (IoT) and other unstructured data can be collected, analysed and used to address key business sustainability issues and create innovative technological applications to increase business productivity.

The collaboration also provides opportunities for the co-development of Pre-Employment Training (PET) and Continuing Education and Training (CET) curriculum content through the integration of Oracle Academy's offerings. SIT will utilise Oracle Academy's learning resources in artificial intelligence, machine learning and data analytics to support faculty and students in applied learning and research, including students' SIP activities. Suitable professionals will also be able to participate in SIT's Industrial Masters and Industrial Doctorate programmes and work on Oracle projects.
 
SIT and Salesforce Partnership:

Salesforce, the global leader in Customer Relationship Management (CRM), and SIT will establish the SIT-Salesforce Learning Lab to train up to 50 SIT students per academic year to develop applications and prototypes that will benefit social service agencies. Specialists from Salesforce will serve as facilitators and mentors to students in their Social Innovation Projects via online or in-person engagements. This collaboration is the first learning lab for Salesforce in Asia Pacific. Students will learn industry best practices and apply their knowledge to CRM projects for actual customers.

The partnership will also extend to SIT's CET offerings under the University's Competency-based Stackable Micro-credentials (CSM) pathway. In-employment learners can pursue upskilling opportunities to build CRM competencies and enhance their expertise. Those in the programme will also have access to the Salesforce ecosystem of partner and customer organisations for work attachment opportunities. This will augment their real-world learning experiences and bridge the gap between academia and industry.

The collaboration is enabled by Salesforce Trailhead Academy, which empowers individuals and businesses to build and validate in-demand digital skills through expert-led learning programmes, role-based credentials and workforce development strategies.
SIT President Professor Chua Kee Chaing said, "The move to Punggol presents many opportunities for SIT to differentiate and strengthen our education offerings. Our Living Labs represent our commitment to transform learning by amplifying the capabilities of our students, faculty and researchers. Our partnerships with industry leaders like Oracle and Salesforce further enhance authentic and active applied learning opportunities for our students. In more ways than one, SIT is well-positioned to be Singapore's premier university of applied learning."
"Oracle has been operating in Singapore for over 30 years and we are constantly looking at new ways to enhance our local innovation ecosystem and nurture a pool of talent that are experts in new technologies," said Ms Chua Horng Shya, Managing Director, Oracle Singapore. "We're excited to collaborate with SIT to leverage Oracle Cloud Infrastructure for the first of such digital sandboxes, as well as Oracle Academy training offerings. We look forward to enabling innovations that are to come."
Mr Sujith Abraham, Senior Vice President and General Manager, ASEAN, Salesforce, said, "Democratising access to digital skills education is a core tenet for Salesforce, and this partnership with SIT further advances our commitment to create pathways for the future generation of our workforce into tech roles. By developing solutions for real-world problems social service agencies are facing, this partnership goes a long way in helping non-profits transform digitally and deliver greater impact to their beneficiaries."
Innovative Spaces for Industry-Driven Learning
The Punggol Campus is designed to augment teaching and learning with spaces that allow stronger industry collaborations, featuring facilities for exchanges of ideas and hands-on experiential learning.
SIT Campus Heart occupies 49,000 sqm and has 4 buildings, while SIT Campus Court occupies 42,000 sqm and has 6 buildings. Some of the key features within the two plots include:
'Lectorials' within the Academic Blocks, which are smaller-scale modular study halls that are specially designed to support blended learning and encourage discussions and collaborations.

The Hatchery, which is a 10-storey building that is purpose built to facilitate cross-fertilisation and incubation of ideas between academia and industry.

The Link Bridge, which is a naturally ventilated bridge connecting 2 academic blocks in SIT Campus Heart, is lined with study benches for students to engage in self-study or group discussions.

Open-plan seating for academic and corporate staff to encourage greater exchange of ideas, improve communication and strengthen collaboration.
A summary of SIT Punggol Campus' key features is appended in Annex B.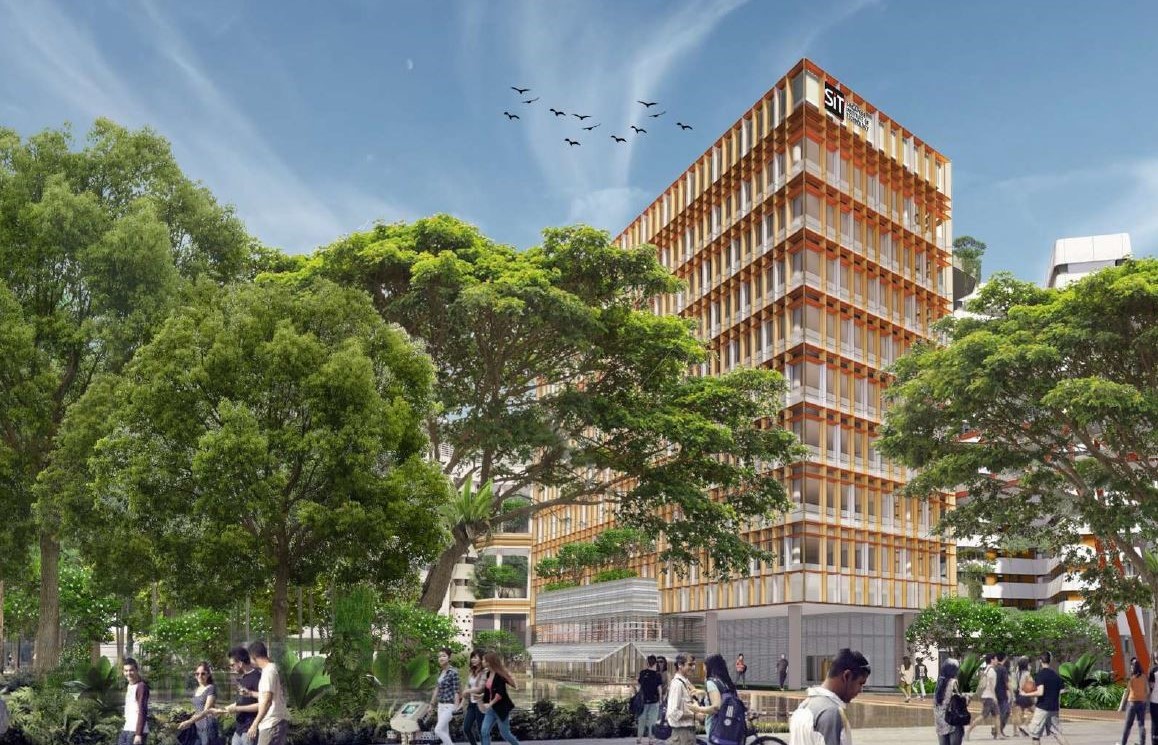 The Hatchery is a 10-storey building conceived to drive the cross fertilisation and incubation of ideas between academia and industry.
Built On Sustainability and Green Open Social Spaces
The sustainable design features of the SIT Punggol Campus aim to reduce the environmental impact of the campus and promote a greener future. SIT was lauded for its green design features with the 'ABC Waters Certified (Gold) Award' at the Active Beautiful Clean (ABC) Waters Seminar 2022, particularly for its detention eco-ponds, rain gardens and cleansing biotopes, parts of a design for its rain harvesting and sustainable stormwater management efforts.
SIT was also awarded the BCA Universal Design (UD) Mark GoldPLUS (Design) Award for its adoption of a user-centric philosophy in its design, operations and maintenance.
Key features of the green campus include:
Southeast Asia's first Multi-Energy Microgrid (MEMG) co-developed by SIT and SP Group. With approximately 10,000 square metres of photovoltaic solar panels installed on the buildings' roofs, the MEMG will generate renewable energy to power the campus, thereby reducing reliance on the main utility grid and lowering the campus' carbon footprint. The MEMG will also serve as a Living Lab to support the research, development and test-bedding of distributed energy systems and cyber-physical system security solutions.

A District Cooling System that provides the campus' cooling needs throughout its core facilities including classrooms, laboratories, makerspaces, library, multipurpose hall, administration offices, auditorium and food court. SIT is collaborating with ENGIE to catalyse innovation in cooling solutions across the Asia Pacific. The partnership aims to cultivate an ecosystem in Singapore and the broader region that will leverage ENGIE's local and global expertise in cooling, extensive experience in decarbonisation, energy and climate change projects and SIT's applied learning and research.

Smart and efficient lighting and air-conditioning systems that reduce energy consumption and cost.

Sustainable materials are also used in the SIT Punggol Campus' construction, such as recycled materials and locally sourced timber, which reduce the carbon footprint of the campus.
About the Singapore Institute of Technology
The Singapore Institute of Technology (SIT) is Singapore's first University of Applied Learning, offering industry-relevant degree programmes that prepare its graduates to be work- and future-ready professionals. Its mission is to maximise the potential of its learners and to innovate with industry, through an integrated applied learning and research approach, so as to contribute to the economy and society.
The University's unique pedagogy integrates work and study, embracing authentic learning in a real-world environment through collaborations with key strategic partners. Its focus on applied research with business impact is aimed at helping industry innovate and grow. Targeted to be ready in 2024, SIT's centralised campus within the larger Punggol Digital District will feature a vibrant learning environment where academia and industry will be tightly integrated with the community.
For more information, visit www.SingaporeTech.edu.sg.