Two pillars of applied research on tunnel engineering and construction technologies have one common goal: to elevate Singapore's built environment.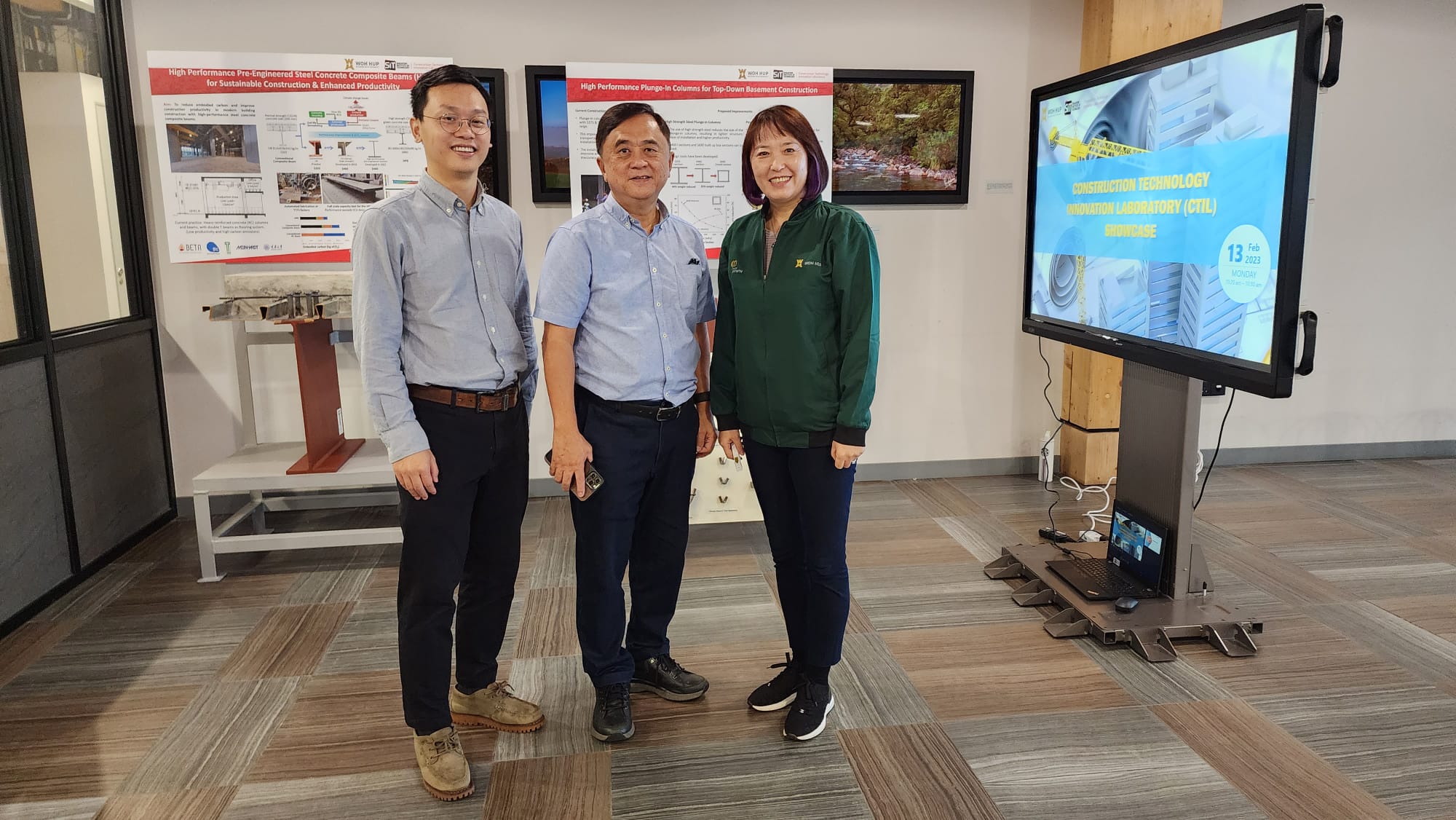 From left: Asst Prof Zhao Ming Shan and Prof Chiew Sing Ping from SIT's Engineering Cluster; and Er Cong Zhengxia, Senior Director of Engineering (Building), Woh Hup at Woh Hup's Tech Hub. (Photo: Woh Hup)
To advance the adoption of technologies in the built environment sector, the Singapore Institute of Technology (SIT) has set up two research centres that conduct applied research and develop innovative technologies for the construction industry.
The Construction Technology Innovation Laboratory (CTIL) was set up jointly with construction company Woh Hup (Private) Limited in January 2021. It aims to give Singapore-based companies and SIT researchers a platform to develop innovative construction technologies to improve productivity in the Singapore construction sector, by reducing the use of manpower and materials on construction sites.
Meanwhile, the Centre for Infrastructure and Tunnel Engineering (CITE), established in partnership with the Land Transport Authority (LTA) in December 2021, advances underground infrastructure and tunnel engineering. This specialisation is prevalent in modern infrastructure, from essential services like water supply and energy delivery to transportation.
"We want to build up our local capabilities in construction technologies and transport infrastructure development with these centres," said Professor Chiew Sing Ping from SIT's Engineering Cluster, and Centre Head of CITE and CTIL. "Our focus at SIT has always been on bottom-up industry-focused applied research. Our strength lies in our ability to work and collaborate closely with strategic industry partners to drive applied research together." 
Currently, CTIL's industry partners include Woh Hup (Private) Limited, SEN SG Pte Ltd, TTJ Design and Engineering Pte Ltd, NatSteel Holdings Pte Ltd, Alliance Concrete Singapore Pte Ltd and Meinhardt (Singapore) Pte Ltd. It also works with government agencies such as the Building and Construction Authority (BCA) and Jurong Town Corporation (JTC), and institutes of higher learning including Cardiff University, United Kingdom and Chongqing University, China.
Turning Research into Real-World Applications
One of CITE's ongoing projects is a joint endeavour with LTA to reinforce concrete with steel fibres. These fibres greatly increase the durability of concrete and prevent cracking. The use of fibre reinforced concrete makes tunnel construction safer, saves man-hours and minimises corrosion from water seepage. This is crucial as transport tunnels like Mass Rapid Transit (MRT) lines have only a small window of time where operations are not running, leaving little opportunity for repairs.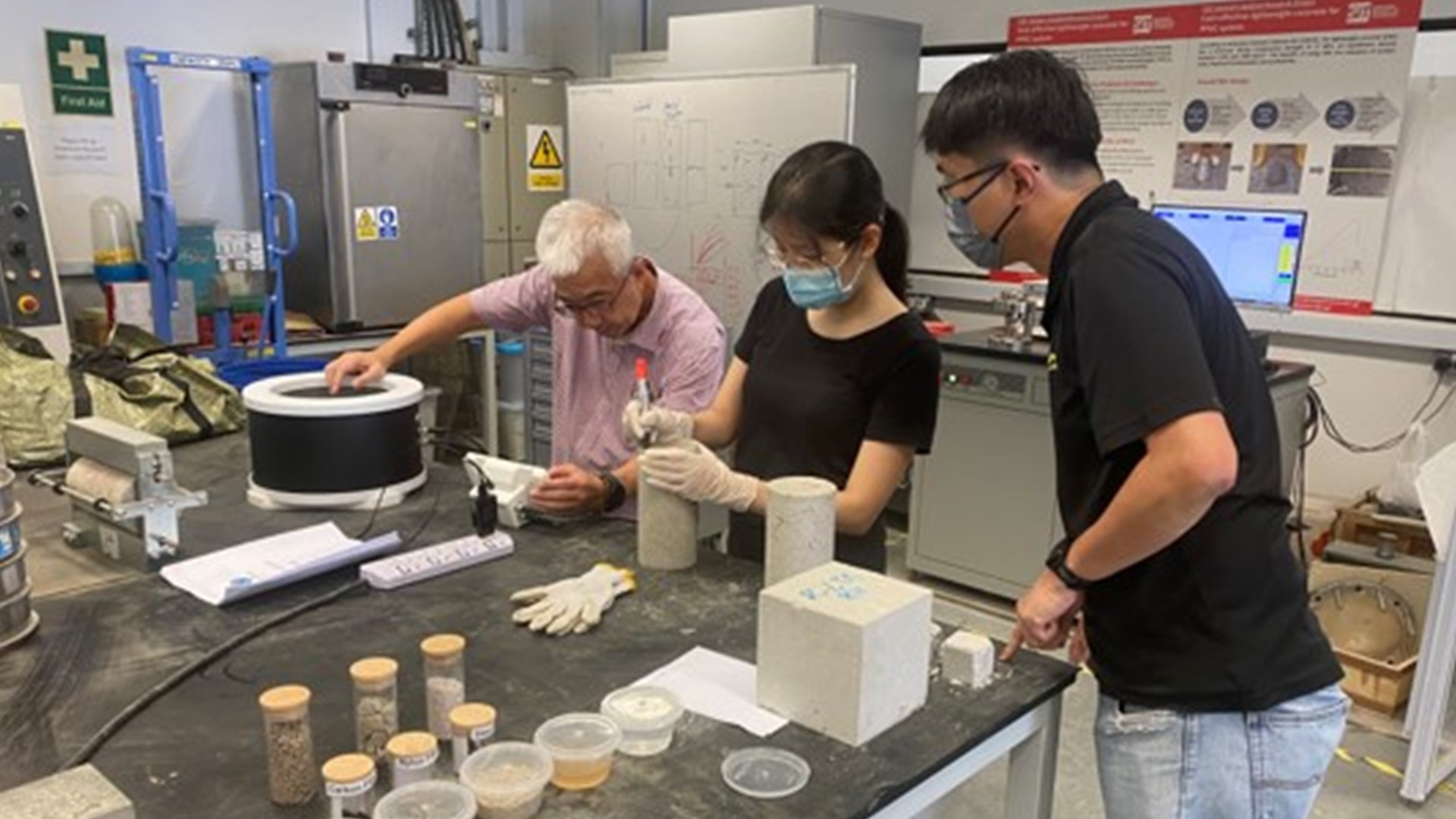 CITE staff and students conducting lab test for the Fibre Concrete project. (Photo: Yer Cheong Wee)
At CTIL, one of its main projects "Innovative Construction Technologies for Deep Foundation and Excavation" is supported by Phase 1 of the Built Environment Technology Alliance (BETA) Catalyst Funding. It looks at developing innovative construction technologies for deep foundations and excavation.
The project focuses on underground civil works and aims to maximise underground space for roads and MRT railways. It comprises three sub-projects, which aim to achieve 25 per cent cost savings in excavation works, 10 per cent cost savings in fabrication and installation of support structures for construction, and improve productivity by 15 per cent by reducing the amount of reinforcement steel needed for deep foundation works. Savings will benefit developers, contractors, and workers on-site, helping them to complete their projects in a faster, more cost-effective, and safer way.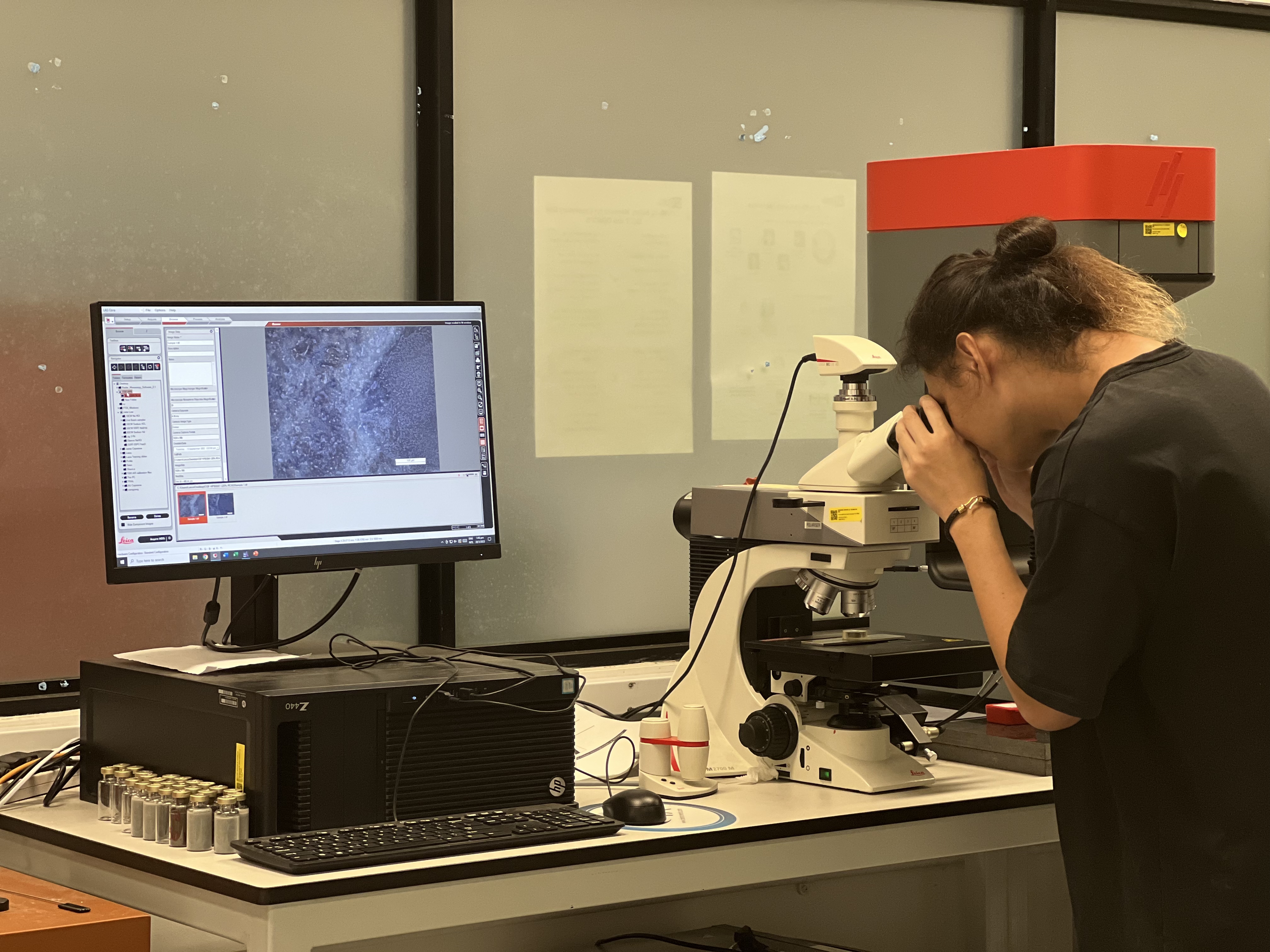 CTIL research engineer Chua Guan Feng using a hardness testing machine and an optical microscope to evaluate the mechanical properties of the concrete. (Photo: Zhang Xingzhao)
Mr Yong De-Rhong, Executive Director of Woh Hup, CTIL's key partner, said, "CTIL provides a much-needed platform for industry partners to share their expertise and develop capabilities to address key industry challenges. It also re-introduces and reinforces the value of collaboration, not only among supply chain partners but also between institutes of higher learning like SIT and industry players; marrying research with skills to create practical solutions for the built environment sector."
However, the biggest challenge lies not in creating new technologies but in applying them.
"You need approval, not just from the building authorities, but also from the professional engineers in charge of the projects," said Prof Chiew. "We also must convince the owners. There are multiple parties involved and translating our research into practice will require some time because the work we do involves public safety and cost implications. However, our modus operandi – with strong industry partners driving the applied research and support from government agencies – has the best chance of success."
Educating and Upskilling Engineers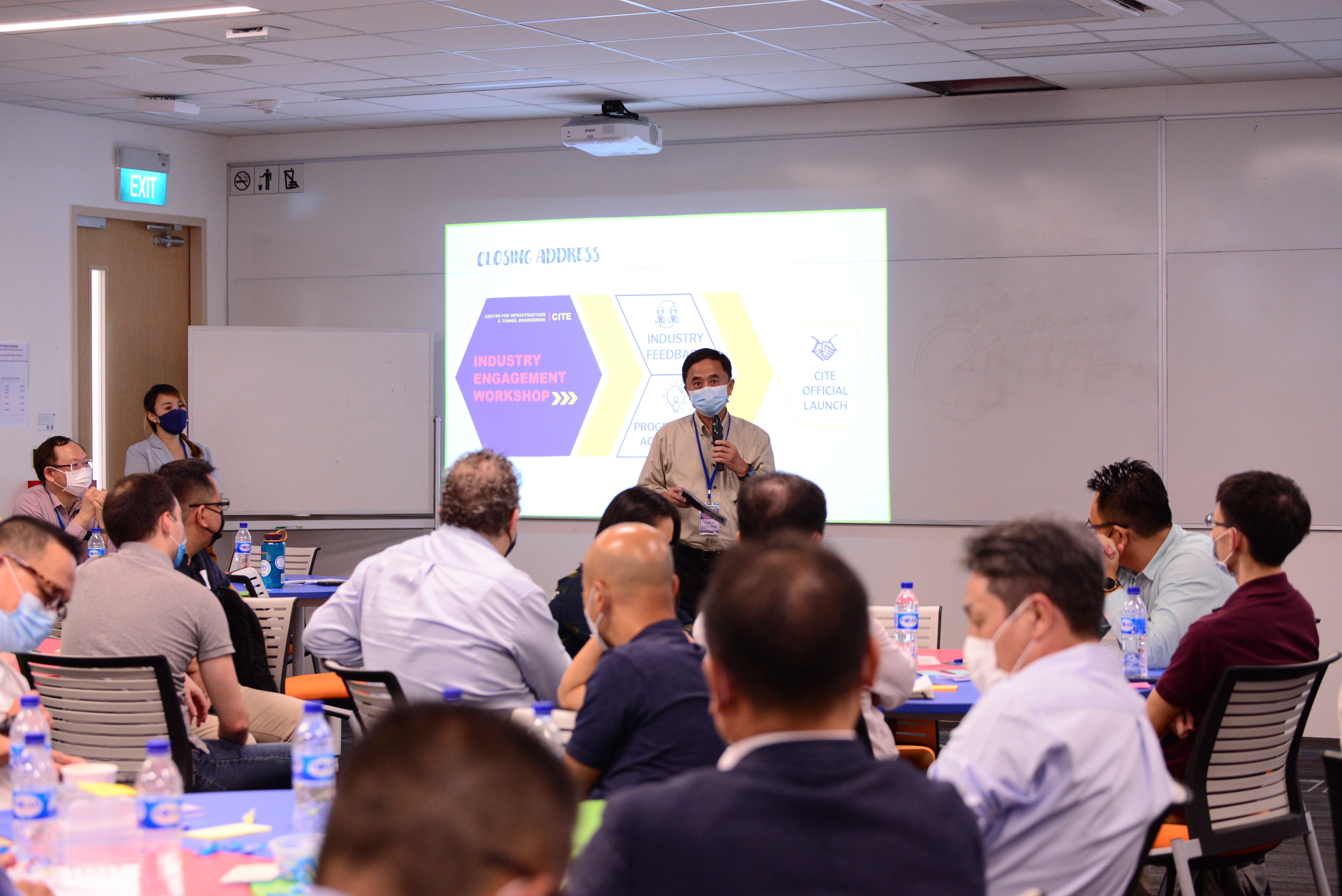 Prof Chiew speaking to industry partners during one of CITE's industry engagement workshops. (Photo: Yer Cheong Wee)
Besides developing innovations in civil engineering, the two centres are also dedicated to upskilling engineers. This is done through training courses and technical seminars. According to LTA mandates, engineers require special certification to qualify as tunnel engineers. To meet this need and raise the standard of tunnel engineering professionals, especially supervisors, SIT decided to offer a Certification Course in Tunnel Engineering in 2021. 
This allows a Singaporean professional engineer to be recognised as a Specialist Professional Engineer (Tunnelling). The course comprises three modules and is taught by instructors from LTA, SIT, BCA and subject matter experts from the industry. To date, CITE has certified over 70 specialist professional engineers through this course.
Meanwhile, CTIL educates engineers via technical seminars and webinars. These well-attended events cover various topics, such as the latest construction techniques and materials, which allow CTIL to disseminate their findings to the industry. Engineers can gain skills and knowledge so that they become more competitive in the job market.
Both research centres hope to work with more partners to advance their research and development work. With the help of industry leaders and partners, they aim to keep addressing key industry challenges and translating innovations into practical applications.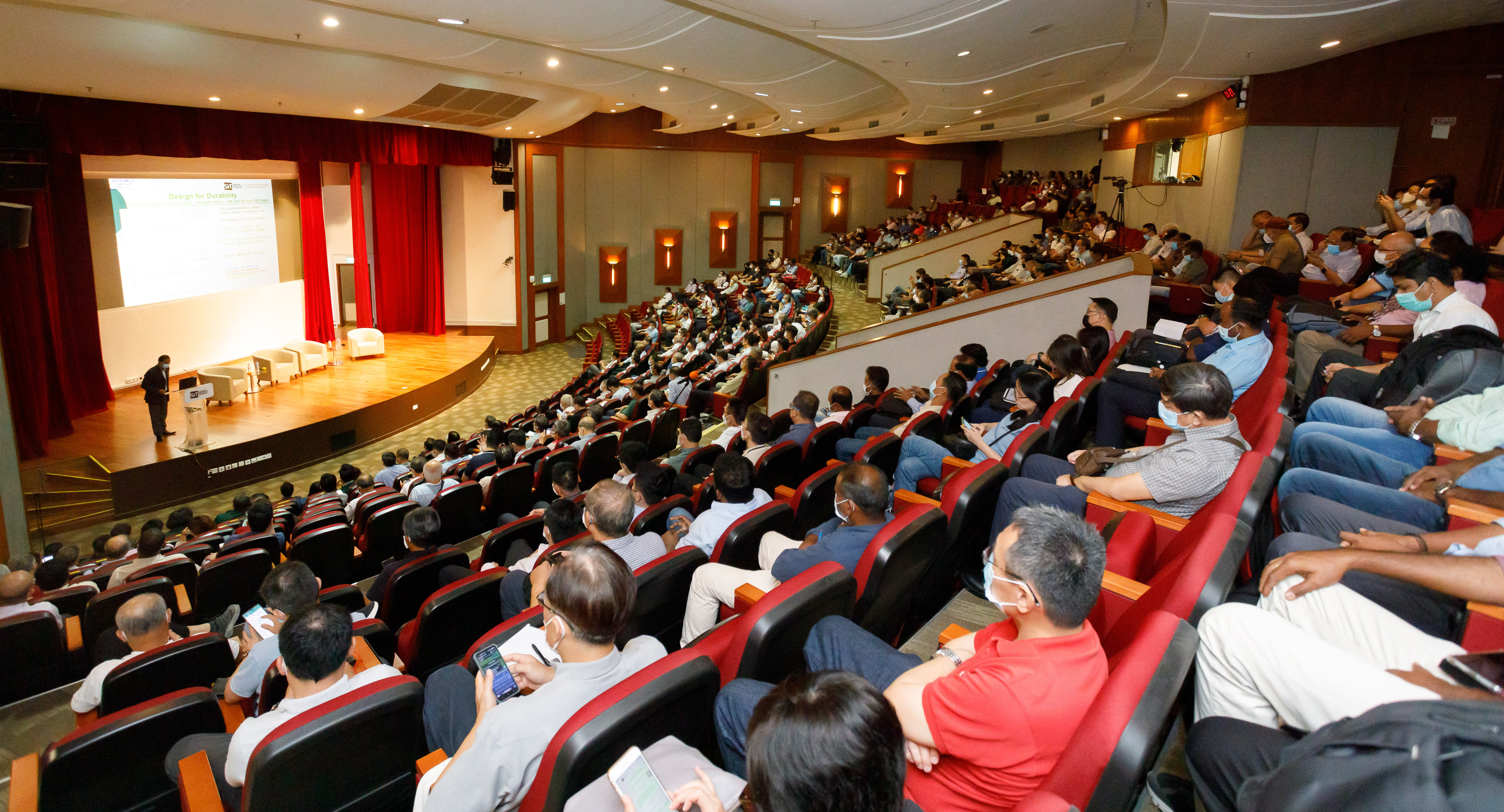 CTIL Research Project Agreements Signing Ceremony cum Technical seminar on 13 July 2022. (Photo: Woh Hup)