Find out how SIT helped Shathiya Sulthana, who was awarded the Outstanding Female Student Leader at the Student Leaders Appreciation Night 2023, come out of her shell as a quiet introvert to becoming a well-loved leader among her peers. 
When Shathiya Sulthana started tinkering with computer systems, it was purely out of necessity. As the unofficial 'tech support' at home, the youngest in her family of four was tasked with sussing out IT problems – such as how to get the wi-fi system up and running. Her knack for problem-solving and curiosity about how technology works led her to Nanyang Polytechnic's Diploma in Cybersecurity and Digital Forensics and, subsequently, SIT.   
Shathiya is now reading the Infocomm Technology (ICT) degree programme, majoring in Information Security. And it was at SIT that the self-confessed introvert truly blossomed and came into her own.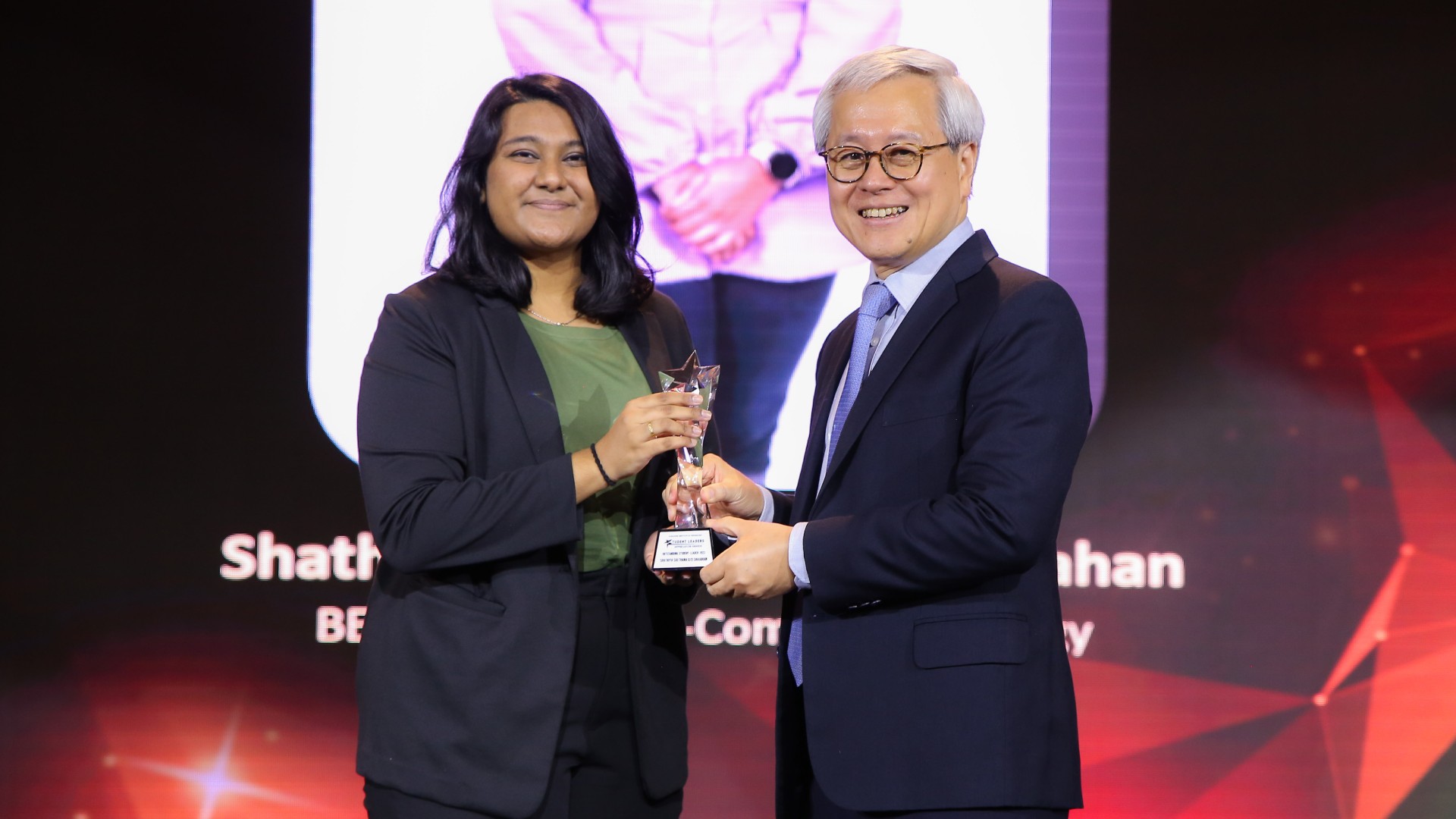 Shathiya received the Outstanding Female Student Leader award at the Student Leaders Appreciation Night 2023. (SIT Photo: Keng Photography/Tan Eng Keng) 
From Coursemates to Friends 
Initially, Shathiya found her ICT coursemates a reticent bunch who "didn't interact much." However, the disparate group, who hailed mainly from various polytechnics, soon found common ground and grew closer.  
One of the challenges Shathiya and her coursemates faced was dealing with the fast pace of learning. "What would have been five months of work in polytechnic was compressed into six weeks at SIT," she shared. When a particular project they were working on called for knowledge in machine learning, their limited coding experience meant that the students had to research and delve deeper into the topic themselves, helping one another as they went along. "There was a lot of self-learning," recalled Shathiya, who described her first trimester at SIT as "really tough."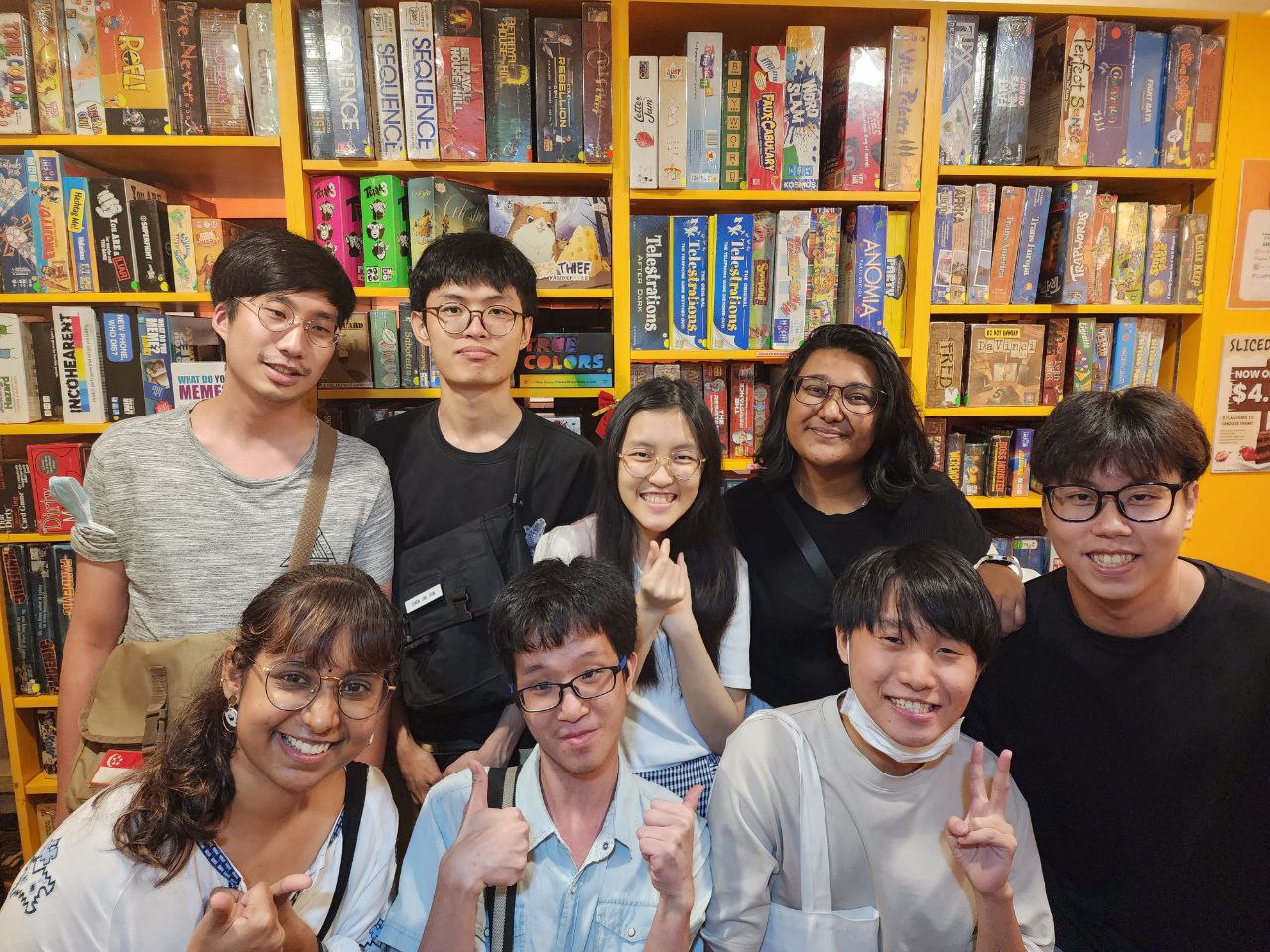 Shathiya (back row, extreme right) with her coursemates. (Photo: Shathiya Sulthana)
Soon, what started as a small group of five on WhatsApp grew into an active community of 15 who supported one another through academic and personal ups and downs. Describing her friends as the element that really enriches her SIT life, Shathiya shared that the close-knit group meets regularly and talks about everything, from schoolwork to updates about their own lives. In fact, it was this group of coursemates who nominated her for SIT's Outstanding Female Student Leader award. 
Forging Connections 
To add even more colour to her university life, Shathiya became a facilitator at Helix, SIT's induction programme for freshmen. She went on to join the ICT Student Management Committee (SMC) and took up the role of Event Head for Day Zero. Together with her teammates, she set out to make sure that the incoming ICT students had a memorable time discovering their tribe and building bonds with one another. 
"I learnt a lot in the process. Other than picking up project management skills, I had to think on my feet and adapt to last-minute changes," she said.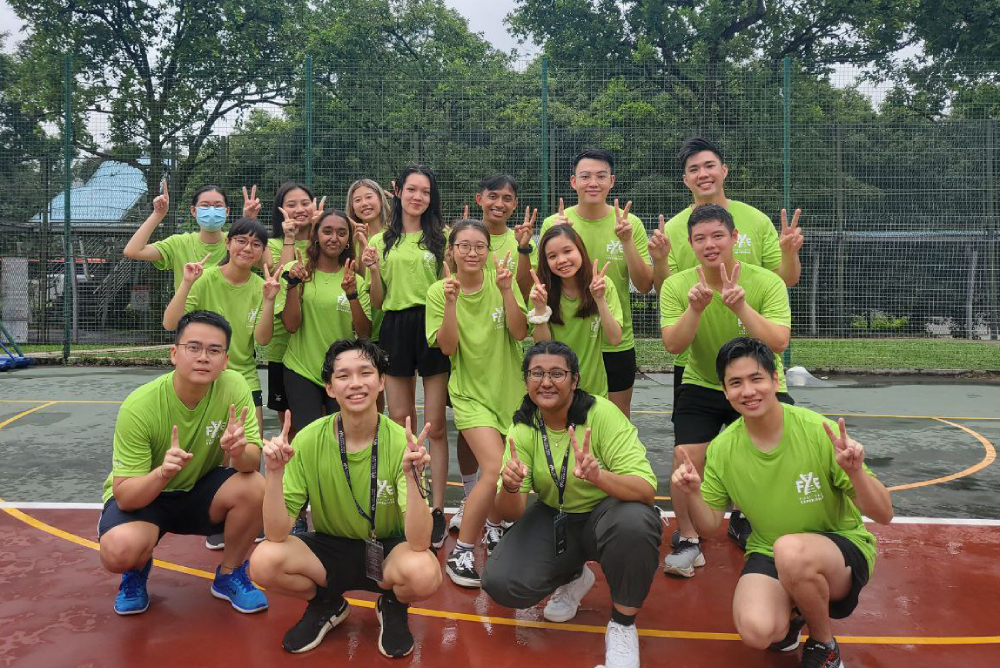 Shathiya was a facilitator at Helix before taking up the Event Head role for Day Zero. (Photo: Shathiya Sulthana)
One challenge that came up was learning that the 300-strong ICT freshmen cohort they had been planning for had increased to 500 participants. That required the team to relook at their logistics arrangements and programming. They also had to rope in additional facilitators, which they pulled off with the support of their Helix teammates.  
As the Vice President of Engagements in the ICT SMC, Shathiya saw her role as helping fellow students connect with one another and with the industry. This was done through events specially organised to increase student engagement. 
One example was a hackathon the SMC co-organised with the Geeks Club for SIT students. Focusing on themes such as seniors and mental health in tech, the team partnered GovTech, put up attractive prizes, and promoted the event through campus channels. The participation exceeded their expectations – in all, 200 students, including many from non-ICT programmes, took part. Shathiya was particularly proud of how the event went beyond engaging the interest of the entire SIT campus.   
The Accidental Leader 
Shathiya's current role as the President of the Information Systems Audit and Control Association's (ISACA) Student Chapter came about purely by chance. 
Set up only last year as a bridge between SIT and the industry, ISACA sought to tap into the expertise of local ICT professionals to prepare tertiary graduates for an increasingly digitalised world. To help them reach out to SIT students, Shathiya drew on her SMC experience and pitched in with ideas for the ISACA team to improve their events.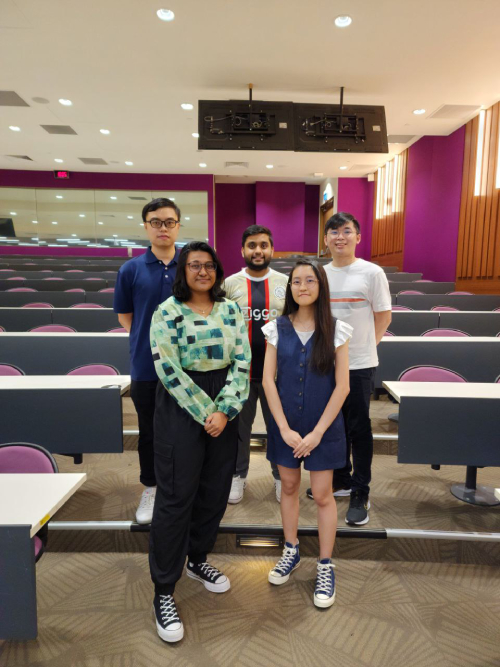 Shathiya with other members of the ISACA Student Chapter executive committee. (Photo: Shathiya Sulthana)
Impressed by her can-do spirit, ISACA offered her the leadership position. Under Shathiya's leadership, ISACA lined up a series of talks for students on trending topics like ChatGPT and artificial intelligence, as well as visits to companies.   
Shathiya has come a long way from being the shy, quiet introvert she once saw herself as. With the support and friendship of her buddies at SIT and the opportunities given by the university, she hopes that she can one day apply the skills she has learnt, to further herself in the field of digital forensics.  "I'm now confident and assertive," she said.