As the focus shifts to sustainability, SIT ensures that graduates entering the workforce have the skills to thrive.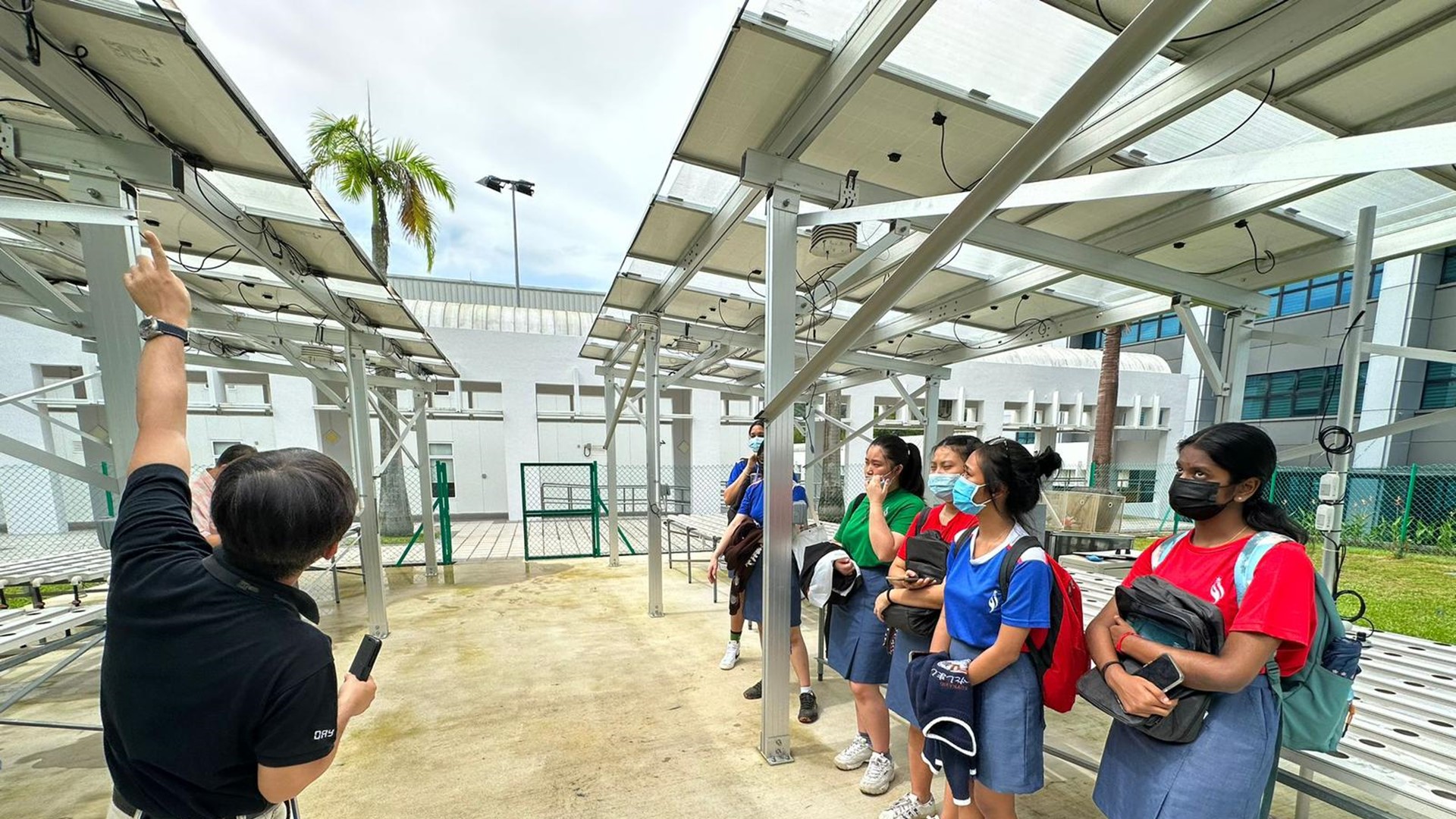 Associate Professor Soh Chew Beng sharing with Yishun Innova Junior College students about the use of solar photovoltaic systems in SIT's agrivoltaic farm, during their visit to SIT. (Photo: Soh Chew Beng)
With climate change a mounting threat, scientists have called for urgent action before the world is pushed to the brink. Sustainability has become key to combating the impending climate disaster. 
At the Singapore Institute of Technology (SIT), students are prepared for a climate-disrupted world, armed with the skills to counter the effects. Through its education programmes, SIT supports Singapore's commitment to achieving net zero emissions by 2050 and has embedded sustainability in the curriculum. Besides equipping students with deep technical knowledge and practical tools to create solutions in both the local and global contexts, SIT also involves them in implementing and finetuning the solutions via proof of concept or pilot projects.
"With a global push towards sustainability, engineers need to embed good sustainability practices into the process and challenge themselves to create net-zero solutions," said Associate Professor Kenneth Low, Cluster Director of Engineering at SIT.
"Helping our next generation of engineers and graduates understand why it is important to embrace sustainability meaningfully is the first step."
Engineering Environmental Friendliness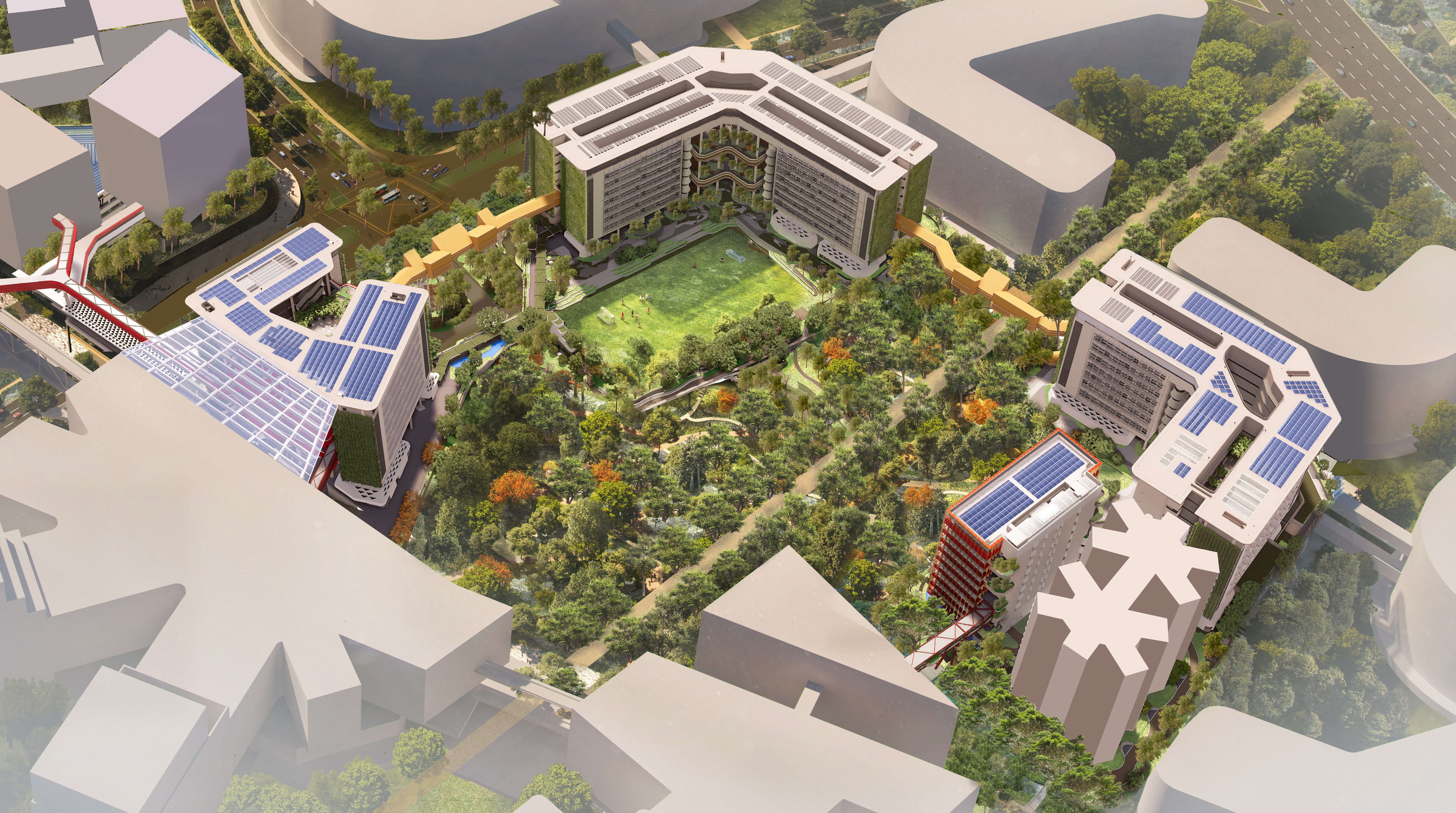 SIT students will have a first-hand green built environment experience at SIT's new Punggol campus, due to be completed in 2024.
Singapore has a sustainability roadmap to tackle this challenge. The Singapore Green Plan 2030 charts green targets over the next few years, which includes greening 80 per cent of buildings by 15 per cent. Buildings currently account for over 20 per cent of Singapore's emissions.
"It is important that the overall life cycle of buildings is taken into consideration, starting from adopting sustainable design principles, the use of sustainable construction materials and innovative technologies on energy harnessing and management," said Associate Professor Soh Chew Beng, Programme Leader, Sustainable Built Environment (SBE) degree programme. 
The programme provides training in mechanical engineering and built environment design. Two electives, Integrated Facility Management and Green Building Design, integrate sustainability based on insights from the Industry Advisory Committee (IAC), a group of industry partners who are involved in the development of SIT's curriculum and provides advice to ensure the curriculum is up to date.
SBE also involves students in competitions like the Built Environment Case Competition (BECC), where they craft solutions for real-life sustainability issues. 
Teoh Mei Ting, a third year SBE student, said the programme has shaped her perspective about sustainability.
"I've become more aware of the chain effect that sustainability can bring to the environment and society, as well as the potential source of momentum that can propel these efforts," she said. Mei Ting also won the BECC 2021 competition with two other students, thanks to their concept of a futuristic, floating Singapore city to tackle climate change.
With SIT's new Punggol campus, students will have a first-hand green built environment experience. The campus will incorporate green technologies like the low-carbon District Cooling System and Multi-Energy Microgrid.
Setting Sail for Sustainability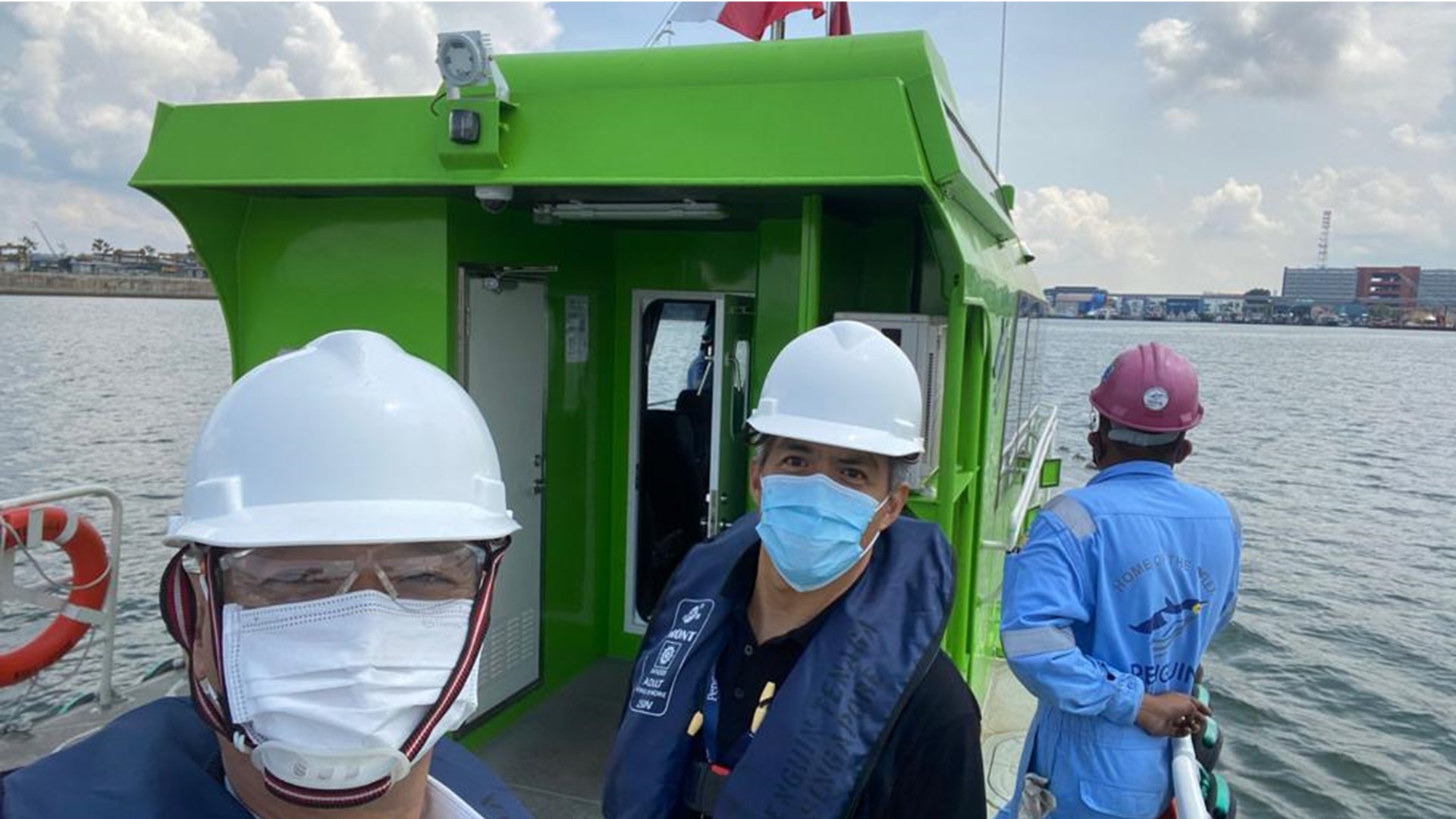 The Naval Architecture and Marine Engineering programme faculty members visit Penguin Tenaga, Singapore's First Hybrid-Powered Vessel (Photo: Mark Teo)
In the maritime industry, global shipping activity accounts for 3 per cent of global greenhouse gas emissions, according to the International Maritime Organization's 2020 greenhouse gas study.[1] Technological upgrades not only enhance maritime efficiency and safety, but can also cut emissions. As the world's leading maritime capital, Singapore is poised to make a big impact on this front.
Jointly offered by SIT and Newcastle University, the Naval Architecture and Marine Engineering (NAME) degree programme prepares students for the industry. A three-week overseas immersion programme at Newcastle University is included, exposing them to the industry outside Singapore.
As NAME focuses on digitalisation and decarbonisation, students will learn about designing eco-vessels, decarbonising ocean liners, using renewable energy sources and more.
"NAME embeds maritime sustainability in various modules through a student's three-year learning journey. Some examples are electrification of marine vehicles, ship energy efficiency, energy-saving technologies, and offshore renewable energy," said Associate Professor Wang Xin, Programme Leader, NAME.
IAC member Cristina Saenz de Santa Maria welcomes maritime innovation. "The world is really going through a major global transformation, with the challenge we have with climate change," she said. "We are really set for a maritime renaissance."
More Sustainable Practices in Hospitality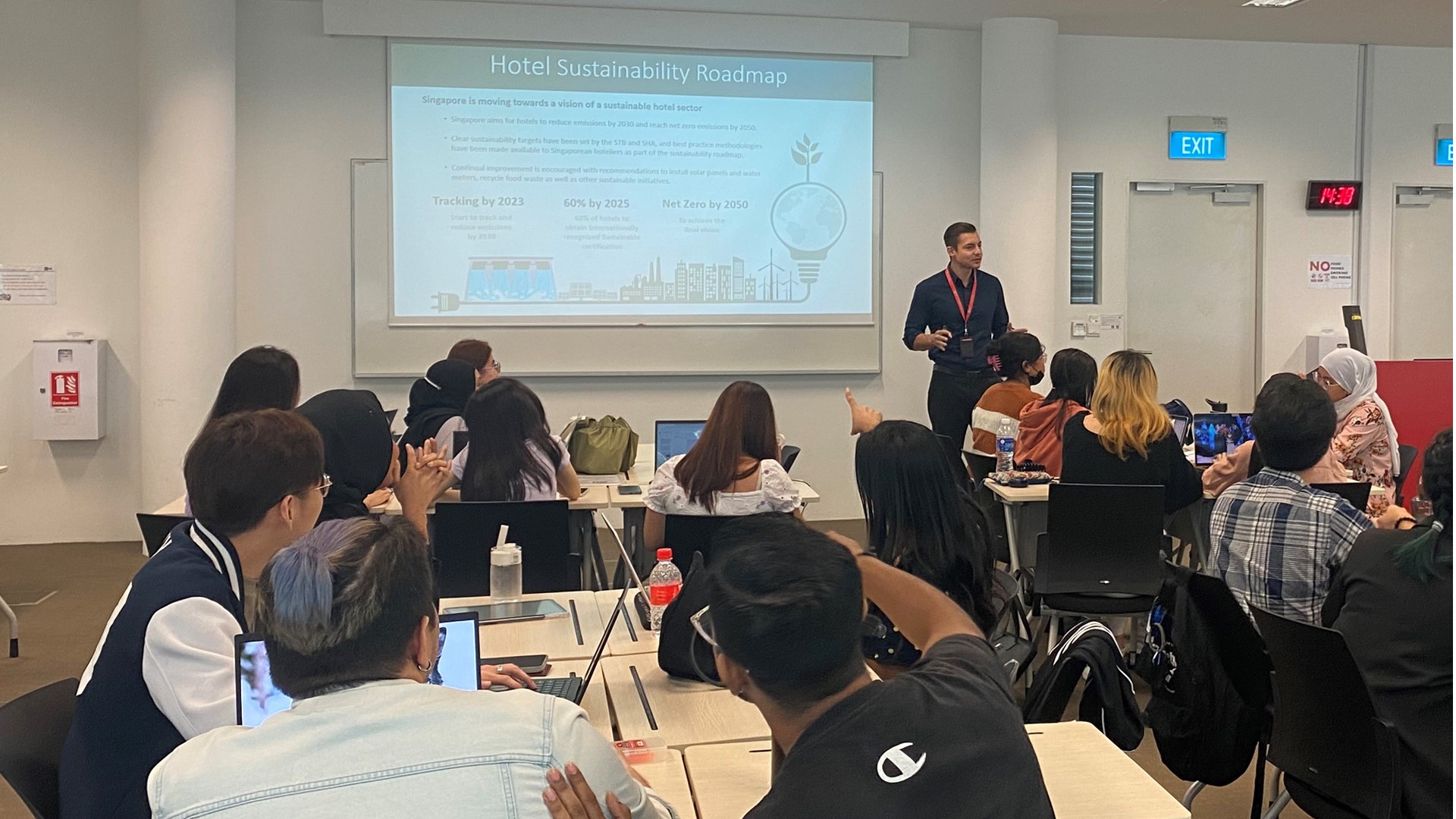 Assistant Professor Michael Kruesi teaching a class in Sustainable Hospitality Operation, a module under the Hospitality Business programme. (Photo: Michael Kruesi)
Singapore's sustainability journey extends to the hospitality industry as well. The Singapore Hotel Sustainability Roadmap, launched in March 2022, expects 60 per cent of hotel room stock to achieve internationally recognised sustainability certification by 2025 and to reach net zero emissions by 2050.
SIT's Hospitality Business (HB) degree programme, the only hospitality programme offered by an autonomous university in Singapore, trains students to adapt to any situation with real-world experience, inculcates speaking skills, and offers a support network and more.
"I have been put through different tests, exposures and interactions," said alumnus Edsel Li, who graduated in 2021. "The challenges at SIT forced me to adapt to different settings and not have a 'one size fits all' mindset."
Assistant Professor Michael Kruesi, who teaches the HB programme, said that a focus on sustainability helps businesses in the industry to stay ahead of the competition. "Sustainability practices have been proven to not only enhance revenue, but also offer a distinct competitive advantage and reduce operational costs in the hospitality industry."
As such, Asst Prof Kruesi's sustainability module exemplifies important tools such as Green Balance, an application developed at SIT for hotel sustainability measurement and benchmarking, which is available for adoption nationwide. "This is one way that SIT has been able to make an impact on hotel sustainability in Singapore, and soon internationally," he added.
Students are also encouraged to integrate sustainable practices hands-on. At the Mapletree Challenge 2020, HB students proposed solutions to encourage recycling. One such innovation was a biodegradable toothpaste pod made of seaweed extracts.
As the world braces for climate change's dire consequences, SIT students are prepared to do their part to ensure a sustainable future for all.
Admissions to SIT is open from now till 19 March 2023. 
[1] GHG emissions from international shipping. https://www.imo.org/en/ourwork/environment/pages/ghg-emissions.aspx