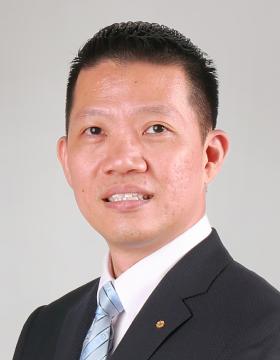 Associate Professor
Kenneth
LOW
PhD in Mechanical Engineering , University of Nottingham, United Kingdom
Profile

Biography

Dr. Kenneth Low is Associate Professor and Cluster Director in the Engineering Cluster of Singapore Institute of Technology (SIT). He leads the cluster leadership team overseeing faculty recruitment, appraisal and academic staff promotion. He is responsible for charting the strategic applied research focus areas for the Engineering Cluster.

Prior to his current appointment, Assoc Prof Low was Deputy Cluster Director and Programme Leader overseeing the programme development, management and industry linkages of the joint Bachelor of Engineering (Hons) in Marine Engineering; Naval Architecture; Offshore Engineering (MNO); and Naval Architecture & Marine Engineering (NAME), (2017 - 2022). Between 2014 and 2016, he was the Director of Industry and Community. He established strategic relationships with partners across Engineering, ICT, Accountancy and Allied Health industries.

Assoc Prof Low established the first dual-studies programme (Poly-Goes-SIT) in Singapore at the university level in collaboration with more than 10 German companies and Economic Development Board (EDC) of Singapore in 2015. In 2017, he concluded a collaboration with Siemens in Industry 4.0 with a value of S$7.4 million. He was a member of Programmes Scanning & Initiation Committee (2014 - 2015), member of the Grant Evaluation Committee (since 2018), member of organizing committee of Applied Learning Conference 2020 and chairperson of the Autonomous Universities Engineering Scholarship Selection Panel in 2021. He currently serves as member of the Industry 4.0 Steering Committee and the Integrated Industry Engagement (I2E) Workgroup.

Before joining SIT, Assoc Prof Low served as Assistant Vice President of ST Engineering (ST Aerospace). He was part of a key team responsible for strategic business development, joint venture agreement (JVA) and merger & acquisition (M&A) for ST Aerospace Engines. He completed a complex closing to transfer intellectual property rights from Pratt & Whitney to a new JV company and held a concurrent appointment as Assistant Vice President in the new JV Company, EcoServices LLC. He also served as Adviser for ST Engineering in 2014 and 2015. Between 2007 and 2011, he served as Chief Designer (Mechanical) in the Design Office and subsequently, Director (Marine Systems) in the Engineering Design Center of ST Engineering (ST Marine). His team of more than 50 design engineers successfully delivered engineering solutions for a broad spectrum of highly sophisticated commercial and naval vessels. A few projects worth mentioning in the Singapore context which required con-current research and development are first specialised marine craft for the Republic of Singapore Navy, first Airbus RORO & ROPAX vessels for LDA, first Saturated-Diving Support Vessel for DOF, first export of Landing Platform Dock (LPD) for Royal Thai Navy and Offshore Patrol Vessels for Royal Navy of Oman. The many firsts helped to secure Singapore's position in the global stage as key exporter of complex commercial and naval vessels.

Assoc Prof Low began his career with ST Engineering (ST Marine) via a scholarship in Shipbuilding & Offshore Engineering diploma at Ngee Ann Polytechnic in 1990. With the support of the company, he furthered his study in the UK and went on to receive a scholarship to pursue his PhD, in the UK. Upon his graduation, he joined the company as an engineer cum acting department head in 2001, and led the Production Planning Department that successfully completed the technology transfer (Technical Data Package - Production) for the Formidable Class Stealth Frigates Programme. By July 2003, he assumed the role of department head of the Production Planning that oversaw the master production schedule, space management and productivity improvement of the shipyard. In July 2004, he became the Project Manager of the third locally built Frigate (RSS Tenacious) leading a team of around 250 engineers and technicians and was concurrently in charge of business development in the Indian market. In the same year, he presented to Prime Minister Lee Hsien Loong on "The Challenges and Construction Process of the Formidable Class Stealth Frigates Programme". During his career in ST Engineering, he delivered through his various capacities on projects totaling S$1.056 Billion and played a pivotal role in securing new projects with a total value of more than S$1 Billion.

Assoc Prof Low graduated with a Bachelor of Engineering (Hons) in Mechanical Engineering from University of Newcastle upon Tyne (UK) in 1998. He was conferred the Doctor of Philosophy (Ph.D.) in Mechanical Engineering from the University of Nottingham (UK) in 2001 under the supervision of Professor Thomas Hyde and Professor Philip Shipway on the topic of Elevated Temperature Creep Strains in Cross-weld Specimens in collaboration with the leading nuclear and conventional power generation companies in the UK. He attended Executive Management Training Programme in 2006 (India – Pune), Temasek Leaders Training Programme in 2009 (Singapore and Vietnam), Harvard Business School Executive Education Program in 2020, MIT Sloan School of Management Executive Management Program in 2021, DDI Leadership Horizons course in 2022 and MIT Professional Program in 2023.

Assoc Prof Low serves as an independent board director and senior advisor of EQUANS Axima Pte Ltd (Singapore), a subsidiary of EQUANS Axima - a French leader in climate engineering, refrigeration and fire protection with a turnover of 1.3 billion Euros and 7500 staff.

Assoc Prof Low is a Fellow of the Institute of Marine Engineering, Science and Technology (IMarEST), a Fellow of The Royal Institution of Naval Architects (RINA), a Chartered Engineer and a Chartered Marine Engineer. He served as the Secretary of the Singapore Joint Branch of Royal Institution of Naval Architects (RINA) and the Institute of Marine Engineering, Science and Technology (IMarEST) from 2016 to 2018. He is a senior member of the Institution of Engineers Singapore (IES) and a member of Singapore Institute of Directors.

Assoc Prof Low is a Council member of Workplace Safety and Health Council and Chairman of the WSH Marine Industries Committee (2023-), member of Board of Governors of Republic Polytechnic and Chairperson of the School of Engineering Advisory Committee (2023-), co-opted Management Committee member of Association of Aerospace Industries Singapore (2018-), Co-Chair (Academic) of Aerospace Technical Committee of Singapore Standards Council (2020-), member of the IES – Port and Marine Engineering Technical Committee (2021-), member of the Manpower Committee of Association of Singapore Marine Industry (2022-), member of DSTA Technical Competency Accreditation Panel – Naval Platform Systems and Integration (2018-), member of HTX Technical Competency External Expert Panel (2023-) and Honorary Auditor of MindSphere World Association ASEAN (2020-).

Assoc Prof Low is an active volunteer. He was the Chairman of the Soka Gakkai Singapore's Community Service Committee: which consists of Soka Volunteers, Soka Medical and Counseling Groups between 2008 and 2014. Presently, he remains as Vice Chairman of the Soka Volunteers Group and continues to volunteer actively. He was the Vice Young Men Division Chief of the Soka Gakkai Singapore (2018). In his previous appointment as Director of Industry & Community at SIT, he was a member of the working committee of SG50 Project that documented Punggol with the help of student and staff volunteers that resulted in the publication of a book "Punggol – Remembering the Past, Inspiring the Future". He is a member of Teck Ghee Branch, People's Action Party and Management Committee Member (Auditor) of Ang Mo Kio Community Club.

SIT Appointments

Programme Leader, SIT-NU BEng (Hons) Naval Architecture and Marine Engineering

Programme Leader, SIT-NU BEng (Hons) Marine Engineering

Deputy Cluster Director, Engineering

Programme Leader, SIT-NU BEng (Hons) Offshore Engineering

Programme Leader, SIT-NU BEng (Hons) Naval Architecture

Programme Director, SIT-NU BEng (Hons) in Marine Engineering

Programme Director, SIT-NU BEng (Hons) in Offshore Engineering

Programme Director, SIT-NU BEng (Hons) in Naval Architecture

Deputy Programme Director, SIT-NU BEng (Hons) in Marine Engineering

Deputy Programme Director, SIT-NU BEng (Hons) in Offshore Engineering

Deputy Programme Director, SIT-NU BEng (Hons) in Naval Architecture

Director, Industry & Community

Education

PhD in Mechanical Engineering

University of Nottingham

,

United Kingdom

BEng (Hons) in Mechanical Engineering

University of Newcastle upon Tyne

,

United Kingdom

Diploma in Shipbuilding & Offshore Engineering

Ngee Ann Polytechnic

,

Singapore

Achievements

Finalist - Individual Contribution of the Year at the 21st Annual Business Awards (British Chamber of Commerce Singapore)

2005: ST Engineering Innovation Competition – Chief Defence Scientist's Silver Award – Young inventor of cooling table for thin plate welding in support of the New Frigate Construction Programme, Singapore Patent Application No. 200306052-2.

2001: BSSM Seminar at Lancaster (UK) – Winner of 2nd price as best presenter.

1998: PhD Scholarship – University of Nottingham, British Energy plc, Innogy plc and PowerGen plc.

Professional Certification

Professional Education - Leadership & Innovation

Massachusetts Institute of Technology

MIT Sloan Leadership in an Exponentially Changing World Program

MIT Sloan School of Management

Executive Education Program - Leading Difference For High Performance

Harvard Business School

Professional Memberships

Chartered Engineer (CEng), Engineering Council (United Kingdom)

Fellow (FRINA), The Royal Institution of Naval Architecture

Chartered Marine Engineer (CMarEng), The Institute of Marine Engineering, Science and Technology

Member (MSID), Singapore Institute of Directors

Fellow (FIMarEST), The Institute of Marine Engineering, Science and Technology

Senior Member (Sr.MIES), Institution of Engineers Singapore

Corporate Experience

Member of DSTA Technical Competency Accreditation Panel - Naval Platform Systems and Integration

Management Committee Member (Co-opted) of Association of Aerospace Industries (Singapore) AAIS

Member of Singapore Institute of Technology's Grants Evaluation Committee (GEC)

Director and Board Member of EQUANS Axima Singapore Pte Ltd

Member of Singapore Institute of Technology's Industry 4.0 Steering Committee

Co-Chair, Aerospace Technical Committee (ASTC), Singapore Standards Council, SMF (SDO)

Committee Member, Port & Marine Engineering Technical Committee, IES

Honorary Auditor, MindSphere World Association ASEAN

Secretary of Joint Branch of Royal Institution of Naval Architects (RINA) and Institute of Marine Engineering, Science and Technology (IMarEST) Singapore

Advisor, ETS, Business Development, ST Engineering Aerospace

Assistant Vice President (Concurrent Role), EcoServices LLC, JV of ST Engineering Aerospace & Pratt & Whitney

Assistant Vice President, ETS, Business Development, ST Engineering Aerospace

Director, Engineering Design Center, Marine Systems, ST Engineering Marine

Chief Designer, Mechanical, Design Office, ST Engineering Marine

Business Development Manager (Concurrent Role), India, ST Engineering Marine

Project Manager, New Frigates Programme, ST Engineering Marine

Head of Department, Production Planning, ST Engineering Marine

Commercial Executive, Commercial Department, ST Engineering Marine
Research

Research Interests

Welding of thick-wall pressure vessels for conventional and nuclear power plants and submarine hull.

Welding automation (thin steel and aluminum plates & frames) for naval vessels and superyachts applications.

Design optimisation of marine systems for naval and specialised vessels.

Stealth design of marine systems onboard warships.

Hybrid vessels – dual fuels and diesel-electric propulsion.

Unmanned surface vehicles (Unmanned marine systems).

Advanced materials for marine application.

Special coatings for aerospace application.

Feasibility study of airship for air-cruise, defence and heavy cargo transportation.

Wing-In-Ground effect ships.
Publication

Journal Papers

Low, K. (2001), Measurement of elevated temperature creep strains in cross-weld specimens using the grid method, Ph.D. Thesis, December 13, pp. 1-256.

Conferences

Hyde, T. H., Low, K. and Shipway, P.H. (2001), A technique for localized creep strain measurement using the high temperature grid, Proc. Strain Measurement in the 21st Century, Lancaster, UK, September 5-6, Publication of BSSM, pp. 16-19.

Hyde, T. H., Low, K. and Shipway, P.H. (2001), Measurement of high temperature creep strains in a service-aged CrMoV pipe material using the grid method, Proc. 4th Japan-China Bilateral Symposium High Temperature Strength of Materials, Tsukuba, Japan, June 11-13, pp. 167-172.