The sky's the limit for Air Transport Management graduates from the Class of 2022.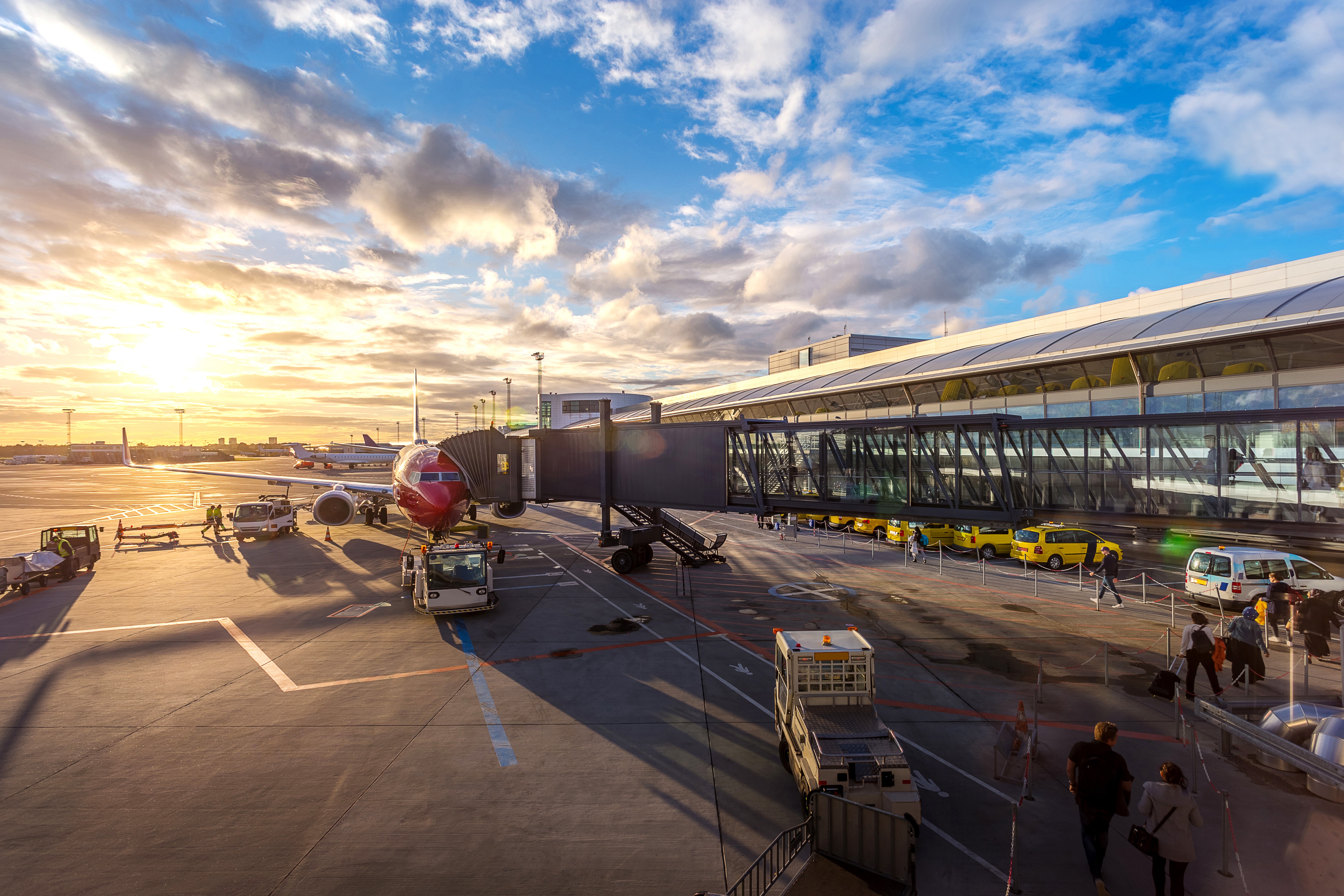 (Photo: Pexel)
Not many can say that their career paths were set in stone after being inspired by documentaries like Air Crash Investigation and Mayday. For a teenage Anand Kumar, those shows shaped his dream of working behind the scenes in the aviation industry one day.
Fast forward to a decade later, the Singapore Institute of Technology (SIT) graduate got his opportunity when he joined the Singapore Aviation Academy (SAA), a division of the Civil Aviation Authority of Singapore (CAAS). In his role as the Assistant Manager of Campus Excellence in SAA, he supports the training needs of a new generation of aviation specialists by assisting instructors in their conduct of training programmes and providing support for trainees in their learning journey.
For Marianne Lee Yi Lin, a fellow SIT course mate, she relished the prospect of working in a dynamic and high-pressure environment. Intrigued by the challenging nature of an air traffic control officer's role, which requires a high degree of alertness, confidence and decisiveness, she successfully applied and landed a role as a Probationary Air Traffic Control Officer with CAAS.
Both Anand and Marianne kickstarted their foray into the exciting aviation sector by pursuing the Bachelor of Science in Air Transport Management (ATM) at SIT. Both were drawn to SIT as it is the only university in Singapore offering a specialised degree in air transport management.
Dreams Take Flight
The ATM degree programme was developed in close partnership with CAAS and other key members of the aviation industry, ensuring that graduates understand industry needs and are work-ready, whether they're working with airports, airlines, ground handling agencies or aviation consultancy firms.
The degree programme covers operations, management and business aspects of the air transport industry and aims to strengthen the pipeline of skilled aviation professionals to meet the future manpower demands of the expanding aviation industry. "I enjoyed learning about how an airline or airport operates, how an airline generates revenue and entices passengers through marketing, and all these lesser known but critical things about the industry," says Anand.
For Marianne, her favourite modules were Service Quality Management and Airport Operations & Management, which offer insights on effective staff management and allow one to see the 'big picture' of seamless operations in a well-designed airport.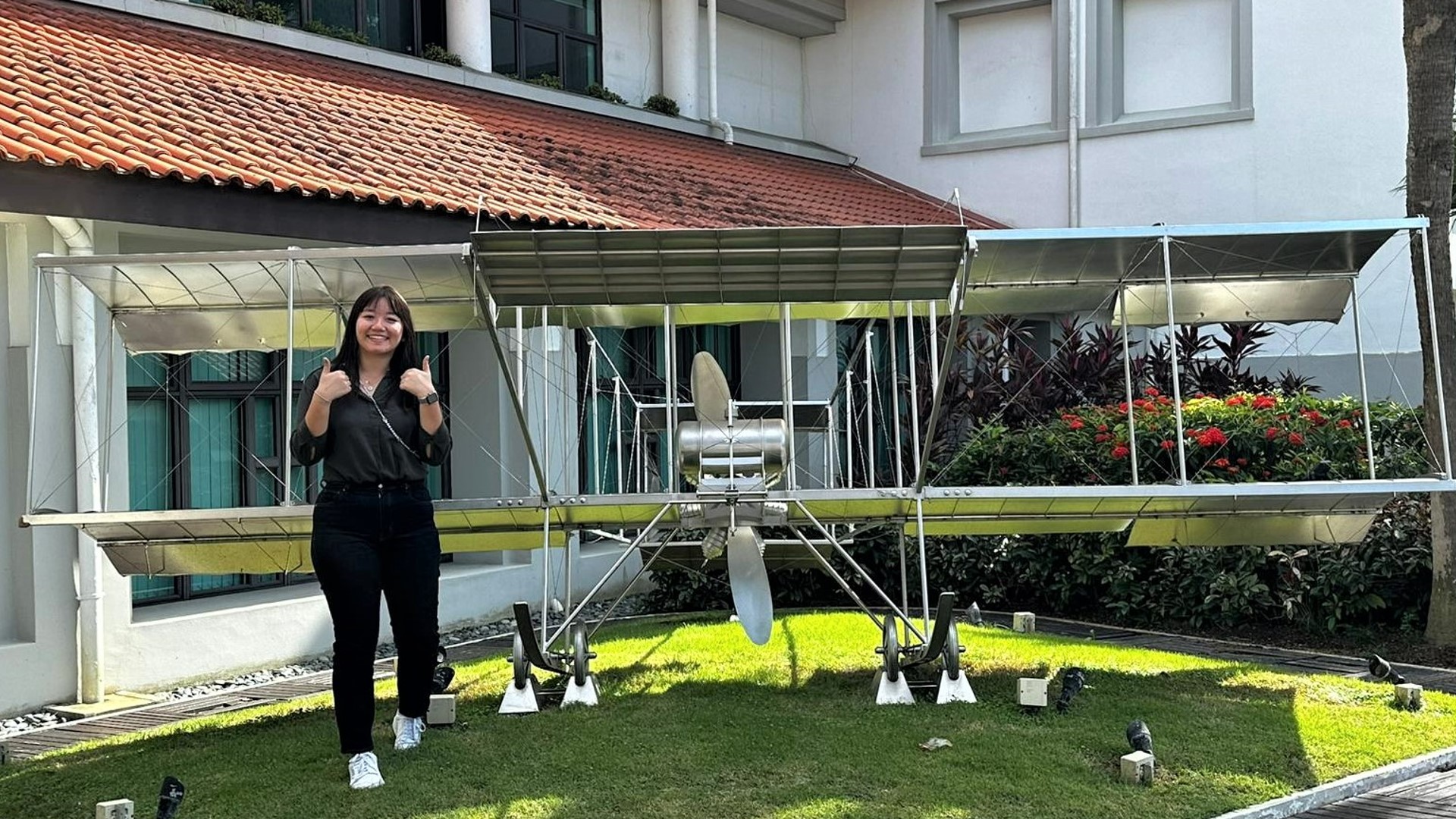 Marianne is currently a Probationary Air Traffic Control Officer with CAAS. (Photo: Civil Aviation Authority of Singapore)
In addition to what is taught in the classrooms, a key component of SIT's applied learning pedagogy is its Integrated Work Study Programme (IWSP), which places students in immersive work attachments within the industry for up to 12 months.
As part of his eight-month long IWSP, Anand was attached to Singapore Airlines as a Customer Care Manager, where his role was to ensure that the reservation needs of passengers were promptly met. Coordinating with station managers and contact centres to manage resources and communication channels to ensure seamless passenger transfers exposed him to real-work conditions in the airport. "Strangely enough, I enjoyed flight disruptions the most. They were what really kept us on our toes because everything was happening in real-time," he says.
Anand's IWSP also opened his eyes to the varied roles within the aviation ecosystem. "There were many different roles that I didn't know existed, from flight followers to customer care teams and Operations Control. They're all based in one office and work together to ensure that a flight takes off and lands safely, in a timely manner."
Bonding through Challenges
Both Anand and Marianne were part of SIT's pioneer cohort of the ATM degree programme, which came with its own unique challenges. "Some modules were completely new, which we were not exposed to before," says Anand, who studied Aviation Management at Republic Polytechnic. And while this pioneer cohort didn't have any seniors to rely on, their shared experiences helped the class bond – both among themselves and with the academic staff.
Anand was the President of the programme's Student Management Committee (SMC), which organises events to help students bond, and serves as a bridge between the faculty and the students to enhance student learning experience. "As the pioneer batch, we were involved in discussions with the lecturers on how to make the learning of the modules better," says Anand.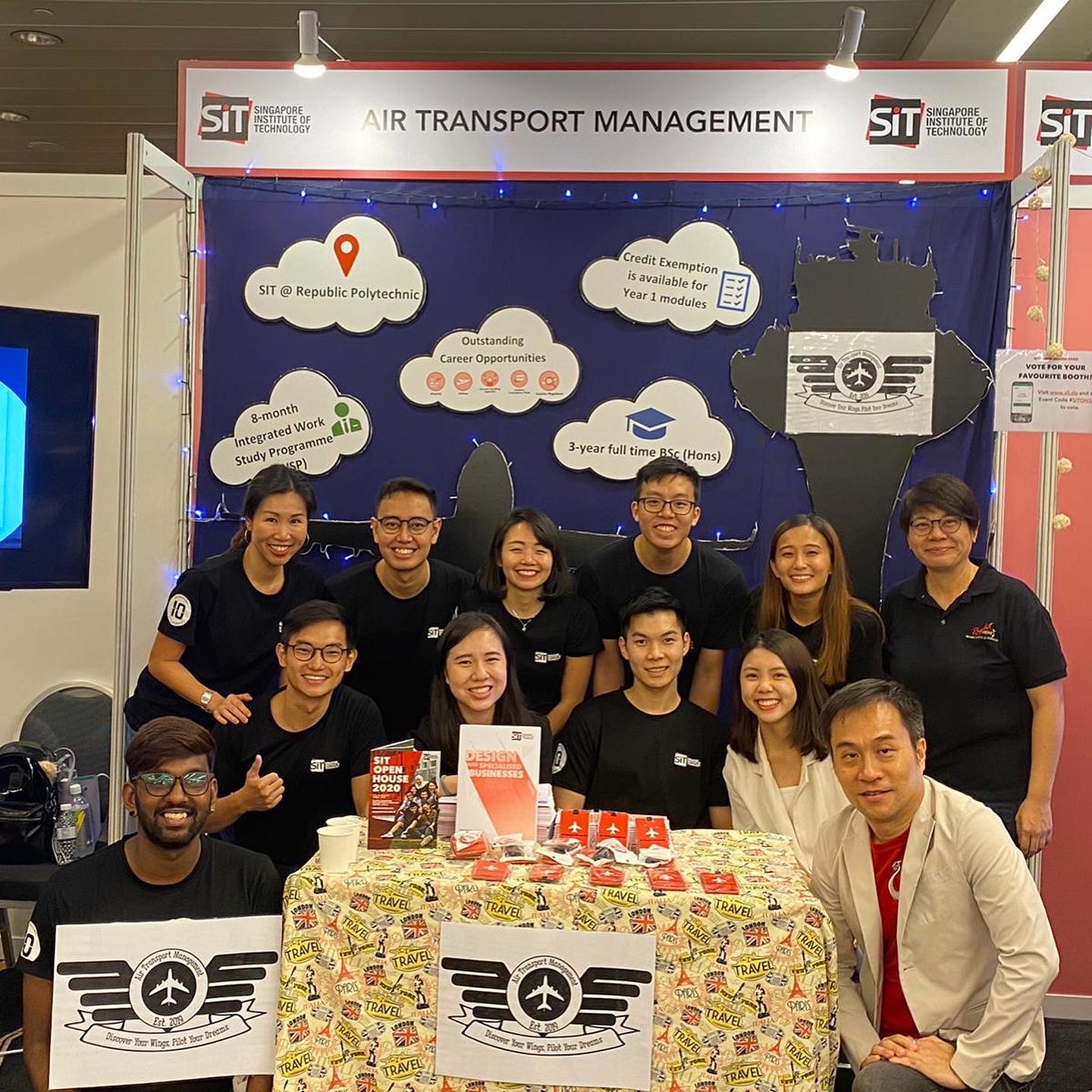 As the President of the Air Transport Management degree programme's Student Management Committee, Anand (front row, left) assisted in organising bonding activities for fellow students. (Photo: Anand Kumar)
For Marianne, being the pioneer cohort meant a closer relationship between students and the lecturers. "We developed a deeper appreciation on why certain modules were taught in a particular manner, and how the curriculum was designed. We also learned to adapt to new situations quickly."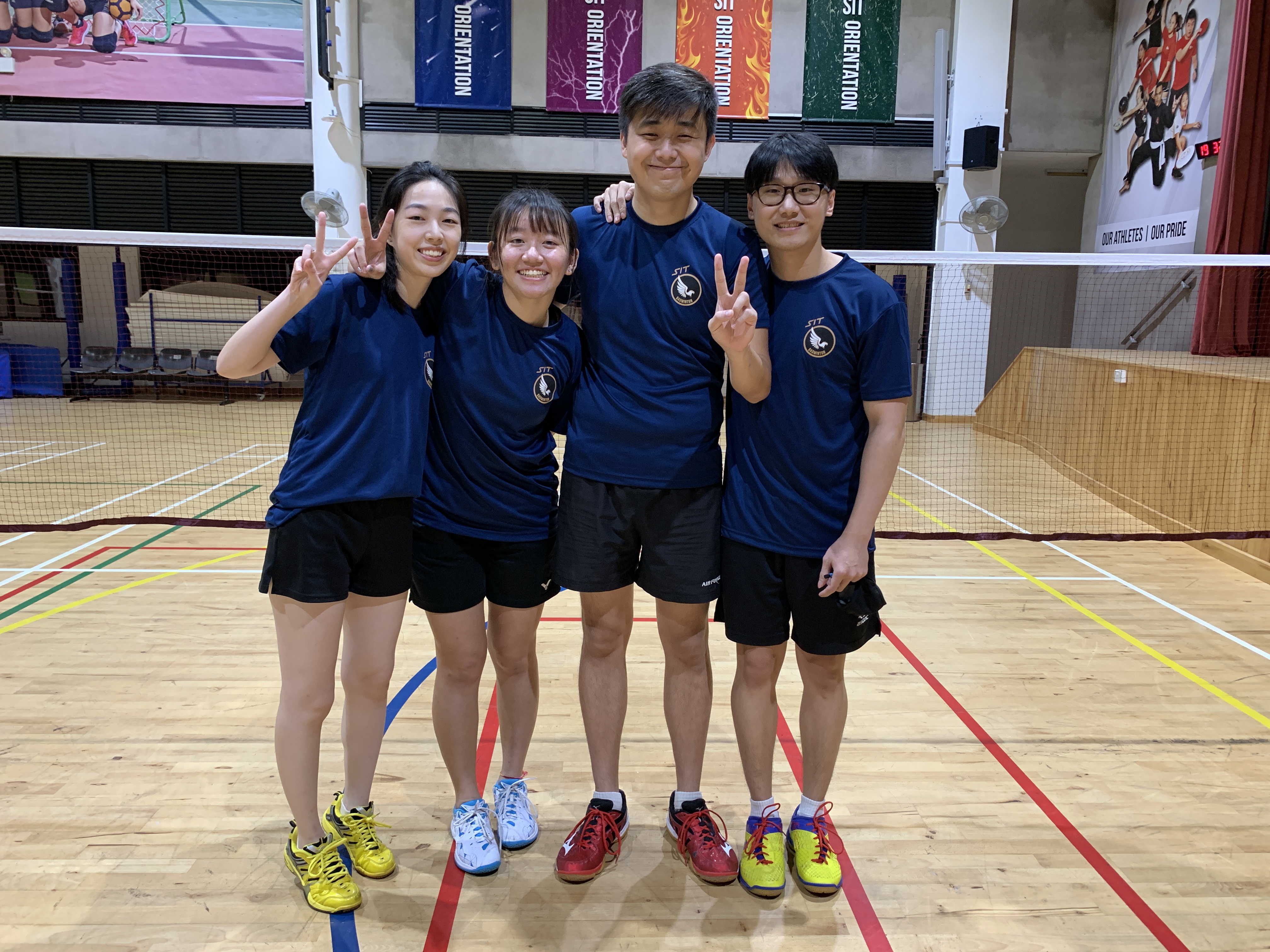 Marianne (second from left) served as the Vice-President of SIT's Badminton Club, where she helped design training plan for club members. (Photo: Marianne Lee)
When the COVID-19 pandemic hit the aviation industry, internship opportunities became scarce. Despite this, SIT worked closely with industry partners to secure work attachment stints for ATM students.
For her IWSP, Marianne was attached to the Changi Airport Group as a Product Manager. She was tasked to improve on iChangi app's user interface. Her notable contributions include improving the event booking function in the app and using Robotic Process Automation (RPA) to enhance the event set up process. "As a Product Manager, I used skillsets acquired in the university, such as planning and management, and adapted it to the technical side to improve the app's interface," says Marianne.
Her IWSP experience exposed her to the business side of airport operations and gave her a macro perspective of how the marketing and finance departments work together to identity revenue generation avenues.
Throughout their degree programme, both Anand and Marianne also knew that the aviation industry would ultimately bounce back. They both graduated just in time, in 2022, to see borders reopening with the easing of COVID-19 measures.
A Future in Aviation
As of January 2023, passenger traffic at Changi Airport has already recovered to about 80% of pre-COVID levels. "I would say that the aviation industry as a whole has learnt from COVID-19 about how to be more resilient in the future," says Anand.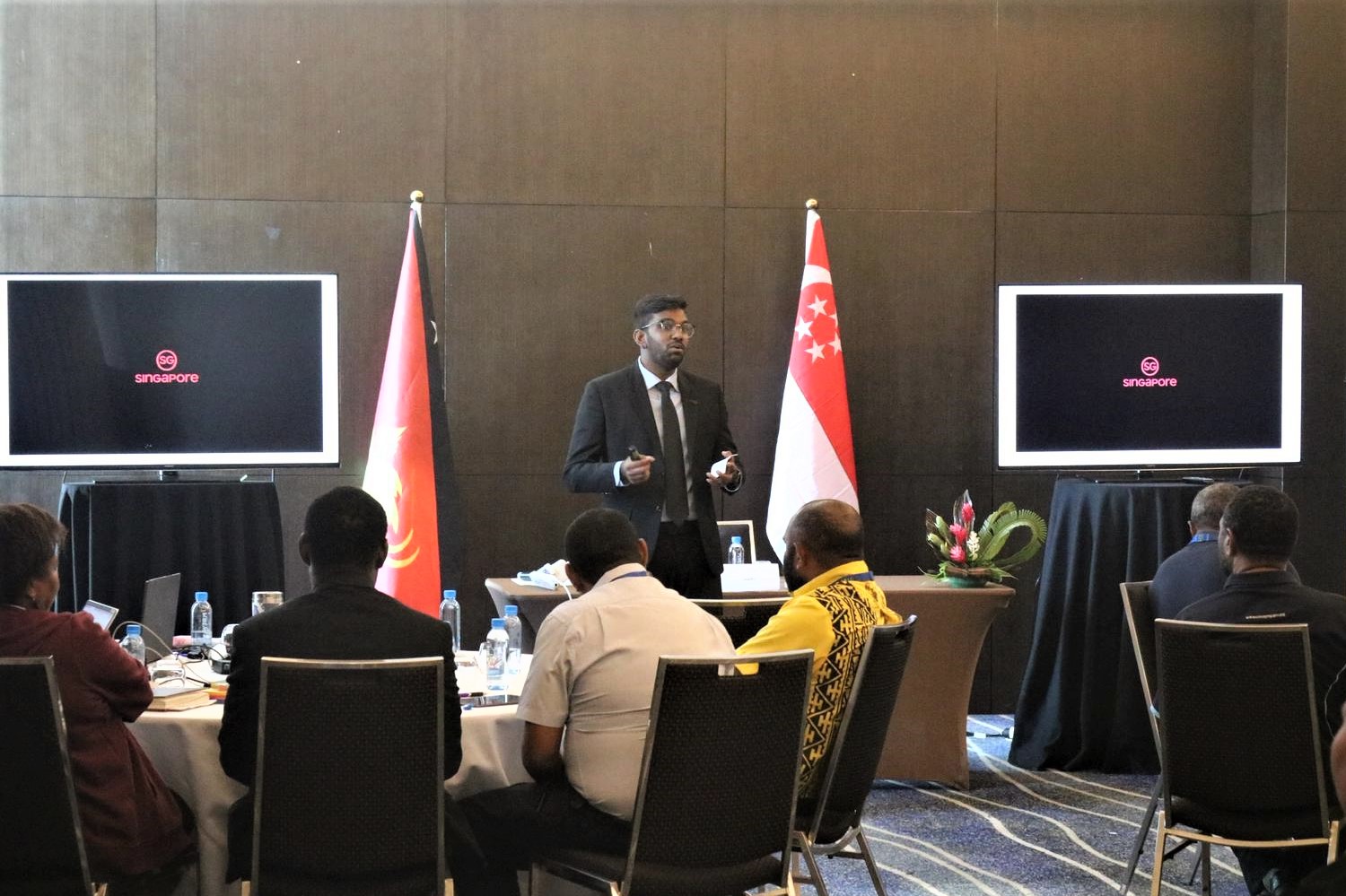 Anand briefing course participants at an overseas training programme conducted by the Singapore Aviation Academy in Papua New Guinea. (Photo: Civil Aviation Authority of Singapore)
And now, as post-pandemic travel is set to soar, the aviation industry is on the lookout for more talents in the coming years.
Helping to fill the manpower staffing needs are SIT's ATM graduates like Anand and Marianne, who are equipped with industry knowledge in the operations, management and business aspects of the air transport sector.
For prospective students who are interested in the sector, Marianne has this advice: "One has to be agile and adaptable, because there's no fixed solution for a potential problem that you may encounter in the workplace. You have to be quick on your feet to apply the knowledge that you have learnt to solve problems. The exposure from my IWSP stint has made me work-ready and enabled me to face challenges confidently," says Marianne.
If this sounds like an exciting challenge for you, find out more about the ATM degree programme at the Singapore Institute of Technology and chart a career in the aviation sector.
This article first appeared on  Campus SG.