Singapore Institute of Technology's Vice President (Applied Research), Associate Professor Susanna Leong, shares some insights in the importance of food science and technology and how the university is driving research in these key areas.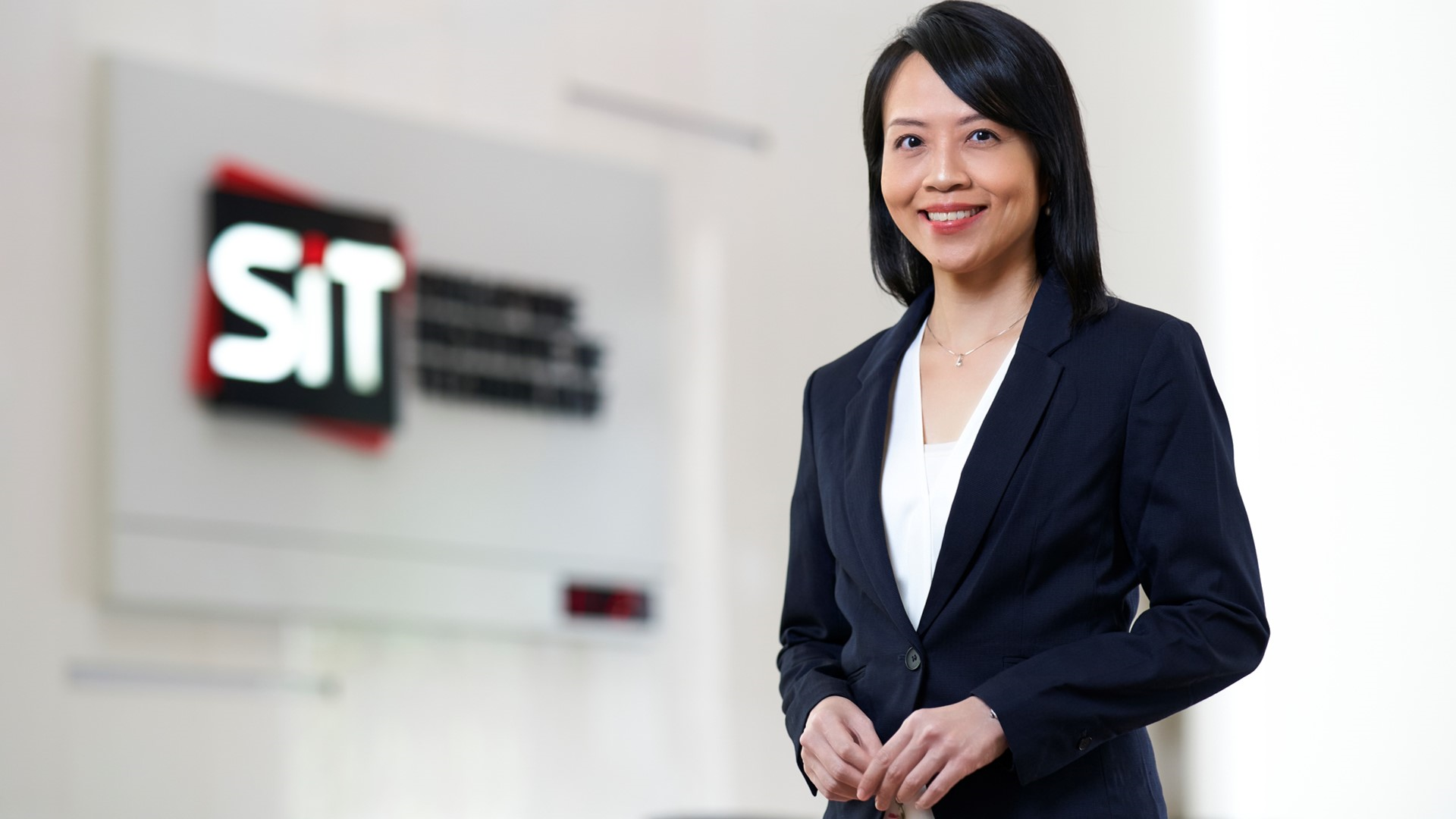 Associate Professor Susanna Leong, Vice President (Applied Research), SIT . (SIT Photo: Keng Photography/Tan Eng Keng)
Today's global food landscape is changing rapidly fueled by the COVID-19 pandemic, climate change, protectionism trends and global inequality, resulting in wide implications on food security and affordability.  
 
Singapore is also confronted with an ageing population which will require a steady supply of nutritious and affordable food options. We need both human capital and innovative solutions to tackle these challenges. And this is where research institutes and institutes of higher learning are in the best position to support this through translational research coupled with close working relationships with industry partners. The Singapore Institute of Technology (SIT) is already ramping-up momentum in this arena.  
 
With three food-related undergraduate degree programmes under SIT's wings spanning food technology, dietetics and nutrition as well as culinary arts, SIT views its role in training industry-relevant talent and addressing growth opportunities across the food sector through applied research an important and exciting one, given that food systems are on the cusp of a major transformation.  
 
SIT's food research focus encompasses several interrelated areas: (i) alternative protein food production for optimised quality and cost competitiveness, (ii) food waste upcycling, (iii) nutrition and dietetics, and (iv) food structure engineering.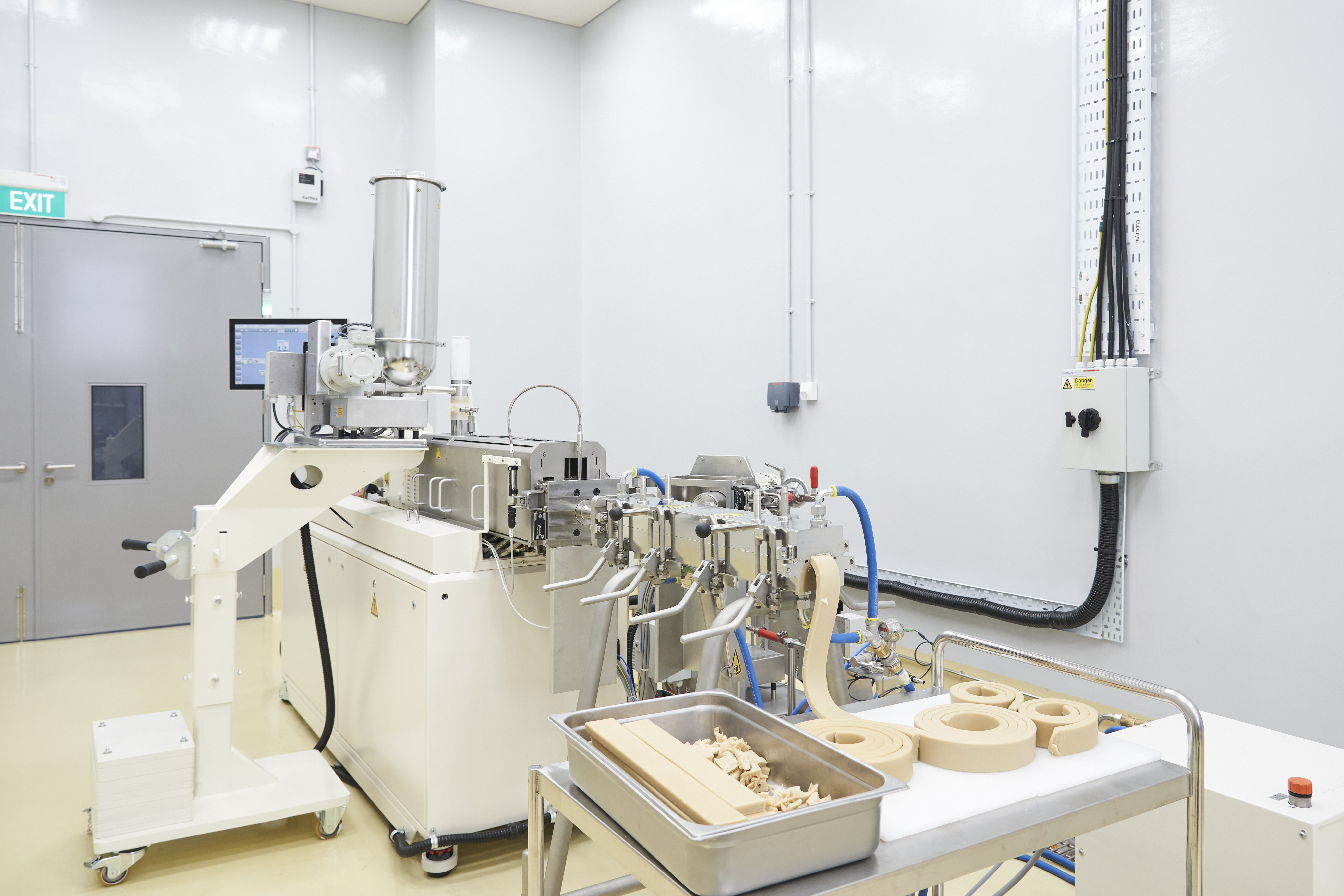 The 1,107 m2 facility at FoodPlant boasts 12 rooms with specialised food production equipment, including the extruder room which companies may use the Twin-Screw Extruder to produce plant-based meat analogues. The facility provides food businesses with a platform to innovate, scale up and commercialise new products. (SIT Photo: Keng Photography/Tan Eng Keng)
To actualise translation of our food research, SIT's small batch food production facility at FoodPlant actively works with food outfits to transit food prototypes towards commercialisation. In fact, the spirit of translational research excellence necessitates strong relationship with industry partners which is pivotal to ensure ideas nurtured at the lab remain relevant and commercially viable. 
Alternative protein is an emerging food megatrend, driven by the need to overcome the inefficiencies of animal agriculture and shift our food systems toward an environmentally-sound path. SIT has been working with food companies to develop new formulation, advance processing of novel food products such as meat substitutes, functional/healthy food products, and understand the use of novel ingredients such as complementary proteins in food matrices. 
One of SIT's food research partners is Agrocorp, a leading agricultural commodity and food solutions provider. Today, SIT and Agrocorp are working to develop greener protein extraction platforms derived from biotech and non-thermal processing methods. 
The research is motivated by Agrocorp's desire to move away from traditional extraction practices which are water and solvent intensive and reinforce food circular economy. Preliminary results from this work suggest that clean labelling of future foods can be a reality, driven by enhancement in quality and yield of plant extracts from such 'improved' processes. 
SIT has also successfully co-developed a few types of plant-based cheese with Agrocorp, helping them optimise existing product formulations and processing aimed at cost reduction, ingredient replacement, product stability as well as taste improvements. The soon-to-be-launched vegan cheese range comprising cheddar, mozzarella and parmesan promises a healthier option as compared to regular plant-based cheeses that are usually just made of oil, starch, and additives.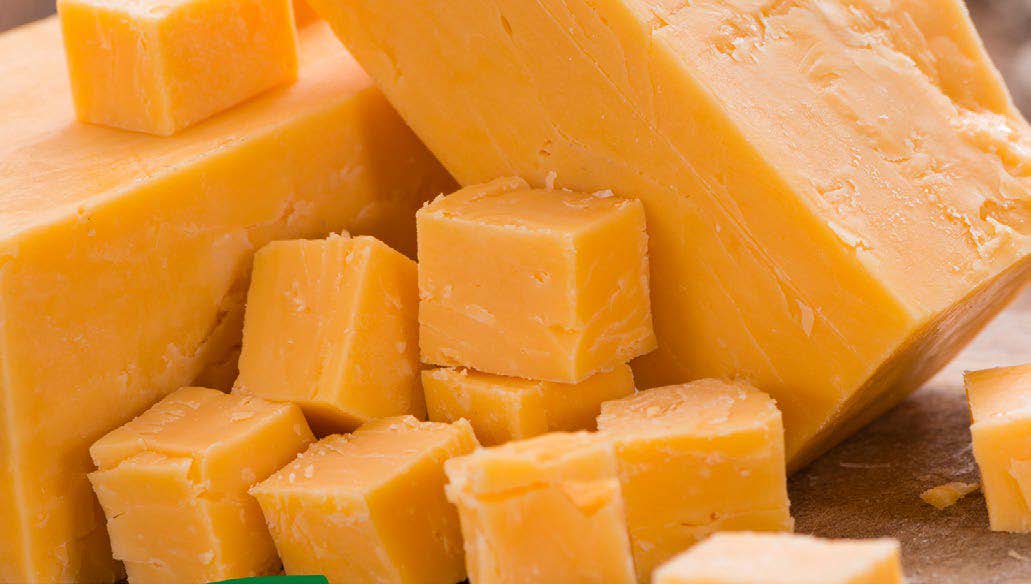 Healthier alternative plant-based cheese from optimised formulation of ingredients (Photo: Agrocorp)
A pipeline of other vegan products such as eggs, mayonnaise and cream cheese is also being trialed at FoodPlant for commercialisation. Agrocorp's food technologists are housed in SIT's labs over the duration of this collaboration and work closely with SIT's researchers and students. 
The serendipitous conversations and spontaneous cross-disciplinary knowledge and skills exchange are invaluable for building translational research capability while supporting the strategic needs of businesses including talent development.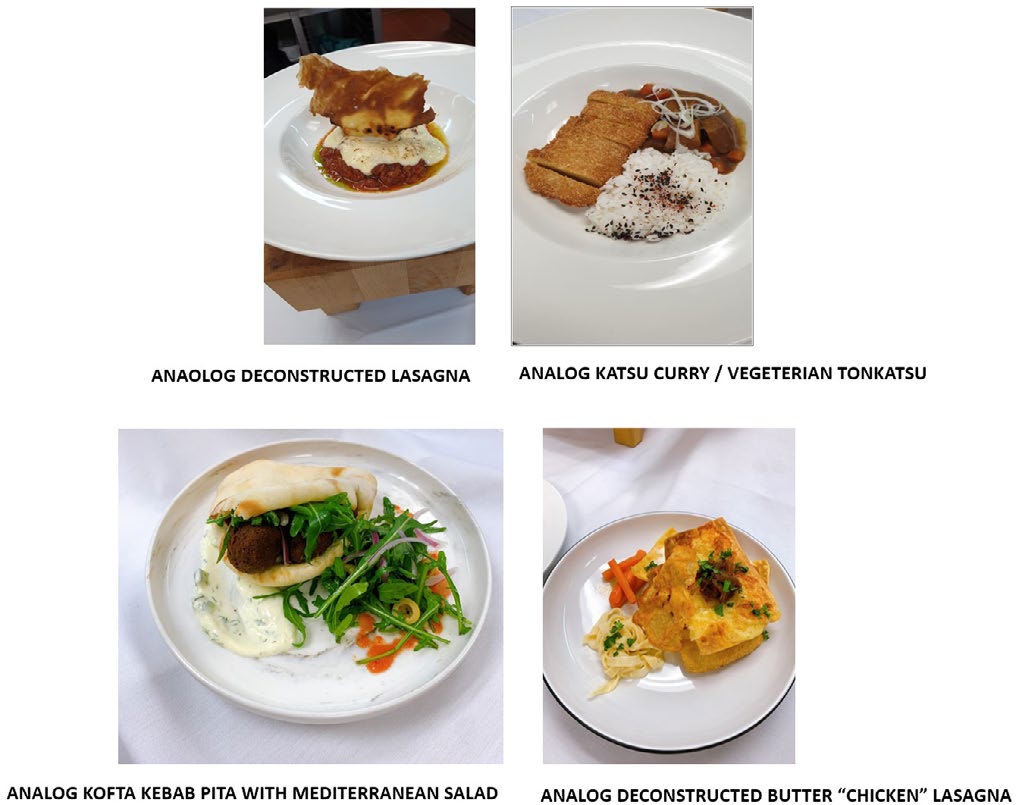 Meat analog dishes jointly created by SIT researchers and CIA student chef (Photo:CIA)
Beyond non-dairy milk and cheese products, we are also working on other categories of plant-based meat alternatives. To close the taste gap between animal based and animal-free meat, we also collaborate with chefs from our university partner, the Culinary Institute of America (CIA), to devise recipes that can elevate the gastronomic appeal of our alternative meat prototypes. 
In food waste upcycling, we collaborated with Sustenir Agriculture to demonstrate the viability of converting urban farm waste streams into valuable food ingredients.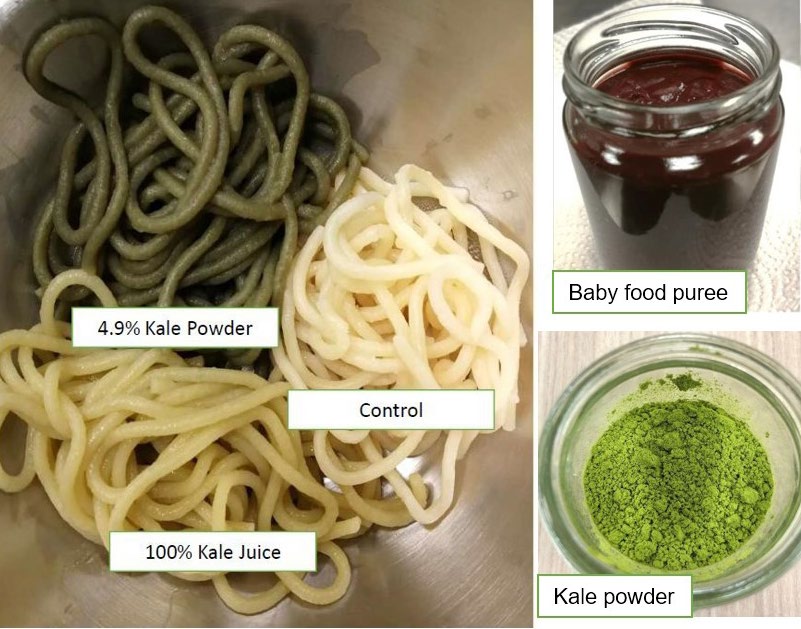 Kale powder and examples of developed food products containing valorised kale powder. (Photo: Sustenir)
One of our chemical engineering faculty, Dr. Cheow Wean Sin, developed a spray drying methodology to efficiently convert under-utilised kale stem from Sustenir into functional powdered ingredients, with preserved nutrient contents, colour and taste. The energy efficiency demonstrated by the drying process is key to enable scalability. 
Our team of food technologists and dietitians are now developing food products spanning baby food puree to kale pasta and nutrient supplements from the kale stem powder, which is rich in anti-inflammatory compounds such as glucosinolates. 
Fermentation is also another key pillar in food science technologies. SIT is already optimising fermentation technologies to exploit microbial cell factories for food waste valorisation into single cell proteins which can be used as food ingredients or other lucrative bioproducts up-cycling to drive green manufacturing. 
An example is the successful genetic re-factoring of a non-conventional "fatty" yeast, Yarrowia lipolytica, to produce terpenoids and organic acids from waste cooking oil (WCO). The team successfully produced 55 g/L of itaconic acid, a key building block in the manufacture of synthetic fibres, coatings and cosmetics, with a good potential for commercial production. Further scale-up studies in bioreactors above 100 L are ongoing. 
Other bioproducts produced by the team from WCO include optically-pure limonene and amyrin which have industrial applications as flavour and fragrance additives for food and cosmetic products, and active ingredients and adjuvants in drug formulations, respectively 
Besides yeast, the research team led by my colleague, Dr. Adison Wong, is also studying filamentous fungi such as mycelium, which are decomposers of organic compounds, for valorisation of other types of food processing side streams. 
It is also important to leverage food as an intervention to increase healthspan by synergising food tech and nutrition capabilities. For example, a sensory evaluation test of high-protein instant plant-based beverages developed in-house was conducted among cancer outpatients at the National Cancer Singapore with different stages of their cancer treatment. 
Formulated with Asian-centric flavours such as black sesame and mushroom porridge, the test would determine the patients' understanding of the importance of nutrition as well as their preferred taste. Dr Verena Tan, SIT's dietitian lead for this study, saw largely positive outcomes in terms of patients' acceptability of SIT's high protein beverages. Follow up studies to evaluate the longer-term impact of plantbased supplements on muscle health are ongoing.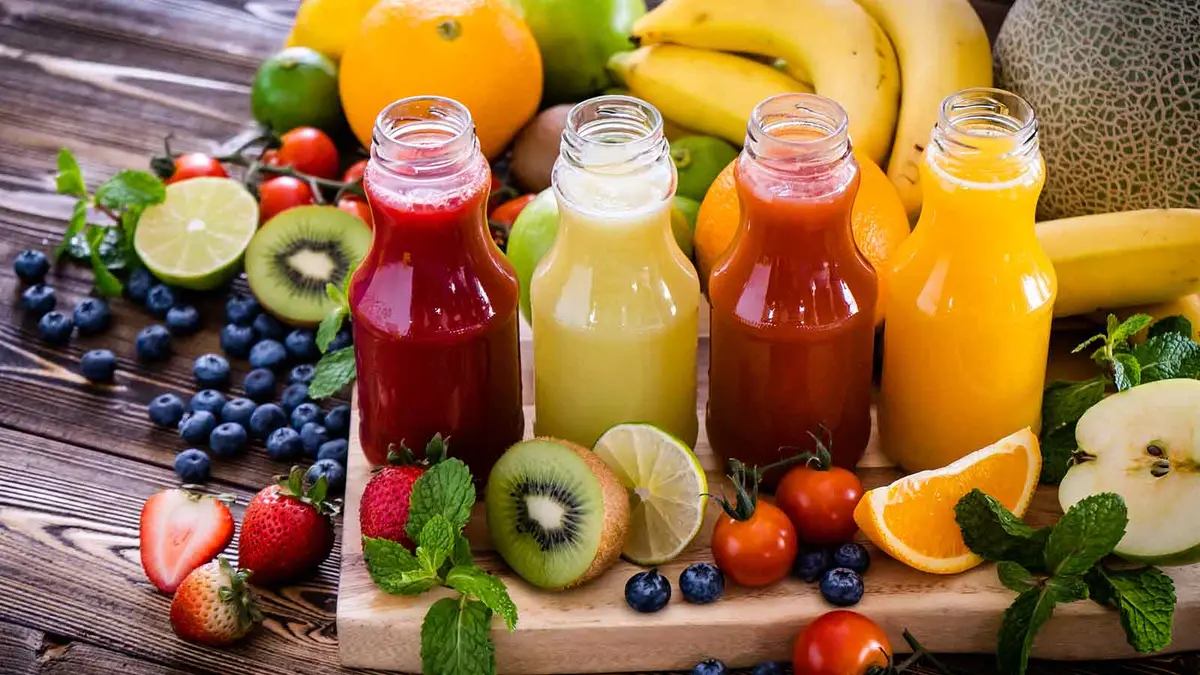 High-protein instant plant-based beverages are just one example of leveraging food as an intervention to increase healthspan. (Photo: squeezefruits.pro)
Besides nutrition aspects, texture and structure are also important determinants of food sensory and functionality performances. 
 
The intrinsic structural complexity of the majority of modern food materials underpins much of the difficulty in developing new food products that are sustainable, healthy, and delicious. 
These microstructures manifest sensorially as the texture of food in-large-part through physical mechanical properties, and the mechanical behaviours dictate and are impacted by industrial processing methods and parameters. 
One of my colleagues who focuses on food structures, Dr. Arif Nelson, is working on characterising, understanding, and ultimately linking physical properties to underlying food structures with the aim to help food outfits rationally design food products. 
In an ongoing project focused on developing high protein beverages targeting dysphasic consumers, we are helping a company appreciate the effects of different formulation on fluid flow at varying stresses. 
"It is important to leverage food as an intervention to increase healthspan by synergising food tech and nutrition capabilities." said Associate Professor Susanna Leong, Vice President (Applied Research), SIT.
With this improved understanding of fluid rheology, the company will be able to optimise formulation of beverage drinks with different textures and consistencies based on established scientific correlation to allow re-producibility. 
Food and nutrition research are paving the way towards a more sustainable and healthier food system that also provides bring numerous benefits both to consumers and industry. SIT is one of the leading examples in Singapore's ecosystem that is leading the charge in this area through cutting-edge R&D, industry collaborations, and partnership with healthcare providers. 
This article first appeared in National Research Foundation RIE News Magazine (Apr Issue).