The annual Tech For Good innovation festival provides SITizens across different disciplines opportunities to collaborate and tackle issues in the community. This year, three teams from the Engineering and Infocomm Technology clusters made it into the finals to showcase their assistive technology ideas.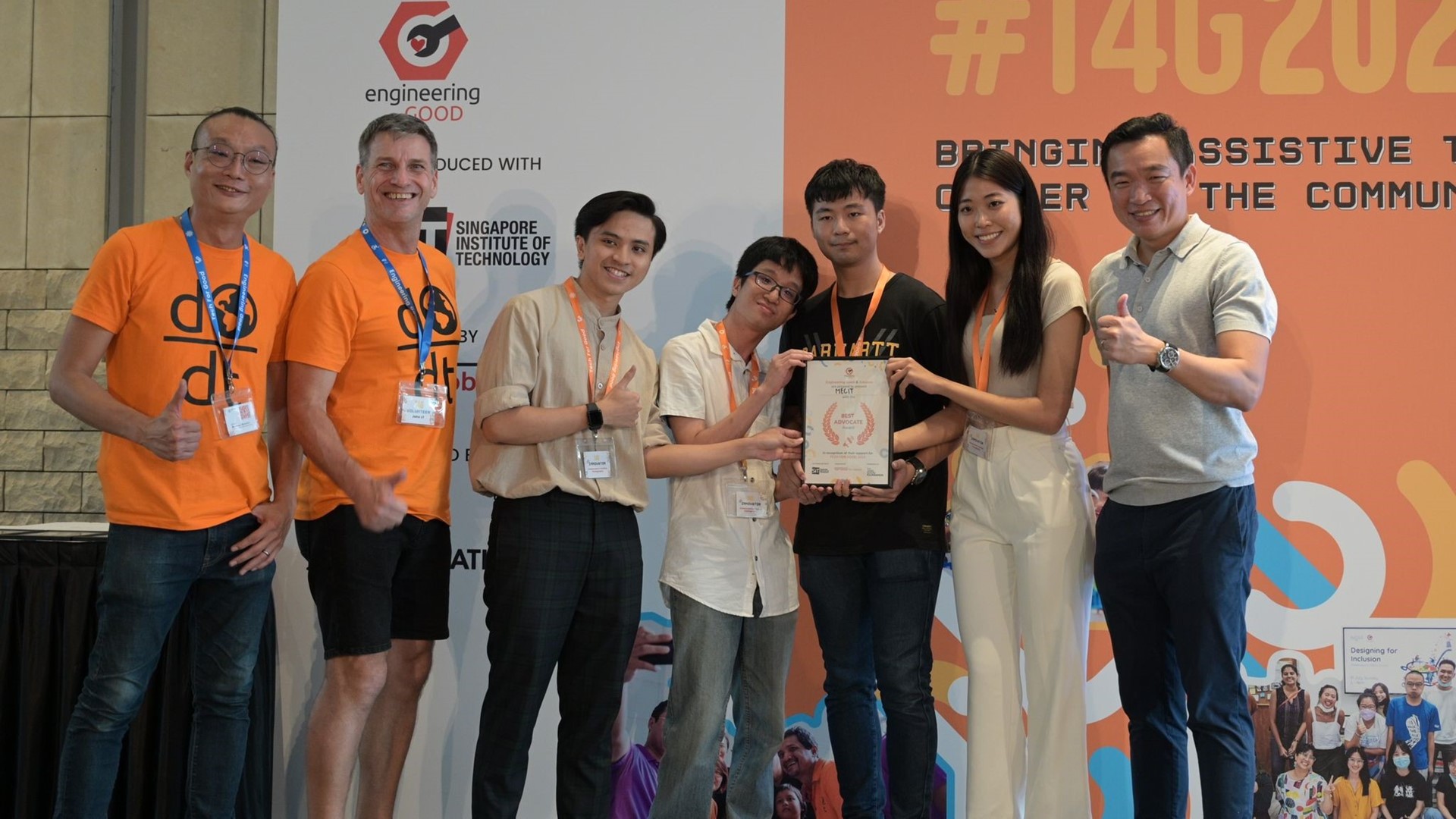 SITizens from Team MECIT receiving the Best Advocate Award from Mr Eric Chua, Senior Parliamentary Secretary, Ministry of Culture, Community and Youth, and Ministry of Social and Family Development (right); Mr Patrick Hee, CEO, Engineering Good (left) and Mr John Le Tissier, APAC Training Delivery Manager, Amazon Web Services (second from left). (Photo: Engineering Good)
At the Singapore Institute of Technology (SIT), the Community Leadership and Social Innovation Centre (CLASIC) ensures students have ample opportunities to hone their technical and industry-relevant skills, while building their sense of empathy towards others in society. Competitions and events such as Tech for Good (T4G), organised by Engineering Good and co-produced by SIT, also give students the chance to build empathy towards and contribute to vulnerable communities. They are also opportunities for our students to showcase their skills and shine.
T4G 2022 Finals
The non-profit agency, Engineering Good, holds T4G annually to celebrate the use of assistive technology in empowering persons with disabilities (PWDs). Held at the National Library on 1 October, the 2022 showcase featured 30 shortlisted teams and was graced by Mr Eric Chua, Senior Parliamentary Secretary, Ministry of Culture, Community and Youth, and Ministry of Social and Family Development. Team MECIT from SIT clinched the Best Advocate award for their relentless public outreach to promote the event and gather support for their proposal.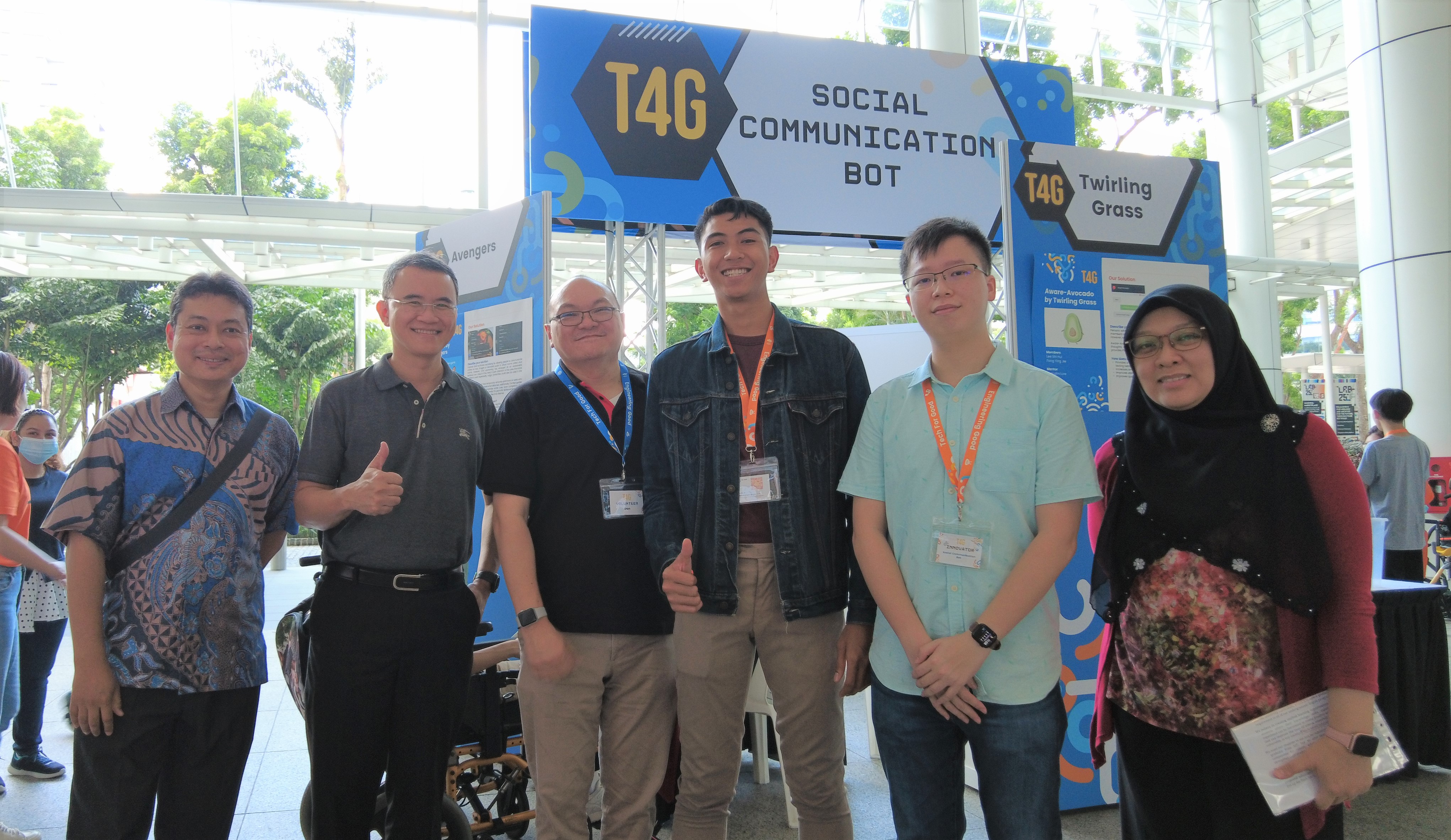 Team Avengers with Asst Prof Muhamed Fauzi bin Abbas (left), Prof John Thong (second from left), Mr Dan Chia (third from left) and A/Prof Intan Azura Mokhtar (right). (Photo: Dan Chia)
Among those present from SIT at the finals were Prof John Thong, Deputy President (Academic) & Provost; A/Prof Foo Yong Lim, Associate Provost (Academic Programmes); Prof Yaacob Ibrahim, Director, CLASIC; and A/Prof Intan Azura Mokhtar, Deputy Director, CLASIC, who were delighted to see SITizens being deeply involved in this meaningful festival.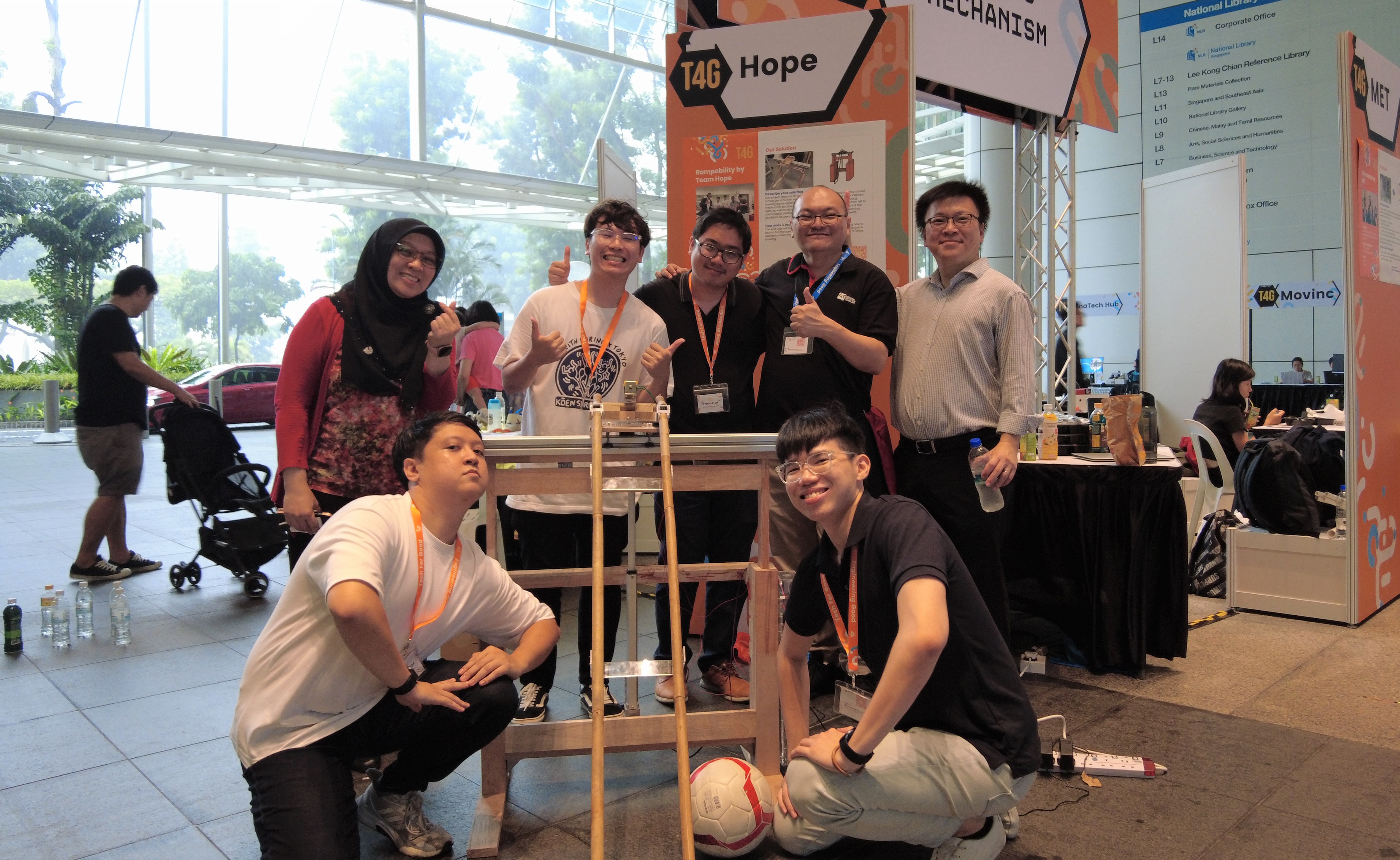 A/Prof Intan Azura Mokhtar (left), A/Prof Foo Yong Lim (right) and Mr Dan Chia (second from right) with Team Hope. (Photo: Dan Chia)
"In SIT, one of our four SITizen-DNA pillars is to be 'Grounded in the Community'. To develop this DNA, we incorporate the 'Social Innovation Project' module into our university curriculum, which is now a key requirement in all SIT undergraduate degree programmes. We want our students to not just be future industry leaders, but to also develop empathy and compassion for others, which, in turn, will inform and strengthen their professional practice. That is why SIT supports and collaborates on initiatives and events such as Tech for Good by Engineering Good," said A/Prof Intan in her opening remarks.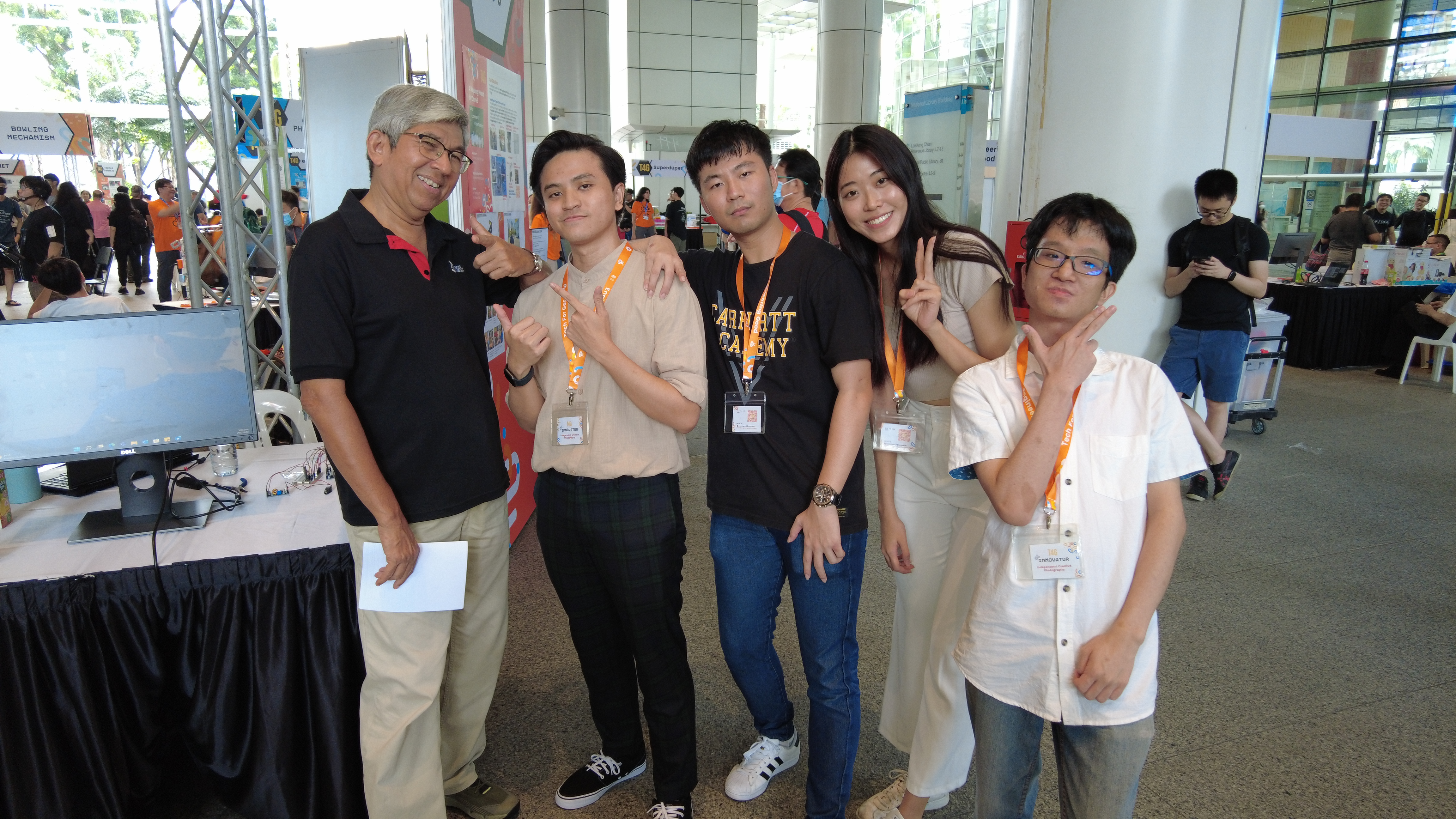 Prof Yaacob Ibrahim (left) with Team MECIT. (Photo: Dan Chia)
"It is important that we work with different partners, leverage on technology, and come together with a common purpose of creating an inclusive society in which no one is left behind. In SIT, our students are strongly encouraged to be empathetic with the vulnerable groups so that they can aim to improve the quality of their lives," said Prof Yaacob in his closing speech.
Here is a look at SIT's three finalist teams:
Team MECIT – IoT Device to Assist with Photo-taking
Anyone can be creative, but not everyone has the chance to exercise their creativity. Recognising this, SIT's Team MECIT took a shot at making photography as accessible as possible for people with muscular dystrophy (MD).
Yu Yucan from BEng (Hons) in Information and Communications Technology (Software Engineering), Yeo Yi Xuan, and Muhammad Abdul Aliimul Hakiim bin Mohammed, who are reading BEng (Hons) in Information and Communications Technology (Information Security), teamed up with Alencia Tan from BEng (Hons) in Mechanical Design and Manufacturing Engineering to frame a solution. Learning that persons with MD typically rely on their caregivers to take photographs and videos, the team focused on developing a hands-free, portable, and easy-to-use Internet-of-Things (IoT) device.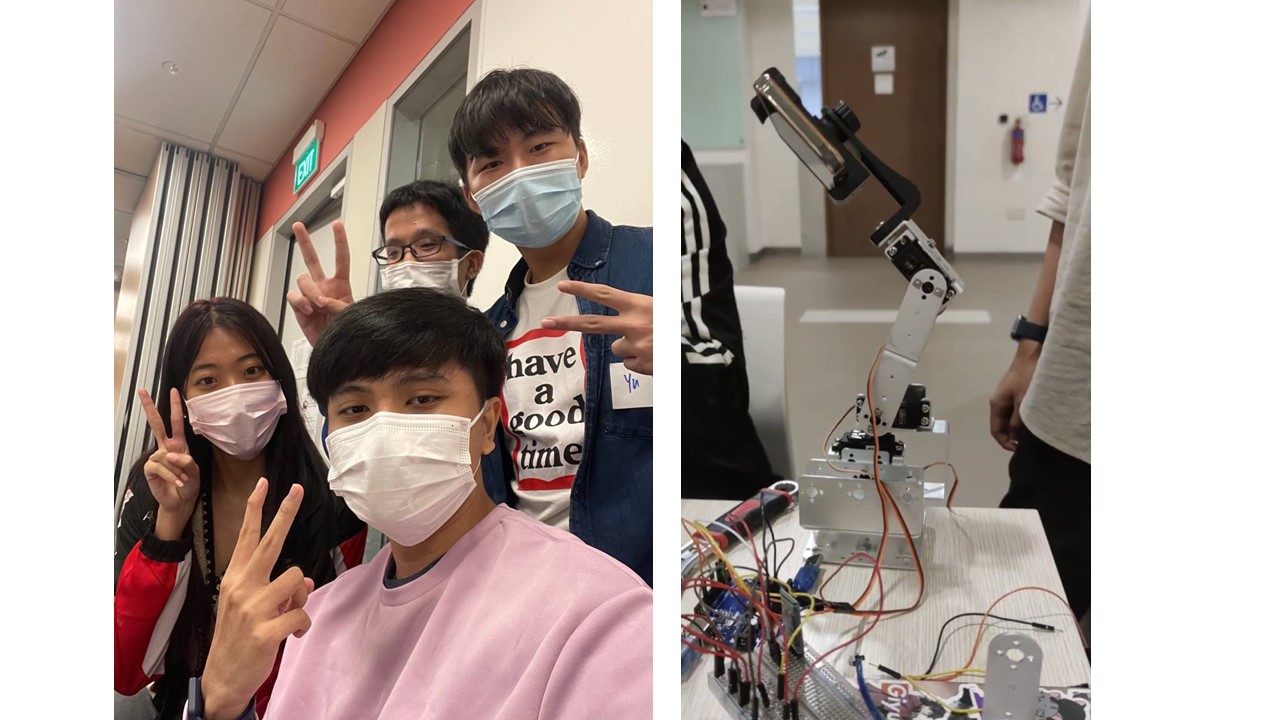 Team MECIT, comprising (from left, clockwise) Alencia, Yi Xuan, Yucan and Hakiim, constructed an IoT device (right) with an app that helps users to conveniently capture photos. (Photos: Muhammad Abdul Aliimul Hakiim bin Mohammed)
Team MECIT's prototype allows users to position a mobile phone attached to a motorised arm on a wheelchair, snap pictures and review them straight away. As users navigate the various options on the app by winking, they can enjoy a more independent form of recreation and expression.
The team not only produced a practical and promising prototype, but also supplemented their innovation with a public outreach plan that made them clinch T4G's Best Advocate mini challenge. In August 2022, MECIT members participated in Muscular Dystrophy Association (Singapore)'s 22nd anniversary by running 22km in 22 days. They posted their journey on their Instagram account to spread awareness of the condition and encouraged others to participate in the challenge. The team recounts that it was a meaningful activity to be part of.
Team Hope – Modified Ramp for Enhanced Game of Bowling
Ramping up the sporting experience for students with severe cerebral palsy was Team Hope, comprising Chin Pu Ren, Mervyn Ang, Teo Ren Quan, and Lim Shao Cai from BEng (Hons) in Computer Engineering, and Haziqshah Bin Wira from BSc (Hons) in Computer Science in Real-Time Interactive Simulation.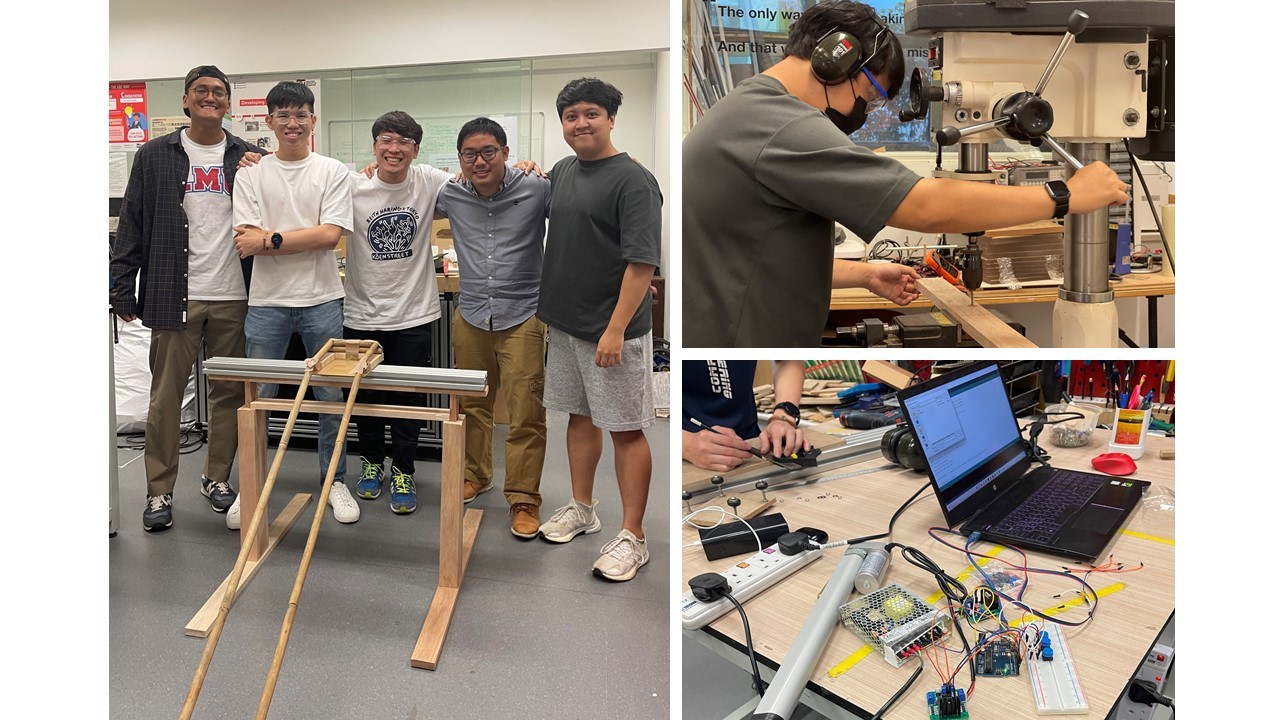 Left: SITizens (from left) Haziqshah, Pu Ren, Mervyn, Ren Quan and Shao Cai with their prototype. Top right: The team worked tirelessly to modify existing ramps. Bottom right: They also applied their computing skills to enhance the game experience. (Photos: Mervyn Ang)
The application of their computing prowess in the physical game of bowling was a perfect approach to enhance this much-loved activity at the Cerebral Palsy Alliance Singapore school. While their students are generally wheelchair users, simple adaptive bowling ramps enable them to play a game with help from an able-bodied person. But Team Hope wanted to improve the experience for them.
"We're not reinventing the wheel," they explained. Instead, they put a spin on the design of the existing ramp. Extendable rods, camera and remote control allow players to aim better, and adjust the angle, direction, and power at release. With these modifications, the bowlers can have more interactive gameplay with minimal assistance, which provides a more satisfying and authentic bowling experience.
Team Avengers – Automated Spam Detection Programme
Clients at social service agency Movement for the Intellectually Disabled of Singapore (MINDS) are empowered to participate in society as fully as possible. Part of this entails learning to interact socially over the telephone or through messaging. But picking up on social cues can be difficult, even more so for persons with intellectual disabilities (PWIDs).
SIT students Muhammad Haiqal Bin Razali and Daren Puan from BSc (Hons) in Computing Science took up the challenge of helping IT-literate adult PWIDs to practise socially-appropriate behaviours with a bot. During the project, the duo wrote a programme to help educate users on how to avoid spamming recipients. Spamming – through repeated sending of messages – is a habit PWIDs are prone to, as they can be overly zealous when making new friends. Team Avengers' automated spam detection programme, implemented over Telegram, uses reinforcement learning to encourage better communication.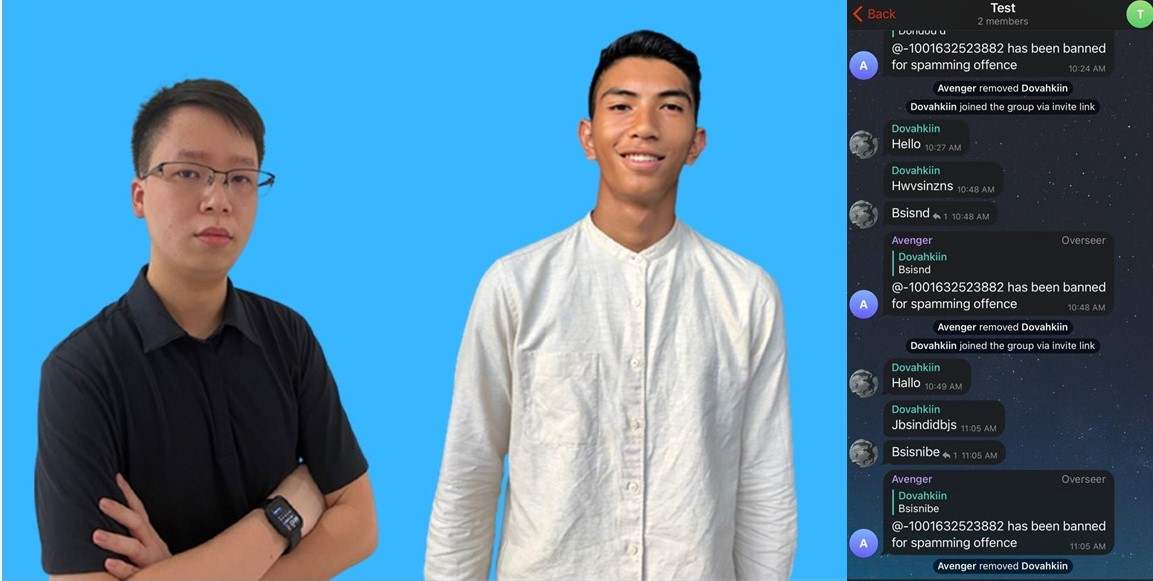 Daren (left) and Haiqal (right) programmed a bot that detects and manages spams to encourage better text communication for persons with intellectual disabilities. (Photos: Muhammad Haiqal Bin Razali)
The low-cost solution, which also detects inappropriate words, is versatile, and the Avengers have already found scope for future improvements such as provision of speech transcripts, detection of emotions and language support.
For all teams involved in the T4G festival, it has been many months of effort well spent. From the boot camp to conceptualisation to construction, every team has a project to be proud of. Not only did they gain valuable prototyping skills, they also had the opportunity to better understand and learn directly from persons with disabilities.
The Tech for Good 2022 team from SIT was led by Mr Dan Chia Wei Ming, Senior Lecturer, Infocomm Technology, and Assistant Director, CLASIC, who coordinated the event with Engineering Good, the community partners, as well as staff and students of SIT. The team is appreciative of the strong support that contributed to the event's success and looks forward to the next edition of Tech for Good in 2023.