Programme Overview
The Bachelor of Engineering with Honours in Mechanical Design and Manufacturing Engineering (MDME) is a three-year direct honours degree programme jointly offered by SIT and Newcastle University (NU). Through a unique, interdisciplinary curriculum that combines essential knowledge from mechanical design, mechatronics and manufacturing, the programme is designed to meet the manpower needs of local engineering and manufacturing industries.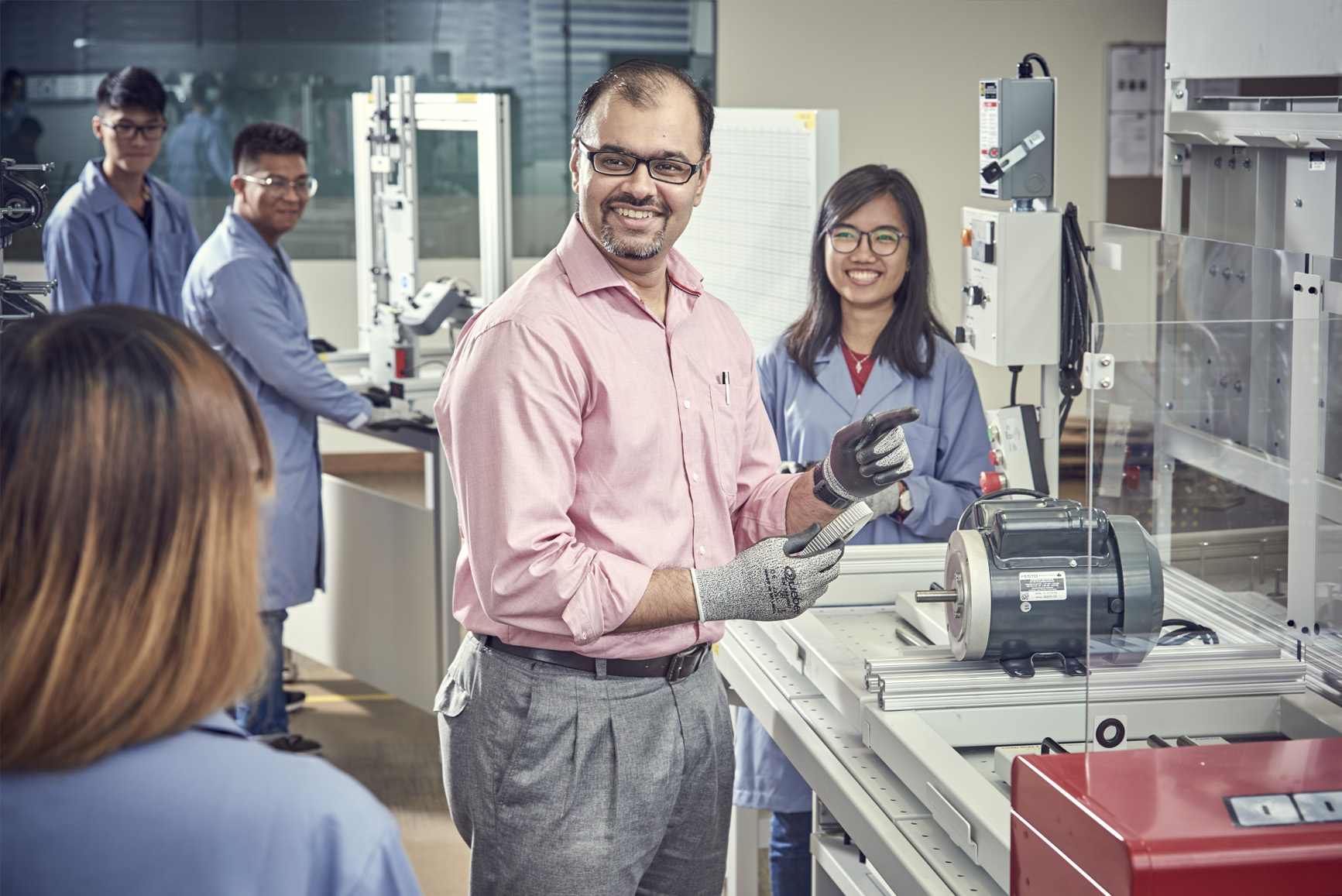 Students will learn about fundamental principles in mechanical engineering including statics, dynamics, materials, solid and fluid mechanics, control, thermodynamics, and heat transfer. Following these fundamentals, they will then be exposed to a curriculum that promotes process improvement and innovation in manufacturing as a specialisation including topics on manufacturing technology, industrial automation, lean manufacturing, statistical process control, factory operations and production management. Students will learn to work independently, as well as in groups to collaboratively meet and exceed engineering project objectives.
Within the duration of the course, students will undertake the Integrated Work Study Programme (IWSP) at local engineering companies, to apply the knowledge gained from the course, accumulate valuable work experience, and network with industry stalwarts. As part of the IWSP curriculum, students will also work on engineering design and productivity projects which may be carried through to their studies as Capstone Projects in the penultimate year of the programme. In order to add further value and provide practical skills that are relevant to the industry, students will have the opportunity to pursue the Lean Six Sigma professional certification. MDME graduates will be practice-oriented and work-ready to develop solutions for the engineering sector and enhance processes in the manufacturing industry.
Programme Highlights
A Robust and Industry-relevant Curriculum
Students will be taught a curriculum that synergises fundamental mechanical engineering knowledge with recent technological advancements in mechatronics and manufacturing principles. They will be equipped with the pre-requisite knowledge that encourages critical thinking and analytical skills which will prepare them for the engineering profession and also facilitate their progression to the chartered professional engineer status. Graduates are expected to meet the growing manpower demands and expertise requirements of local industries in the areas of design, industrial automation and productivity for manufacturing.
Integrated Work Study Programme (IWSP)
Students will undertake their IWSP in engineering and manufacturing industries which provide excellent opportunities to gain product design and operations management experience.