Programme Overview
Qualification
BEng (Hons)
Provider
SIT & Newcastle University
Application period
10 January to 19 March 2023
The Bachelor of Engineering with Honours in Mechanical Design and Manufacturing Engineering (MDME) is a three-year direct honours degree programme jointly offered by SIT and Newcastle University.
Through a unique, interdisciplinary curriculum that combines essential knowledge from mechanical design, mechatronics and manufacturing, the programme is designed to meet the manpower needs of local engineering and manufacturing industries. Students will learn fundamental principles in mechanical engineering including statics, dynamics, materials, solid and fluid mechanics, control, thermodynamics, and heat transfer. Following these fundamentals, they will then be exposed to a curriculum that promotes process improvement and innovation which include topics on manufacturing technology, industrial automation, lean manufacturing, statistical process control, and smart production management. Students will learn to work independently, as well as in groups to collaboratively meet and exceed engineering project objectives.
Within the duration of the course, students will undertake the Integrated Work Study Programme (IWSP) at engineering and manufacturing companies, to apply the knowledge gained from the course and to accumulate valuable work experience while networking with industry stalwarts. Students shall focus their work on engineering design and productivity improvement initiatives which may be carried through to their studies as Capstone Projects in the penultimate year of the programme. MDME graduates will be practice-oriented and work-ready to develop solutions for the engineering sector, as well as to enhance processes in the manufacturing industry.
Programme Highlights
A Robust and Industry-relevant Curriculum - Students will be taught a curriculum that synergises fundamental mechanical engineering knowledge with recent technological advancements in the fields of mechatronics and manufacturing. They will be equipped with the pre-requisite knowledge that encourages critical thinking and analytical skills which can prepare them for the engineering profession and also facilitate their progression to the chartered engineer status. Graduates are expected to meet the growing manpower demands and expertise requirements of local industries in the areas of design, digitalisation, industrial automation and productivity enhancements for the manufacturing sector.
Integrated Work Study Programme (IWSP) - Students will undertake their IWSP in the engineering and manufacturing industries which will provide applied learning opportunities to gain product design and operations management experiences.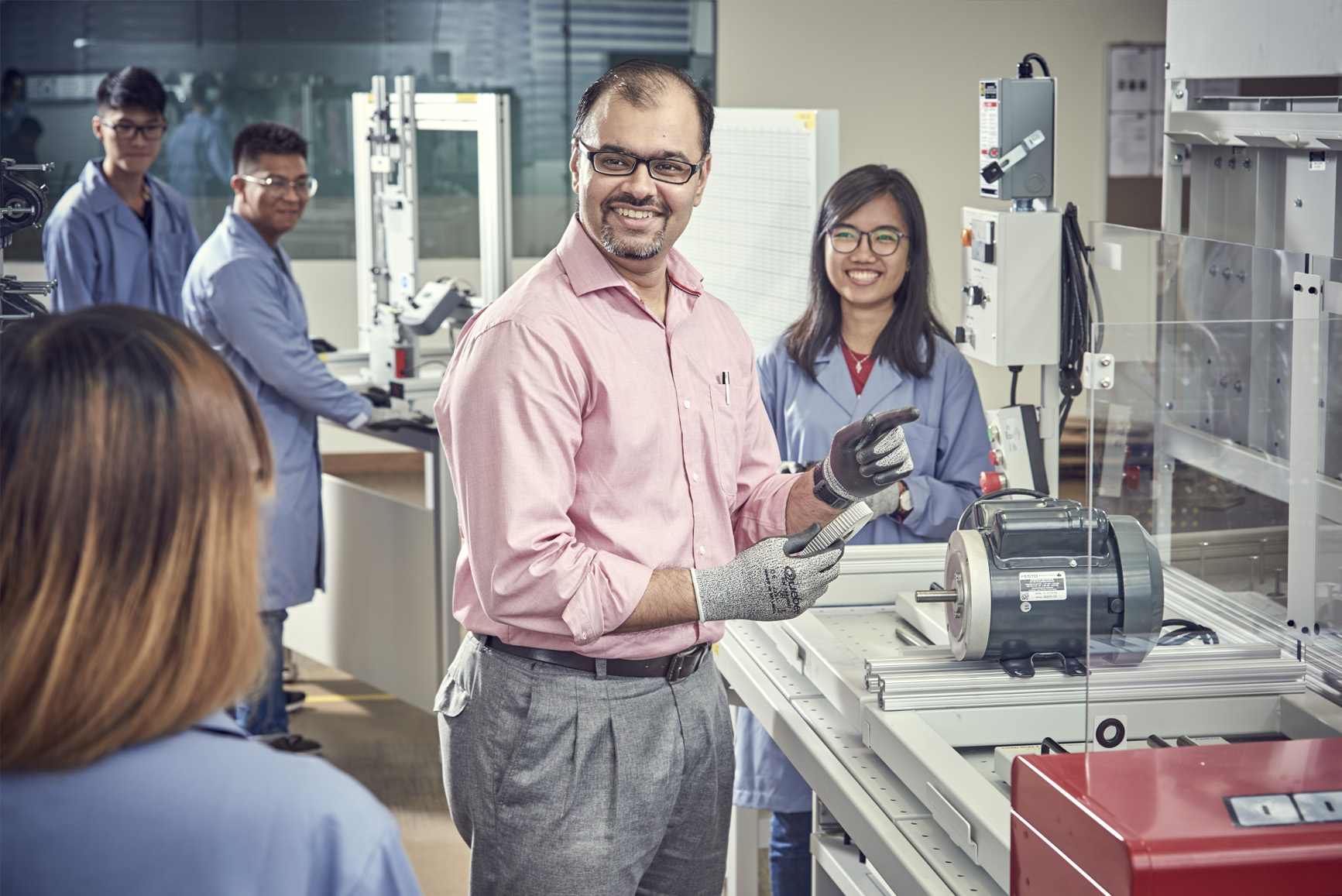 Integrated Work Study Programme
Students will undergo an eight-month Integrated Work Study Programme (IWSP) at a company relevant to their areas of study. The IWSP provides an excellent opportunity to integrate what they have learnt in the classroom to what is practised in the industry. The extended work period also allows companies to evaluate the suitability of students to be potential future employees. Besides producing practice-oriented graduates, this work attachment stint can serve as a platform for initiating innovative industrial projects under the guidance of SIT academic supervisors and company-appointed work supervisors.
Overseas Immersion Programme
Students will have to undergo an attachment at the home campus of Newcastle University where they will experience life as a student in Newcastle, United Kingdom. The programme itinerary can include academic lectures, laboratory activities, library talks and literature review workshops to prepare students for their project work, as well as visits to engineering companies and key cultural landmarks.
Combined Academic Staff for Teaching (CAST)
The Combined Academic Staffing for Teaching (CAST) is an approach that gives you access to globally renowned academics from Newcastle University's UK campus, with the ease of them being locally accessible. Part of an innovative teaching model implemented in our SIT-NU joint programmes, these specialists bring a wealth of experience from various sectors, including industry, government, policy, and innovation, that will enrich your learning experience. Throughout your studies, you will have valuable opportunities to directly interact with these academics through our blended learning approach, which combines face-to-face and online classes.
Some of the key UK home campus academics teaching in this programme include:
Professor Kenny Dalgarno

Teaching Module: MME2262 Advanced Materials and Manufacturing Technologies

Kenny Dalgarno is the Sir James Woodeson Professor of Manufacturing Engineering at Newcastle University, UK. He leads the Newcastle University Centre for Biomedical Engineering and is the Deputy Director of the Arthritis Research UK Tissue Engineering Centre. He is also the Newcastle University lead investigator for the EPSRC Centre for Doctoral Training in Additive Manufacture and 3D Printing. For the past decade, he has been conducting research in the areas of additive manufacture with applications in rapid prototyping and polymer engineering, with increasing emphasis on biomedical engineering, tissue engineering, and regenerative medicine. His work is supported by the EPSRC, the European Commission, the Arthritis Research UK, the Carbon Trust, and various key industry players.

Dr Priscila Melo

Teaching Module: MME2262 Advanced Materials and Manufacturing Technologies

Dr Priscila Melo is a Lecturer at Newcastle University, UK. A biomedical engineer specialising in materials science and engineering, additive manufacturing, and biofabrication, she is experienced in bone regenerative medicine from material development to scaffold fabrication, as well as in the performance of biological assays using stem cells. Her current research interests are developing bioinks for 3D printing of disease models and cardiac devices.

Dr Dehong Huo

Teaching Module: MME1262 Materials for Sustainable Design and Manufacturing

Dr Dehong Huo is a Reader in Precision Engineering at Newcastle University, UK. His areas of expertise include precision manufacturing, micro-machining and precision machine design. He has been researching in ultra-precision machine development, vibration-assisted machining, and micro-machining particularly for micro-milling processes. Recently, he has been focused on developing micro-machining and hybrid machining processes for hard and brittle materials. His research work has been supported by EPSRC, Innovate UK, and the industry.
Career Options
Engineer in many industries such as manufacturing, design, aerospace, marine, and energy sectors
Project manager or consultant in a diverse range of engineering fields
R&D in emerging areas such as artificial intelligence, additive manufacturing, alternative energy, robotics, and urban farming
Eligibility and Exemption
Diploma holders from any of the five local polytechnics,  A level / IB Diploma graduates, and holders of equivalent Year 12 qualifications are welcome to apply.
Subject to approval, diploma applicants may be granted module exemptions, based on the modules taken during their diploma.
A-Level / IB Diploma Prerequisites
Obtained a good pass in one H1/H2 or SL/HL Mathematics and also a good pass in one H1/H2 or SL/HL Physics.
Fees and Finances
Singapore Citizen

Subsidised fees per credit

$173.00

Tuition fees: $31,140.00 for SG Citizens / $115,668.00 Non-subsidised fees.
Permanent Resident

Subsidised fees per credit

$336.66

Tuition fees: $60,600.00 for Permanent Resident / $115,668.00 Non-subsidised fees.
International Student

Subsidised fees per credit

$459.00

Tuition fees: $82,620.00 for International Student / $115,668.00 Non-subsidised fees.
Industry Advisory Committee
The members of the Industry Advisory Committee for this programme are:
Mr Peter Tan Boon Heng (Chairman)
Co-Chairman
Advanced Remanufacturing and Technology Centre (ARTC), A*STAR
Mr Suryanarayana Tumuluri
Head of Manufacturing Design, Digital Factory
Siemens
Mr Willson Deng
CEO
Arcstone Pte Ltd
Mr Jeff Tang
Executive Director
Hope Technik Pte Ltd
Dr Lim Chee Wang
R&D Manager
Akribis Systems Pte Ltd
Mr Ang Wee Seng
Executive Director
Singapore Semiconductor Industry Association (SSIA)
Mr David So Man Fung
Senior Vice President, Corporate Planning & Continuous Improvement
SIA Engineering Company
Mr Derek Cheng
Head of Commercial APAC
Vertical Aerospace