Programme Overview
Qualification
BEng (Hons)
Provider
Singapore Institute of Technology
Application period
10 January to 19 March 2023
Prior to Academic Year 2023, this programme was formerly known as the Bachelor of Engineering with Honours in Sustainable Infrastructure Engineering (Land).
The Bachelor of Engineering with Honours in Engineering Systems is a three-year direct honours degree programme that prepares you with focused fundamental knowledge and strong practical skills in sector-specific engineering systems, giving you a competitive advantage and head start in your future career.
Through extensive consultation with and strong requests from industry stakeholders, this first-of-its-kind applied, multidisciplinary degree programme currently offers specialisations for careers in land transport and in microelectronics manufacturing which are two industry sectors in Singapore with very strong consistent demand for engineering manpower.
Students will undergo rigorous academic training provided by highly qualified professors and industry experts, while immersing themselves in the land transport or microelectronics manufacturing industry through work-study stints with established organisations, such as Land Transport Authority, SMRT, SBS Transit, ST Engineering, Infineon, Micron, STMicroelectronics, Engineering Systems Services and Consultancy, Transport Systems Original Equipment Manufacturers and Suppliers.
The programme curriculum provides strong fundamental competencies in Engineering of Systems, e.g. Engineering Graphics for virtualisation and visualisation of complex engineering systems, Electrical Circuits for power and control of systems, and Engineering Materials that form every part of an engineering system. Industry-relevant and hands-on learning opportunities on the intelligent and sustainable operation, maintenance, repair, overhaul, inspection, testing, and management of equipment, systems, and facilities are integrated into the programme curriculum. This unique industry-oriented degree programme also allows students to earn a minor in Environmental Sustainability, professional certifications in Non-Destructive Testing and Lean Six Sigma.
Students, who perform well in the degree programme, may pursue the Master of Science in Mechanical Engineering. Graduates with the Master of Science in Mechanical Engineering qualification will be eligible for future registration as Chartered Engineer (Singapore, UK, and Washington Accord Signatory countries) and as a Professional Engineer (Singapore).
Curriculum Highlights
Lifelong Transferrable Skills
Engineering Mathematics and Science Fundamentals
Information and Digital Technology Competencies
Engineering of Systems Competencies
Mechanical Engineering Competencies
Land Transport Sector Specialisation
Microelectronics Manufacturing Sector Specialisation
Minor in Environmental Sustainability
Non-Destructive Testing Certification
Lean Six Sigma Certification
Eight-month Integrated Work Study Programme
Industry-Oriented Capstone Project
Programme Educational Objectives
Graduates of the Master of Science in Mechanical Engineering with Bachelor of Engineering in Engineering Systems programme, after working for three to five years, are expected to be:
Competent in solving complex problems in Engineering Systems through the application of critical thinking and relevant up-to-date technical skills and knowledge.
Able to embrace challenges and opportunities by adapting to changes in the technological and business environment through lifelong professional development.
Able to communicate effectively, act with integrity, and have the interpersonal skills needed to lead and nurture teams, resulting in transformative outcomes.
Able to serve the community with due consideration of health and safety, societal, and environmental aspects.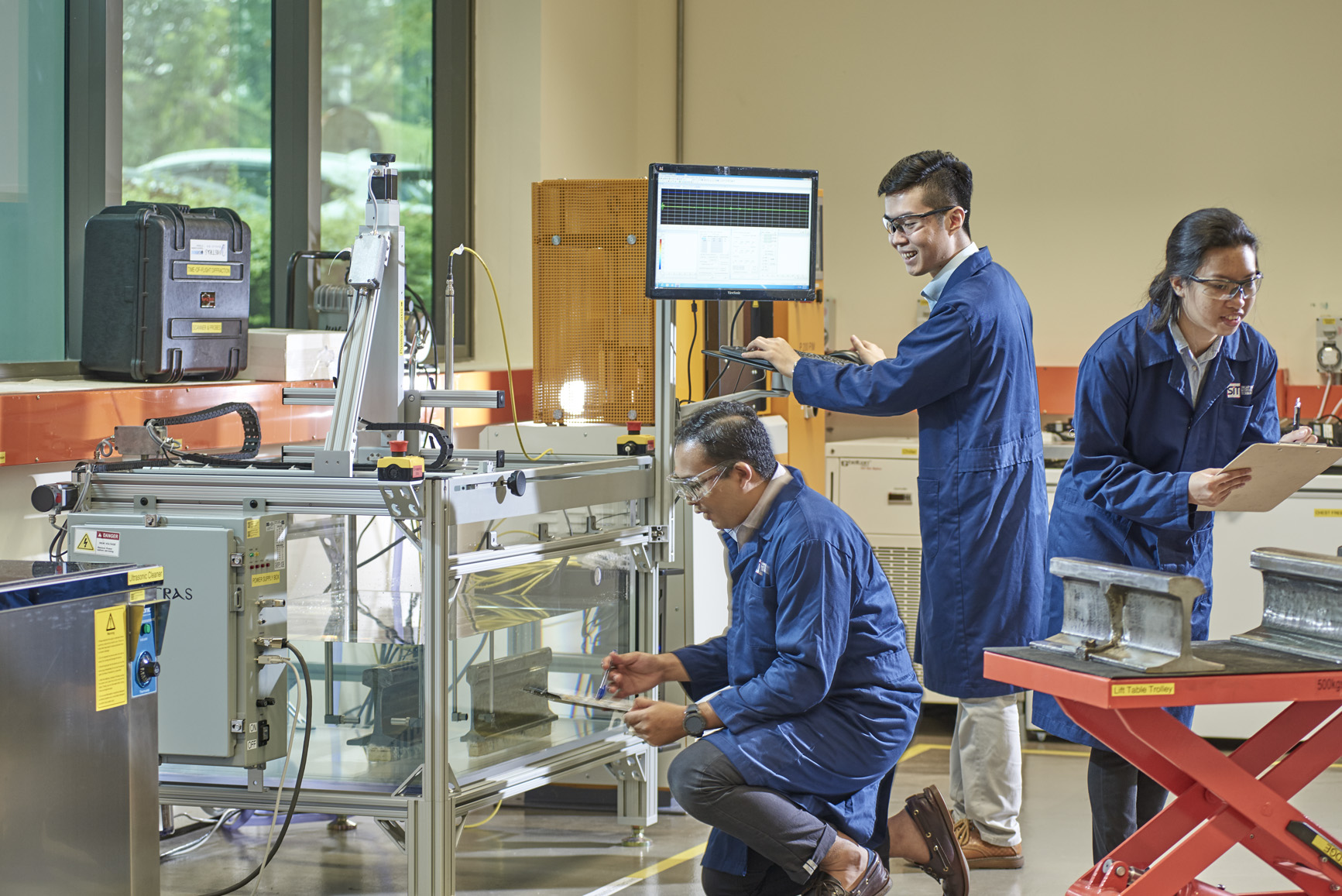 Integrated Work Study Programme
Integrated Work Study Programme provides students with the opportunity to undertake real work. Held over the span of eight months, it is designed to be more in-depth than a traditional internship. You will gain real work experience and apply the theories you learn in class with actual practice.
Career Options

Graduates can look forward to careers in:
Engineering Systems Integrators (e.g., ST Engineering)
Engineering Systems Services and Consultancy
Public Transport Operators (e.g., SMRT, SBS Transit)
Public Sector (e.g., Land Transport Authority)
Transport Systems Original Equipment Manufacturers (OEMs) and Suppliers
Microelectronics and Semiconductor Manufacturing Companies (e.g., Infineon, Micron, STMicroelectronics)
Eligibility
Diploma holders from any of the five local polytechnics
GCE A-Level / IB Diploma / NUS High School Diploma holders
Diploma in Electrical Engineering and Clean Energy from BCA Academy
Diploma in Mechanical Engineering (Green Building Technology) from BCA Academy
Module exemptions will be considered on a case-by-case basis.
Industry Advisory Committee
The members of the Industry Advisory Committee for this programme (Land Transport) are:
Er Chua Chong Kheng 
Deputy Chief Executive
Infrastructure and Development
Land Transport Authority
Mr Yee Boon Cheow
Group Director
Rail Electrical and Mechanical
Land Transport Authority
Dr Evan Gwee Tat Meng
Director
Land Transport Authority Academy
Singapore Rail Academy
Mr Tan Peng Kuan
President
Engineering and Chief Digital Transformation Officer
SMRT Corporation Ltd
Mr Jeffrey Sim Vee Ming
Chief Executive Officer
Rail Business
SBS Transit Ltd