At PulseSecure, a Singapore-based CREST-accredited company that specialises in information security consultancy services, SIT undergraduates get a front-row seat to the exciting world of cybersecurity.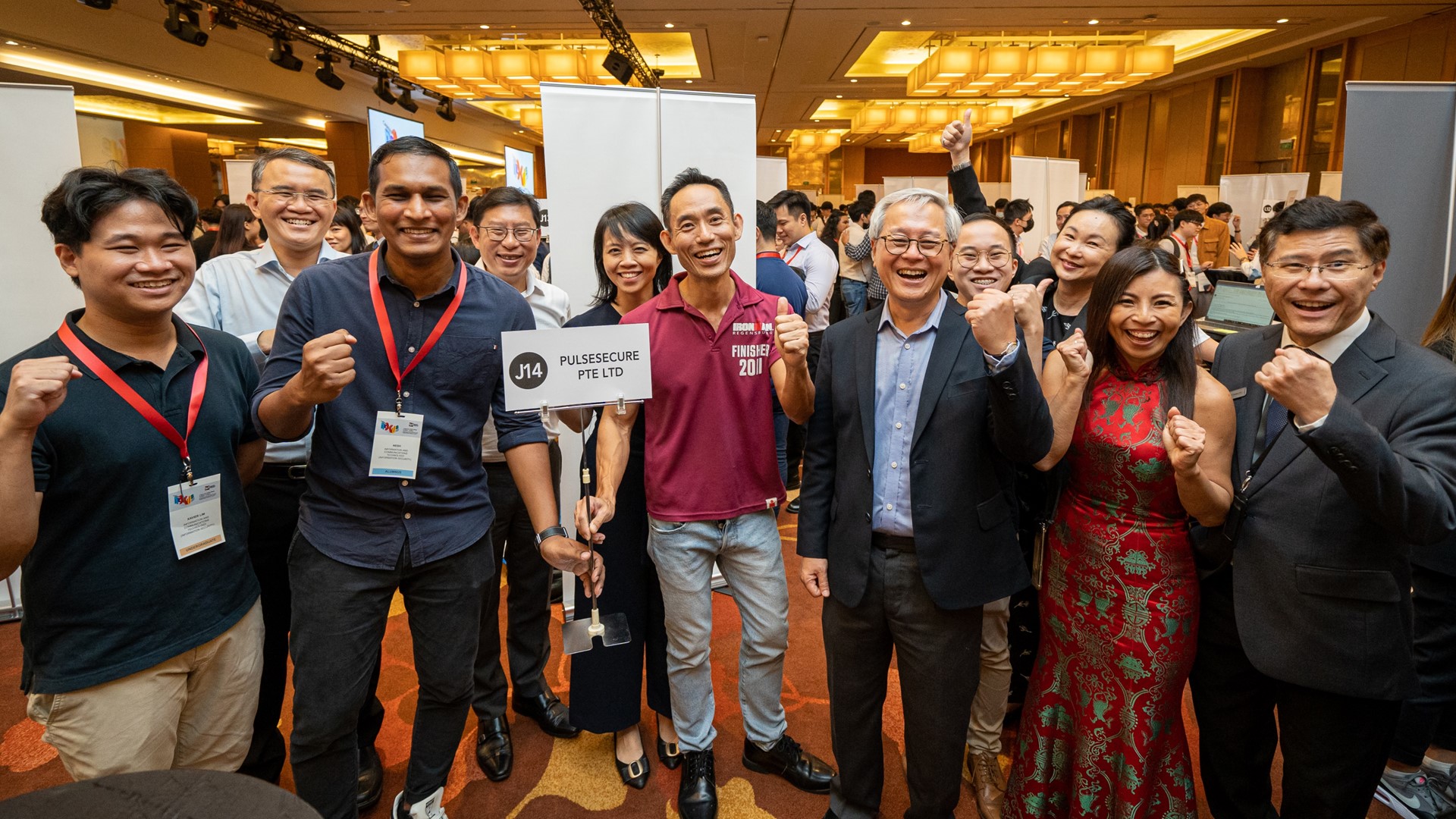 Representatives from SIT and PulseSecure at the university's Career Nexus in February 2023.
Front row from left: Xavier Lim, Consultant, PulseSecure; Thinesh S/O Kanaga Rajan, Senior Consultant, PulseSecure (Class of 2022); RV Chng, Partner, PulseSecure; Prof Chua Kee Chaing, President, SIT; Yang Ling, Account Manager, PulseSecure; Matthew Lye, Manager, Centre for Career Readiness, SIT.
Back row from left: Prof John Thong, Deputy President (Academic) & Provost; Bernard Nee, Deputy President (Industry & Community), SIT; A/Prof Susanna Leong, Vice President (Applied Research), SIT; Yong Kai Wen, Consultant, PulseSecure (Class of 2023); Celia Wu, Deputy Director, Centre for Career Readiness, SIT.
(SIT Photo: Keng Photography/Tan Eng Keng)
The cybersecurity industry, which has to fend off constant and increasingly sophisticated attacks, can be daunting for newcomers. But SIT undergraduates from the Information and Communications Technology (Information Security) (ICT (IS)) degree programme relish the challenge.
Every year, a handful of them clinch 12-month work attachments at Singapore-based CREST-accredited company PulseSecure, which provides IT and cybersecurity consultancy services. They obtain their professional certifications, participate in simulated cyberattacks, perform risk assessments and work with clients.
It is not easy, but it is all part of the learning experience.
"If you do not feel that you are struggling, it means you are doing it wrongly," quipped SITizen Yong Kai Wen, a former intern at PulseSecure. "Things get easier over time as you become more used to it."
Kai Wen, who did his work attachment at PulseSecure in 2022 as part of SIT's hallmark Integrated Work Study Programme (IWSP), rejoined the firm as a full-time security consultant in 2023 upon completing his degree programme.
A Solid Foundation
He is not alone. Since 2017, dozens of SIT students have completed their IWSP at PulseSecure. Many have gone on to accept job offers from the company – a win-win for both parties in the competitive, talent-scarce world of cybersecurity.
SIT's robust cybersecurity programme, which focuses on applied learning, is a big reason this partnership has been an enormous success.
Undergraduates come equipped with a good foundation in digital tech and information security and a sense of how classroom knowledge relates to real-world scenarios.
"At SIT, we were not just given the chance to develop our practical skills, we had the opportunity to work with industry partners during our Integrative Team Project," said SITizen Tan Zhi Yu, referring to a module where students work on actual industry problems.
Levelling Up
PulseSecure employees work from home most of the time, but help for interns is never too far away.
"We provide an intense six to eight months of mentor- and senior-led training, lab practice, experience-sharing, and applied learning," said PulseSecure's managing partner Kenny Tan, adding that they get to tackle more "real-life" projects after that.
Zhi Yu was mentored by his senior, Yong Kai Wen, and shadowed other staff as well.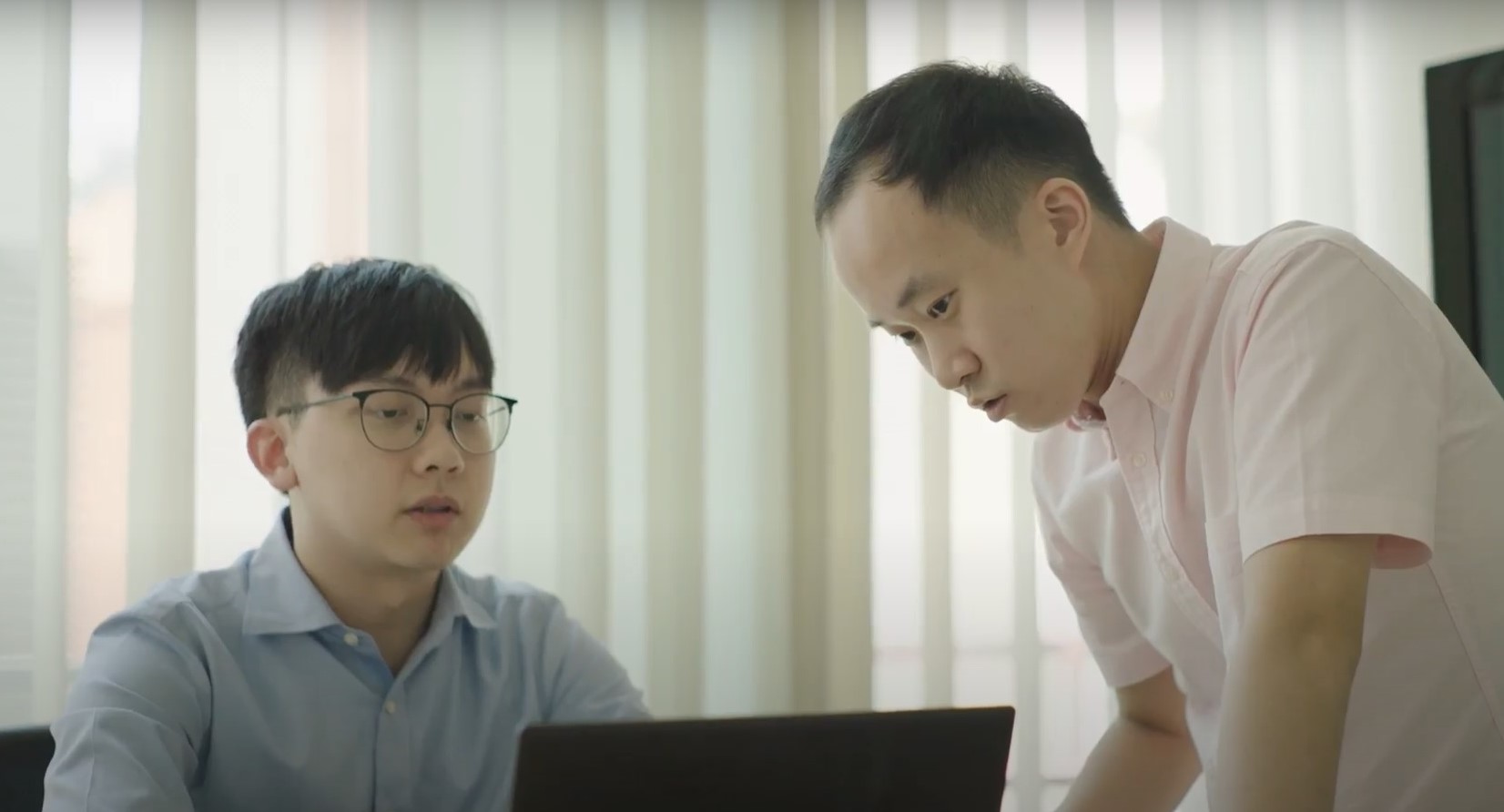 Zhi Yu (left) was mentored by his senior and fellow SITizen Kai Wen (right), who is now a cybersecurity consultant at PulseSecure. (SIT Photo)
"I learnt that having technical skills is not the only important aspect of working in the industry. Customer relations and other transferable skills are equally important," said the third-year student.
"As a consultant working directly with the client, it is important to maintain a good customer relationship and satisfaction level because I represent the company when handling projects."
Zhi Yu's work attachment at PulseSecure was a time of significant personal growth.
Before assigning projects, the firm asked him to get certified as an Offensive Security Web Assessor (OSWA) and Offensive Security Certified Professional (OSCP).
He spent several months studying for these professional exams with the help of online resources – poring over the materials during his free time at work or after working hours. 
"A few of my colleagues were OSWA-certified, so they were more than willing to help whenever I faced challenges. Some even freed up their time to provide one-on-one consultations. My proudest achievement was the day I passed my certification exam," said Zhi Yu.
A perk of having many SIT alumni among PulseSecure staff is that they tend to be understanding when interns have to spend time on their school projects.
Zhi Yu's co-workers, for instance, were very supportive when he worked on his university capstone project – a 'Burp Suite' plugin that detects potential vulnerabilities in a web application with the help of Machine Learning.
"Sometimes, team leaders would even give us time off from our jobs," Kai Wen added.
Learning Never Stops
Kai Wen may already be a full-fledged cybersecurity consultant at PulseSecure, but he is still very much a student at heart. 
His current job scope focuses mainly on web penetration and network testing. To gain more knowledge, he asks to observe senior colleagues when they perform other types of testing, such as mobile testing and source code reviews.
"By doing so, I learn more. Since (different areas of) cybersecurity knowledge intertwines with each other, it also helps me perform my job better," he said.
While shadowing a senior on a source code review, for instance, he gained insight into a particular vulnerability and how the source code would look like.
"This knowledge allowed me to perform SQL injection attacks for an unrelated project successfully," Kai Wen added, referring to a common web hacking method.

Mr Tan describes Kai Wen and Zhi Yu as "focused and mature" young men who "know their goals and priorities in life".
His advice to future interns: "The right attitude and the right start in your career path can give you an invaluable head start. Plan well and choose well, and you will excel."
---
About SIT's IWSP at PulseSecure
The IWSP is a distinctive feature of all SIT and SIT-joint degree programmes. It allows students to integrate theory and practice and develop deep, specialist skills in their chosen field. ICT (IS) undergraduates undertake 12 months of relevant work in the industry to develop professional competencies, networking and interpersonal skills.
Hear from our SITizens on their IWSP experience at PulseSecure: