Why do some people recover well from shoulder injuries while others don't? One physiotherapist is on a mission to investigate.
When Kieron Philips received a job offer from Singapore's Ministry of Health in 2014, he said yes.
This was despite the fact that he had never set foot in Asia before. The born-and-raised Brit, who had been working as a community physiotherapist in the United Kingdom then, packed his bags and made the bold decision to move.
Fast forward almost a decade later, he is, quite literally, at home in the heartlands. As a Clinical Research Fellow at physiotherapy outfit Heartland Rehab, Kieron divides his time between seeing patients and pursuing a doctorate in clinical research at the Singapore Institute of Technology (SIT). His research focuses on crafting an objective way to predict whether patients can recover from a shoulder injury and how well they will be able to do so. The premise is simple enough, but getting to the endpoint calls for both scientific precision and a certain artistry.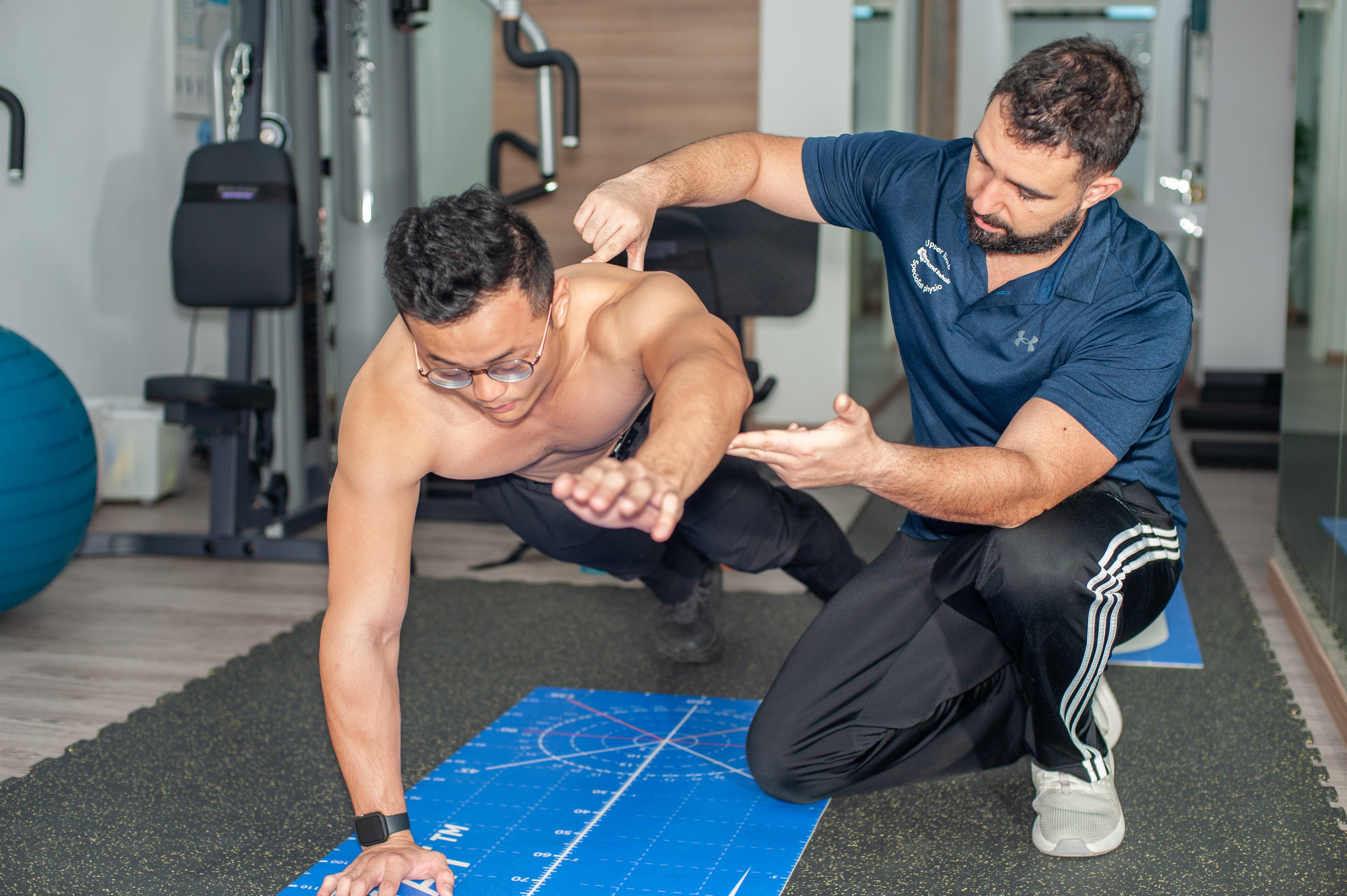 Clinical research fellow Kieron Philips (right) is passionate about empowering his patients to regain autonomy over their symptoms and live a healthier and more active lifestyle after a shoulder injury. (Photo: Heartland Rehab)
"As therapists, we're treating people, not robots," he said. To him, physiotherapy is an "art form" – which makes him, in a way, an accidental artist.
Down the Rabbit Hole
At 15, Kieron admitted that he was once a self-professed "young punk". He left school without sitting the General Certificate of Secondary Education (GCSE) and A-level examinations. He wound up serving in the British Army as a combat medical technician at 17.
It was not his first choice. "I wanted to be a dog handler, but they didn't have available positions," he said. "Then I wanted to be a commando, but I couldn't run fast enough." He eventually settled for a medical role in the army – which ended up sparking an interest in physiotherapy.
Two diplomas later, he enrolled in physiotherapy school and started working as a community physiotherapist upon graduation. But it wasn't quite enough. 
"I wanted to do something that was a hard science, that was more objective and tangible," shared Kieron. As a community physiotherapist, his work largely revolved around patient interaction. But it felt like only one side of the coin. So in 2015, he took up a master's in musculoskeletal sciences at University College London, a year after he moved to Singapore.
Over the course of the hybrid distance-learning programme, he met a supervisor specialising in shoulder injuries who was instrumental in helping him formulate his research ideas and execute them. Yet another door opened, leading Kieron down the rabbit hole of the human shoulder.
'An Injury is Part of a Person'
While sifting through the medical literature, Kieron could not find much evidence on how long it would take a patient to return to form after surgery. It was a problem, especially in an evidence-based discipline like physiotherapy.
"I saw a lot of patients through their rehabilitation journeys for rotator cuff repairs," he said, referring to a surgery that treats torn tendons in the shoulder. "I would question myself, 'When will they be ready to start playing sports like badminton again?'" He decided to fill the gap in the literature himself, embarking on an industrial doctorate programme with SIT to investigate.
But hard science was only one part of the equation. "An injury is part of a person," he explained. "Their psychological state – how they feel about their activities and their ability to perform – is an important part of their recovery journey."
For example, he once met a patient with knee arthritis. A scan revealed that ligaments in his knee were, in fact, "shot to pieces" – the result of a fall 10 years prior.
"Usually, such injuries knock people to the ground and cause them to scream in pain," he said. "But this patient just felt a tweak in his knee and went home."
The episode illustrates how little is known about the relationship between a person's psychological state and physical performance. It is a relationship he aims to both quantify and demystify. Through his research, he intends to develop a battery of tests – encompassing everything from psychosocial functioning to shoulder endurance – which he hopes will become the gold standard for patients' post-surgery.
"All six of these tests have been previously validated within the literature," he said. "What's novel is that they are combined into a battery, which gives a score." If it works well, it could clear some of the patients' doubts about their healing process and hopefully, get them on track to a successful recovery.
What's Next?
With a runway of six years to get the test up and running, Kieron still has plenty of time. And he is using it wisely. In September 2023, he will attend a 12-week ultrasound imaging course hosted by SIT, that will allow him to tap ultrasound technology to observe repairs in the shoulder.
"SIT's focus has always been on applied learning and research," said Associate Professor Benjamin Soon from SIT's Health and Social Science Cluster, who is currently supervising Kieron on his research piece. "It is great that Kieron came to us with a research question that we have successfully developed into a series of studies for this doctorate. His project will help address clinical questions, and eventually improve patient care and healthcare services."
Kieron, who will be attending the course with his colleagues from Heartland Rehab, noted the rarity of such a targeted training session. "Usually, the training is done in large groups because it is expensive. I'm really looking forward to this as it will benefit us clinically. We will be able to visualise anatomical structures during our physiotherapy treatments, which will make sessions more effective for our patients under our care," he said.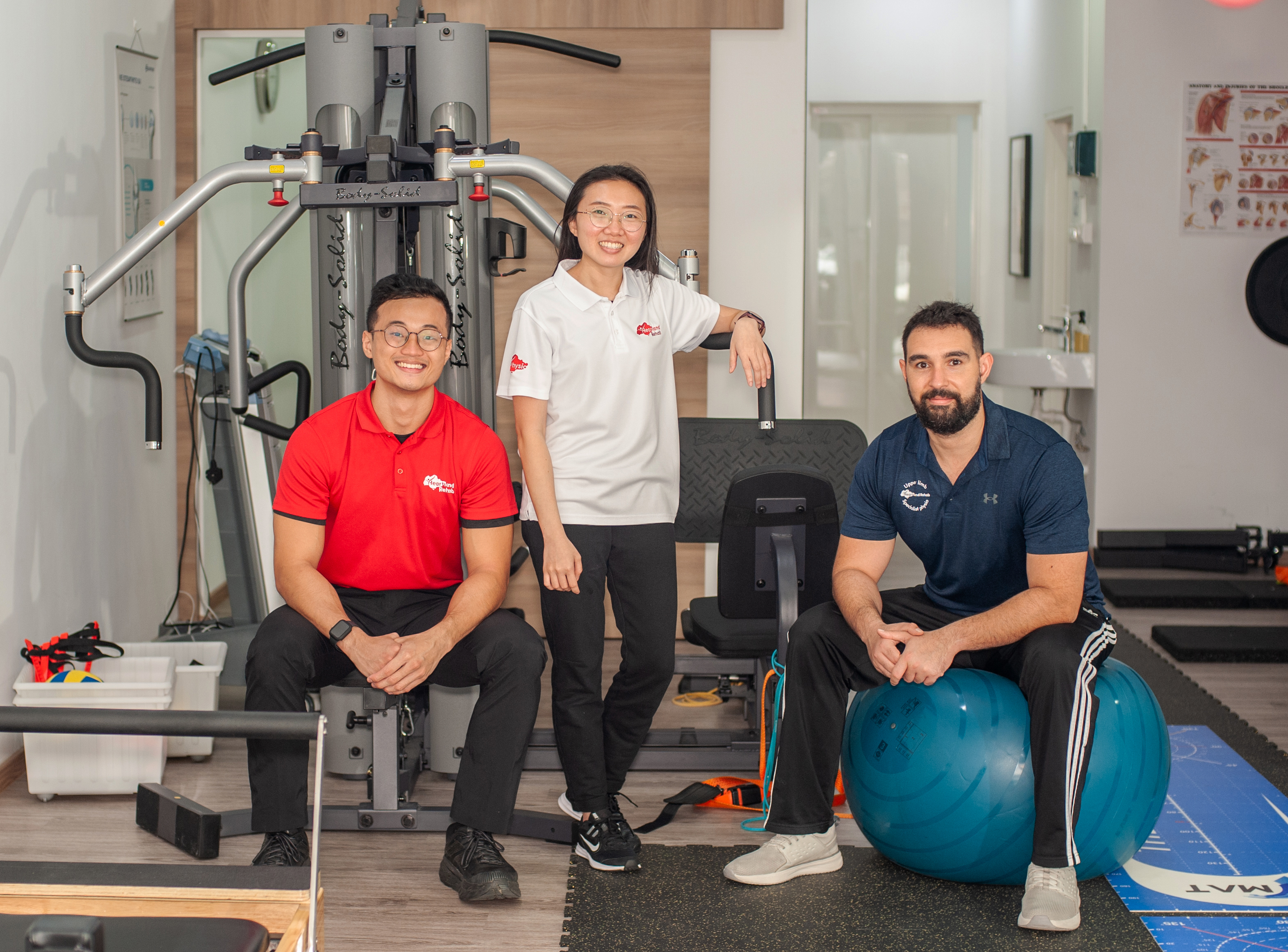 Kieron (right) and his colleagues at Heartland Rehab regularly keep themselves up to date with the latest evidence-based practices to provide optimal outcomes for their patients. (Photo: Heartland Rehab)
It is a perk that comes with his partnership with SIT – and could be a salve to smooth out kinks in his research, propelling it even further.