New Centre to strengthen Singapore's tunnelling and  infrastructure development capabilities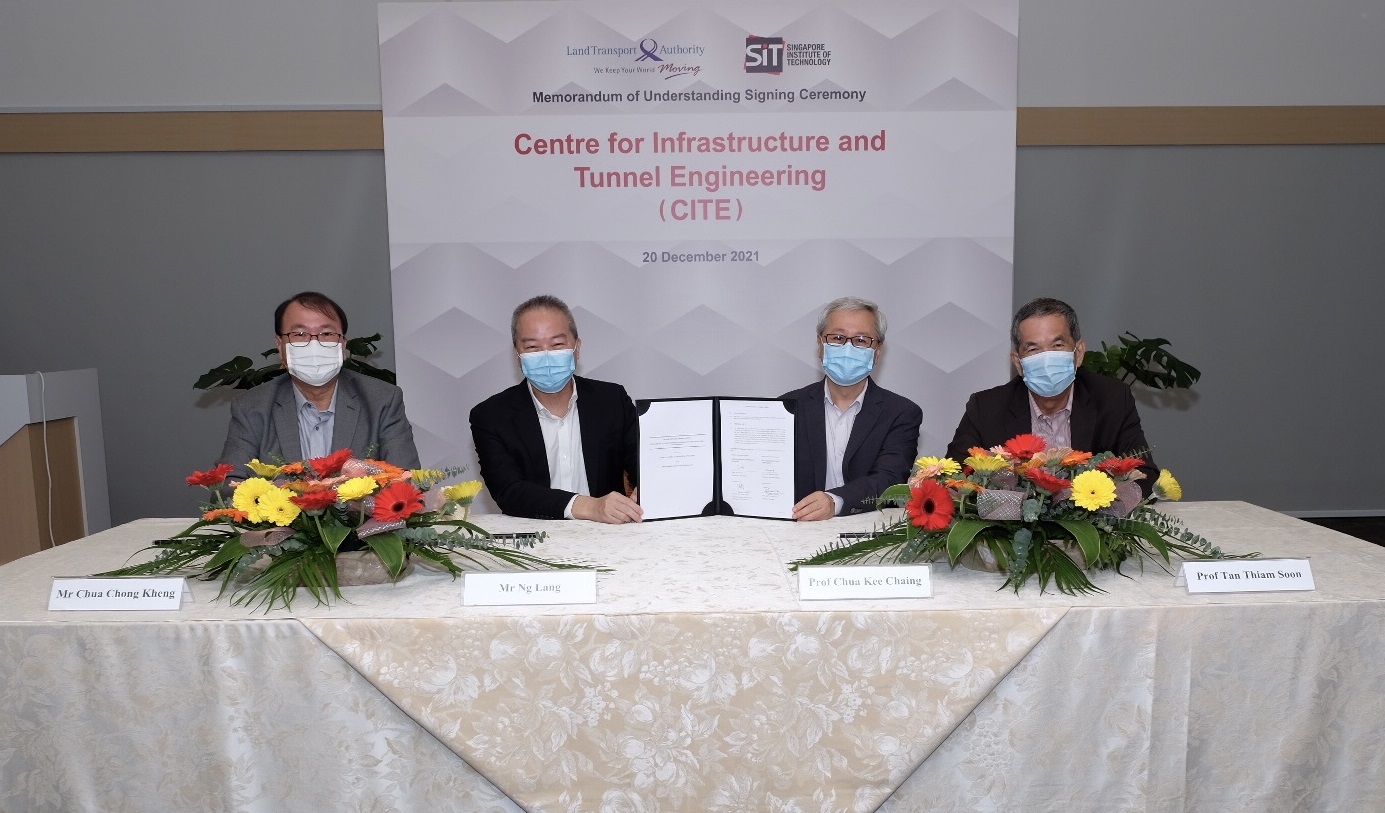 From left: Er Chua Chong Kheng, Deputy Chief Executive, Infrastructure & Development, LTA; Mr Ng Lang, Chief Executive, LTA; Prof Chua Kee Chaing, President-designate, SIT; Prof Tan Thiam Soon, President, SIT.
The Land Transport Authority (LTA) and Singapore Institute of Technology (SIT) signed a Memorandum of Understanding (MOU) today to establish a Centre for Infrastructure and Tunnel Engineering (CITE).
The partnership between LTA and SIT seeks to foster greater collaboration in research & development, as well as educational and training programmes in this highly-specialised field of infrastructure and tunnelling engineering. As cities around the world become more urbanised, many mega-infrastructure projects for land transport, waste management and other utility services such as transmission cable tunnels for power services are increasingly being built underground. In land-scarce Singapore, expertise for tunnel engineering and infrastructural development will continue to be in demand.
The CITE will serve as a platform for the civil engineering community to exchange and deepen their knowledge and skill sets in this field. The Centre will also conduct and facilitate applied research to augment safety standards in the design, construction, operation and maintenance of tunnels, and other civil engineering infrastructure. This will be beneficial for major underground projects in the next few decades, which include the Cross Island Line, North-South Corridor and Deep Tunnel Sewerage Systems. To augment manpower capabilities, the CITE will develop and offer customised training courses to reskill and upskill local professionals in infrastructure and tunnel engineering.
Professor Tan Thiam Soon, President, SIT, commented: "As a Technology Innovation Centre at SIT, the CITE will leverage SIT's strengths in applied learning and industry collaboration to promote innovation and groom talent. We envision the Centre to be at the forefront of cutting-edge applied research and training in Singapore, readying future graduates and workforce to meet the challenges of ever-evolving infrastructure and tunnel developments. SIT is pleased to collaborate with LTA to continue to enhance Singapore's capabilities in this sector."
Said LTA's Chief Executive Ng Lang: "Our rail lines and road projects are going deeper underground to allow for better use of above ground spaces and to preserve our natural environment. This requires specialised domain knowledge, and the CITE can help build a steady pool of tunnel engineers with a mix of civil engineering and geotechnical knowledge to support our efforts."
Building a Talent Pipeline for Infrastructure and Tunnel Engineering
To uplift industry standards, the CITE has collaborated with Singapore's Professional Engineers Board (PEB) to develop a customised Certification Course in Tunnel Engineering. The course aims to upskill professionals specialising in bored and mined tunnelling projects and supports Professional Engineers (Civil) in attaining accreditation as Specialist Professional Engineer in Tunnel Engineering.
Conducted by SIT faculty members as well as LTA's tunnel engineers and industry experts, the course's modules are specifically tailored to provide participants with information and case studies in the local context, such as the Geology of Singapore and Tunnel Design, Tunnelling Construction, and Tunnelling Operation and Impact Assessment. A pilot run of the course in March 2021 attracted 30 industry professionals who will be completing the programme in the first quarter of 2022. Interested applicants can apply for subsequent runs of the course through the SITLEARN website.
The CITE will also serve as a platform to build a pipeline of qualified young professionals looking to join the industry. Through the Integrated Work Study Programme (IWSP) attachment to the Centre, civil engineering undergraduates at SIT will have the opportunity to acquire in-depth knowledge and work experience in infrastructure and tunnel engineering. The IWSP is a distinctive feature of SIT's degree programmes, where students undertake six to 12 months of paid employment relevant to their programmes during the course of their studies. Postgraduate students can also engage with the industry through collaboration with the Centre for their Industrial Master and Doctorate projects.
Boosting Industry Capabilities with Applied Research and Sharing of Best Practices
To keep pace with emerging trends and promote state-of-the-art industry practices, CITE will also conduct and facilitate applied research in infrastructure and tunnel engineering to create industry-specific solutions. Areas of research include digitalisation and sustainability in civil engineering. For example, an ongoing project which LTA and SIT are jointly carrying out looks into the Design, Detailing, and Specification of Reinforced Concrete Cut-and-Cover Tunnels for Crack Control, Water Tightness, and Durability.
By engaging government agencies and industry players, the Centre aims to improve companies' productivity, expertise and technology in infrastructure and tunnel engineering. Beyond applied research, the Centre will also grow industry knowledge through the sharing of best practices via technical seminars, workshops and by providing consultancy services.
About Singapore Institute of Technology
The Singapore Institute of Technology (SIT) is Singapore's University of Applied Learning, offering applied degree programmes targeted at growth sectors of the economy. With a mission to nurture and develop individuals who impact society in meaningful ways, SIT aims to be a leader in innovative learning by integrating learning, industry and community.
The university's unique pedagogy integrates work and study by incorporating applied research for students to work on real industry problems and creating solutions that meet industry needs. SIT also advocates the work-learn continuum, which places an emphasis on upskilling and lifelong learning.
For more information, visit www.SingaporeTech.edu.sg
About Land Transport Authority 
The Land Transport Authority (LTA) is a statutory board under the Ministry of Transport, which spearheads land transport developments in Singapore. As the agency responsible for planning, designing, building and maintaining Singapore's land transport infrastructure and systems, we aim to bring about a greener and more inclusive public transport system, complemented by convenient options to walk and cycle from their homes or to their destinations. We leverage technology to strengthen our rail and bus infrastructure and provide exciting options for future land transport. For more information, please visit LTA's website at www.lta.gov.sg.