SIT alumni Gerald Gwee and Luna Neo credit their success to the Computer Engineering degree programme and work attachment at Continental Automotive Singapore. The applied curriculum and industry exposure helped them transition seamlessly to the workforce after graduation.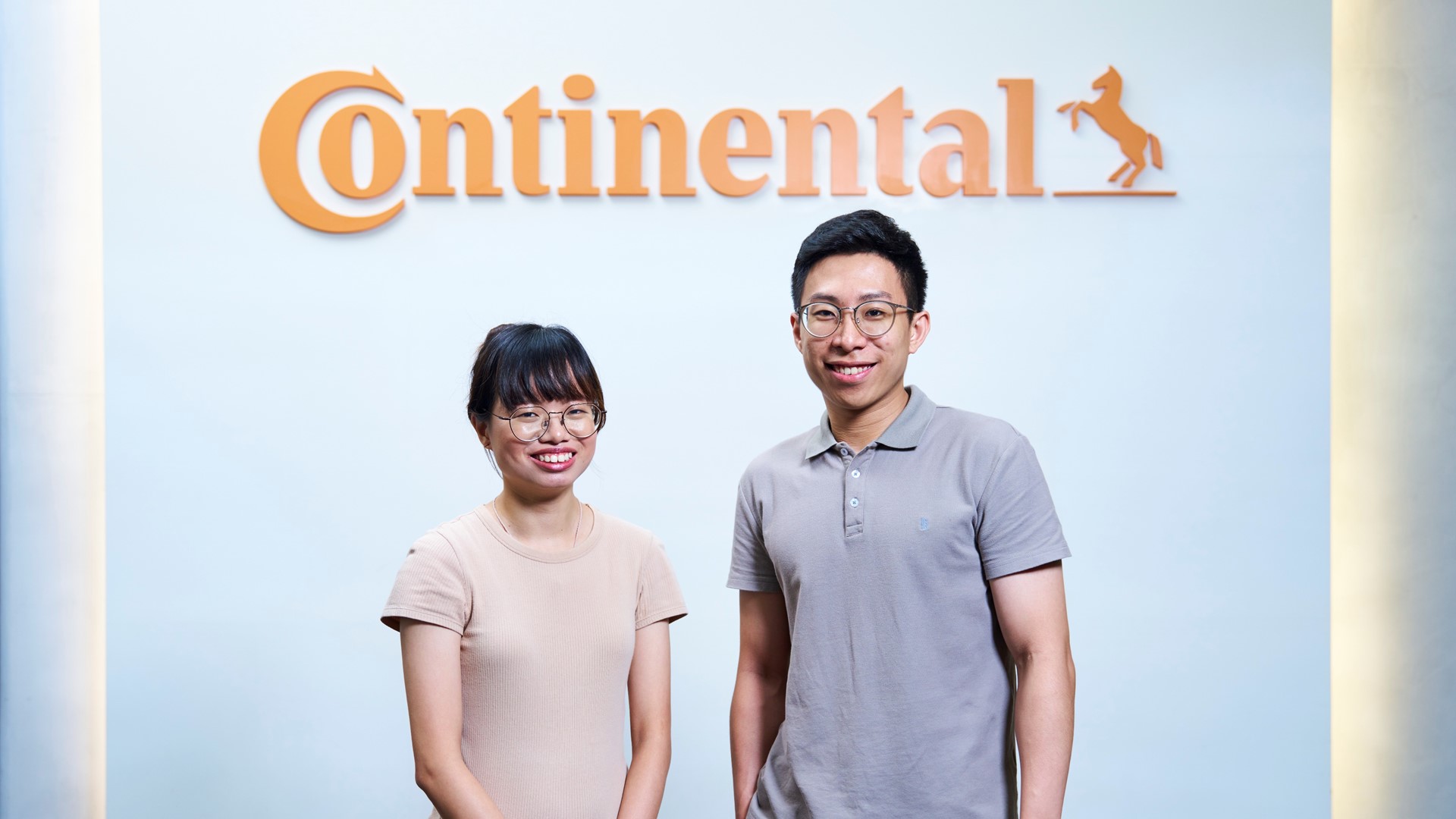 Meet Luna Neo (left) and Gerald Gwee (right) from SIT's Classes of 2021 and 2022 respectively, now making waves at Continental Automotive Singapore. (SIT Photo: Keng Photography/Tan Eng Keng)
From the old-school analogue gauges to the modern digitalised outlook, Gerald Gwee has always been intrigued by the development of instrument clusters in cars."Growing up, I've discovered a multitude of intriguing facets within cars, but it's the advanced technology nestled inside the vehicle that truly captivates my interest," he said.
This growing fascination found its perfect partner when he enrolled into the Computer Engineering degree programme, previously known as Telematics (Intelligent Transportation Systems Engineering), at the Singapore Institute of Technology (SIT) in August 2019.
"It was an easy decision," he recalled. "It might be a niche programme, but it was the closest I could get to 'automotive engineering'."
Gerald had an opportunity to meet and engage with others who shared their knowledge and enthusiasm. He was not only exposed to the inner workings of a car, but also given a chance to learn how it functions.
When he could work with Continental Automotive Singapore (Continental) for his Integrated Work Study Programme (IWSP), he grabbed the opportunity.
Introducing the Workplace
Unique to all SIT degree programmes, the IWSP requires students to undertake work attachments at relevant industry partners to ensure they are prepared for the workplace after graduation. For Gerald, he spent eight months with Continental in 2021 as a system test engineer.
His day-to-day responsibilities consisted of conducting test cases to ensure certain key functions in a car – such as remote key access and door locking and unlocking – ran smoothly.
For fellow Computer Engineering graduate Luna Neo Li Qin, her interest in the industry and desire to develop advanced technology was sparked when she was 13. She was captivated by a science documentary describing the future technology as "science fiction coming true".
Like Gerald, she completed her IWSP at Continental, where she spent part of her time testing car instrument display clusters. As a software systems tester, she was tasked to verify the software's functionality behind these systems, ensuring they perform according to the test cases and weed out glitches and bugs.
But other than gaining first-hand experience in the technical aspects of the industry, the IWSP also allowed students to contribute meaningfully to projects and see the result of their hard work in the final products.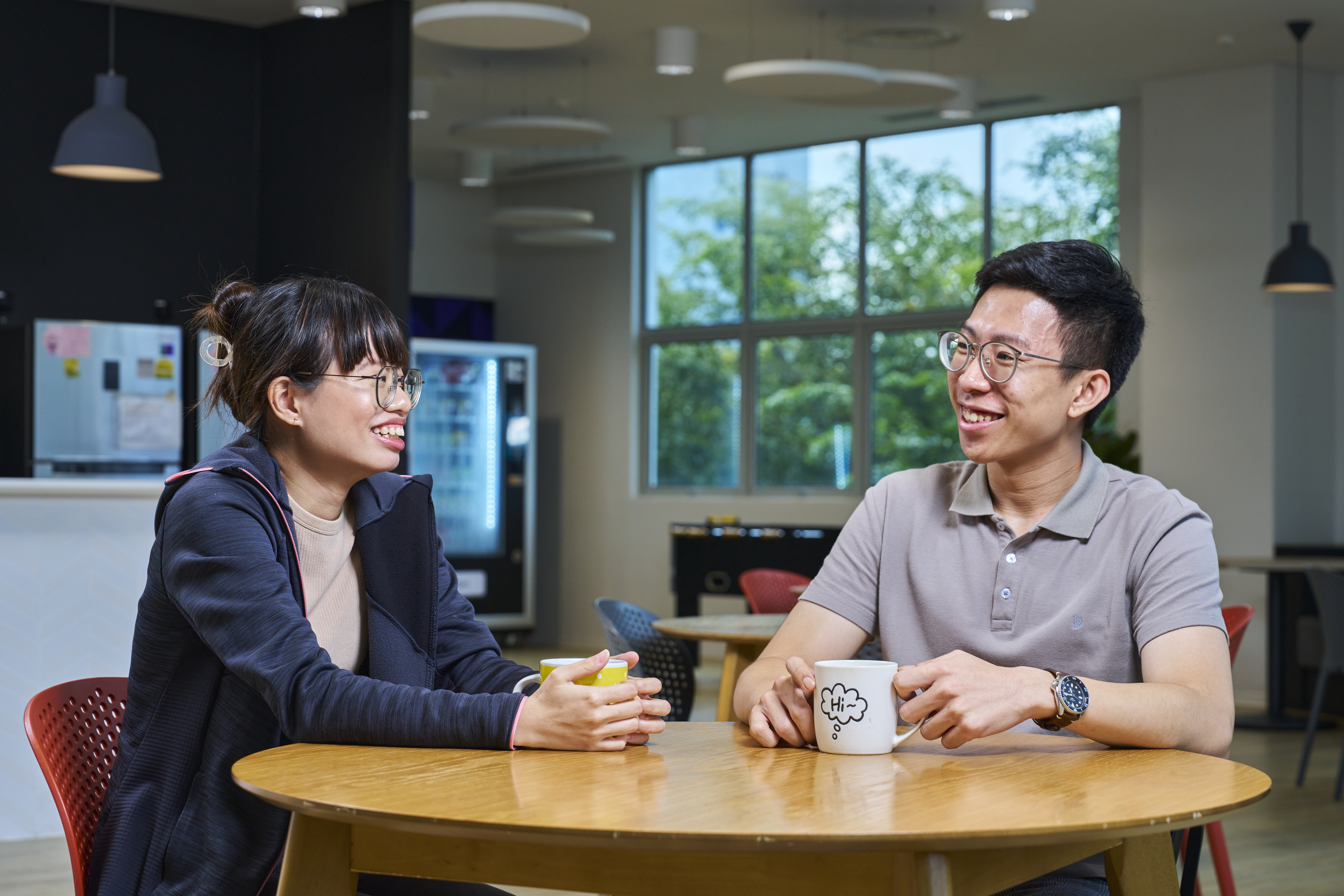 Luna and Gerald appreciate Continental's culture of collaboration and openness. (SIT Photo: Keng Photography/Tan Eng Keng)
When Gerald was completing his IWSP at Continental, he mainly worked on a project for the body controller module – a part of the car that controls various electronic-related functions, such as lighting, window wipers, and telematics features. He said: "I think that conducting regression testing[1] was the most impactful and memorable part of my IWSP."
The method of constantly performing a test after every update – especially on essential and core features – to ensure that they do not introduce bugs, created a more reliable end product for customers.
Together with substantial roles, Continental also provided the students with an environment where they felt comfortable asking questions. Their direct supervisors or other colleagues, despite their hectic schedules, would always be willing to clarify any doubts.
As Luna explained: "Communication is important. If you do not raise your concerns and blocking points, it will affect a project's progress."
Educators and Supporters
Support did not just come from Continental. SIT organised monthly workshops to follow up with students and check if they had questions or problems they wanted to discuss. If they did, professors would advise on appropriate steps forward.
The Computer Engineering degree programme also equips students with interdisciplinary training in computer science and engineering, focusing on applications in the rapidly evolving field of intelligent transportation systems. This gives them a higher baseline compared to other graduates when entering the workforce.
"The correlation between the modules taught in the university and what is practised in the industry is very helpful in understanding the gist of things," Gerald noted. He cited the example of reading through vehicle architecture. Even with the up-to-date knowledge he garnered from his classes, he still struggled with it.
He added: "I cherish the support from my professors at SIT and bosses at Continental. They were readily available to support and answer my questions."
Life after Graduation
Besides being an excellent opportunity for students to apply what they learn, the IWSP can even give them a head start in employment.
Mr Lo Kien Foh, President and Chief Executive Officer of Continental (left), said: "Continental benefits from the close collaboration with SIT, especially with the IWSP programme, which allows us to identify and mutually assess suitability before offering the students full-time positions with the company. This helps to grow our pool of engineers, ensure a talent pipeline, and raise our R&D competencies and capabilities."

Having graduated in 2021 and 2022, Luna and Gerald have both found a home in the technology company as a software engineer and system engineer, respectively. Despite having different job scopes compared to their first stint there, the IWSP has helped them to transition seamlessly.
Luna said: "The long-duration work attachment gave me a head start, especially since I already knew the company's culture, work processes and expectations."
Both Gerald and Luna are excited about forging meaningful careers at Continental. Gerald expressed his desire to explore various product lines and gain a comprehensive understanding of the organisation.
As for Luna, she plans to acquire more experience as a developer to strengthen her technical skills, before considering other roles like software architect and product owner.
Photo of Mr Lo Kien Foh courtesy of Continental.
  
[1] Regression testing is a series of tests done to ensure that previously developed and tested software still performs as expected after a change.
About SIT's IWSP at Continental Automotive
The IWSP is a distinctive feature of all SIT and SIT-joint degree programmes. It allows students to integrate theory and practice and develop deep, specialist skills in their chosen field. Computer Engineering undergraduates undertake eight months of relevant work in the industry to develop professional competencies, networking and interpersonal skills.
Hear from our SITizens on their IWSP experience at Continental: