New initiatives launched to enable all SIT alumni to read a CET module for free once every five years; simplified admissions process for alumni to read suitable postgraduate degrees
Announcements made at the Graduation of the Class of 2023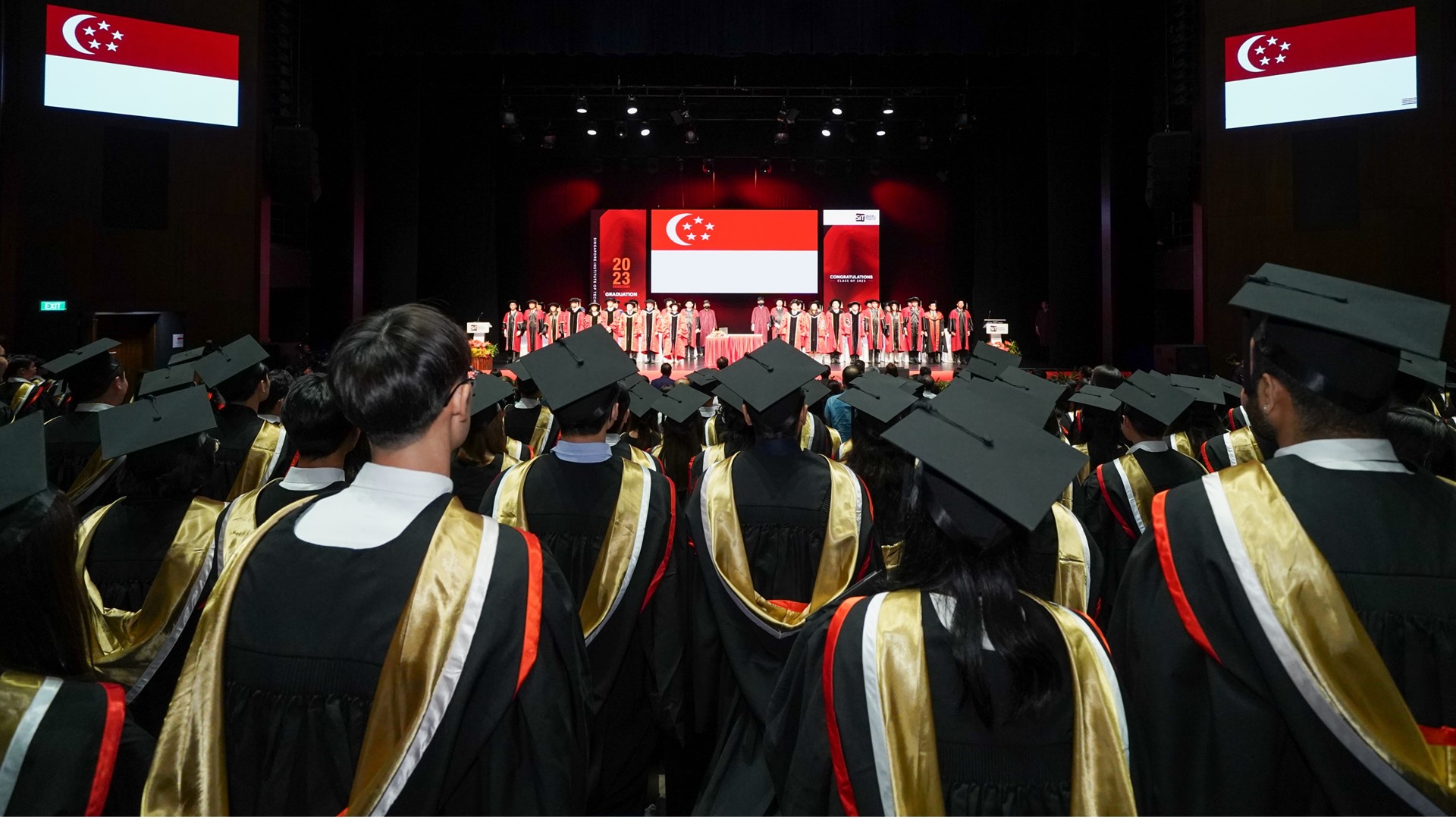 More than 2,200 graduates received their degree scrolls this year. (SIT Photo: Keng Photography)
The Singapore Institute of Technology (SIT) pledged its commitment to support lifelong learning for all its alumni by launching two new initiatives and an expanded suite of postgraduate degree offerings. The announcements were made today at the start of the University's Graduation Ceremonies for the Class of 2023. The first ceremony was graced by Guest-of-Honour Ms Gan Siow Huang, Minister of State, Ministry of Education and Ministry of Manpower.
Free CET Modules Every Five Years and Simplified Admission to Postgraduate Degree Programmes
At the ceremony, the University announced its 'Learn for Life' initiative, which will benefit all 18,000 SIT alumni since the University's founding in 2009. The initiative allows an alumnus to sign up for one of SIT's Continuing Education and Training (CET) modules, worth up to S$3,500 today for free once every five years, starting from 1 April 2024. Through this initiative, SIT will support and encourage its alumni to continually upskill and reskill to acquire new knowledge and competencies to stay competitive.
The University has also introduced a simplified admissions process for alumni to return to read postgraduate degree programmes. When applying to postgraduate degree programmes, SIT alumni will not be required to submit their degree certificates and transcripts anew, resulting in greater convenience for prospective alumni applicants.
SIT President Professor Chua Kee Chaing said, "SIT is making a strong commitment to support our alumni in their lifelong learning journeys. We recognise that this is necessary for them to stay agile in response to the rapid changes and disruptions that are happening in the world of work and for them to upskill as they progress in their careers. Our programme offerings are always aimed at addressing industry demands, so they are always relevant and well suited to the needs of our alumni at the different phases of their careers and/or in responding to the changes and disruptions in their industry."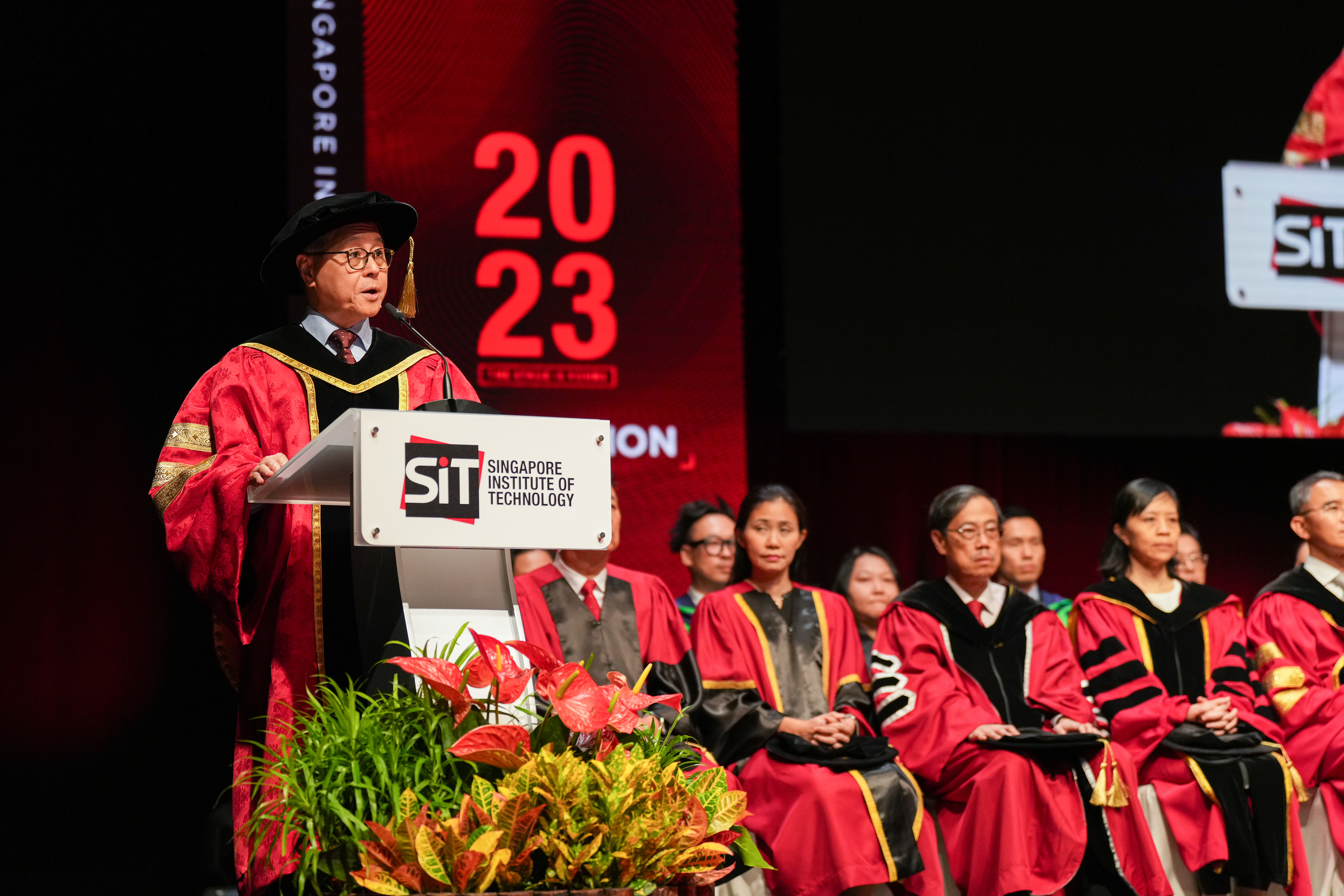 Professor Chua Kee Chaing, President, SIT, delivered his welcome address at the graduation ceremony. (SIT Photo: Keng Photography)
New Postgraduate Offerings to Meet Demand in Healthcare and Innovation Development
The University will launch the Master of Health Sciences (MHSc) postgraduate programme in the Academic Year 2024. Designed to meet industry demands to address the needs of Singapore's ageing population and the fast-evolving healthcare landscape, the MHSc programme offers five specialisations anchored by a progressive curriculum. It integrates a blended learning approach to equip healthcare professionals with up-to-date knowledge and skillsets. This provides opportunities for interdisciplinary learning that mirrors the workplace experience, while catering for clinical specialisations. The specialisations are:
Adult and Geriatric Rehabilitation

Musculoskeletal Physiotherapy
Organ Transplant Nursing
Rehabilitation Nursing
Medical Sonography
In partnership with Singapore's healthcare clusters, including SingHealth and the National Healthcare Group, SIT will implement the specialisations with plans to provide clinical placements within some of the MHSc discipline-specific modules. At the same time, SIT and SingHealth are also jointly developing other new healthcare programmes.
Professor Ivy Ng, Group CEO, SingHealth, said, "SingHealth is glad to partner SIT in its Master of Health Sciences programme to upskill healthcare professionals in clinical specialisations that will enable them to deliver patient-centric, effective and holistic care. The programme will harness the rich clinical expertise of multidisciplinary teams in SingHealth and the teaching excellence of SIT to address the impact of evolving societal demands on the healthcare industry, bridge existing gaps and provide real-world experience to participants through clinical placements in SingHealth's institutions. In doing so, we hope to equip them with up-to-date and relevant evidence-based theoretical knowledge, applied research skills and practical experience, and empower them to be in a stronger position to face the needs of an ageing population with an increased prevalence of chronic diseases."
The University will also strengthen its existing Postgraduate Programmes by Research (PGR) programmes through its Industrial Doctorate/Master (ID/IM) with innovation specialisations. To be designed and offered in collaboration with the Singapore-MIT Alliance for Research and Technology (SMART), the innovation-focused ID/IM programmes will help companies build deep innovation capabilities. Students will be equipped with the principles of iterative innovation to boost productivity growth. They will work on company projects and be jointly mentored by leaders in innovation practice and education from SMART's and SIT's experts.  The Industrial Doctorate and Master with innovation specialisations will prepare a new generation of industry leaders that must navigate a world demanding the simultaneous management of operations and future innovation productivity.  SMART and SIT are ideal partners, bringing together SMART's innovation expertise with SIT's experience in serving the education needs of future leaders and industry," said Professor Eugene Fitzgerald, CEO and Director, SMART.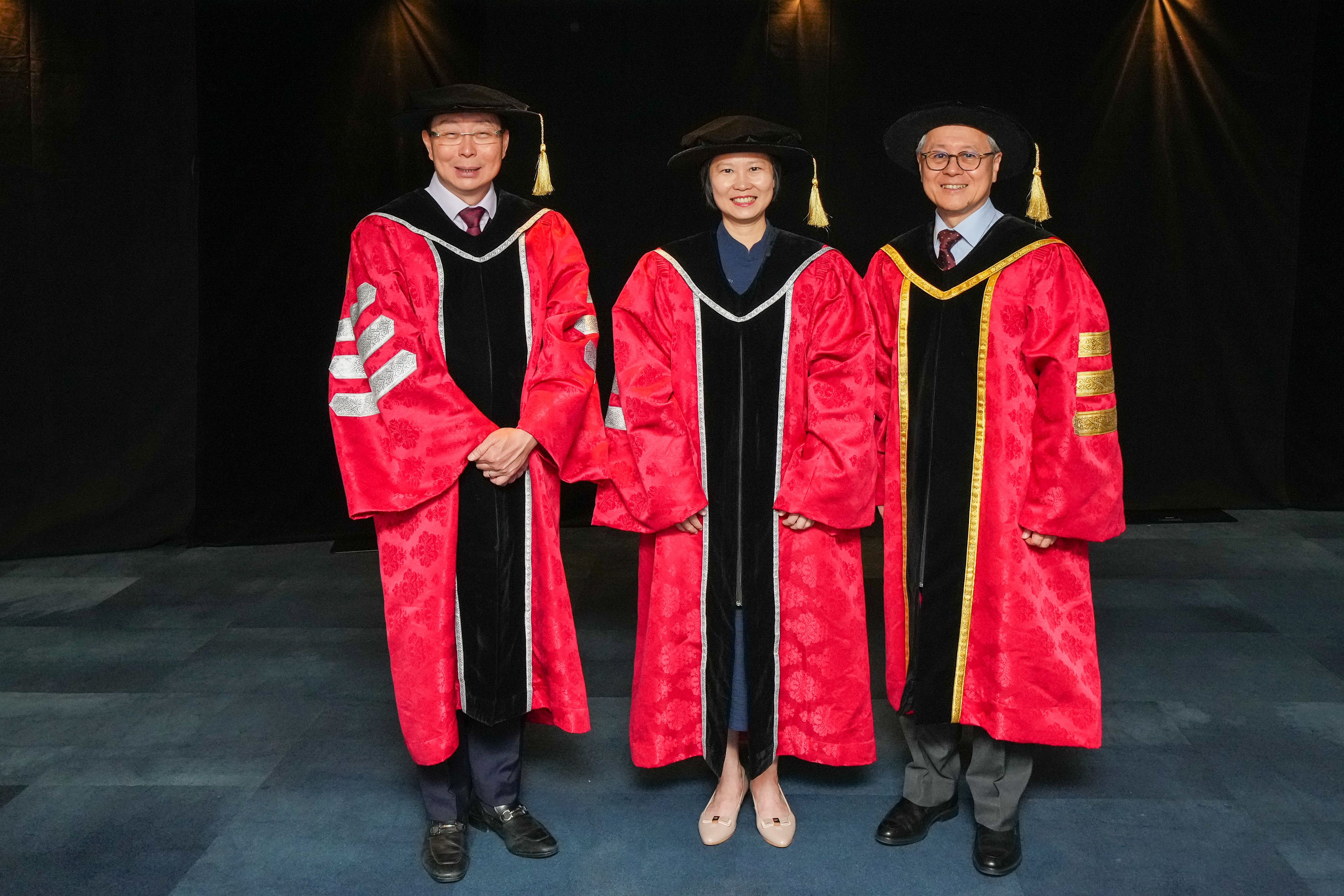 (From left) Mr Bill Chang, Chairman, Board of Trustees, SIT; Ms Gan Siow Huang, Minister of State; and Prof Chua Kee Chaing, President, SIT. (SIT Photo: Keng Photography)
Pioneer Graduates of Digital Communications and Integrated Media and Dietetics and Nutrition
The University is honouring the achievements of the Class of 2023 at its Graduation Ceremony from 11 to 13 October 2023. This year, over 2,200 graduates from 36 undergraduate and postgraduate degree programmes will be conferred. The Class of 2023 comprises 1,124 graduates from SIT-conferred degree programmes and 1,095 graduates from SIT-overseas university joint-degree programmes.
Among those graduating this year are the pioneer cohorts of the following programmes: 
Bachelor of Science with Honours in Digital Communications and Integrated Media (DCIM) – 58 graduates

Bachelor of Science with Honours in Dietetics and Nutrition (DTN) – 11 graduates
Master of Science in Mechanical Engineering – 15 graduates
Equipped with both technical and critical thinking skills to thrive in the digital communications industry, DCIM graduates hold skillsets to manage the challenges of the digital landscape. They are trained in digital web analytics, integrated media management and digital media production. These enable them to contribute to companies and industries specialising in digital advertising, marketing and communications.
"The digital communications and media landscape is constantly evolving, and strong professionals in this space are in demand by many organisations. Our inaugural batch of DCIM graduates are well-equipped to succeed through the rigorous, diverse and impactful programmes which they have gone through at SIT. I am confident that they will make a positive impact with their skills and talents," said Mr Howie Lau How Sin, Managing Director, Corporate Development and Partnerships, NCS Group and Chair of the DCIM Industry Advisory Committee.
The Class of 2023 also includes the pioneer cohort of Singapore's first and only Dietetics and Nutrition degree. With figures from the Ministry of Health indicating a 56% increase in demand for dietitians in acute care from 2010 to 2015, all DTN graduates secured employment[1] after completing their studies in April this year. Armed with evidence-based theoretical knowledge, research skills and 1,200 hours of practical experience across all domains of dietetics practice, graduates are able to practise as qualified dietitians in healthcare institutions, community hospitals and long-term care facilities.  In addition to clinical work, dietitians can also be involved in health promotion, food services, research and education/training.
"I am confident that these graduates will be able to contribute to society even further with the competencies and knowledge they have gained in public health nutrition, as well as clinical and community dietetics, which are all critical aspects of holistic health. As dietitians expand their roles beyond acute and specialist care to primary and community dietetic practice, they are well placed to influence health and care integration. Dietitians should, at the same time, seek opportunities to deepen their expertise and acquire new skills. I encourage all dietitians to be bold in innovating and transforming dietetic and nutrition care, to add more years of healthy life to Singapore's population," said Dr Lim Yen Peng, Deputy Group Chief Allied Health, National Healthcare Group and member of SIT's Industry Advisory Committee.
For the schedule and details of the SIT Graduation Ceremony 2023, please visit https://www.singaporetech.edu.sg/graduation-2023.
---
[1] Data is accurate as of 30 August 2023 and obtained from DTN graduates who responded to the preliminary employment survey conducted by SIT.