MOU signed at Energy Innovation 2022 seeks to upskill more engineering talent with strategic three-year collaboration to supercharge expertise in the energy sector.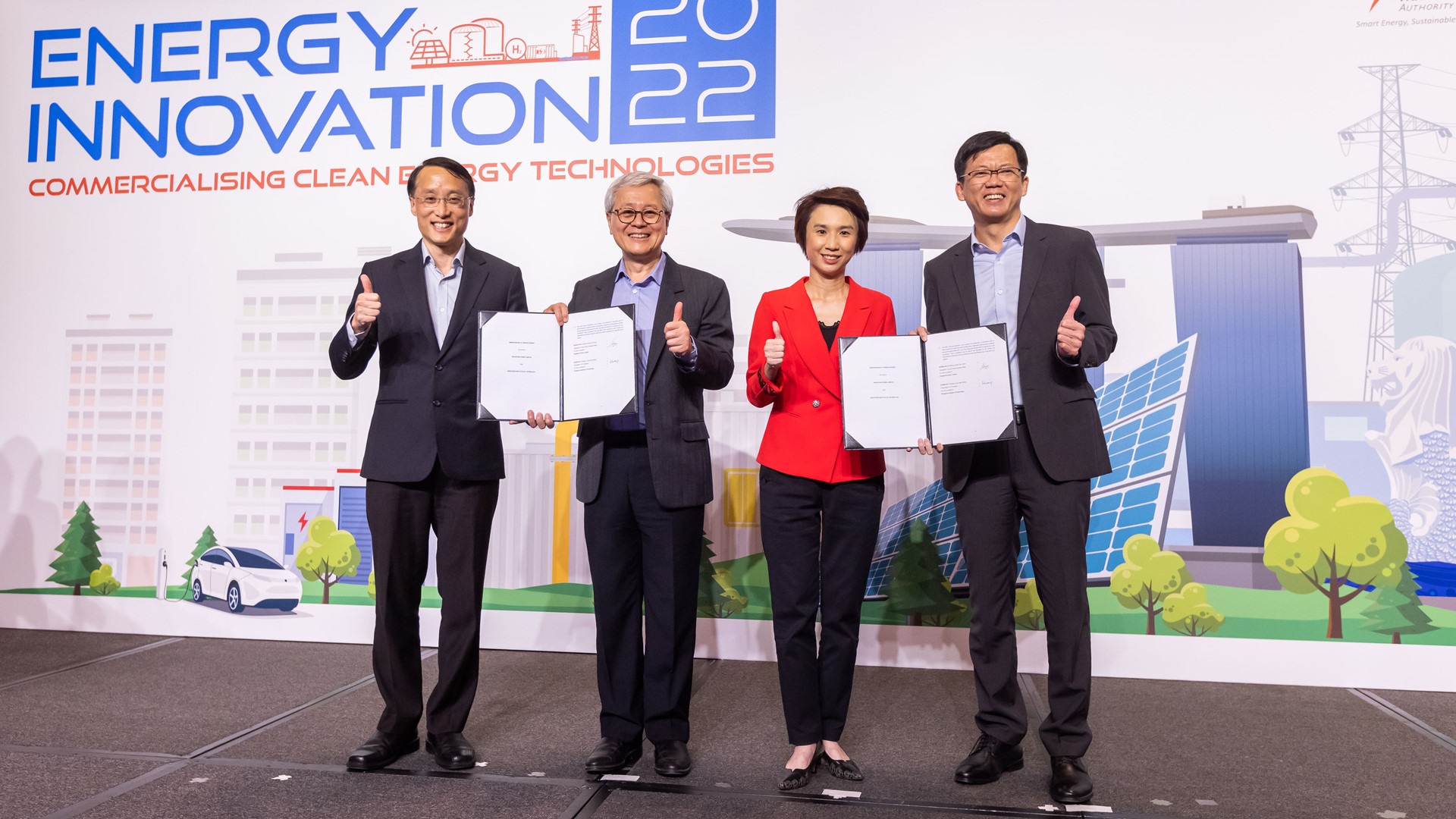 (From left to right) Mr Ngiam Shih Chun, Chief Executive, Energy Market Authority; Prof Chua Kee Chaing, SIT President; Ms Low Yen Ling, Minister of State, Ministry of Trade and Industry & Ministry of Culture, Community and Youth; and Mr Stanley Huang, Group CEO of SP Group, at the MOU signing at Energy Innovation 2022. (Photo: SP Group)
The Singapore Institute of Technology (SIT) and SP Group (SP) are collaborating to enhance the capabilities of the power engineering workforce in Singapore. Through a three-year endeavour, SIT and SP will focus on upskilling and reskilling of SP's employees. Both organisations signed a Memorandum of Understanding (MOU) today at Energy Innovation 2022, organised by the Energy Market Authority (EMA).
As Singapore advances towards a sustainable energy future and its Smart Nation ambitions, it is crucial that local talents gain knowledge and skills to adapt and thrive in the evolving energy sector. To grow engineering talent pipeline and skillset for the energy sector, the SIT-SP partnership seeks to provide continuous skills upgrading pathways for SP employees through a full-time undergraduate degree in Electrical Power Engineering.  Students will benefit from the Integrated Work Study Programme (IWSP) and Capstone Projects, which put theory into practice in real work situations. SIT and SP will provide students with workplace learning opportunities and innovation projects that address emerging needs of the energy industry.
Said Professor Chua Kee Chaing, SIT President: "This MOU underscores SIT's shared commitment with SP to upskill and reskill different generations of power engineers, to cater to new industry demands. As the demands of tomorrow continue to evolve, it calls for closer academia-industry partnerships with industry leaders like SP, and a work-study approach to better train work-ready professionals. As SIT continues to expand its footprint across industries to address these ever-changing needs, we welcome like-minded partners to join our efforts to upskill, reskill, and build the workforce of tomorrow."
Group Chief Executive Officer of SP Group, Stanley Huang, said, "We are pleased to launch the work-study programme with SIT, to help our workers upskill and adapt to the changing energy landscape. It enables them to pursue an engineering degree course full-time, while continuing in work roles during the course of their study and applying the knowledge they gain. This is part of SP Group's commitment to continuously develop our workforce for the needs of our industry and support our workers in contributing effectively."
Mr Ngiam Shih Chun, Chief Executive of EMA, said, "As Singapore advances our energy transition towards a more sustainable future, we will need to ensure that workers are equipped with relevant skillsets to take on new opportunities. EMA is supportive of such academia-industry partnerships in building up Singapore's manpower capabilities for the energy sector. We are heartened to note SP Group's strong emphasis and commitment on upskilling its employees. We hope this collaboration between SIT and SP Group will be the first of many such partnerships to come, to build a future-ready workforce that will propel Singapore's energy sector forward."
As a start, a pioneer cohort of SP employees will undertake a full-time three-year Electrical Power Engineering (EPE) undergraduate degree programme at SIT, starting in September 2022. The degree programme, jointly offered by SIT and Newcastle University, is specially customised to provide students with a holistic approach to learning while experiencing hands-on industry-focused activities. More information on the EPE degree programme is in Annex A.
As part of this pioneer cohort in September 2022, five SP employees will be onboarded as full-time students, where they will get to apply existing practices from the workplace, and hone their skills through actual work exposure made possible by SIT's unique applied learning pedagogy. SP will be sponsoring their studies as they pursue their career aspirations and grow their engineering capabilities. See Annex B for profiles of SP's pioneer cohort of EPE undergraduates.
This MOU is an extension of the ongoing partnership between SIT and SP over the past few years – which currently includes SP's investment in Singapore's first experimental, multi-energy microgrid at SIT's future campus in the Punggol Digital District, signaling a long-term commitment of both organisations' collective efforts to advance the energy sector in Singapore.
Annex A: SIT's EPE Undergraduate Degree Programme Tailored for SP Employees
The Bachelor of Engineering with Honours in Electrical Power Engineering (EPE) is a three-year direct honours degree programme jointly offered by SIT and Newcastle University (NU).
As the first locally-offered, dedicated Electrical Power Engineering undergraduate programme, the curriculum is specially customised to meet industry demand in Singapore. It will play an important role in increasing the number of graduates to address the workforce demand in the power sector whilst fulfilling the country's vision of becoming a Smart Nation. As a joint programme, it will leverage the expertise and resources of both SIT and NU.
Annex B: Profiles of SP's Pioneering Batch of EPE undergraduates
Profiles:
Chan Meng Hoe
Principal Technical Officer, 49
27 years of Service with SP Group
Meng Hoe joined SP Group in 1994 as an apprentice to become a technician in Electrical Distribution. After the completion of his apprenticeship, he earned his ITE Skills Certificate in Electrical Distribution. He further took a part-time diploma course sponsored by SP Group and achieved his Diploma in Electrical Technology.
As a Technical Officer, Meng Hoe plays a crucial role in carrying out preventive maintenance of high and low voltage equipment on top of critical infrastructure projects for the nation, including diversion work for the Thomson East Coast Line (TEL) and pre-development of Changi Airport T5 project.
"I have been with SP for almost three decades and it is truly where learning never ends. SP offers a wide spectrum of opportunities, and each task prepares us for the next challenge.  I am so glad to be embarking on the SIT EPE programme to upgrade myself, even though I've been in the industry for a long time."
Abdul Latiff bin Muhamed Abdullah
Principal Technical Officer, 38
14 years of Service with SP Group
Abdul Latiff joined SP in 2007 as his first full-time job. During his employment with SP, Latiff concurrently pursued and completed his Diploma in Electrical Engineering over a three-year period. Latiff was part of the team that laid the power cable grid infrastructure for Marina Coastal Expressway (MCE) in 2013. He was also deployed to help in the setting up of additional migrant workers dormitories when Singapore responded to the COVID-19 pandemic in 2020.
"In today's competitive landscape, we must continuously equip ourselves with the latest technological knowledge. I look forward to upgrading myself through this programme with SIT, where I can acquire deeper skills in my work field. I believe this will open up new possibilities for me and allow me to make an even more meaningful contribution to SP and society."
Mohamad Nadzir bin Mohamad Amin
Technical Officer, 42
9 years of Service with SP Group
Nadzir's interest in engineering was sparked off during his polytechnic studies.. Joining SP Group was a natural extension of his passion in this field.
Nadzir is part of a high-performing team that works round the clock to uphold Singapore's world-class grid reliability. In his day-to-day work, Nadzir is responsible for the maintenance of relay testing at substations to ensure uninterrupted power supply, among others. What keeps Nadzir motivated at the start of each work day is the responsibility of keeping the lights on for the nation. Even after almost a decade with SP, Nadzir welcomes the opportunity to return to school with open arms.
"I enjoy my work because utilities are essential to people's lives, and I'm glad that I have a role to play in keeping the lights on for Singapore. This EPE degree offered by the SIT-SP partnership is a golden opportunity which I am grateful for. I want to show my kids that learning is a lifelong journey, and I hope this will enable me to play a bigger role in building a sustainable energy future."
Farel Izuan Bin Ibrahim
Technical Officer, 29
7 years of service with SP Group
Farel joined SP Group in 2015 with an interest to kickstart his career in engineering. His key work responsibilities include managing the installation of electrical equipment in substations and assisting engineers in switching operations.  
Farel is an avid learner and aspires to earn his badge as a professional engineer as the next stage of his career progression.
"I am excited to embark on this new learning journey. I look forward to acquiring new engineering skills and knowledge, especially when it comes to applying what I learn in school to the real-world. This could be a stepping stone for me to take up a Master's degree!"
Goh Yap Meng
Technical Officer, 41
6 years of service with SP Group
Yap Meng joined SP in 2016, strongly motivated to apply his academic learnings upon graduating from Singapore Polytechnic's Electrical & Electronics Diploma course.  As a Technical Officer in the Transmission Network team within Electricity Operations, he finds pride in upholding the nation's world-class grid by ensuring that the high-voltage switchgear and transformers are always well-maintained.
One of his most memorable experiences was responding to an electricity incident in 2018 and experiencing the supply disruption as a resident himself.
"Knowing that my work directly impacts the quality of life of customers in Singapore keeps me going. Embarking on a new education journey will enable me to develop a deeper understanding of the complex electrical system and make a greater impact at work!"
About Singapore Institute of Technology
The Singapore Institute of Technology (SIT) is Singapore's first University of Applied Learning, offering industry-relevant degree programmes that prepare its graduates to be work- and future-ready professionals. Its mission is to maximise the potential of its learners and to innovate with industry, through an integrated applied learning and research approach, so as to contribute to the economy and society. 

The University's unique pedagogy integrates work and study, embracing authentic learning in a real-world environment through collaborations with key strategic partners. Its focus on applied research with business impact is aimed at helping industry innovate and grow. Targeted to be ready in 2024, SIT's centralised campus within the larger Punggol Digital District will feature a vibrant learning environment where academia and industry will be tightly integrated with the community.
For more information, visit www.SingaporeTech.edu.sg.
About SP Group
SP Group is a leading utilities group in the Asia Pacific, enabling a low-carbon, smart energy future for its customers. It owns and operates electricity and gas transmission and distribution businesses in Singapore and Australia, and sustainable energy solutions in Singapore, China and Vietnam.
As Singapore's national grid operator, about 1.6 million industrial, commercial, and residential customers benefit from its world-class transmission, distribution and market support services. These networks are amongst the most reliable and cost-effective world-wide.
Beyond traditional utilities services, SP Group provides a suite of renewable and sustainable energy solutions including solar energy solutions, microgrids, cooling and heating systems for business districts and residential townships, electric vehicle fast charging and green digital energy management tools for customers in Singapore and the region.
For more information, please visit spgroup.com.sg or follow us on Facebook at fb.com/SPGroupSG, on LinkedIn at spgrp.sg/linkedin and on Twitter @SPGroupSG.
About EMA Energy Innovation (EI) 2022
EI is an annual event held to promote knowledge-exchange among industry experts and the research community. For many years, the Energy Market Authority (EMA) has partnered with not only industry players, but also Institutes of Higher Learning and Research Institutes for building sustainable energy solutions and capabilities.