Super-charged, passionate, and driven -- Esther Fang, the winner of SIT's Outstanding Varsity Leader and aspiring physiotherapist, shares her winning tips.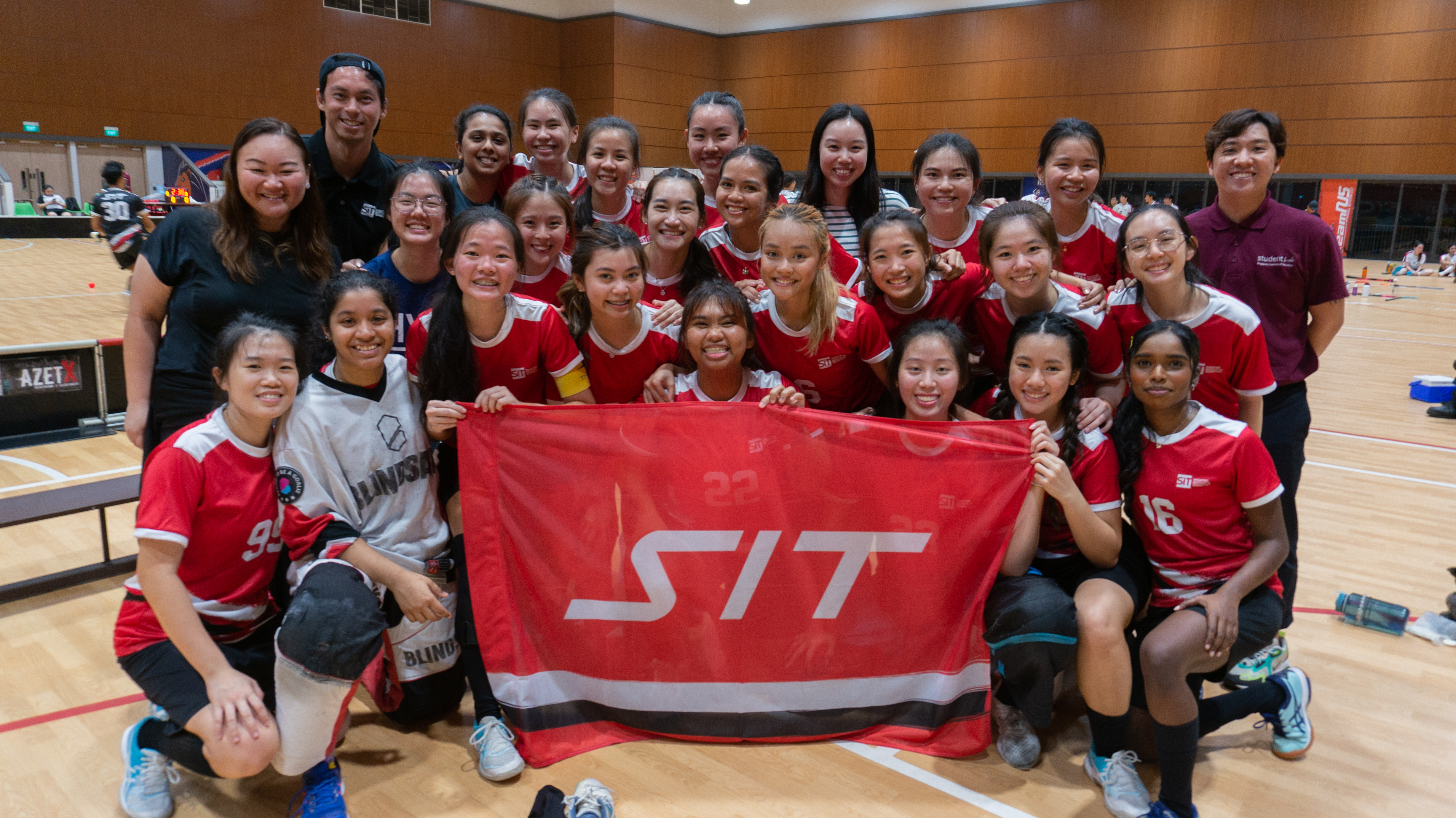 Esther (first row, third from left) with her team from SIT. (Photo: SIT/ Esther Fang)

When Fang Zi Hui, Esther, 24, enrolled into the Singapore Institute of Technology (SIT) in 2020, she already had more than 10 years of competitive floorball experience under her belt. 

"I absolutely love being in team sports because players come together to strive towards a common goal. There is a greater sense of fulfilment when we win as one, as compared to winning on my own," the bubbly ex-captain said.

Not only does she represent SIT in women's floorball, the third-year Physiotherapy undergraduate also competes at the national level under the banner of Woodlands CSC FF – Starlings Club in Singapore's Floorball League.
A Balancing Game
As someone who constantly seeks to challenge herself, Esther has thrown herself into her sport. Playing for the university plus an external club means she is required to invest a significant amount of time in training.

Other than her weekly training sessions with her SIT teammates, Esther spends the majority of her weekends training with her club. To push herself further, she also took up dragon boating in 2022 as a new co-curricular activity, and signed up for a gym membership so that she could train closer to home and in her own time.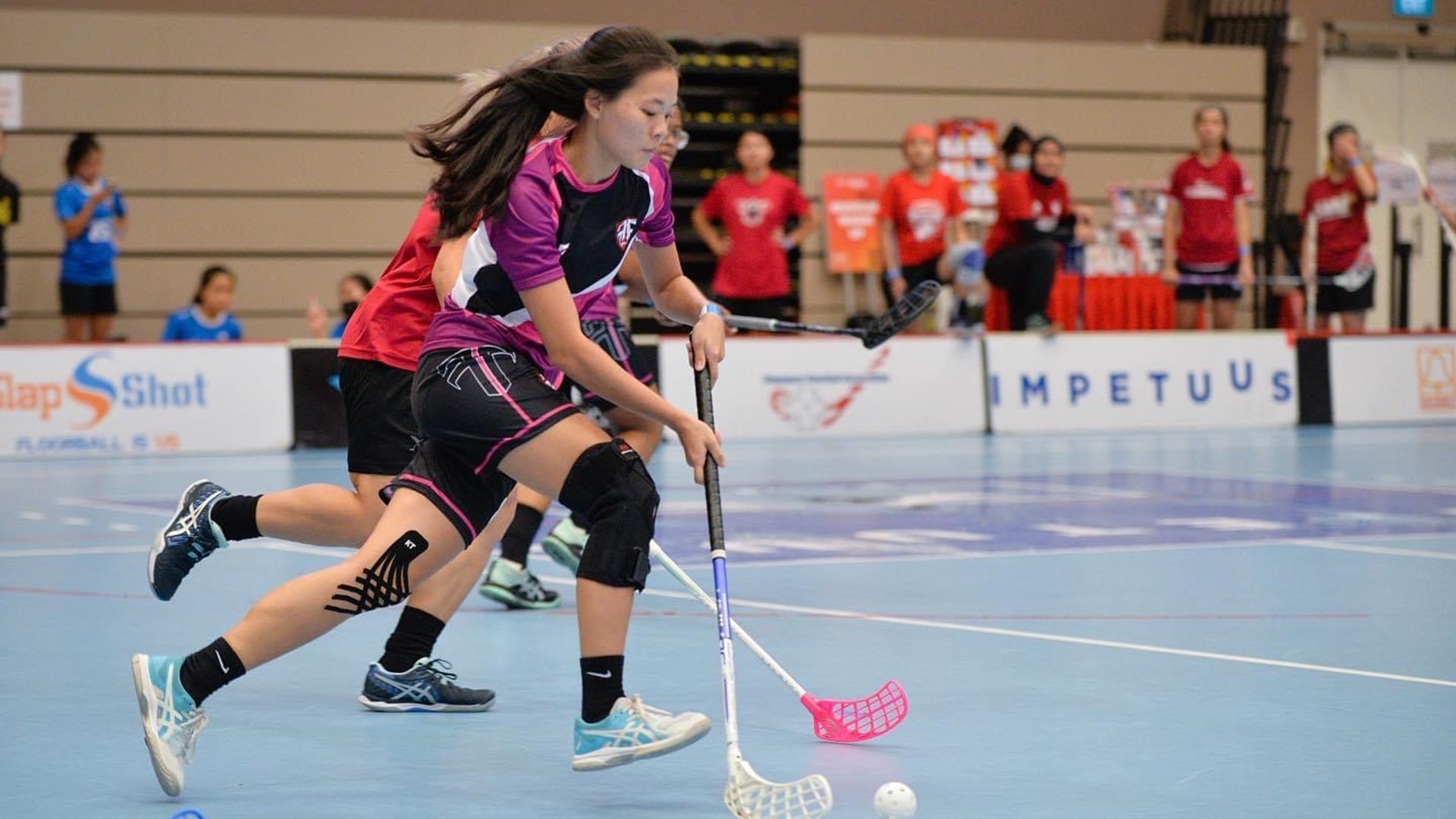 Esther in action. (Photo: Tng Beng Chye)

"Juggling between studies and sports is no easy feat, especially when we have projects and practicum sessions to attend. But it is definitely more satisfying when I'm able to excel in both," Esther said.

To help cope with the mountain of tasks to be completed, Esther prioritises and tackles each assignment one at a time. "When at it, stay focused and put in your 100%," Esther advised. She also cultivated her self-discipline over the years, not allowing herself to procrastinate and complete her school work during weekdays instead, to reserve her weekends for sports. This not only allows her to achieve what she sets out to do, but also helps her planning and time management.
Overcoming Setbacks

During a floorball training session in 2018, Esther suddenly felt her knee go soft and begin to swell. A visit to the doctor soon revealed that she had partially dislocated her knee and had to rest for three months. The road to recovery was not a bed of roses as it involved plenty of physiotherapy and strengthening exercises. Despite Esther getting better, she had to wear a knee brace, which did not guarantee that her knee would not buckle again.

Undeterred by her knee injury, Esther worked around the problem by adopting new ways to play floorball. In fact, Esther feels she has now mastered better techniques when making passes to her teammates and playing in defensive modes.

Through the episode, Esther gained greater appreciation for her studies as a physiotherapist and practices what she learned on her team mates whenever they face sports injuries.  

Through the episode, Esther gained a greater appreciation for her studies as a physiotherapist and practices what she learned on her team mates whenever they face sports injuries.

Lessons Learned from the Court

One memorable athletic moment for Esther was during the Singapore University Games 2022 where SIT played against Singapore Management University (SMU). As the defending champions, SMU were the favourites to win. Despite trailing 0–3 during the first half of the game, Esther and the SIT team kept their fighting spirit and came back to draw the game at 3-3.

"Floorball has shaped me into who I am today. Not only have I learned how to work as a team, I also realised the importance of respecting my teammates' views to achieve our common goal," she said. Off-court, Esther takes time to engage and encourage her team members. She feels it is important to understand as that translates into stronger relationships and greater camaraderie when playing together.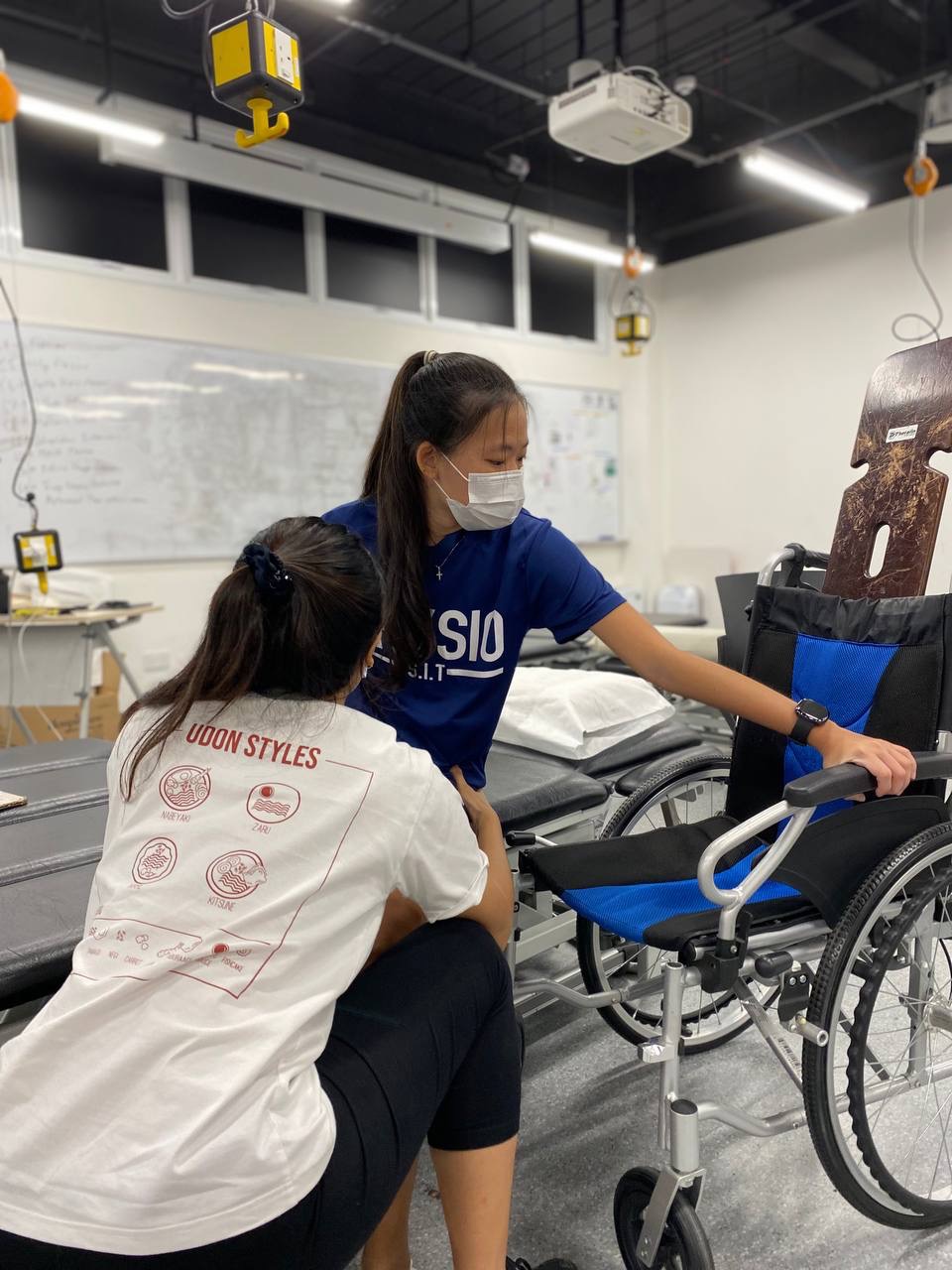 Esther during one of her practicum sessions. (Photo: SIT/Esther Fang)
While her competitive nature has Esther striving to win, be it in sports or life, it also takes mental strength to stay focused and keep at the task at hand. Esther believes that life lessons such as stress management and mental fortitude learned from the games will come in handy when she treats her patients as a physiotherapist. 

Persevere and Press On

It was hardly a surprise that Esther won the Outstanding Varsity Leader (Female) 2022 award at SIT's Sports Appreciation Night 2022. The award not only celebrated Esther's achievements in the sporting arena, it also honoured her commitment and discipline in juggling both studies and sports.  

In sharing her life motto, Esther attributed it to a quote by Nick Vujicic – "The greater the struggle, the more glorious the triumph." Through her journey, Esther hopes to inspire others not to give up, and that one day, they will see the fruits of their labour.