SIT graduates are finding that doors are swinging open along their chosen career paths, thanks to the Integrated Work Study Programme (IWSP).
Taking eight to 12 months from a course of study to experience the working world wouldn't necessarily pique the interest of many undergraduates. But two individuals from the Class of 2022 – Chew En Yu from the Mechanical Design and Manufacturing Engineering programme, and Ravichandran Pradeep Kumar from the Mechanical Engineering programme – have a different tale to tell altogether.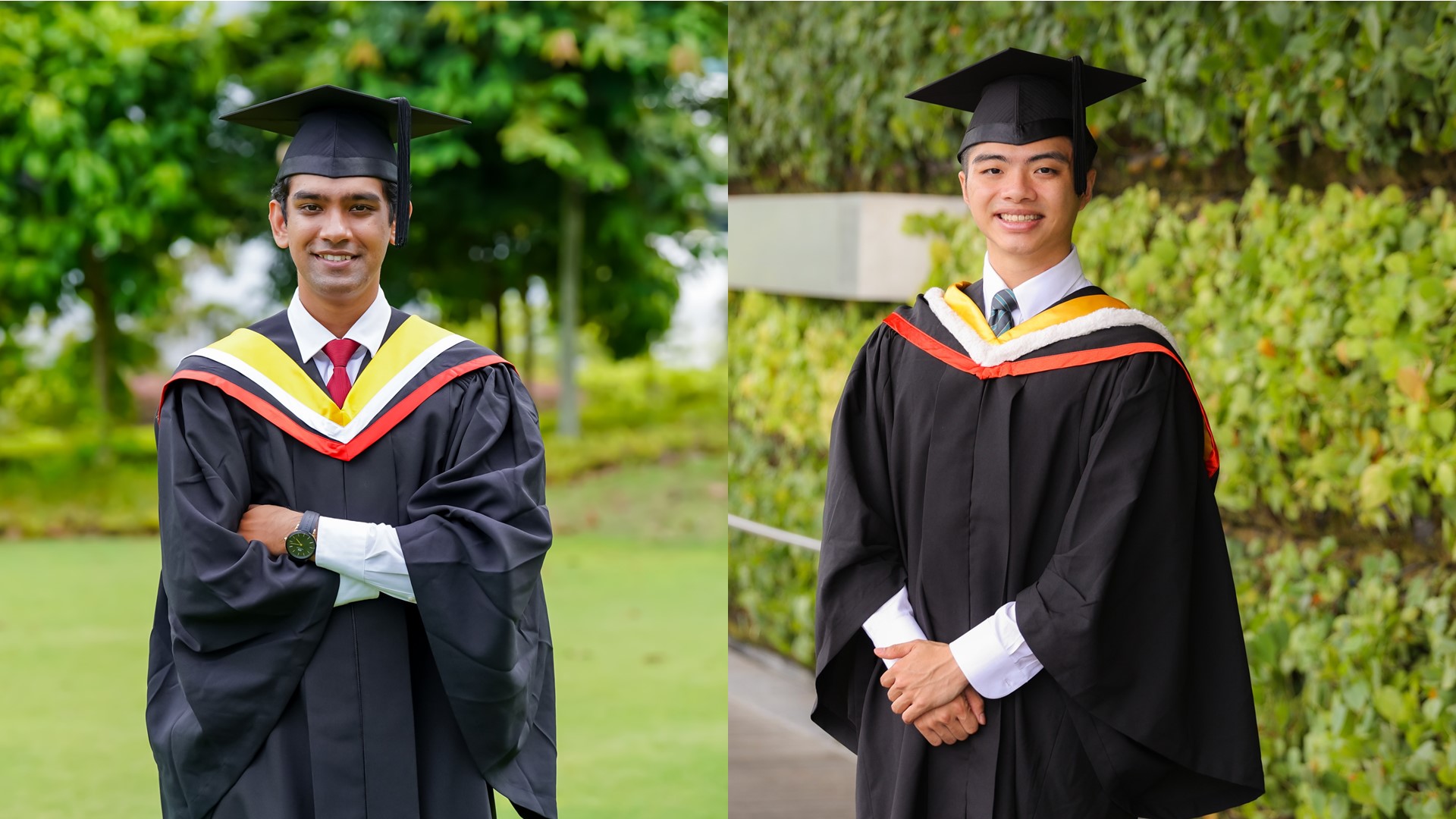 Ravichandran Pradeep Kumar (left) and Chew En Yu (right) secured employment at LionsBot and Dyson, the companies they were attached to for IWSP, respectively. (SIT Photos: Keng Photography/Gwen Chew, Wang Zhixiang)
While En Yu and Pradeep were both prepared to undertake SIT's signature Integrated Work Study Programme (IWSP) as part of their degree programmes last year, they readily admitted it was not something they were looking forward to. But they know that IWSP is not a typical internship.
So Much More
SIT has developed IWSP as a distinctive feature of its degree programmes, moulding not just industry-ready graduates but also a talent pipeline for employers. It is part of what SIT calls 'green harvesting' – where it forges close ties with industry partners to provide meaningful work attachments for students. The end result is efficacious; students get to integrate theory and practice and develop deeper skills in their chosen fields.
There is a good reason why SIT uses the term 'work attachment' and not 'internship' in describing IWSP. En Yu relates how his preconception of IWSP swiftly changed once he started; no menial jobs, he asserted, just real work, with real impact on real products. "There was so much more to IWSP than I had thought, from the scope of work to the opportunities to apply my technical knowledge," he said. "It exceeded all my expectations."
An Authentic Experience
From start to end, IWSP immerses students in true-to-life scenarios, beginning with the job search and securing the attachment. There are no direct job placements through the university — students go through the same recruitment process one will find in the workforce and are assessed on their merits.
Pradeep and his parents at his graduation. (SIT Photos: Keng Photography/Gwen Chew)
Browsing SIT's job portal, Pradeep submitted his application to robotics company LionsBot and earned a place for his IWSP. Meanwhile, En Yu took it as a personal challenge to apply for one of the most competitive jobs — at Dyson — and succeeded. Both were ecstatic to find an attachment that matched their interests. Importantly, they were also assured that these roles, curated by both the company and SIT, met specific needs in the industry and that the work attachment would pave the way to future opportunities.
En Yu and Pradeep noted that they were well-prepared for the postings. Pradeep shared, "Many of the projects I had done at SIT were not small; they were very hands-on too. Hence, during IWSP, I could apply the same approaches to solving problems." En Yu added that the curriculum taught by the university was very applicable, while other skills imparted also came in particularly useful, such as taking meeting minutes and journalling. His communications skills got a boost too, as he got to make presentations to management and other stakeholders.
Thriving In the Workplace
At the same time, the work attachment helped them to understand industry challenges better and develop the competence to meet them. Adaptability, creativity and innovation became innate qualities.
Pradeep said he brought the SIT-ingrained 'growth mindset' to work with him, along with a positive attitude. "I also made it a point to talk to anyone and everyone," he said, sharing that this helped build rapport with his colleagues, who would make time for him even during the busiest of periods. There would be days when work ended at 11pm, but he did not mind. Work was exciting and he got to exercise his creativity. "My input was always taken seriously by the company," he disclosed. The best part, undoubtedly, was seeing the product he worked on hit the market. Were there challenges? "Honestly, I've forgotten, because I was having so much fun," he said.
Seamless Transition to Full-Time Job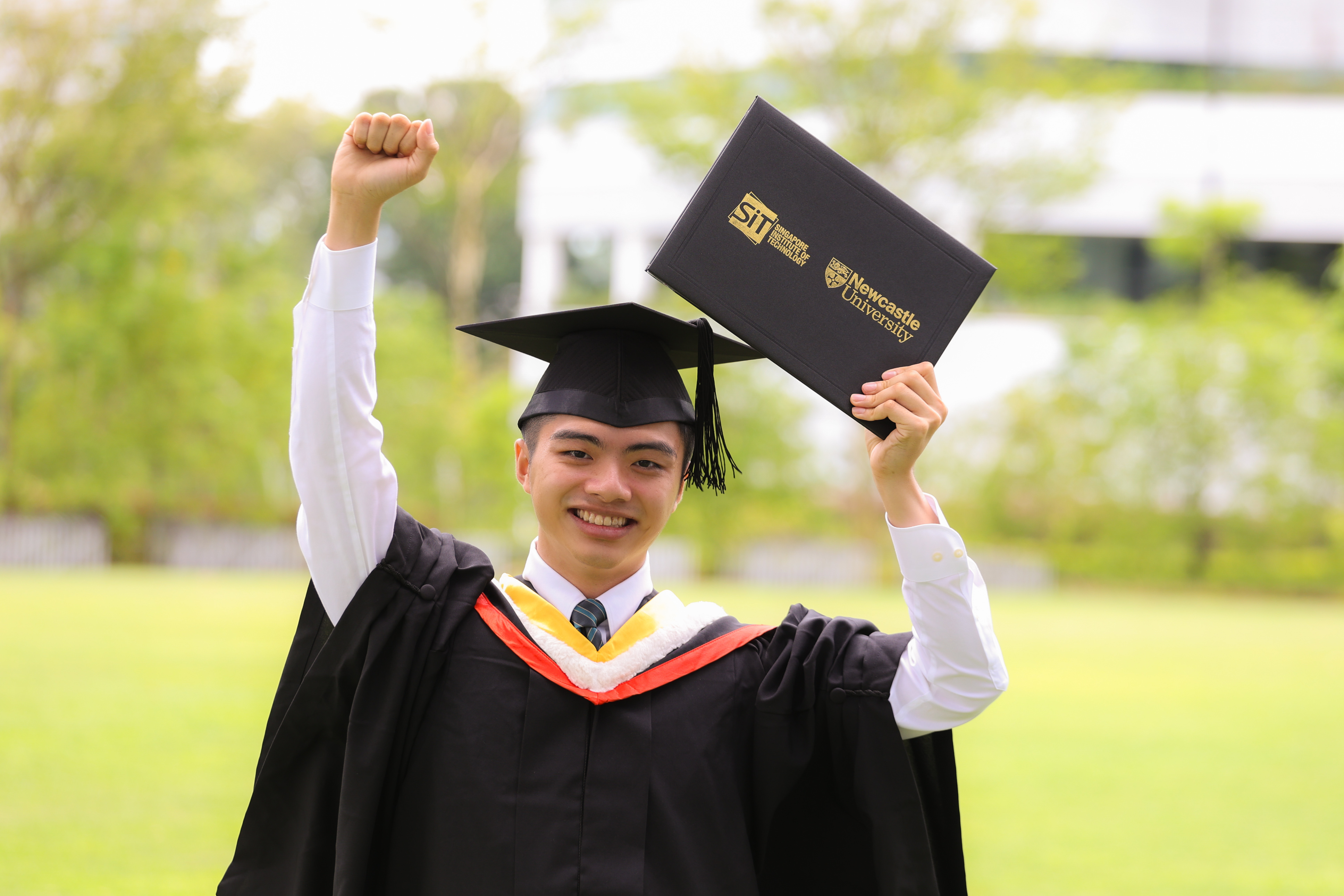 Only a handful of undergraduates secured attachments at Dyson for IWSP, and En Yu was one of them. (SIT Photos: Keng Photography/Wang Zhixiang)
Asked if he soon thought of building his career at the company, En Yu emphatically said "Yes". He was flexing his muscles in design engineering and getting the exposure to other aspects of manufacturing. He enjoyed the culture, the people, and the benefits. When he received positive feedback after his exit presentation to a room of Engineering leads and Engineering Managers, he had an inkling that his hopes would be fulfilled.
As it turned out, his performance gave the Engineering Manager enough confidence in En Yu to hire him without a further interview. Today, the 26-year-old is working at Dyson as a Graduate Design Engineer, albeit in a different department.
As for Pradeep, also 26, just seven months into the attachment, the Hardware Manager sounded him out in a chat and offered him time to think over a career at LionsBot. By then, Pradeep had grown an interest in both the hardware and autonomy aspects of the work, and felt he was able to contribute to both, while getting the chance to learn more. He has since accepted a job as Hardware Engineer at the company.
Indeed, he is no less grateful to the IWSP. "It's the best," he enthused, and urged new SITizens to embrace it with open minds. "SIT truly has a lot to offer," he asserted.