Symbiotic collaboration will enable applied research, authentic learning spaces for SIT students, co-development of curriculum content, and knowledge sharing sessions for industry and community
Construction of ENGIE's District Cooling System (DCS) at SIT's upcoming Punggol campus well underway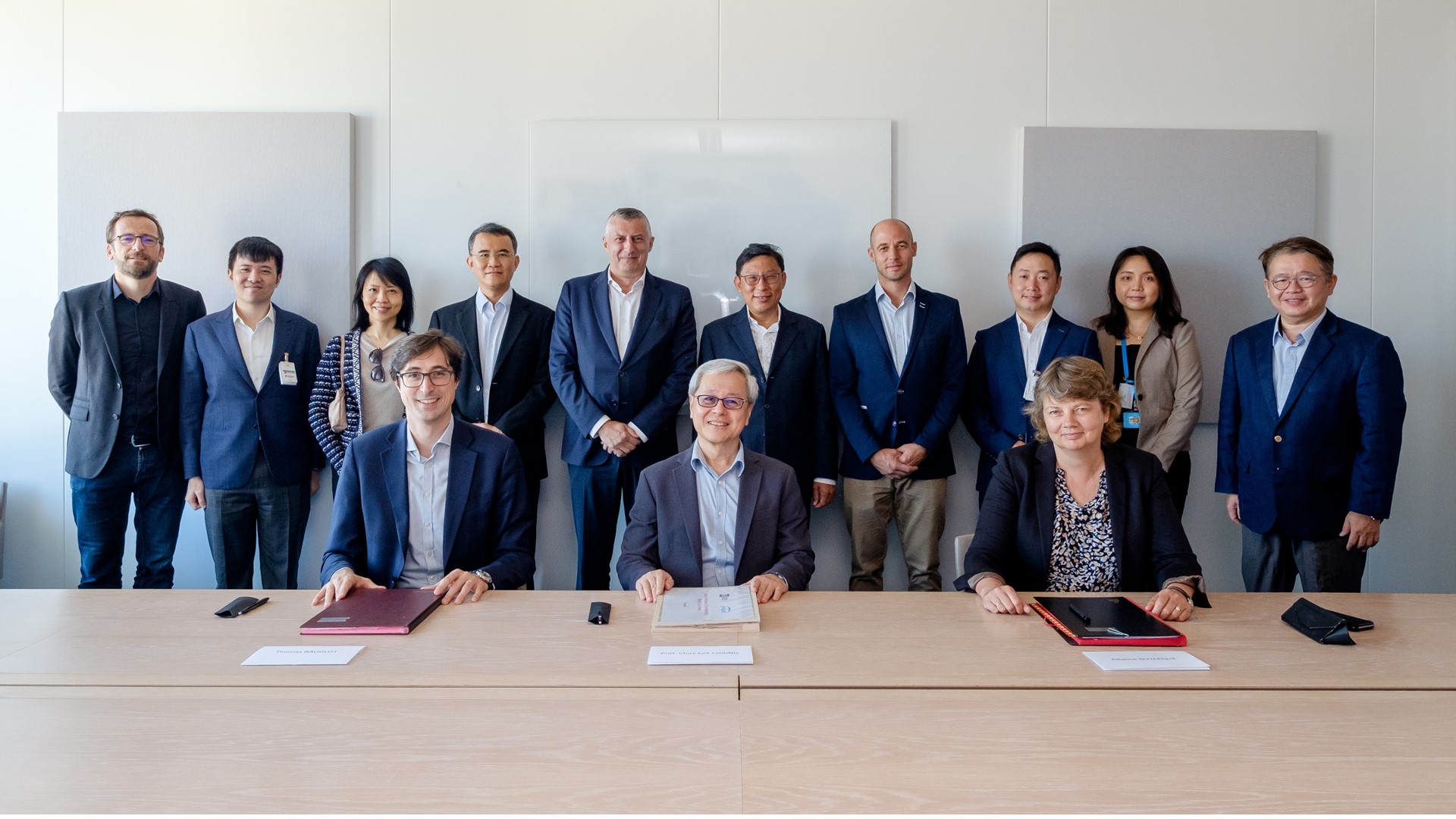 The collaboration between ENGIE and SIT will enable applied research, authentic learning spaces for SIT students, co-development of curriculum content, and knowledge sharing sessions aims at cultivating a district cooling ecosystem in Singapore and the broader region. A meeting was held in France and represented by (seated, from left) Mr Thomas Baudlot, Chief Executive Officer, Energy Solutions and Country Head for Southeast Asia, ENGIE South East Asia; Prof Chua Kee Chaing, President, SIT; and Ms Adeline Duterque, Director, ENGIE Lab CRIGEN; amongst other colleagues from ENGIE and SIT. (Photo: ENGIE) 
ENGIE, a global leader in low carbon energy and services, and the Singapore Institute of Technology (SIT), Singapore's first university of applied learning, have inked a Memorandum of Understanding (MoU) to jointly develop a district cooling centre of excellence in Singapore.
The ENGIE-SIT District Cooling Centre of Excellence will catalyze innovation in cooling solutions across APAC. Leveraging ENGIE's local and global expertise in cooling, extensive experience in decarbonization, energy and climate change projects, and SIT's applied learning and research approach, this initiative is aimed at cultivating a district cooling ecosystem in Singapore and the broader region. To this end, the partnership will include joint development and funding of applied research, as well as knowledge exchange projects between ENGIE South East Asia, ENGIE Lab Singapore and SIT. It will also cover local work attachment opportunities  and commercial DCS development opportunities for SIT students with these ENGIE entities, through SIT's Integrated Work Study Programme (IWSP).
"Well designed, District Cooling solutions have the capacity to save 30% or more energy consumption to cool Southeast Asia's cities. Our relationship with SIT will not only allow us to train the future generation of engineers on this cornerstone technology for the region's energy transition but also to perfect it through a joint applied R&D effort. ENGIE is proud to embark on this strategic partnership with SIT," commented Thomas Baudlot, ENGIE CEO Energy Solutions and Country Head for Southeast Asia.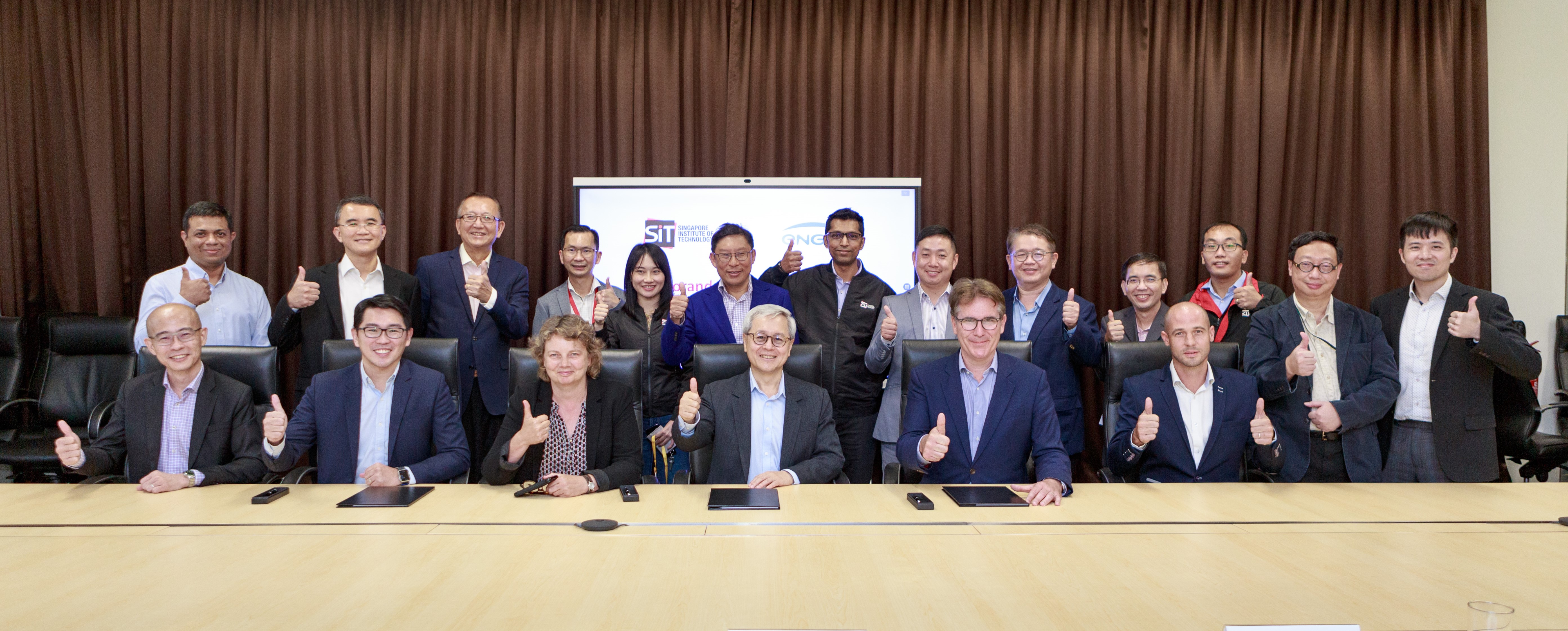 An MoU signing ceremony was held in Singapore, attended by key representatives including (seated, from left) Mr Kong Nee Yeo, Managing Director, ENGIE Services, Singapore; Mr Jared Chng, Chief Financial Officer, ENGIE South East Asia; Ms Adeline Duterque, Director, ENGIE Lab CRIGEN; Prof Chua Kee Chaing, President, SIT;  Mr Olivier Sala, Group Vice President Research and Innovation, ENGIE; and Mr Loic Villocel, Director, ENGIE Lab Singapore. (Photo: ENGIE) 
"We are thrilled to be collaborating with Singapore's premier university of applied learning, SIT, to create a test-bed for the development and pilot deployment of advanced district cooling solutions," shared Loic Villocel, Director of ENGIE Lab Singapore.
"SIT's new campus will be a living lab for applied learning and research in the built environment and energy resilience. Working with leading energy solutions provider ENGIE will help us advance innovation in decarbonization and sustainability, and achieve our vision of constructing a green campus in Punggol. In addition to co-developing integrated and innovative solutions, the close, symbiotic partnership we enjoy with ENGIE will enable us to build a strong talent pipeline of work-ready graduates who will lead green transformations in industry and communities," remarked SIT President, Prof Chua Kee Chaing.
Designed and built by ENGIE, SIT's DCS for its upcoming campus in Punggol Digital District is well underway. Once completed, the DCS facility will provide a teaching and training ground for students to learn about DCS and aspects of maintenance and energy efficiency in real-world conditions. The DCS will extend the Punggol campus' learning environment, complementing the collaborative research in cold thermal storage, air-side cooling distribution systems and cooling load management to be carried out there. As a result, SIT students will pick up skillsets in data-driven optimization, DCS decarbonization and predictive maintenance  learning from the new campus' infrastructure. SIT's Punggol campus is expected to start operations in 2024 and will consolidate the university's distributed campuses into one fit-for-purpose yet porous campus that will foster interaction between academia, industry and the community.
---
About ENGIE South East Asia
ENGIE group is a global reference in low-carbon energy and services. Together with our 170,000 employees, our customers, partners and stakeholders, we are committed to accelerate the transition towards a carbon-neutral world, through reduced energy consumption and more environmentally-friendly solutions. Inspired by our purpose ("raison d'être"), we reconcile economic performance with a positive impact on people and the planet, building on our key businesses (gas, renewable energy, services) to offer competitive solutions to our customers. Turnover in 2021: 57.9 billion Euros. The Group is listed on the Paris and Brussels stock exchanges (ENGI) and is represented in the main financial indices (CAC 40, Euronext 100, FTSE Eurotop 100, MSCI Europe) and non-financial indices (DJSI World, DJSI Europe, Euronext Vigeo Eiris - Eurozone 120/ Europe 120/ France 20, MSCI EMU ESG screened, MSCI EUROPE ESG Universal Select,  Stoxx Europe 600 ESG, and Stoxx Global 1800 ESG).
In Southeast Asia, we are a fast-growing team of over 2,000 employees with a geographical focus in Singapore, Malaysia and the Philippines to provide tailor-made integrated solutions for our customers in commercial buildings, industries, and cities. Using globally leading technologies, we create innovative energy and smart solutions that enhance the performance of homes, businesses, and communities, to make the world a better place. We act throughout the value chain: strategy, design, engineering, energy-efficient asset construction, digital platforms, operations management, financing syndication and outcome assurance.
For more information, visit www.engie-sea.com.
About ENGIE Lab Singapore
ENGIE Lab Singapore is the research centre of ENGIE for Asia-Pacific. ENGIE Lab Singapore brings the technical expertise of ENGIE Research & Innovation global network in APAC and develop local expertise to better support the ambition of ENGIE in the region with innovative, low carbon, and short time-to-market solutions. ENGIE Lab Singapore started in 2016 with the construction of its REIDS-SPORE microgrid testing facility on Semakau Landfill. In 2020, ENGIE Lab Singapore redefined its priorities around District Cooling and Green Data Centres.
About the Singapore Institute of Technology
The Singapore Institute of Technology (SIT) is Singapore's first University of Applied Learning, offering industry-relevant degree programmes that prepare its graduates to be work- and future-ready professionals. Its mission is to maximise the potential of its learners and to innovate with industry, through an integrated applied learning and research approach, so as to contribute to the economy and society. 

The University's unique pedagogy integrates work and study, embracing authentic learning in a real-world environment through collaborations with key strategic partners. Its focus on applied research with business impact is aimed at helping industry innovate and grow. Targeted to be ready in 2024, SIT's centralised campus within the larger Punggol Digital District will feature a vibrant learning environment where academia and industry will be tightly integrated with the community.
For more information, visit www.SingaporeTech.edu.sg.