This triple threat trio, Physiotherapy students at SIT, are proud SEA Games medallists who have chased their sporting dreams with support from their lecturers and peers. 
7 April was the last day of Lim Zi Xyan's exams. Instead of taking a hard-earned break, the 24-year-old national wrestler flew to Kazakhstan the next day to prepare for the 2023 Southeast Asian (SEA) Games, where he was due to compete in the men's freestyle under 65kg category.
There, he spent days shut indoors where he trained, studied, watched lecture videos, emailed professors, and then trained even more.
"After training, I couldn't really rest as I had to study while going through a 10kg weight reduction. Being on a food deficit was draining and mentally tough," recalled the second-year Singapore Institute of Technology (SIT) Physiotherapy student.
He was not alone in juggling multiple commitments. His teammates and Physiotherapy seniors, Danielle Lim Sue Ching and Lou Hong Yeow, were also at the training camp in Kazakhstan, where final-year student Danielle worked on her thesis when she was off the training mat. Physiotherapy graduate Hong Yeow was all too familiar with this balancing act, as he usually trains before and after his full-time job as a physiotherapist at Changi General Hospital. 
All their hard work paid off, as each athlete equalled or bettered their previous SEA Games achievements.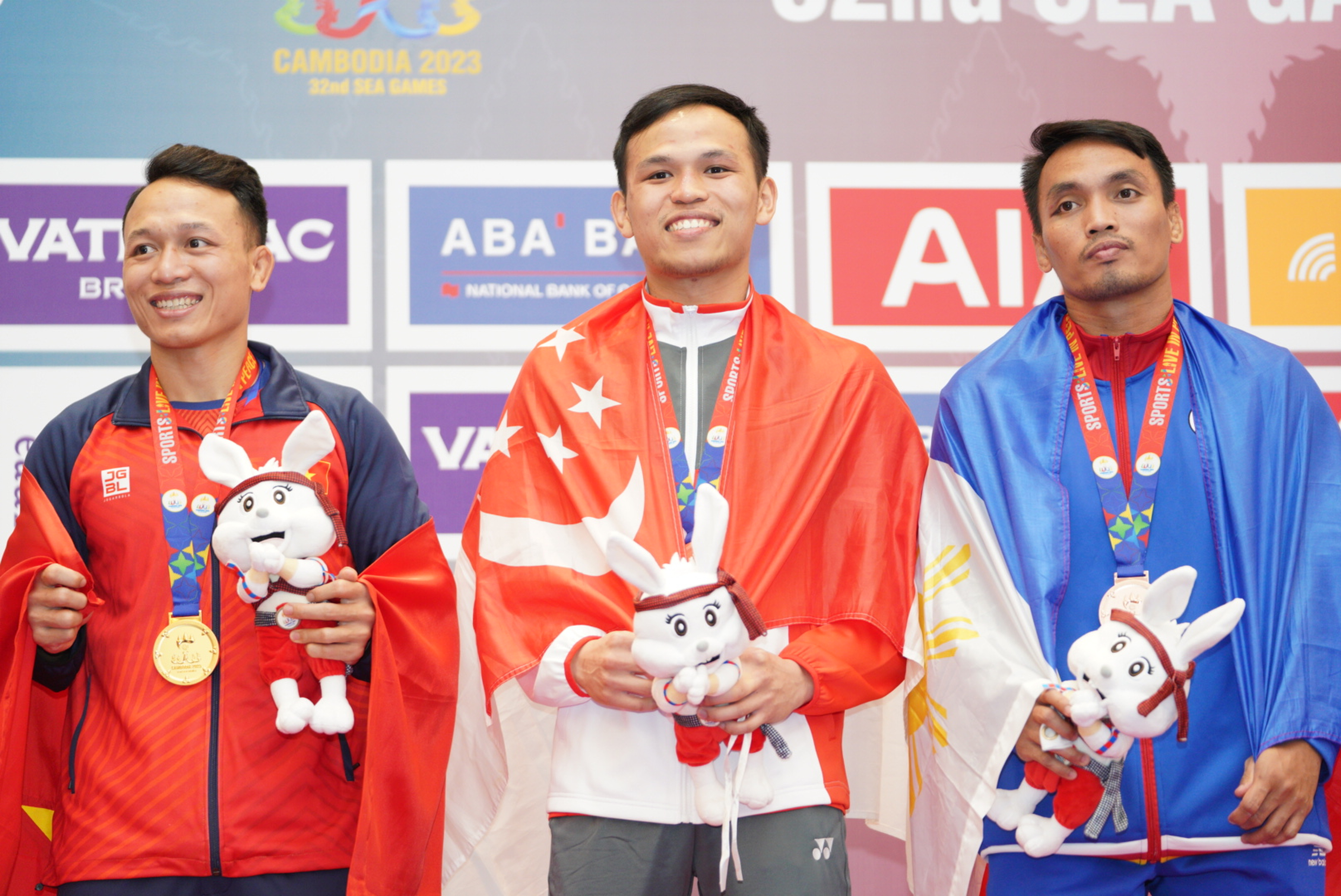 It was the start of greater sporting achievements to come as Lim Zi Xyan (centre) clinched the bronze medal for wrestling (men's freestyle under 65kg category) in the 32nd SEA Games held from 5 to 17 May 2023. (Photo: SportSG / Bryan Foo)
Danielle won a silver medal in the women's freestyle under 57kg, while Hong Yeow and Zi Xyan both achieved bronze in the men's freestyle under 74kg and under 65kg categories respectively at the 32nd SEA Games held in Phnom Penh, Cambodia. It was also Zi Xyan's first medal at his second Games participation. But the athletes would not have achieved their sporting dreams without the help of their peers and the supportive faculty at SIT. 
Holistic Support from SIT
29-year-old Hong Yeow, who graduated two years ago, remembers the helpful staff at SIT fondly. He recalled emailing many professors, all of whom were enthusiastic in answering his questions promptly and extending submission deadlines. Zi Xyan agreed that the professors were pivotal in their support during his time of need.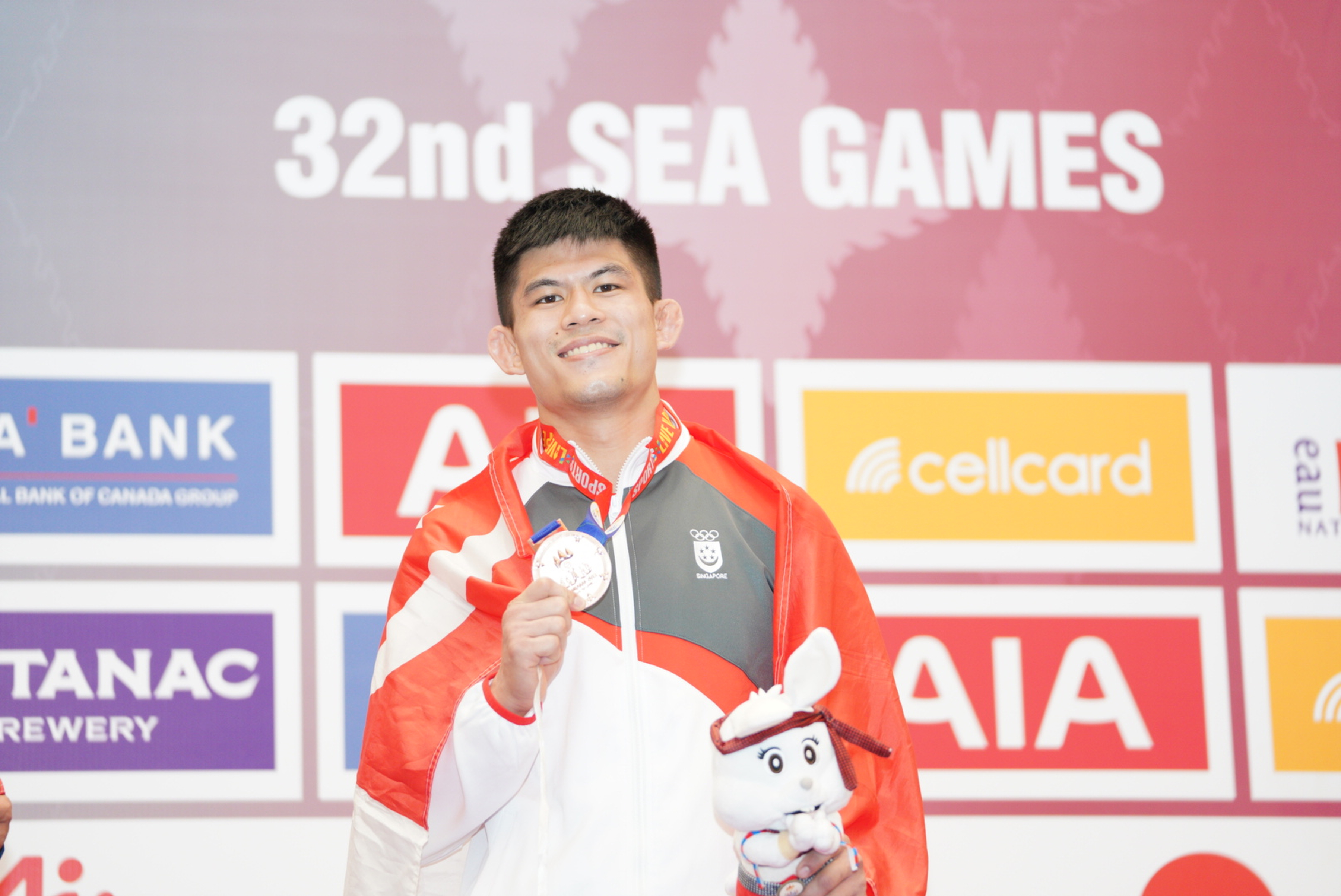 Hong Yeow, who clinched bronze in the men's freestyle under 74kg category, worked his way up to be the captain of the national wrestling team. (Photo: SportSG / Bryan Foo)
"The professors were always willing to spend time outside of school to help with my academics," he said. "A/Prof Muhammad Rahizan Zainuldin, in particular, helped me with my modules by organising online sessions for me to clarify any doubts."
However, 25-year-old Danielle's performance during her clinical placement – where she was attached to a healthcare facility – was affected by her preparation for wrestling competitions. She felt that her first cycle of clinicals was too hectic for her training schedule, and chose to take a gap year in 2022.
"It was mentally and physically challenging because I wanted to do well in both clinicals and training," she said. "I didn't want to neglect either."
She credited her professors at SIT for tiding her over difficult times, as they helped rearrange her timetable in light of her gap year. She also continues to be supported by the university as a recipient of the SIT Scholarship, without which she would not have been able to carry on her studies while pursuing her sporting dreams.
"I'm really grateful to SIT and the donors for helping me on my academic journey," she said.
Danielle targets the SEA Games gold medal next, having attained the silver medal in the women's freestyle under 57kg category at this year's SEA Games. (Photo: SNOC / Weixiang Lim)
Physiotherapy Complements Passion
All three SITizens were inspired to study Physiotherapy for the same reason: they had previously sustained sports injuries and been treated by proficient physiotherapists. 
Zi Xyan, who had suffered a high-grade hamstring tear from wrestling, draws similarity between physiotherapy and magic: "It was depressing and tough when I couldn't train the way I wanted to. But my physiotherapist helped me get back to full-form wrestling within a year in 2017. This inspired me to pursue a meaningful profession in physiotherapy."
Hong Yeow, who has been working as a physiotherapist for two years, added: "Having personally experienced the benefits of physiotherapy after sustaining sports injuries, I am driven to help other athletes regain their functions."
The SITizens also appreciate how their physiotherapy education at SIT could be applied to wrestling. For example, when Zi Xyan sprained his hamstring during training, the team worked together to discuss his injury diagnosis and suggest effective rehabilitation exercises.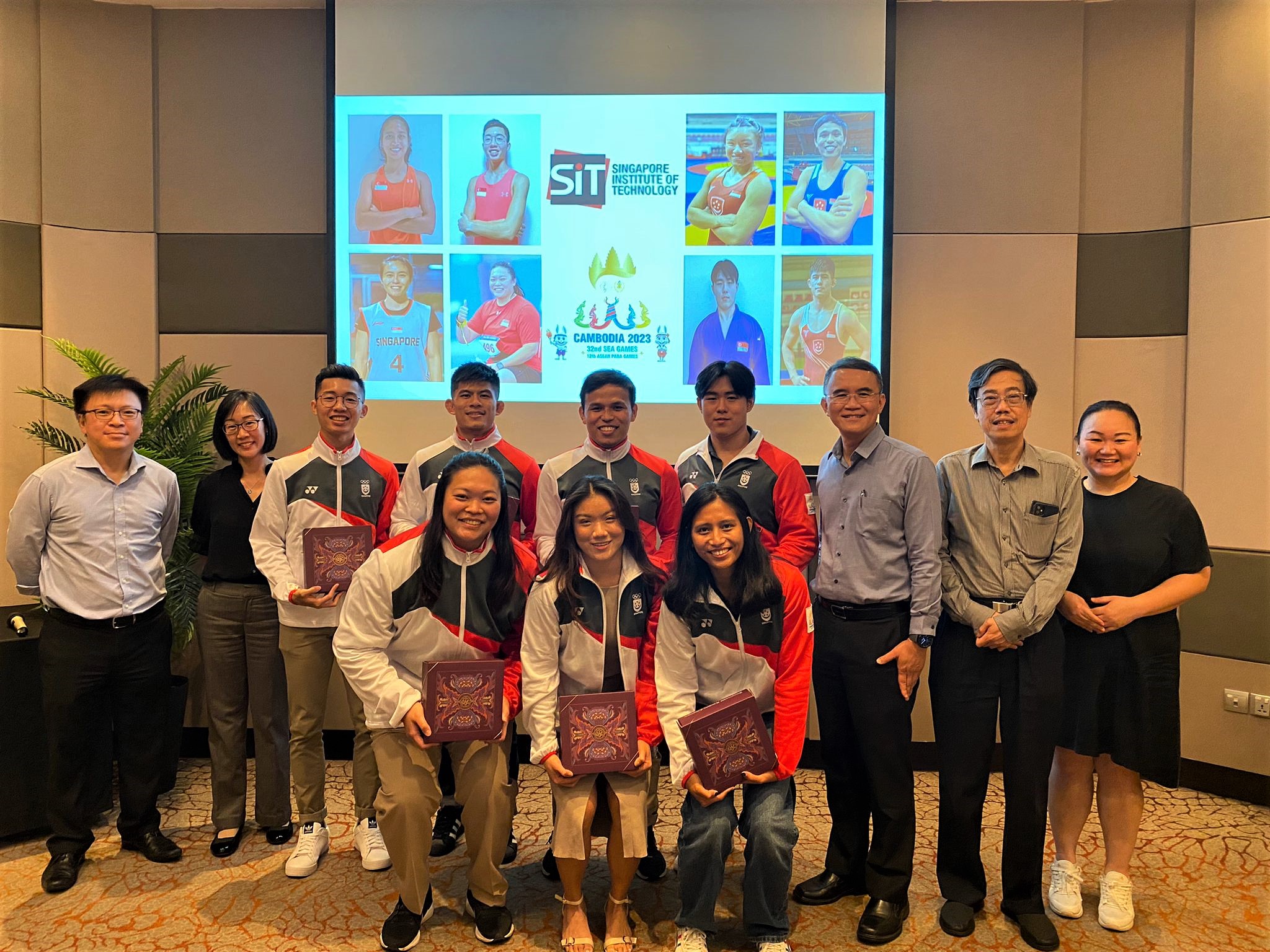 Fellow SITizens and SEA Games athletes (back row, 3rd from left) Shawn Chia Wei En, Lou Hong Yeow , Lim Zi Xyan , Pang Jia Cheng, and (front row from left) Melissa Yee Wai Teng, Danielle Lim, Enriquez Roxanne Rose Zulueta were hosted to a SEA Games appreciation dinner by the SIT management on 31 May. (SIT photo)
Going for Gold
While physiotherapy is a useful skill, Zi Xyan believes his wrestling experience has also helped him in his studies. It was through wrestling that he learned the important values of hard work and perseverance, which he later applied to physiotherapy.
Meanwhile, Hong Yeow and Danielle – who were Singapore's first wrestlers at the 2022 Commonwealth Games – are aiming to strike gold at the 2025 SEA Games in Thailand. Danielle also hopes to ultimately qualify for the Olympics one day.
"People say you can't get the best of both worlds, but I love both physiotherapy and wrestling," she said. "My dream is to be the best physiotherapist and live my wrestling dream at the same time."