Scholars Marcus Foo Qi Fa and Lee Valerie are embarking on exciting education journeys with Singapore Institute of Technology (SIT). With the applied learning that SIT students receive, they will gain industry-relevant skills to enhance their career readiness.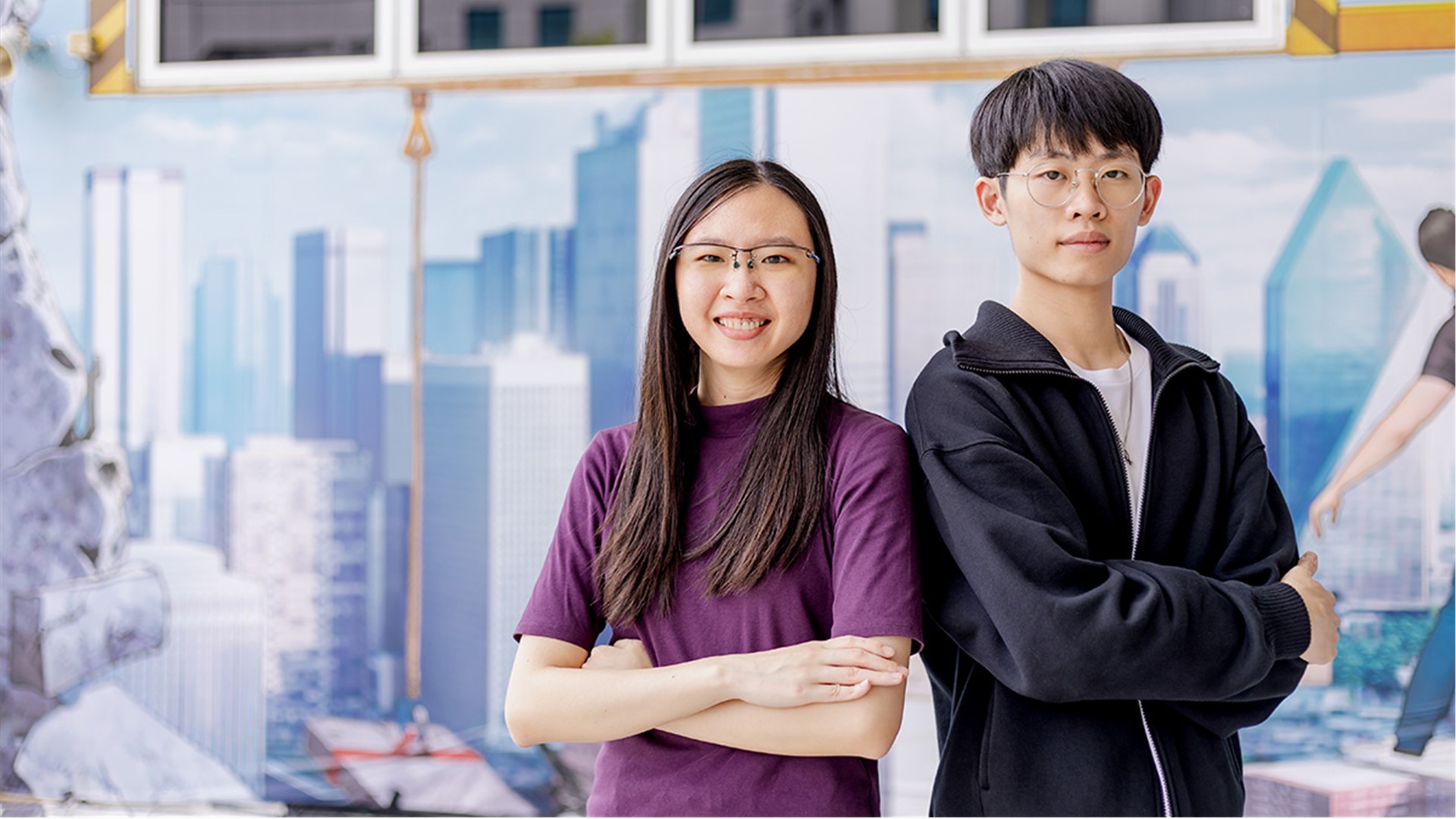 Left: Lee Valerie is pursuing a Bachelor of Science with Honours in Air Transport Management at SIT. She is a recipient of the SIT Scholarship. Right: Marcus Foo Qi Fa is pursuing a Bachelor of Engineering with Honours in Electronics and Data Engineering at SIT. He is a recipient of the SIT Mid-Term Scholarship. (Photo: Jacqueline Ho)
Singapore Institute of Technology (SIT) is Singapore's first University of Applied Learning and the third largest university by intake in Singapore. With a mission to maximise the potential of its learners through an integrated applied learning and research approach, SIT aims to cultivate thinking tinkerers, lifelong learners and catalysts for transformation.
The University's unique pedagogy integrates work and study and embraces authentic learning in a real-world environment through collaborations with key strategic partners.
This is what draws SIT Mid-Term Scholarship recipient Marcus Foo to study at SIT as he is someone who learns best through a hands-on approach. Likewise, for SIT Scholar Lee Valerie, the applied learning pedagogy at SIT has enabled her to translate classroom lessons to real-life scenarios.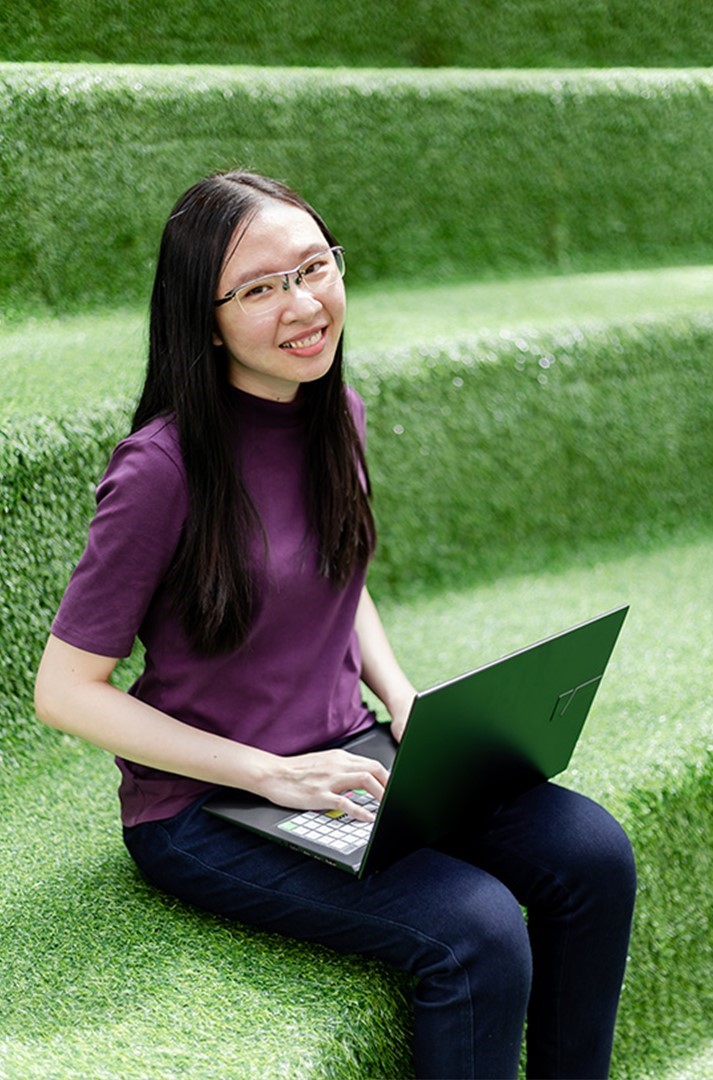 Lee Valerie's interest in aviation was piqued by the aviation careers of her mother and late grandfather. (Photo: Jacqueline Ho)
Embarking on the Right Path
Choosing the right university that can help you achieve both your personal and professional goals is key to your career advancement. It is something that Marcus and Valerie know very well as they strive towards their dreams.
Marcus is currently pursuing a Bachelor of Engineering with Honours in Electronics and Data Engineering and looks forward to a fast-paced career in the field of data analytics after his graduation. "To me, every piece of data has a story to tell and a problem to solve!" he exclaimed.
As for Valerie, she is reading the Bachelor of Science with Honours in Air Transport Management - the first and only Air Transport Management degree programme offered by an autonomous university in Singapore. As the curriculum is supported by the Civil Aviation Authority of Singapore (CAAS), Valerie's skill set will be highly sought after in the aviation industry when she embarks on her career. "I aspire to lead a team in airport operations one day!" she revealed.
Besides having an applied learning approach, SIT also offers the Integrated Work Study Programme (IWSP) for students to work full-time in a company for eight to twelve months, blending theory and practice to develop deep specialist skills in their chosen field.
"The IWSP is a unique feature of SIT's curriculum, designed to develop industry-ready graduates," shared Marcus, who is looking forward to his IWSP next year.
"Moreover, the professors in SIT are very passionate about their fields of expertise as they come from the industry," Valerie added. "Learning the processes of the industry from them gives us early exposure to our future workplace."
In a fast-changing landscape that has seen unprecedented technological, social and environmental disruption, SIT prepares its students for evolving job opportunities. "SIT teaches us to be adaptive and stay on top of a fast-paced, ever-changing environment by learning, unlearning, and relearning," Marcus said.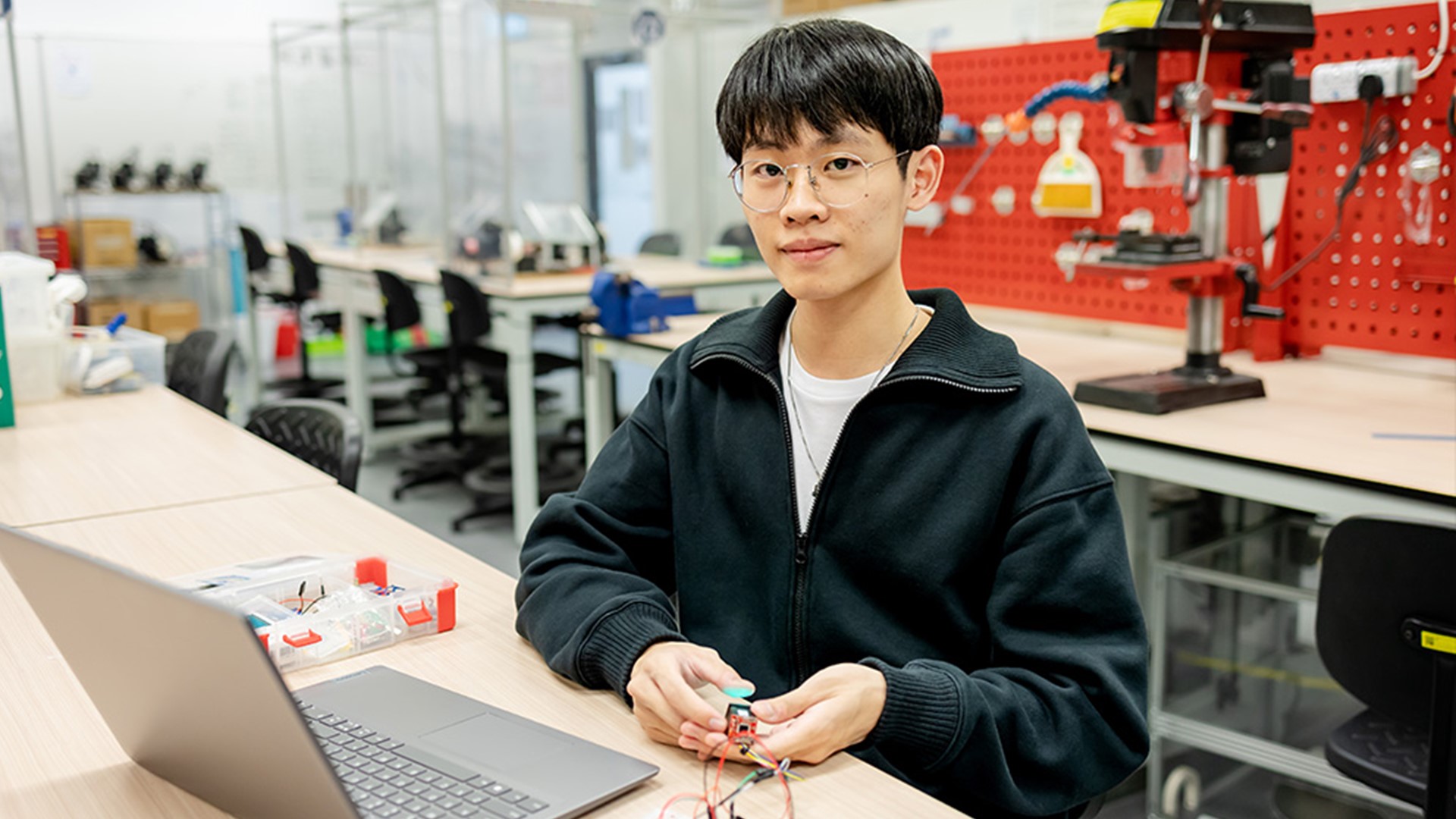 Marcus Foo is fascinated by how data can be utilised for problem-solving. (Photo: Jacqueline Ho)
Following Their Passion
As they say, follow your dreams and do what you love. And that's exactly what Marcus and Valerie are doing by studying what they love at SIT.
Marcus shared that in the past, he utilised data analytics to automate some operational tasks that his team had done manually, resulting in increased productivity. That had given him a sense of accomplishment, knowing that his analytical skills could bring about a positive influence.
Fascinated by how data can be utilised for problem-solving, and even for gaining important insights into target demographics and user preferences, Marcus chose to study Electronics and Data Engineering at SIT. "I wanted to learn the skills required to solve tomorrow's problems," he declared.
As for Valerie, it was her interest in aviation that led to her decision to study Air Transport Management at SIT. Her interest was further piqued by the aviation careers of her mother and late grandfather.
"In the aviation industry, no two days are the same. Big innovations are expected to come to this industry in the next decade or so. It will be interesting to see what's to come and how air travel can be more seamless and integrated," she shared.
A Scholarship That Makes A Difference
Everyone needs a little help now and then, and it can make a big difference as Marcus and Valerie have discovered with their SIT Scholarship.
"The SIT Scholarship has undoubtedly gone a long way in helping me to achieve my aspirations," shared Marcus. Besides the financial coverage for his tuition fees, Marcus chose the scholarship for its distinctive Scholar Engagement Programme, which offers numerous development opportunities and networks for scholars to excel even further and at the same time contribute meaningfully to the community.
As for Valerie, she can spend more time honing her knowledge and leadership skills, with her tuition fees being taken care of by the SIT Scholarship. "I can focus more on my learning and growth as an individual," she mused.
The scholarship has offered Valerie ample opportunities to hone her skills through various workshops, talks and events. For example, through the SIT Scholars' Camp, she learnt about DiSC profiling and found out more about her working styles, which helped to build upon one of her study modules, Management in Aviation.
Marcus agreed, "I have various opportunities to serve as an advocate of SIT to the community and participate in several outreach activities, including the Post-Budget 2022 dialogue." He is also a member of the SIT Happinesscalls EXCO, tasked to use technology to bridge the intergenerational gap between youths and seniors. These opportunities have enabled Marcus to hone his interpersonal skills and expand his professional network.
Equipped with a mastery of deep disciplinary knowledge in addition to relevant transferable and interdisciplinary skills and know-how, Marcus and Valerie will certainly hit the ground running as work-ready professionals upon their graduation!
This article was adapted from the BrightSparks February 2023 publication with the permission of CareerBuilder Singapore.