"If you want to go fast, go alone. If you want to go far, go together." SITizens from the Computer Engineering degree programme came in second at the University Innovation Challenge 2023 organised by Accenture. The team share their thoughts on the win but, more importantly, the importance of teamwork.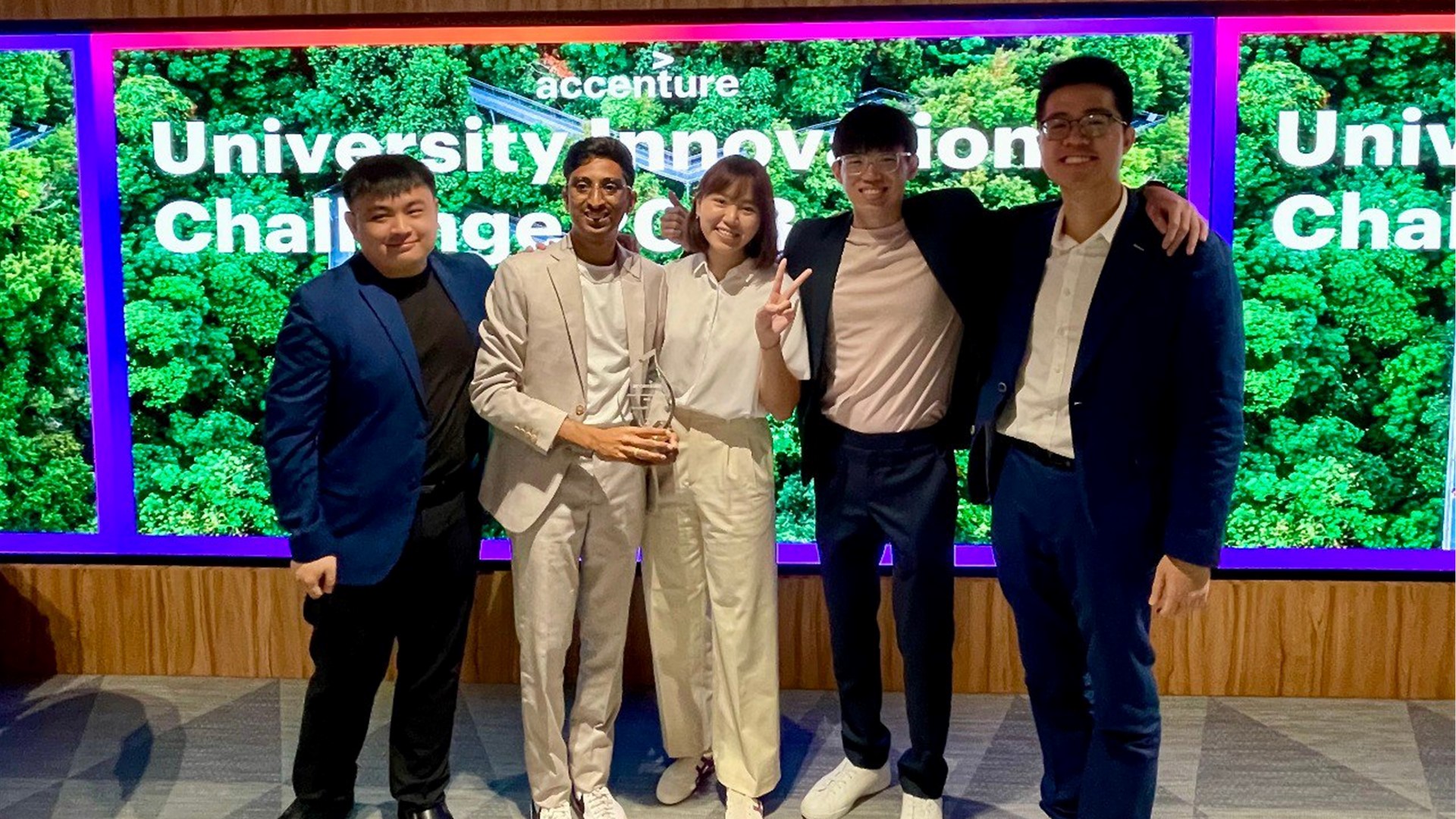 A team of five SITizens from the Computer Engineering degree programme – Liu Xiang, Dashinamurthi Chandrasegaram, Nathaley Pek, Chin Pu Ren, and Lim Jiun Yew, also known as 'Team Eco Lion' – clinched second place in the University Innovation Challenge 2023 by global professional services company, Accenture. A total of 87 teams submitted their proposals. The two-week challenge provided shortlisted teams with opportunities to learn from industry experts and bring their ideas to live in business pitch challenges.
Playing to Their Individual Strengths
For the challenge, the team had to tackle a problem statement and pitch a solution to reduce carbon emissions in the tourism and hospitality industry. "We had to innovate, propose a solution and do up a pitch deck in 10 days," Nathaley recounted.
Team Eco Lion set to work quickly after landing on their winning idea – modular floor tiles that generate electricity when stepped on. The members divided the work among themselves, each taking on individual components according to their strengths: Liu Xiang and Dash built the prototype, Jiun Yew and Pu Ren were responsible for generating and analysing the statistics, and Nathaley worked on the pitch deck. The synergy and collaboration between the team members enabled them to complete their deck and prototype in an impressive span of seven days, three days before submission was due.
Channelling Existing Behaviour into Sustainability
"Most people are open and positive towards living a sustainable lifestyle but are not willing to go out of their way to do so. We want to develop a product that capitalises on existing human behaviour without the need to incentivise users", Nathaley shared.
The team termed their innovation 'PowerPuzzle' as the tiles were ideated to be like puzzle pieces – modular portable, easily installed and removed. While a similar concept is already available in the market, one that is modular and portable has not yet been commercialised. The team's ingenious proposal was to install the piezoelectric tiles in tourist attractions, where there is high human traffic. Installing the tiles in an attraction with 120,000 footfall could potentially generate up to 1,945kwh in a year, which translates to the energy taken to charge more than 167,000 smartphones.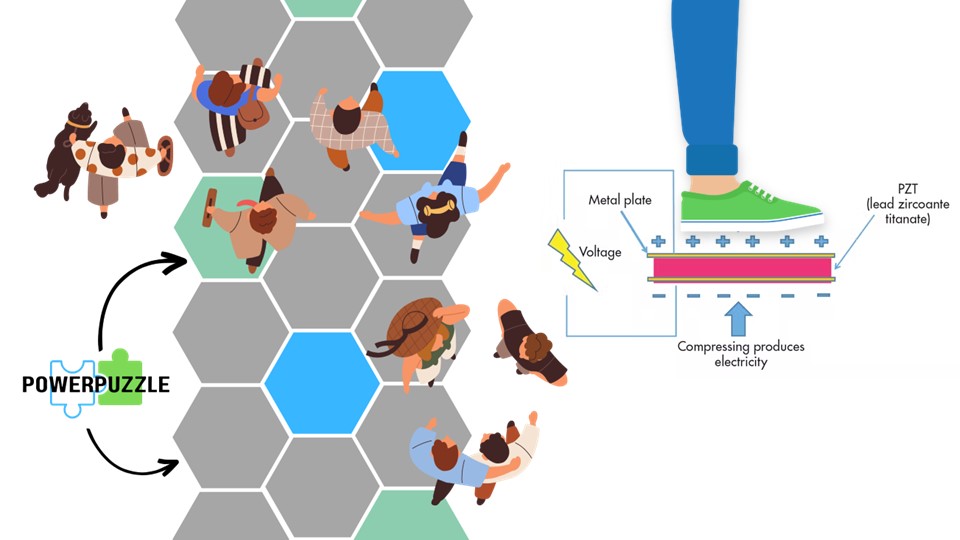 PowerPuzzle intends to take advantage of Singapore's high population density.
Additionally, the tiles could track data relating to footfall in the area, making it possible to study the pedestrian traffic at a given time and implement energy-saving measures during non-peak hours. Using PowerPuzzle in areas with high pedestrian activity, such as entrances to malls and tourist sites, could potentially result in cumulative energy savings and play a vital role in achieving Singapore's green objectives.
Poised for Success
The team's background in Computer Engineering had a significant role to play in their win. As part of their degree requirements, the team members had to undertake an Electronic Circuits module, and complete a project on Embedded System Design and Sensors and Control in their second year. The learnings enabled them to design and build a prototype for the challenge, which Nathaley reckoned to be instrumental to the team's success.
The team also attributed their win to their supportive mentor, Ms Claren Ang, Associate Director at Accenture. "We had various ideas, so our challenge was deciding on one that holds good potential. Also, we had limited experience in creating pitch decks, so that aspect was challenging for us. We are grateful for a friendly and supportive mentor who guided us with valuable tips on refining our deck and streamlining our ideas," Nathaley shared. "Ms Ang's mentorship goes beyond imparting practical and professional knowledge. She even made time for the finals to lend moral support during our presentation."
Going the Distance for the Future
The judges were so impressed by the work the team produced that all the team members were offered a place at Accenture upon their graduation.
Motivated by the encouraging reviews from the judges and their mentor, the team is currently in the process of developing their first tile and finetuning its mechanism to create a physical working product. "We believe in the potential of PowerPuzzle," said Nathaley. "Our dream is to see it actualised and installed all over Singapore. One of our members even converted his spare room into a makeshift studio so that we could work on the product at any hour of the day. That's how serious we are about this."
Interested parties can visit Computer Engineering for more information on the degree programme, and Accenture Singapore to find out more about the company and graduate career opportunities.