He's a thinker. He's a tinkerer. Kenichi Kato brings over 20 years of industry experience into the SIT classroom – and makes robotics come alive.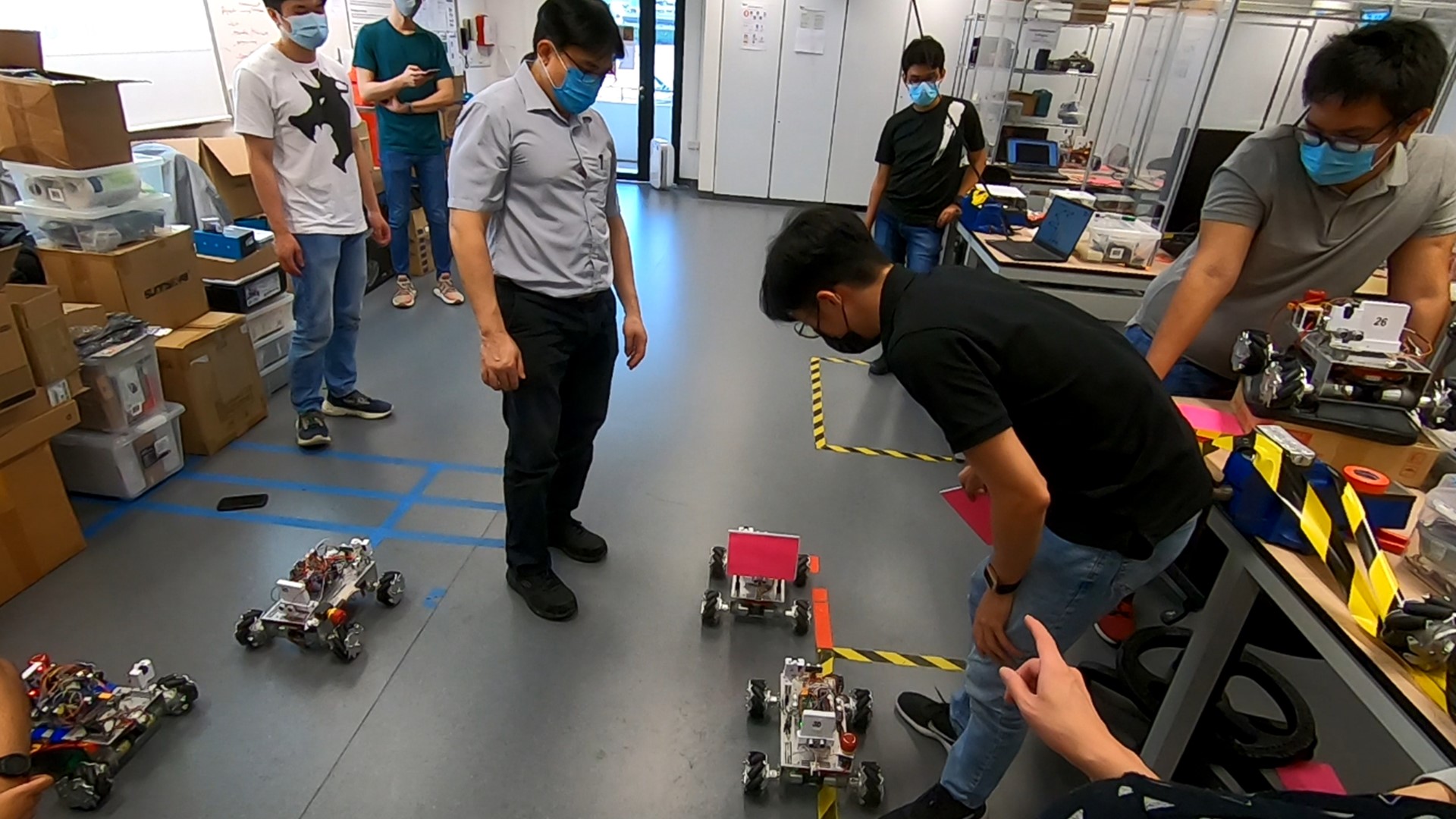 Kenichi Kato assesses his students' projects in the Robotics Systems degree programme. His students are tasked to program their robotic platforms to follow the instructor's robotic platform (labelled with a pink plate) autonomously through the use of an intelligent camera. (Photo: Kenichi Kato)
There is one question that gets engineer Kenichi Kato, Lead Professional Officer at Singapore Institute of Technology (SIT), all revved up: How can humans use robots to tackle labour shortage in an ageing population?
He explored this topic recently when he co-wrote a paper proposing designs for a self-regulating urban green wall. Solar-powered robotic arms, smart sensors and catchment systems, the paper suggested, could be used to replace and irrigate the plants without a need for human labourers. It ended up winning the Best Paper Award at the 2022 International Conference on Environmental Science and Applications.
Kenichi is a lifelong tinkerer. As a child, he took his toys apart so he could figure out how they worked. As an adult, his fascination with electronics spawned several cool "inventions" – from a humanoid robot storyteller to a sensor system that sends him a phone alert every time a tingkat delivery arrives at his doorstep.
Trained in computer science and electronics engineering, he spent over 20 years in the tech industry. This included a decade where he ran his own businesses in IT software development, computer storage devices, manufacturing and reverse logistics in Singapore, Malaysia and India. Following that, he joined SIT as a Professional Officer from 2014 to 2019, before leaving to helm the software team in a commercial outfit. He returned to the university in 2021.
Kenichi always embraces the spirit of innovation, and now he is inspiring SIT students to do the same.
Teaching the Robotics Engineers of Tomorrow
He spends a good deal of time teaching modules for Robotics Systems, a four-year engineering degree programme that was introduced in 2021, to meet the demand for robotics engineers.
The degree programme, developed in partnership with German electronics giant Siemens, combines fields such as robotics development, systems engineering, artificial intelligence and machine learning. Every trimester, students take part in hands-on projects where they see how their knowledge can be applied in the real world.
"Our focus is on robotics and field service robots, so the students will be able to design solutions for the industry," he said. "The students are already looking at different types of problem statements for the industry."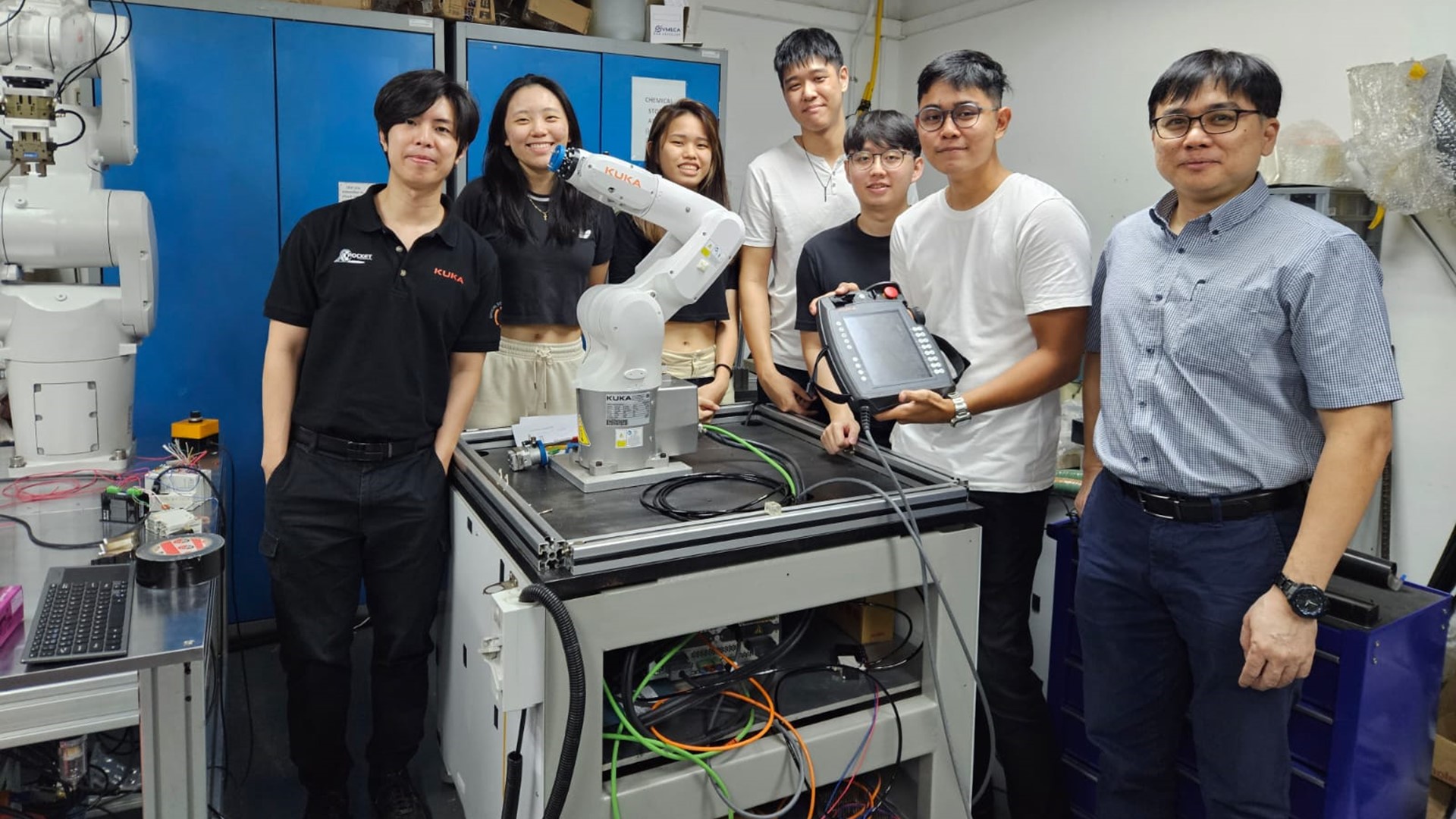 Kenichi Kato (extreme right) and Nicholas Chew (extreme left), Automation Engineer at Pocket Technology Pte Ltd, with SIT Robotics Systems students who are learning more about industrial robotic arms at Pocket Technology Pte Ltd. (Photo: Nicholas Chew)
The degree programme involves close collaboration with industry partners. For example, five of Kenichi's students are at Pocket Technology Pte Ltd, a company providing packing solutions that has recently ventured into robotic systems integration work. As part of their industrial project coursework, the students are learning more about industrial robotic arms while experimenting with solutions using the Robot Operating System. experimenting with solutions using Robot Operating System.
Mr Kato's duties do not end there. As a Capability Development Lead for Autonomous System & Robotics, he helps other Professional Officers at the university identify teaching topics. He is also a member of the  SIT-Polytechnic Innovation Centre of Excellence (SPICE), which works with small and medium-sized enterprises (SMEs) to solve problems using robotics and automation.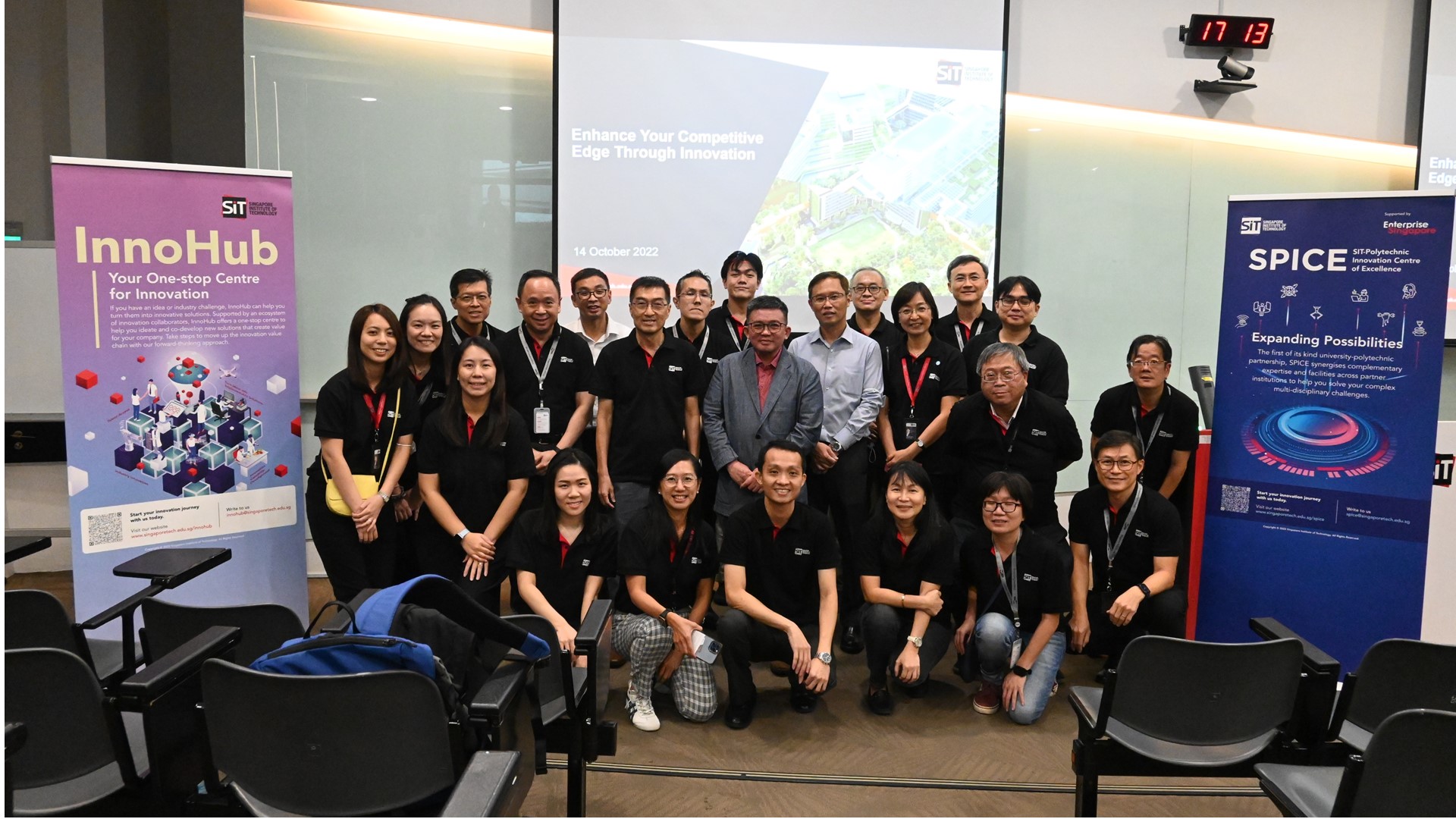 Kenichi Kato and his team members from the SIT-Polytechnic Innovation Centre of Excellence (SPICE) organised the 'Enhance Your Competitive Edge Through Innovation' event with the Singapore National Employers Federation for SMEs. (Photo: SPICE)
"As robotics and autonomous systems become affordable, they are also within the reach of SMEs," he added. "This allows local companies to create small, localised assemblies and manufacturing using autonomous and robotics systems, which would not be cost-effective if done with human workers."
Nurturing Lifelong Learners
Teaching brings him a lot of joy, he said.
"When I was teaching the new cohort in this Robotics Systems programme, a lot of them were quite weak in terms of programming and embedded systems. But as I spent more time with them over a few trimesters, it gave me a sense of achievement – some of them have improved a lot, from having no programming background to acquiring very good programming skills now."
He hopes to cultivate lifelong learners. "The only way to ensure our students continue to stay relevant in the industry after they graduate is to teach them how to teach themselves to learn. The process of learning to apply what is taught can be difficult. For many students, they learn best when they see results after they apply what they have learned. We encourage critical thinking and problem-solving by getting them to review and find solutions for a problem statement. In this way, they will continually upskill themselves for whatever the future environment demands of them."