When NASA sent DCIM Year 1 student Jarrod Chua a direct message on Instagram, that was the start of great things to come.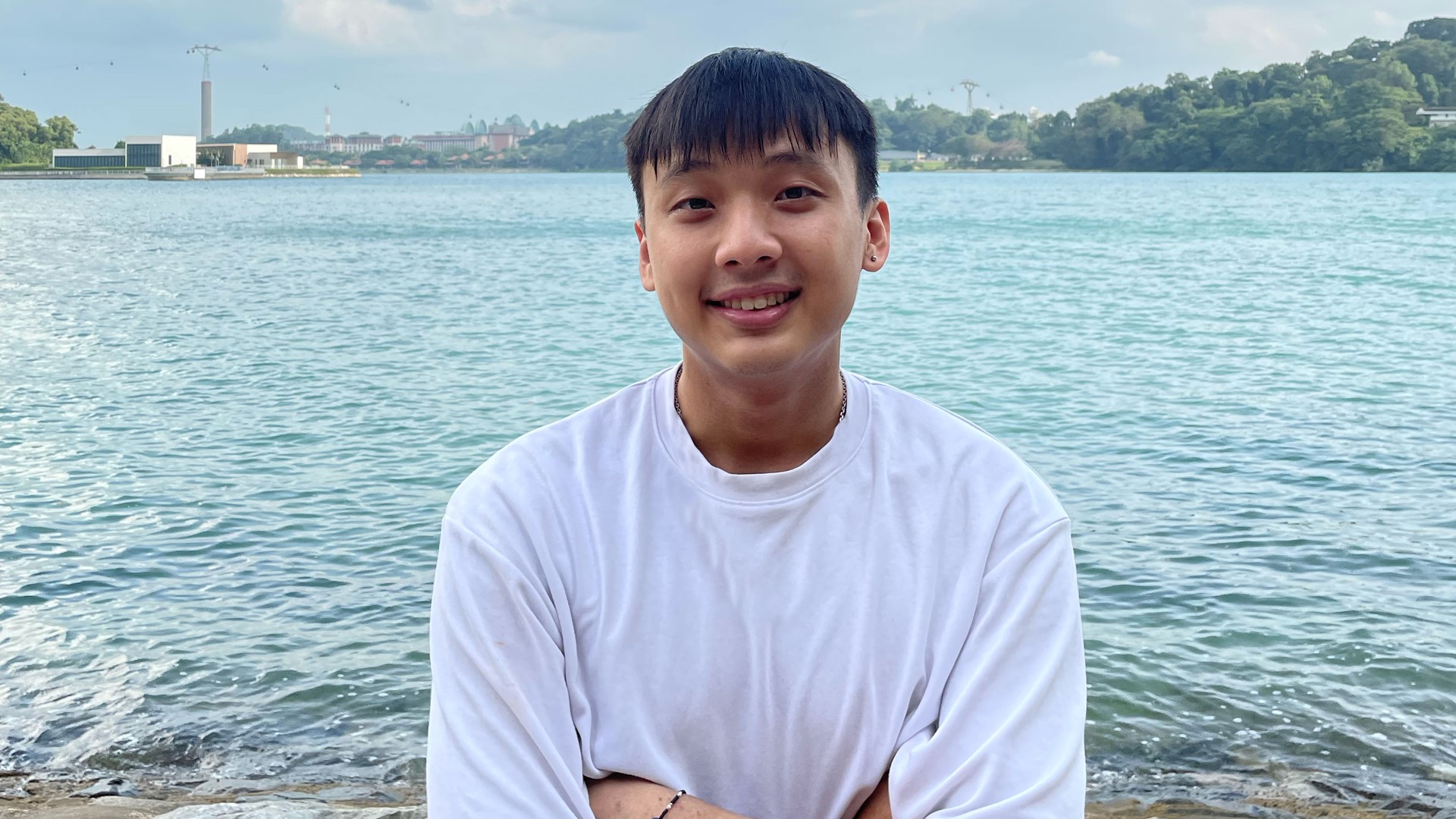 Jarrod Chua is a Year 1 Digital Communications and Integrated Media (DCIM) student at SIT.
It was the height of the circuit breaker in 2020 and Jarrod Chua, serving his National Service, was eager to get his creative juices flowing in a craft that he loves – graphic design. While musing his passions during his free time, an idea suddenly struck him – why not combine his deep-rooted fascination in space with his graphic design skills?
From Fairytale to spaceytales
As a young boy, Jarrod was intrigued by space. However, he didn't know how to put his interest into practice because science was not his strong subject.
He didn't let that faze him. Making use of his graphic design skills he picked up in Singapore Polytechnic, he was able to nurture his passion.
"I thought maybe I can create a comic about space. So I combined the skills I had with my interest and 'spaceytales' was born," he said with a sense of accomplishment.
The idea for the name came about as he imagined planets in the vast solar system that cannot be seen with the naked eye but are full of life and wonder, almost like a fairytale. Swapping out the 'fairy' with 'space', he put together 'spaceytales'!
The Instagram account was created to display his space designs in June 2020. The designs predominantly feature caricatures of planets in distinct shades of plain and bright colours, drawn over a backdrop of the night sky. Cute, witty and informative, readers can flip through series of posts to learn something new about space.
Covering topics from solar eclipse to the flat earth theory, he is particularly adept at making complicated space concepts relatable to the layperson. The Instagram account attracted 1,000 followers within a month and 8,655 followers by end 2021.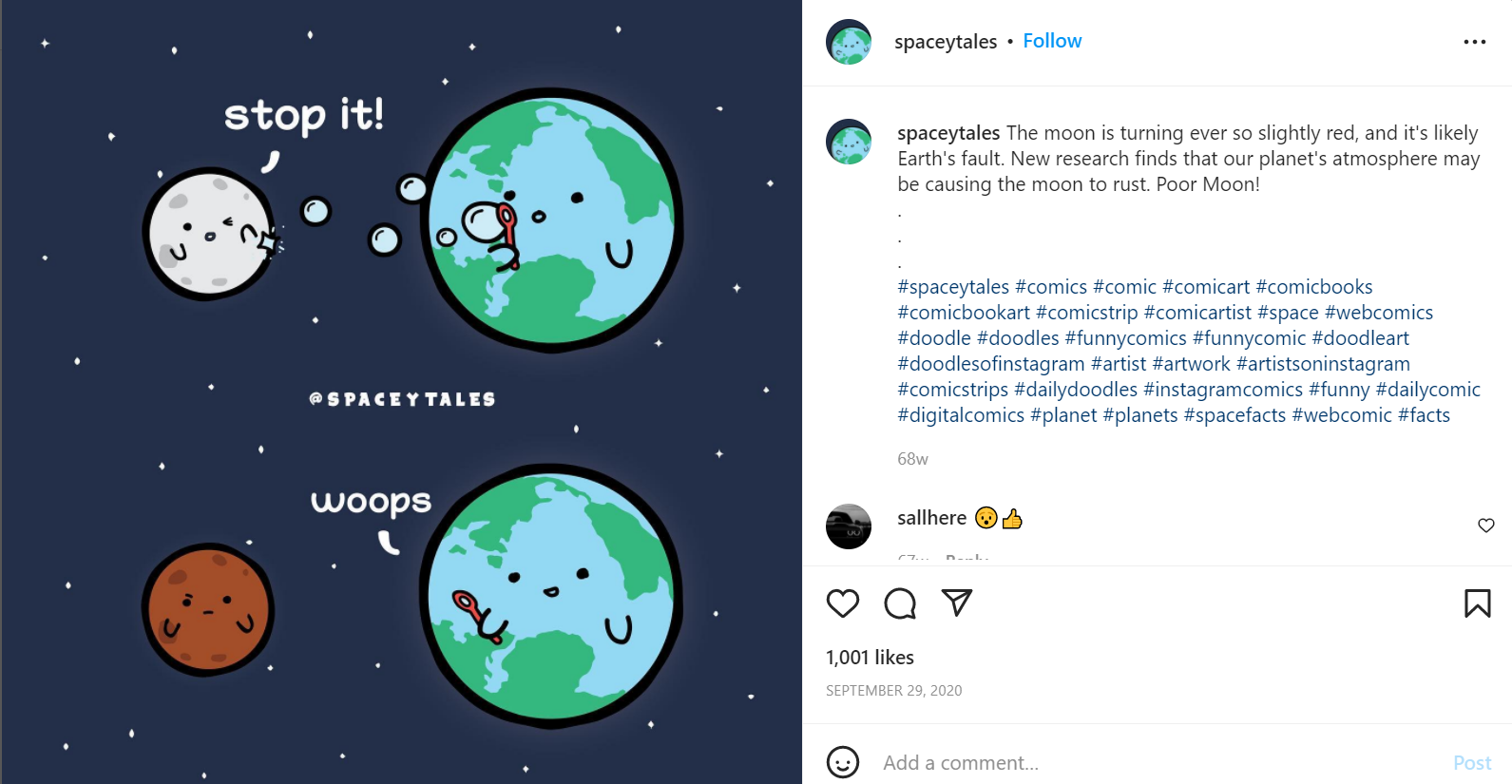 Screenshot from Jarrod's spaceytales Instagram account.
Unexpected Message from NASA
What followed next was completely unexpected – the famed space institution, National Aeronautics and Space Administration (NASA) dropped him an Instagram message saying they were impressed with his work.
Shocked, he felt the moment was out of this world, almost like a dream. His family was also in disbelief. "NASA messaged you, really?" was their immediate response.
This sparked months of brainstorming and resulted in NASA using one of his designs for a telescope launch in December 2021. The US$9 billion (S$12 billion) James Webb Space Telescope is the largest and most expensive telescope ever placed in space. Jarrod portrayed the telescope as snazzy looking sunglasses.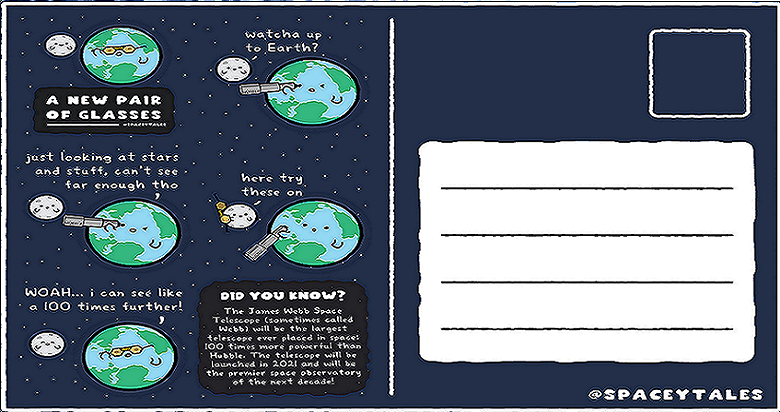 Screengrab of Jarrod's postcard design from NASA's website.
Jarrod signed a one-year contract with NASA to provide graphic content support for its online education campaign.
The timing could not have been better for the 23-year-old. He just started studying Digital Communications and Integrated Media (DCIM) at the Singapore Institute of Technology (SIT), and what he learnt in classes helped him to collaborate effectively with NASA.
Honing Skill Sets at SIT
His collaboration with NASA wouldn't have succeeded without SIT, he stressed. While he was already a prolific illustrator, the university has helped him cultivate his skills in photography, storyboarding, animation and advertising. All these lent him the ability to grow spaceytales into a bigger art brand.
"When I was learning the Digital Advertising Branding Campaigning module, we were at the execution phase of the project and my lecturer helped me to better understand the different media aspects involved in advertising," he said.
He also finds his photography class especially exciting as it has taught him to take quality photos by considering different angles and lighting, while the storyboarding module sharpens his animation skills.
Now, he wants to grow his nascent platform. Carrying big dreams for spaceytales, he intends to buy the domain, create animations and also publish a children's book. He hopes to have a Netflix show for children eventually.
That's not all. Shooting for the stars, his dream is to one day work for NASA in the public outreach or design department. He envisions space as the final frontier for men, giving him the resolve to learn more and share knowledge about space.
"While I can't personally contribute much in the physics or astrophysics department of space, I hope to inspire the next generation to look up to the skies and work to become the future astronaut or physicist so that we can make progress within the space industry."
Ms Angela Ng Shueh Ching, Senior Lecturer, DCIM, believes her student has room to unlock his full potential.
"Now is the time for Jarrod to build a portfolio that will attract the interest of international clients. Jarrod is imaginative and I see him pushing his creative boundaries. There is room for personal growth in terms of skill sets and exposures, and he has the potential to grow into a great graphic designer as long as he keeps harnessing his imagination," said Ms Ng.