At SIT, applied learning opportunities transcend borders, grooming students to be global-ready talents.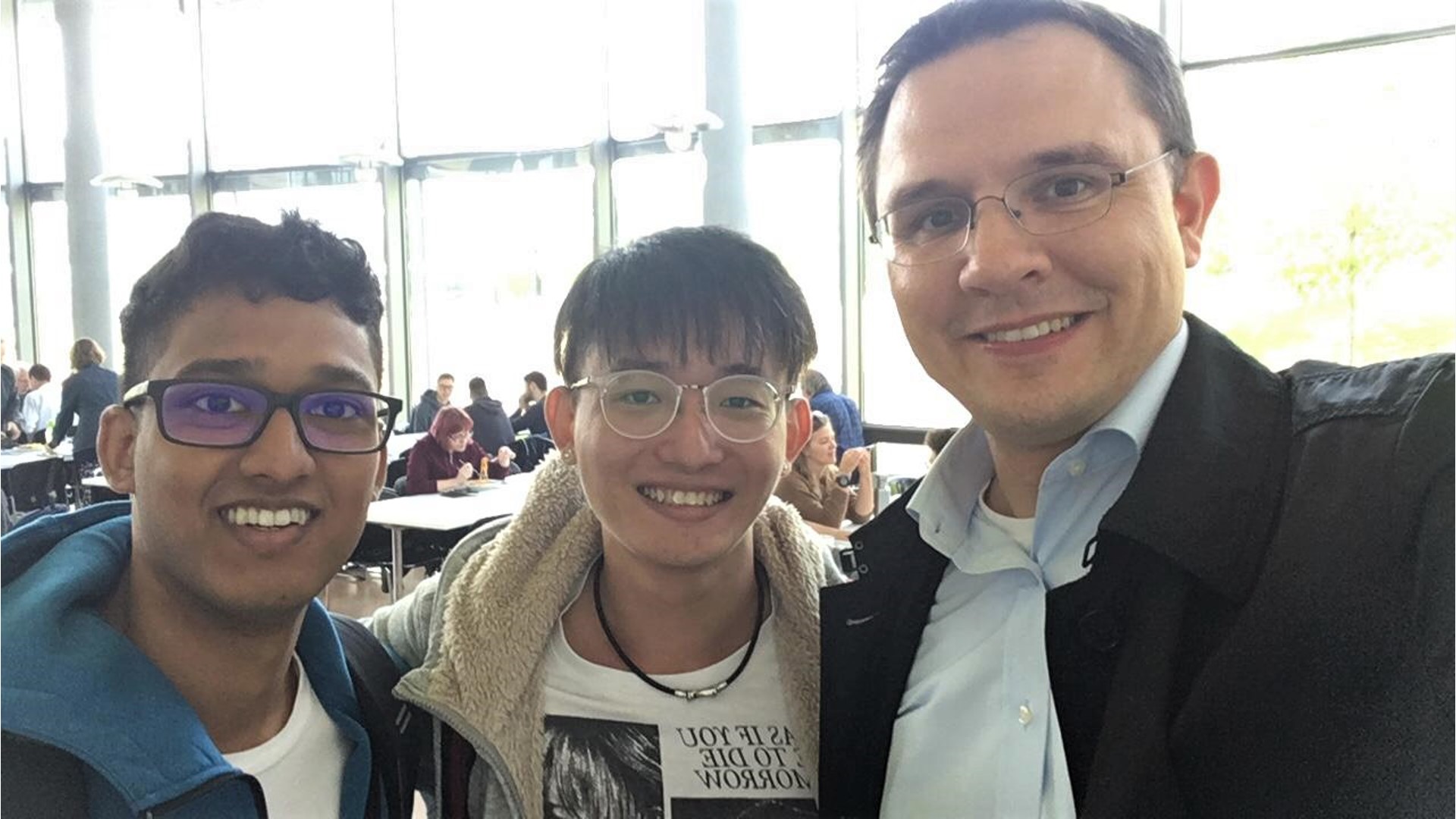 From left: Information and Communications Technology (Software Engineering) students Suganithiselvan and Shawn Lim Wei Ming met Dr Markus Westner, Professor at OTH Regensburg -- a Technical University for Applied Sciences in Germany -- for their International Internship Programme.
For many university students, navigating their freshman year can be a daunting prospect. The last thing on their minds would be an overseas internship. Shawn Lim Wei Ming, however, found himself on a flight to Regensburg, Germany after just eight months at the Singapore Institute of Technology (SIT).
Now in his final year in Information and Communications Technology (Software Engineering), Shawn recounted how this rare chance to intern at automobile company AVL opened up a world of possibilities.
"Going to Germany has broadened my perspective of how life can be beyond Singapore," said the 26-year-old. "This was when I realised that university life can be so exciting."
The three-month summer attachment in 2019 was one of over 40 university-organised gigs for him, both abroad and in Singapore. From coding and non-fungible tokens, to mentorship and engagement, Shawn has grasped the opportunities provided by SIT to fulfil his dream of a unique university experience.
Lessons from Abroad
As a self-professed 'techie', his Germany stint under SIT's International Internship Programme equipped him with the nous to tackle real-world coding challenges. There, he was tasked to streamline various internal system tools aimed at improving the workflow and efficiency of the development team.
"I am a tinkerer," he said. "Coding lets you build something out of nothing that can be used by people, creating a force multiplier."
 He stated that it is never too early to work overseas. In fact, having the hands-on opportunity to fine-tune his skills was what drew him to SIT. He also shared how it was "mind blowing" to immerse himself in another culture.
 "In Germany, they don't have the concept of working overtime, so my bosses would rush to get me off work so that I could enjoy the rest of my day," he added.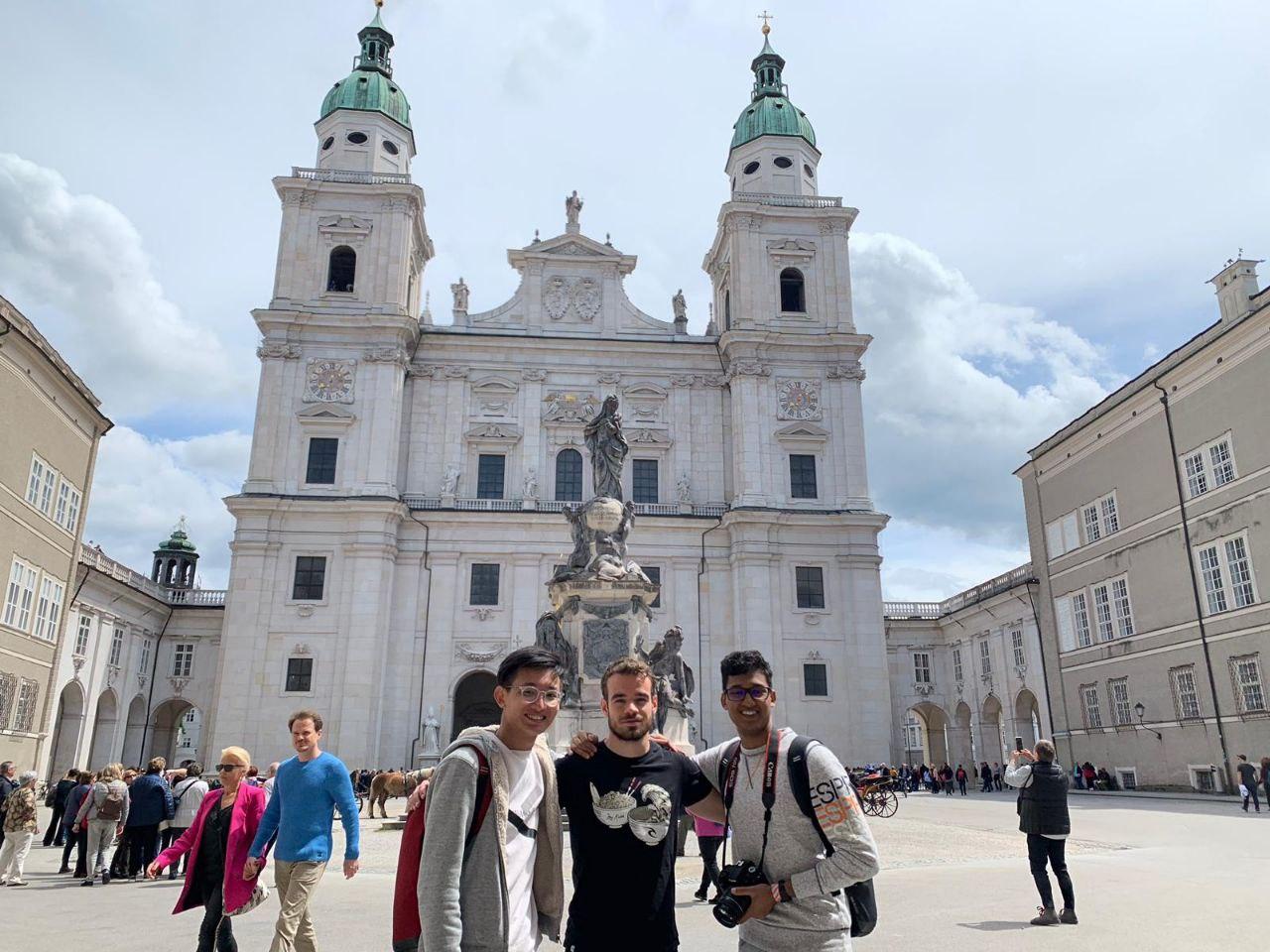 Exchange student Fredrick (centre) from OTH Regensburg, who studied in SIT for a semester, played host to SITizens as they explored Salzburg, Austria.
For the past 14 months, Shawn has been attached to another German company, software firm COGLOBO GmbH, on the Remote Overseas Integrated Work Study Programme. His role as a full stack engineer includes designing a customer relationship management platform.
 His eagerness to venture beyond our shores also helped him understand the nuances of businesses in Europe and Asia. He participated in a Regional Readiness Webinar in March 2021, when he learnt that business relationships are more personal in China – mutual respect is cultivated by accepting food offered by clients.
Juggling Different Commitments
His fervour for enriching experiences came from what he termed a 'university midlife crisis'. After returning from Germany, he proactively embarked on more overseas exposure learning programmes.
"I realised that in the blink of an eye, almost half my university journey is gone and you only get to experience it once," he explained. "When you're in your 30s and 40s looking back, do you want your memories to be of cramming for exams or joining these activities? That was when I decided to go for it, to make time for them."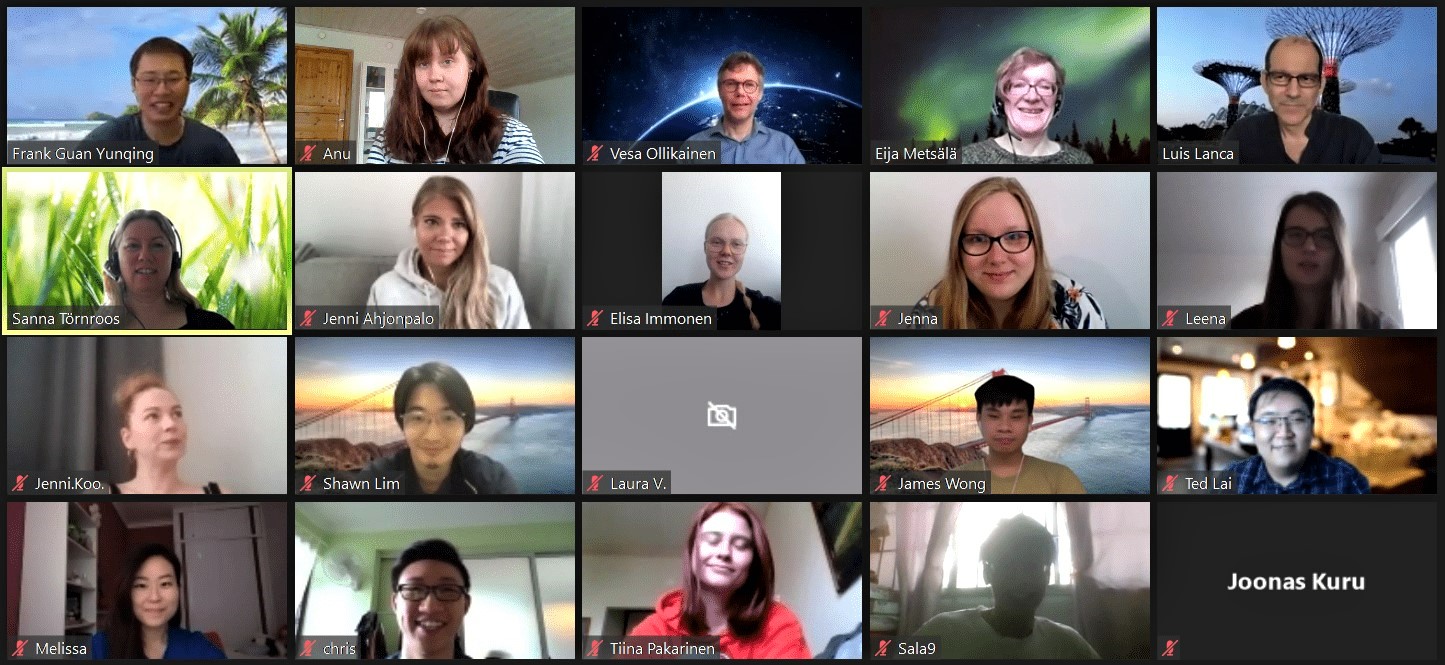 Shawn took part in a joint student research project, DOSIS, involving SIT and Metropolia University of Applied Sciences, Helsinki, Finland. The project aims to study the potential of AI used in medical imaging and publish peer-reviewed academic papers.
It is easy for someone whose studies and interests intertwine. Whether it is blockchain or artificial intelligence (AI), his passion in exploring emerging trends gives him satisfaction akin to a hobby. He has even devised a solution to manage his hectic schedule.
"It's all about knowing your limits," he said. "There were weeks on end when I just felt like there's a never-ending line up of things. But whenever I encounter such periods, I take a break and remind myself that no one is forcing me into this and it's not a competition."
 Shawn is also aware of the need to maintain a work-life balance, especially in a sector that involves sitting down in front of a computer for hours. The avid runner has been competing in 10km races, as well as half and full marathons – some with his parents – since 2013. It is a testament to his quest for improvement.
 "I find myself to be an adventurous person," he said. "It was a conscious decision to say yes to everything that pops up, to explore and test myself."
Paying it Forward
Shawn, who is contemplating entrepreneurship after graduation, appreciates the gamut of programmes SIT offers to its students. To that end, he has given back to the university by mentoring juniors and connecting them to similar opportunities but he shied away from labelling himself as a role model. "Circumstances play a huge part and I'm lucky to have supportive parents; others may not have the luxury to do extra activities," he said.
"Shawn is a highly motivated student who, on his own accord, participated in a wide range of student mobility programmes organised by SIT's Global Experience Division. He has gained invaluable exposure to different cultural norms and organisational practices in Asia and Europe and is a great ambassador for SIT," said Desmond Koey, Senior Manager, Global Experience Division, SIT.
Shawn's SIT journey has come full circle. In May, he will head to Metropolia University of Applied Sciences in Helsinki, Finland for a week to work on a joint student research project that he has been a part of since 2019. 
The project studies the potential use of AI in medical imaging and already has a peer-reviewed academic paper published. Discussions had been taking place remotely due to the pandemic.
"I find it kind of fitting as it was the first-year trip that shaped my university life, and now I'm rounding it off with another one towards the end of my final year."