Electrical accidents and fires are common in both commercial and residential settings. The inaugural Electrical Safety Symposium brought together experts from academia and the industry to share insights and best practices on electrical safety.
A barefooted Bangladeshi cleaner using a water jet to wash the floor at a HDB housing estate was fatally electrocuted when the poorly maintained water jet's motor became energised. A faulty water heater installed in an unsafe manner led to the tragic deaths of an elderly couple and their son at their residence. A food delivery rider perished after his modified personal mobility device (PMD) caught fire in a lift.
Investigations into these real-life mishaps revealed some commonalities – all were of electrical origin and the outcome of a confluence of failures.
The loss of lives and properties caused by such electrical incidents in recent years has created much unease and alarm. To tackle the problem head on, the first Electrical Safety Symposium was organised by the SITLEARN Professional Development, the lifelong learning division of  Singapore Institute of Technology (SIT) with support from Energy Market Authority (EMA), Ministry of Manpower (MOM), National Fire and Emergency Preparedness Council (NFEC) and The Institution of Engineering and Technology (IET Singapore) Local Network.
Themed 'Electrical Hazards Prevention and Management', the event was held at SIT@Dover on 4 January 2023. More than 260 electrical professionals attended the symposium to gain insights and learn best practices from industry experts in preventing electrical-induced injuries and fire hazards.
Creating a Culture of Safety
Setting the stage with opening remarks was SIT's Vice President (Industry & Community), Mr. Bernard Nee, who highlighted that technologies such as energy storage systems, vehicle-to-grid (V2G) charging, and hydrogen power generation need to be properly deployed and operated.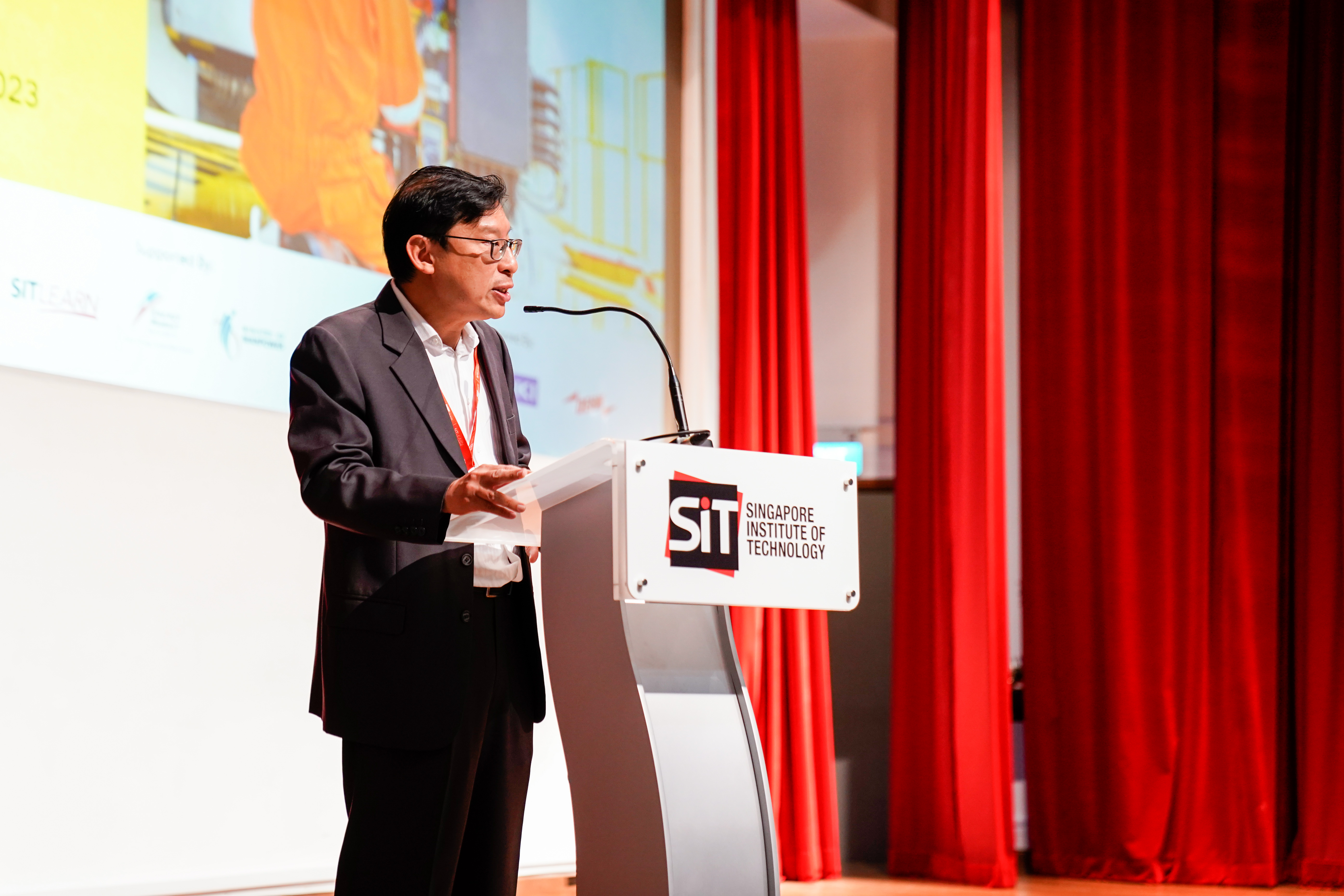 In his opening remarks, SIT's Vice President (Industry & Community), Mr. Bernard Nee said that the symposium is part of a larger effort by SIT and its partners to upskill industry professionals in electrical safety. (SIT Photo: RS Photography/Finn)
In his keynote address, Er. Kng Meng Hwee, Deputy Chief Executive (Regulations), Energy Market Authority (EMA), highlighted the role of human failures and the importance of stakeholders in electrical safety. "When you design fire safety procedures, don't make it too complex for the people who are working on-site and performing the task to follow. Otherwise, the fire safety plan is designed to fail," he stressed.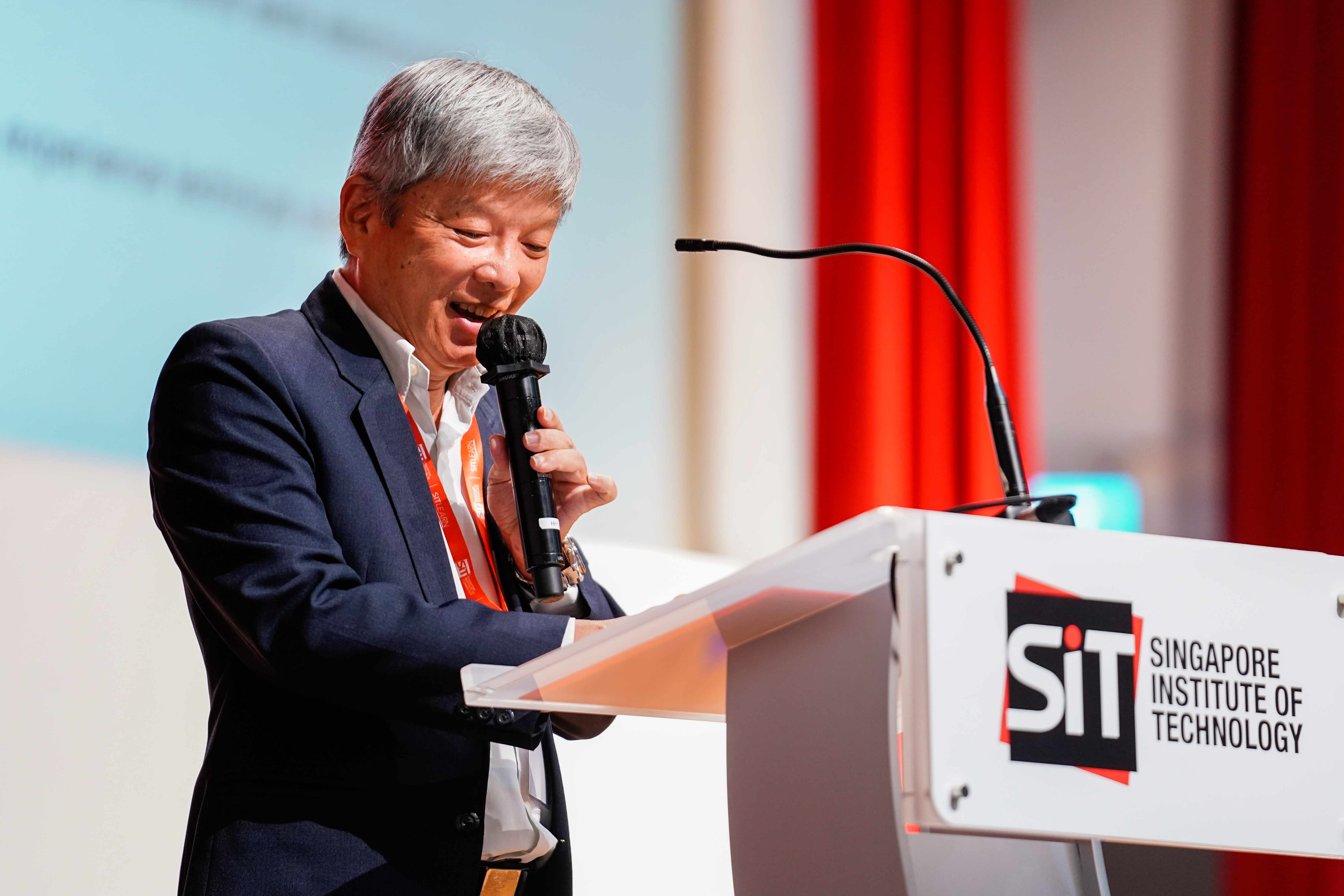 Er. Kng Meng Hwee, Deputy Chief Executive (Regulations), Energy Market Authority (EMA) delivering the keynote address at the symposium. In his current role, he is responsible for the safety and technical regulations of the energy industry. (SIT Photo: RS Photography/Finn)  
Underlining their points was Er. Yeo Cheng Hee, Director of EMA's Inspectorate Department. He outlined the regulatory framework governing electrical safety in Singapore and disclosed how the government ensures consumer safety by having a rigorous set of licenses, codes and standards in place.
Supporting the work of these regulatory agencies is the National Fire and Emergency Preparedness Council (NFEC). NFEC Vice Chairman, Mr. John Wu in his keynote address, brought the audience through the role of the Council as it works to instil fire prevention awareness and civil emergency preparedness in Singaporeans over the years.
Eliminating Electrical Hazards with Knowledge and Insights
The high-profile electrical incidents mentioned were only the tip of the iceberg.
Based on Singapore Civil Defence Force's (SCDF) 2021 Annual Statistics for Fire, Emergency Medical Services and Fire Safety Enforcement, as pointed out by SCDF's MAJ Muhammad Faizal Mazlan, fires of electrical origin were the leading type of fire in 2021, accounting for 588 cases. Such fires can arise from household or industrial sources. He revealed that household electrical fires often start from objects of everyday use, such as overloaded power outlets, PMDs and Power-Assisted Bicycles (PABs), while industrial mishaps were often the result of poor maintenance and safety lapses.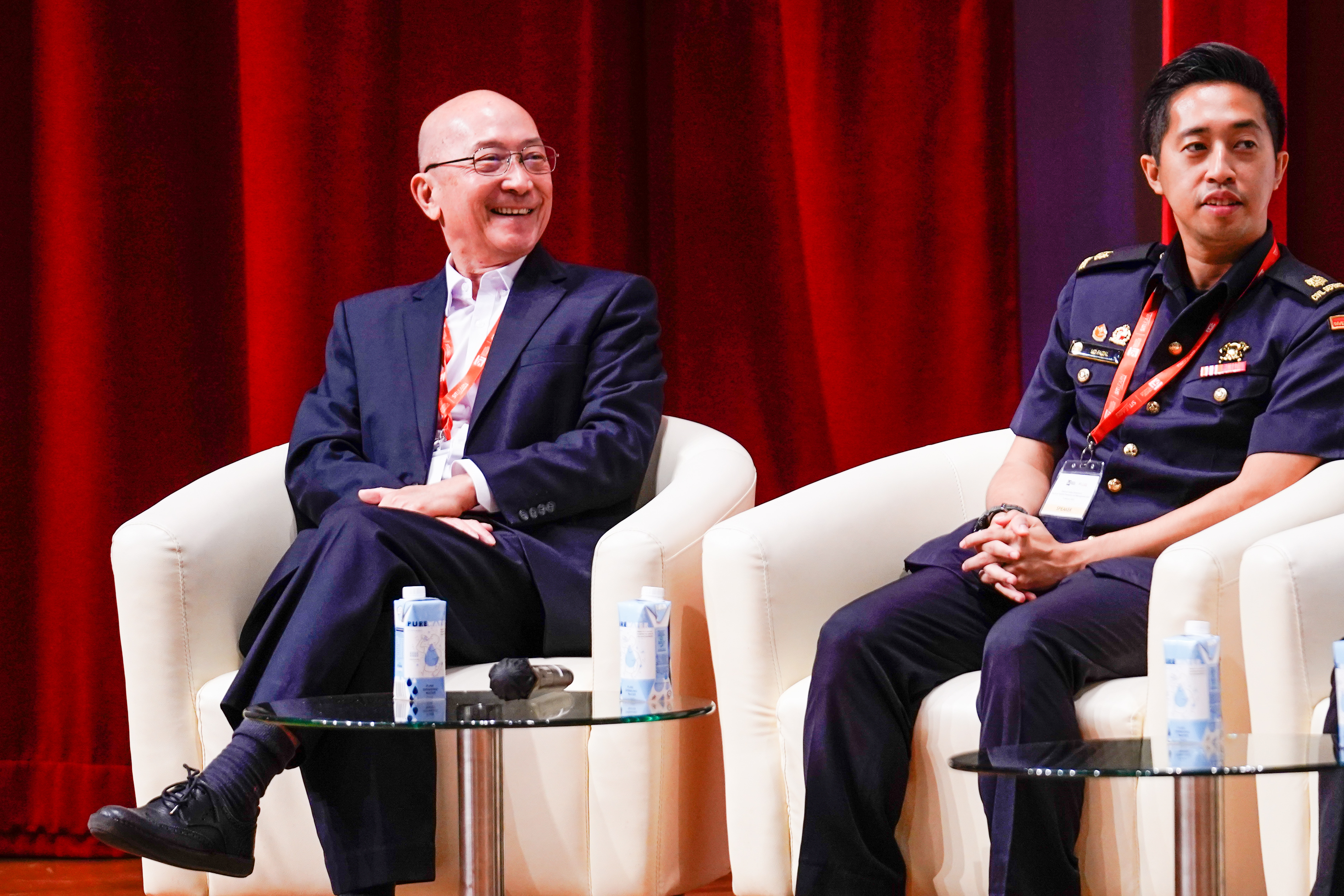 At the symposium, Prof Lock Kai Sang (left), Head, Energy Efficiency Technology Centre (EETC), SIT presented on the topics of 'Arc Flash and Arc Blast Hazards' and 'Electrical Fire Hazards'. MAJ Muhammad Faizal Mazlan (right) spoke on the topic, 'Electrical Fire and Explosion Hazards – with Case Studies'. (SIT Photo: RS Photography/Finn)
Delving deeper into the causes of workplace accidents was Mr. Eric Tan, Principal Specialist at the Ministry of Manpower. Drawing from his wealth of experience investigating industrial safety lapses, he emphasised the importance for every stakeholder in the workplace to take responsibility for each other's, as well as their own safety. He elaborated that site owners should ensure a safe workplace, employers should ensure their employees are safely equipped and carry out their work safely, while persons carrying out the work must do so with due diligence.
It Only Takes a Spark
Providing an in-depth viewpoint on the causes and origins of electrical hazards was a line-up of technical experts from the industry, including Er. Lee Wai Meng, Director of ON Engineers and Dr. Chiam Sing Yang, Director of Singapore Battery Consortium, as well as SIT's own engineering faculty Prof Lock Kai Sang, Head of Energy Efficiency Technology Centre (EETC) and Prof Tseng King-Jet, Director of Programmes, Engineering Cluster.
Er. Lee's presentation of the catastrophic failure of a dry-type transformer that passed all the textbook safety tests made for an interesting case study to the audience of electrical engineers, while Dr. Chiam probed into the technical aspects of battery fires.  
Adding to the pool of knowledge was Prof Lock, who demonstrated his mastery of the pre-conditions of arc fires and other electrical fires. Bringing the audience through the range of probable causes, Prof Lock made a strong case on the importance of protective measures and robust housekeeping in the prevention of electrical fires and hazards. Simple measures such as putting in place periodic inspection, testing and maintenance regimes will go a long way to keep residential and commercial property safe.
Electrical Safety is Everyone's Responsibility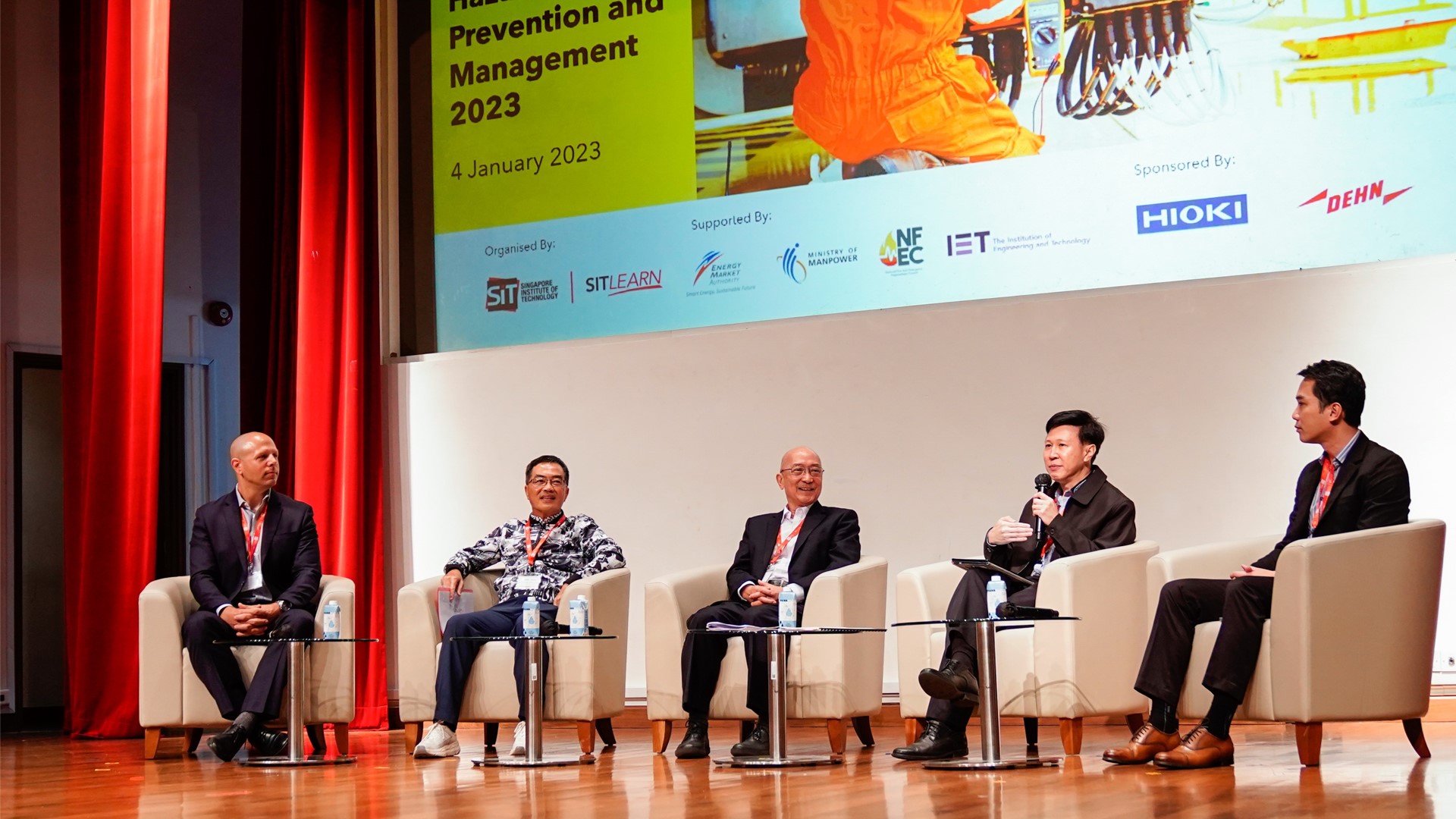 Er. Yeo Cheng Hee (2nd from right), Director, Inspectorate Department, Energy Market Authority (EMA) sharing his views during the morning panel discussion. From left to right: Mr. Viktor Dancza, Deputy Chairman, IET Singapore; Er. Lee Wai Meng, Director, ON Engineers; Prof Lock Kai Sang, Head of Energy Efficiency Technology Centre (EETC); and Mr. Eric Tan, Principal Specialist (Inspectorate Specialist Group), Ministry of Manpower (MOM).  (SIT Photo: RS Photography/Finn)
Electrical fires form a major proportion of industrial and domestic fires. As the industry experts amply demonstrated, a large majority of these are easily preventable through adequate safety and protective measures. Hopefully, the symposium is a timely reminder to the electrical industry professionals who attended that the safety of all – including their own – rests in their own hands.