A problem-solver by nature, he has tackled Singapore's land reclamation issues and helped to build Singapore's first applied learning university.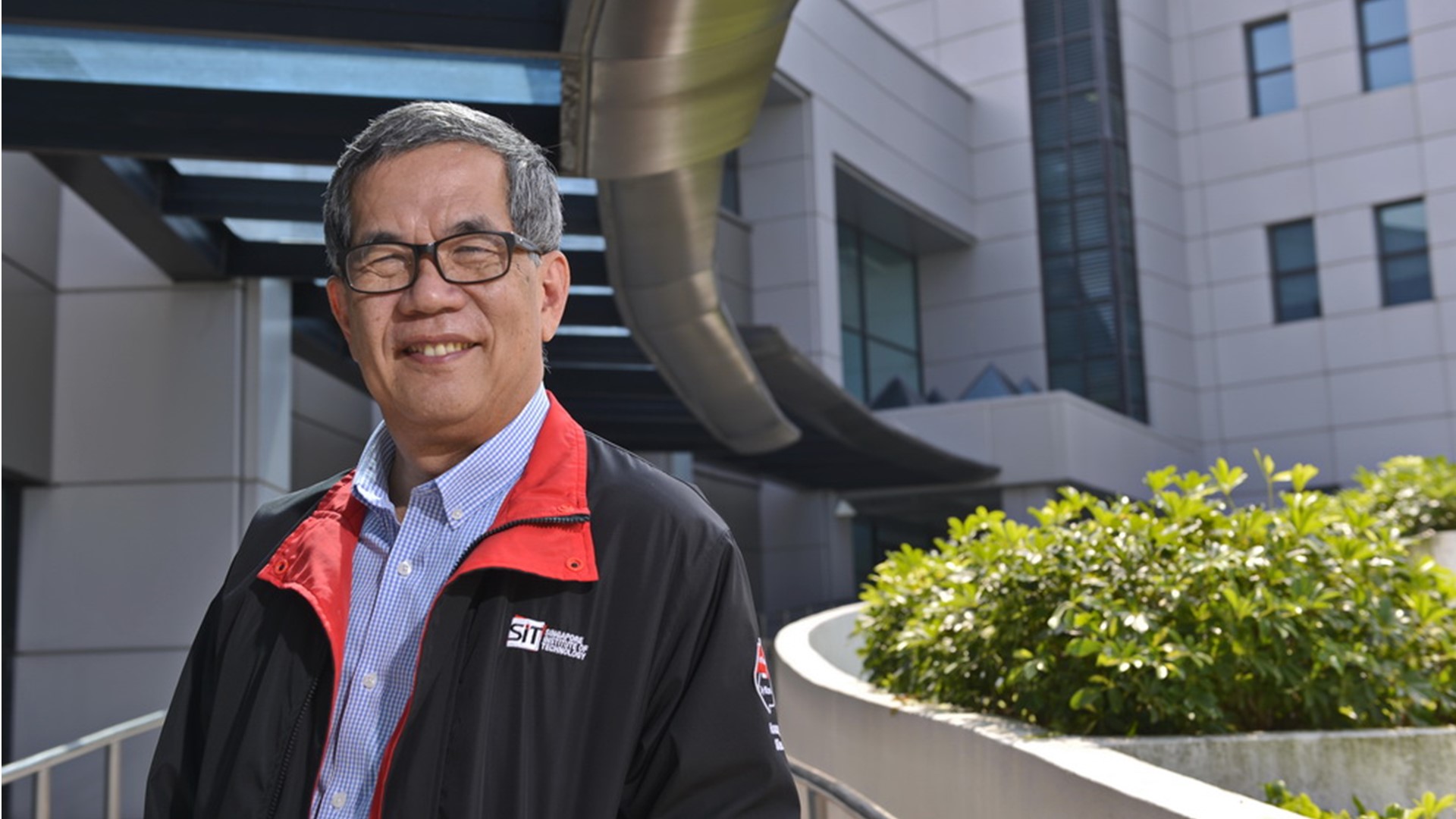 Professor Tan Thiam Soon at SIT@Dover. (Photo: JTC)
If Professor Tan Thiam Soon had his way, he would have read mathematics in university. But as a teenager applying for a scholarship from the Public Service Commission Singapore, he was urged by the panel to study civil engineering. It was 1974, and the chance to go to university was hard to come by, especially for a kampung boy from Upper Jurong.
"The truth was I would have studied anything. Law, anthropology, I would have said yes, because going to university was not a given back then," he said. So civil engineering it was, and off he went to the University of Canterbury in New Zealand to pursue his degree.
Subsequently, he was awarded a scholarship to do his PhD at the highly selective California Institute of Technology. His first choice was to study earthquake engineering, but the professor he wanted to work with was retiring. Again, things did not go the way he wanted, so he chose to read geotechnical engineering instead, immersing himself in the study of earth, soil and rocks.
Life may not have gone quite as planned for Prof Tan, but it has led him down other interesting paths. In recognition of his outstanding engineering achievements, Prof Tan received the Distinguished Professional Engineer Award from the Professional Engineers Board (PEB) Singapore in December 2022. As he stood onstage at the PEB Singapore Day of Dedication 2022 event held at Pan Pacific Singapore to receive the award, he told the audience: "In life, most things are not ordained or planned from day one. When one door shuts, another always opens. Our job is to make the door that opens the best ever, and not live a life of regrets believing that the door that has closed is the better one. In truth, no one knows what lies behind those doors."
Now the Institute Professor at SIT after stepping down as SIT President in 2021 after nine years, Prof Tan has lived life by this motto. Whatever challenge comes his way, he views them not as burdensome problems but opportunities to grow, experiment, and make a difference.
Turning Waste into Resources
In 1997, as a researcher at the National University of Singapore (NUS), he responded to a call for proposals on innovative ways to dispose of excavated soil from the then Ministry for Communications, which oversaw the planning and development of Singapore's transport and telecommunications sectors.
At that time, the North-East Line, Singapore's first fully underground MRT line, was in the works. It coincided with the closure of Singapore's only landfill at Lorong Halus. Without the landfill, disposing of the large amount of soil excavated from the train construction works would be a problem. Sending the soil to the incineration plants in Pulau Semakau to be burnt was too pricey a solution.
Prof Tan, who was then doing research on land reclamation and deep excavation, was struck with an idea: could the unwanted soil be used for land reclamation?
"It was a big technical challenge because excavated soil is like 'rojak' (means 'eclectic mix' in colloquial Malay). The soil you get is different in different areas. For land reclamation, people normally like to use homogeneous material," he said.
It was a bold, untested suggestion, but it could potentially solve two problems at once. Land reclamation was typically done with cut-hill soil, obtained from cutting down hills, or sand imported from the region. However by then, land-scarce Singapore had run out of hills to cut, and importing sand from neighbouring countries was often challenging and increasingly expensive. 
With a S$1.4 million government contract awarded to him to optimise the use of unwanted soils from construction for land, he assembled a team and got to work. Two years later, in 1999, the first batch of excavated soil was sent to Pulau Tekong to reclaim new land. The project was a success. Singapore now has a viable way to manage its excavated soil while reducing its reliance on sand to reclaim land. Two decades on, the practice of using excavated soil as reclamation material remains the norm in Singapore.
"To be honest, back then, sustainability was not a buzzword. I wasn't thinking of sustainability. I just wanted to solve problems effectively using what I've learnt," said Prof Tan.
Later on, as President of SIT, it was this same gumption to take action and solve problems that he sought to build in students.  
Grooming the Next Generation of Problem-solvers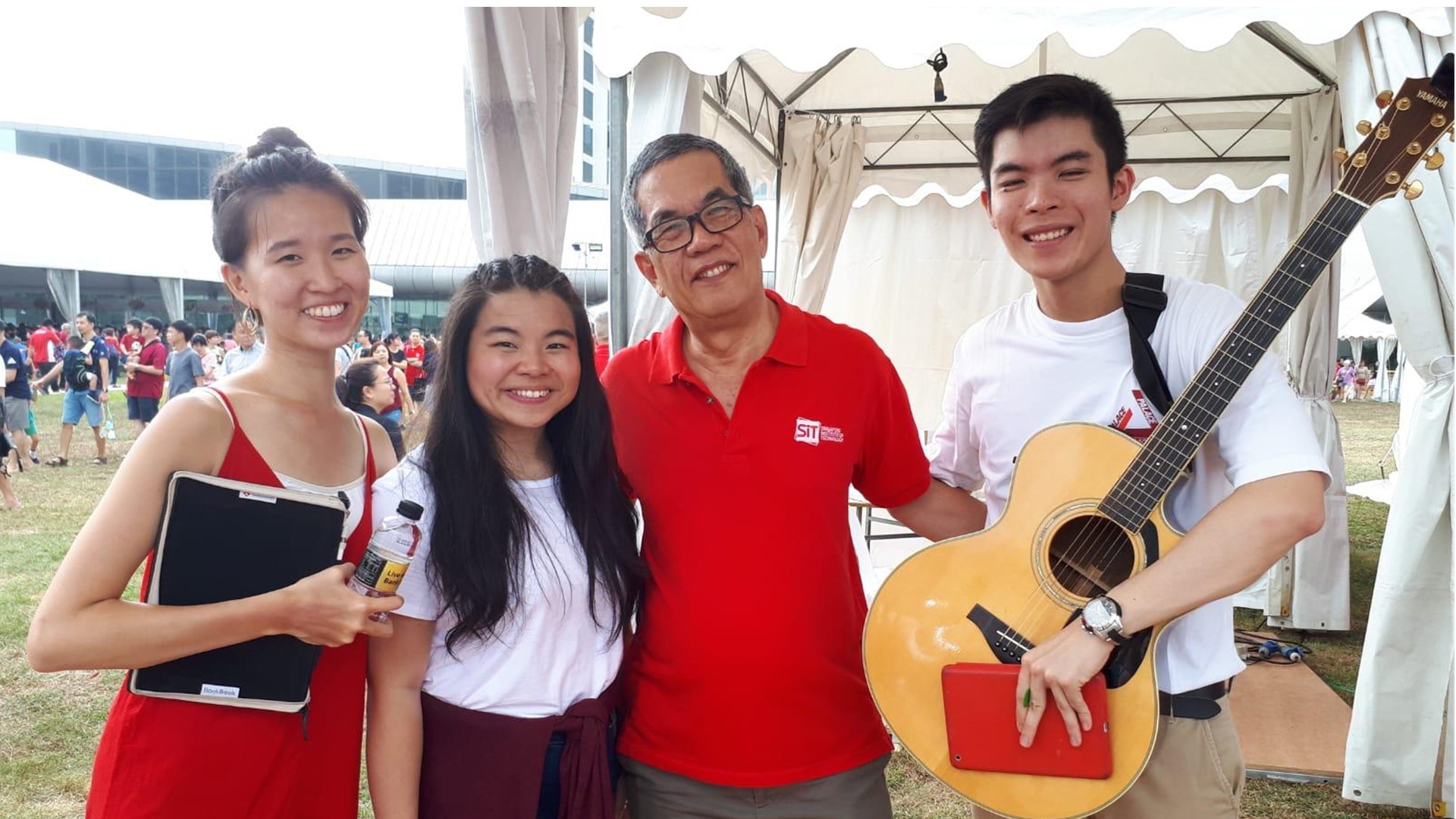 Professor Tan Thiam Soon with members from Muzeka, SIT's student band, at National Day Heartlands Celebrations 2019 at North East. (SIT Photo)
When he took the helm at SIT in 2013, he had been at NUS for more than 26 years, and had spent the last seven years crafting education policies as its Vice-Provost of Education.
"The easiest thing for me to do would be to adopt NUS' philosophy and transplant that to SIT. But that would not be suitable," he said.
As the country's fifth autonomous university, SIT was never meant to be a research-intensive university. The Ministry of Education's aim was for SIT to pioneer a new approach to higher education, focusing on applied learning.
This meant that SIT would attract a different type of students too. "SIT was the newest kid on the block and the students who enter SIT may not be the most academically proficient. Some of them come from challenging backgrounds too," he added.
It was hence the duty of university administrators to look beyond the grades of applicants and find a way to assess their potential, he said. "Universities talk about aptitude-based admissions now, but we were already doing it long before."
Once the students were in SIT, they were trained to be industry-ready and to solve real-world rather than just academic problems. Under Prof Tan's leadership, SIT began offering degree programmes in areas such as railway engineering, allied health, hospitality business and food technology, which aimed to plug industry gaps. It also started its signature Integrated Work Study Programme, where students spend eight months to a year on job attachments, longer than the two to six months typical of internships at the university level.
"When our students graduate, they are work-ready. They are professionals, they are problem-solvers," he said.