The Transport Living Lab will be an extension of SMRT's engineering capabilities and resources and provide an authentic learning environment for SIT students and academic staff to co-create land transport solutions for SMRT's real-world problems.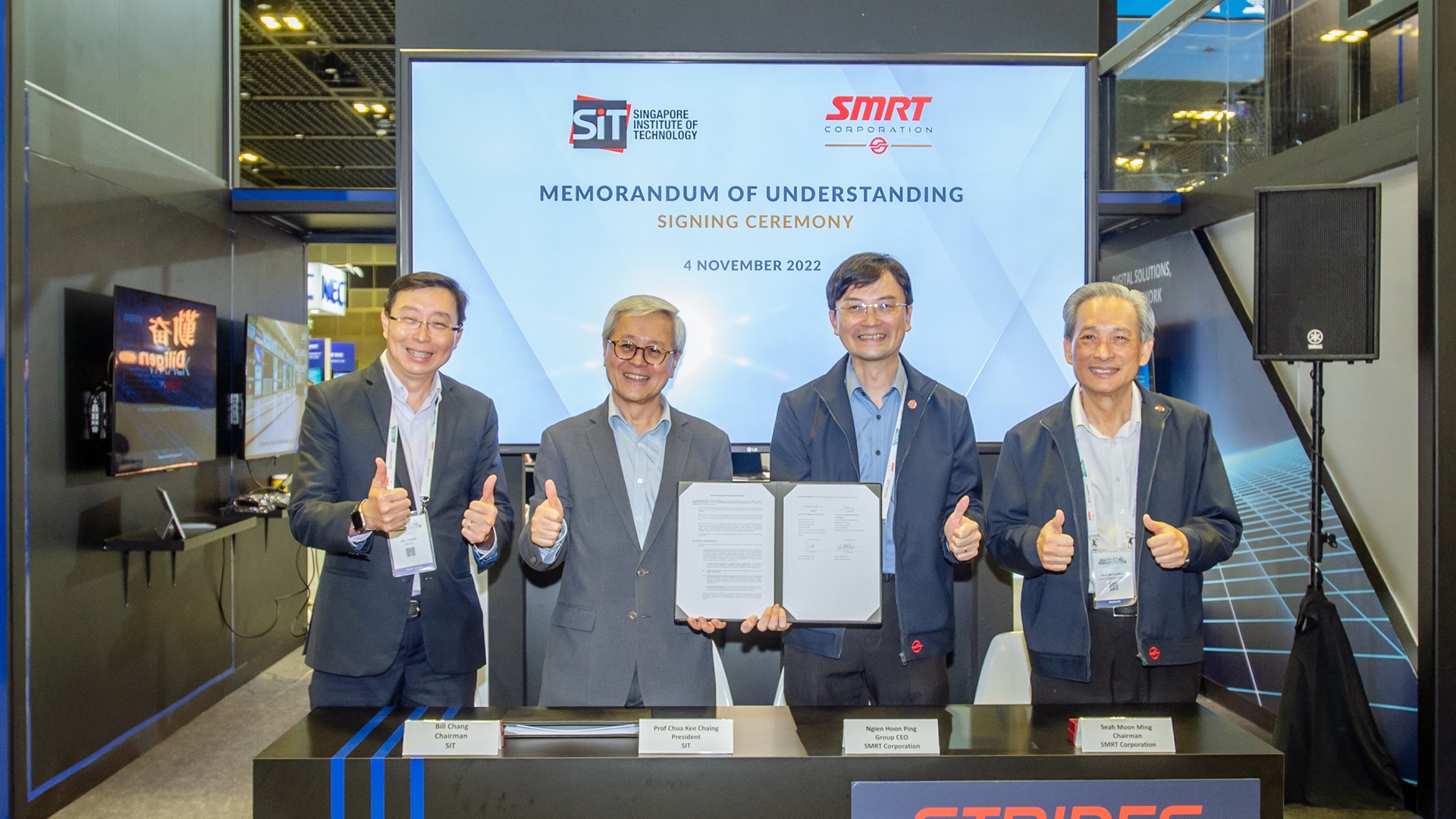 From left: Mr Bill Chang, Chairman, Board of Trustees, SIT; Prof Chua Kee Chaing, President, SIT; Mr Ngien Hoon Ping, Group CEO, SMRT Corporation; Mr Seah Moon Ming, Chairman, SMRT Corporation. (Photo: SMRT Corporation)
SMRT Corporation Ltd (SMRT) and the Singapore Institute of Technology (SIT) today signed a Memorandum of Understanding (MoU) to strengthen their research and development collaboration for the advancement of Singapore's transport industry through engineering and technological innovation. 
A highlight of the collaboration is the building of the SMRT-SIT Transport Living Lab (TLL), an extension of SMRT's Engineering group's capabilities and resources committed to providing solutions to the needs of the land transport industry. Through TLL, SIT students and academic staff will co-create solutions with SMRT engineers to address operational problems. The lab will leverage SMRT's experience as a public transport operator and SIT's engineering capabilities to develop and implement solutions for real-world problems. The timeline for these projects from commencement to implementation is targeted to be about a year. SIT undergraduates on their Integrated Work Study Programme (IWSP), as well as those working on their final-year capstone projects will gain opportunities to work on TLL projects. 
Two TLL projects in the pipeline are: (a) Smart profiling of bus captains' driving performance, which uses data analytics and leading indicators to identify bus captains for targeted retraining; and (b) Smart rostering of bus captains, which aims to optimise bus captain schedules to improve fatigue management and driving safety. 
The SMRT-SIT collaboration will also explore applied research opportunities. These projects will take two or more years to complete. Projects being explored include those in condition-based and predictive rail maintenance, condition-monitoring of critical bus components for optimal life-cycle replacement, and the optimal mobile charging of electric vehicles. 
Another key area of collaboration between SMRT and SIT under the MoU is the building of a learning ecosystem to continually deepen competencies of SIT academic staff, students and SMRT employees. Every year, SMRT receives approximately 15 to 20 interns from SIT. Interns who meet the requirements will be offered the opportunity to join SMRT as full-time staff, with their eight to 12-month IWSP counted as part of their full-time service in the company. This year, 12 out of 13 undergraduates accepted job offers from SMRT upon completion of their IWSP. Moving forward, graduating students who join SMRT will also have the time spent in their SMRT-sponsored final-year project count towards their full-time work experience.
To encourage excellence in learning, SMRT will continue to recognise outstanding students through the "SMRT Outstanding Student Award in Sustainable Infrastructure Engineering (Land)". SMRT has been supporting this award since 2018. Additionally, SMRT Chairman, Mr Seah Moon Ming will set up the "Seah Moon Ming Yearly Performance Award in Sustainable Infrastructure Engineering (Land)" prize in his personal capacity, to be presented to the best first-year student in the programme from the current academic year 2022/2023. 
Under the MoU, SMRT and SIT will work towards enhancing the teaching and learning environments for staff of both organisations. SIT academic staff will have opportunities to be attached to SMRT to acquire up-to-date industry practices. Both SMRT and SIT will co-create a new Continuing Education pathway whereby SMRT employees with relevant engineering degrees who have obtained their Post Graduate Certificate in SIT can gain credit towards an industrial master's degree. When they complete a thesis on an industry research project related to SMRT, they can qualify for the Master of Engineering degree. 
The MoU was signed today by Mr Ngien Hoon Ping, Group Chief Executive Officer of SMRT, and Professor Chua Kee Chaing, President of SIT, at the LTA-UITP Singapore International Transport Congress and Exhibition at Suntec Singapore. Witnessing the signing ceremony were Mr Seah Moon Ming, Chairman of SMRT, and Mr Bill Chang, Chairman of SIT's Board of Trustees. 
Mr Ngien said: "SMRT is excited to leverage the research expertise of SIT's academic staff to enhance our business and operations. SIT's researchers will be able to apply their capabilities in real-world situations to improve safety, productivity and sustainability in an urban transit environment. For SIT's final-year students, the Transport Living Lab is a place where they could see their final-year projects find real-world deployment. SMRT is also keen to offer SIT graduates attractive career opportunities in land transport." 
Prof Chua said: "As Singapore's University of Applied Learning, we produce graduates who are equipped with relevant skill sets to support the land transport sector and other industries. The wide-ranging partnership with SMRT, which extends across pre-employment, continuing education training, research and staff exchange will allow both SIT academic staff, students and SMRT staff to master critical skills required to future proof our public transport sector."
About SMRT Corporation Ltd 
SMRT Corporation Ltd (SMRT) is a public transport services provider. Our primary business is to manage and operate train services on the North-South Line, East-West Line, the Circle Line, the new Thomson-East Coast Line and the Bukit Panjang Light Rail Transit. This is complemented by our bus, taxi and private hire vehicle services. 
We have set our core values as Respect, Integrity, Safety & Service, and Excellence. SMRT is committed to provide safe, reliable and comfortable service for our commuters.
About the Singapore Institute of Technology 
The Singapore Institute of Technology (SIT) is Singapore's first University of Applied Learning, offering industry-relevant degree programmes that prepare its graduates to be work- and future-ready professionals. Its mission is to maximise the potential of its learners and to innovate with industry, through an integrated applied learning and research approach, so as to contribute to the economy and society. 
The University's unique pedagogy integrates work and study, embracing authentic learning in a real-world environment through collaborations with key strategic partners. Its focus on applied research with business impact is aimed at helping industry innovate and grow. Targeted to be ready in 2024, SIT's centralised campus within the larger Punggol Digital District will feature a vibrant learning environment where academia and industry will be tightly integrated with the community. 
For more information, visit www.SingaporeTech.edu.sg.