Find out how the university is promoting innovation in Singapore's fast-growing food tech sector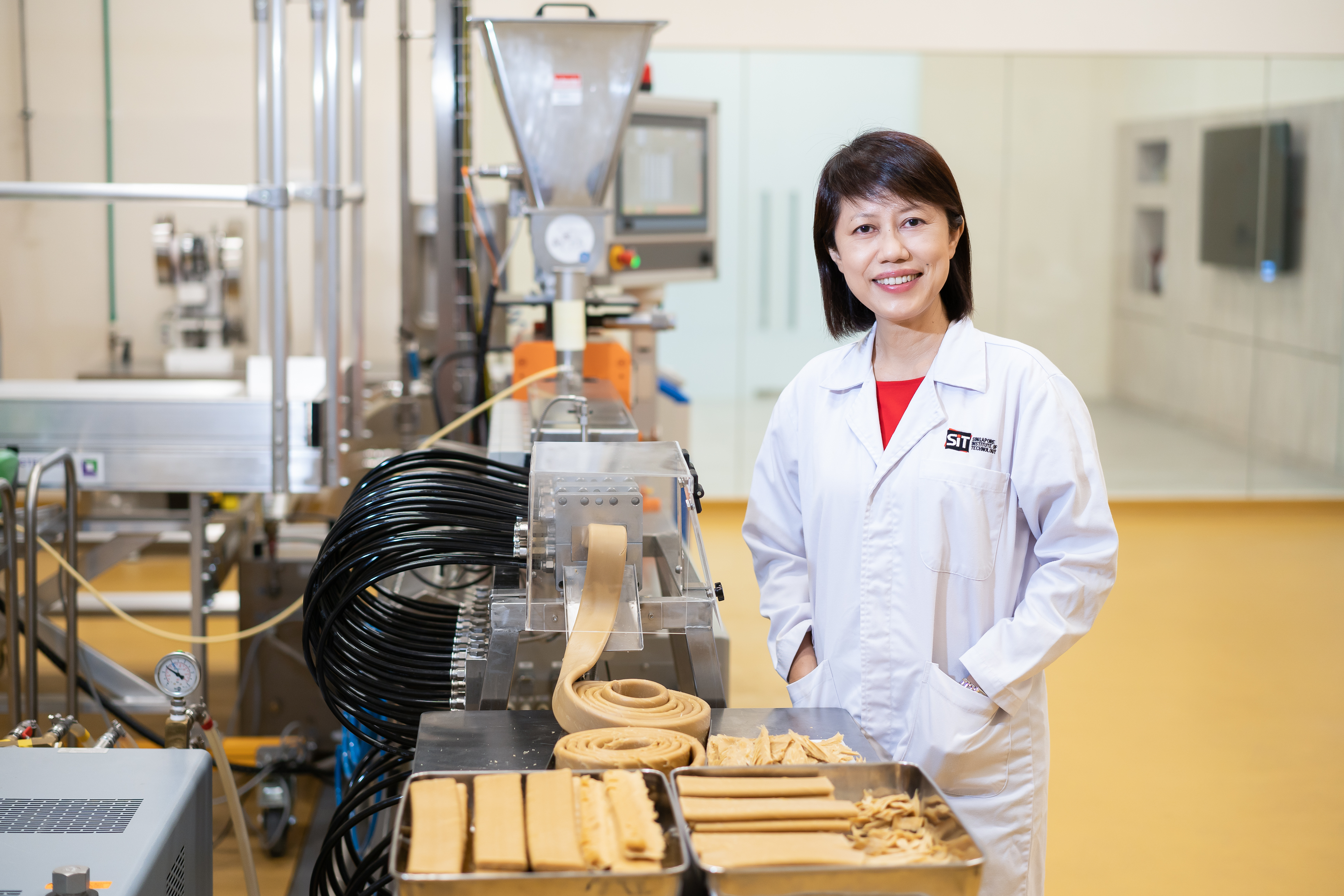 Associate Professor Lim Bee Gim, Chemical Engineering and Food Technology, SIT, and CEO of the upcoming FoodPlant, with the extruder, a specialised equipment for meat analogues.
A bowl of piping hot braised chicken, topped with a sprinkle of coriander, is served before you. The aroma arouses your senses, and an herby flavour tingles your taste buds. But the chicken catches your attention the most – tender and embellished with a perfect mix of pepper and soy sauce. So good, that you cannot tell it is, in fact, an analogue made from plants.
Plant-based meats are an increasingly common fare today. And Singaporeans are hungry for more. A study found that local consumers were seven times more interested in plant-based pork and chicken products last year compared to 2019.
These changing palates have spurred companies – and even countries like Singapore – into heavy research and development (R&D) of meat substitutes to satiate the market. Investment in tech-based agri-food start-ups worldwide rose from US$2 billion in 2013 to US$20 billion in 2020.
"We have observed a big shift to plant-based food due to its low environmental impact," said Associate Professor Lim Bee Gim, Chemical Engineering and Food Technology, SIT. "As consumers lean towards sustainable and healthier products post-COVID-19, we foresee plant-based food becoming mainstream in the next decade."
SIT is one of the Republic's driving forces in promoting such innovation within the budding food tech industry here. It aims to nurture the local talent pipeline in sustainable food production, and foster an ecosystem that develops new food products to meet evolving consumer demand.
This year, the university is strengthening its support with two fresh items on the menu.
The new food tech frontrunner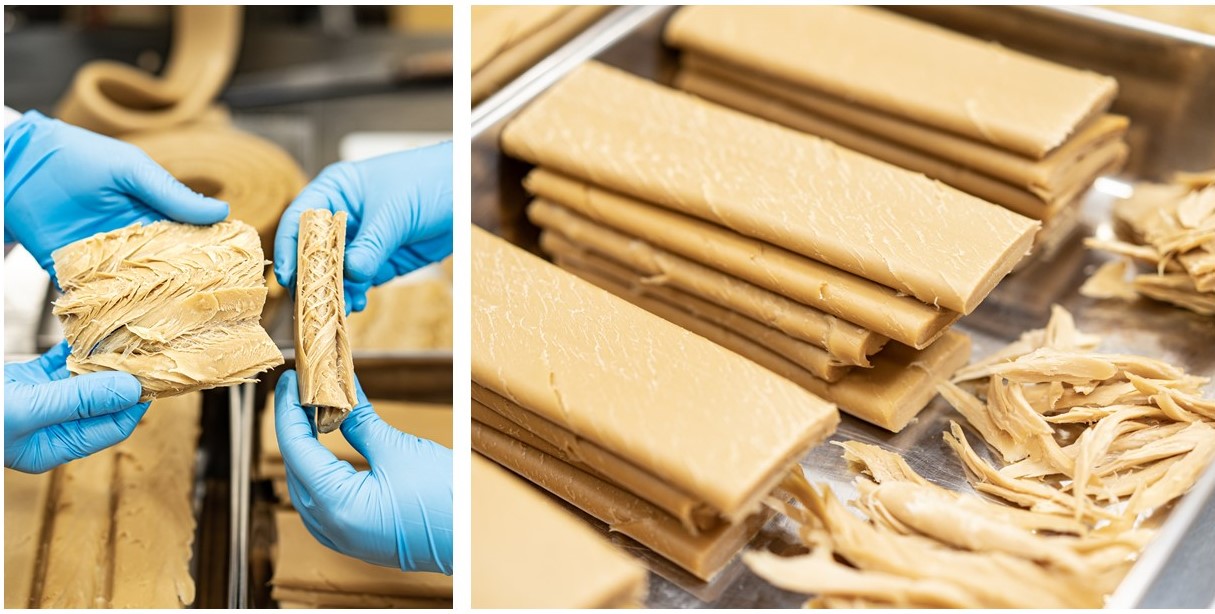 The extruder processing parameters can be adjusted to produce a wide range of meat analogues with various texture characteristics.
Leading the charge is A/Prof Lim. She recently held the specialised 'High Moisture Extrusion Technology for Meat Analogues' course1 for food tech professionals on high moisture extrusion, a process that texturises plant-based protein into viable meat alternatives. 
SIT is the first university in Singapore to offer this Continuing Education Training (CET) course to the public in a practical, hands-on setting.
"This course aims to build expertise of local food companies, and we hope to see more players adopting this technology," said A/Prof Lim, who has over 20 years of experience in the food technology industry.
HMET is essentially the first step towards producing meat analogue products – plant-based products that are similar to conventional meat in terms of texture and appearance. Plant protein such as wheat gluten, soy and pea are put through an extruder machine, which uses heat and shearing to alter the protein structure to yield product textures that resemble muscle meat – a "basic requirement" to attract more meat-lovers to convert.
Course participants underwent a mix of theory and hands-on learning on both days to better understand the extrusion process. 
"We help participants understand the theory behind HMET so they can design their own processes and make them more robust," added A/Prof Lim. "This technology is versatile as the product can be further treated to mimic different meats that can be used to create various recipes."
Her two-day course was just an appetiser of Singapore's next phase of food R&D. Aside from being an educator, she wears a second hat as Chief Executive Officer of FoodPlant2, an upcoming small batch food production facility.
A hotbed for food sustainability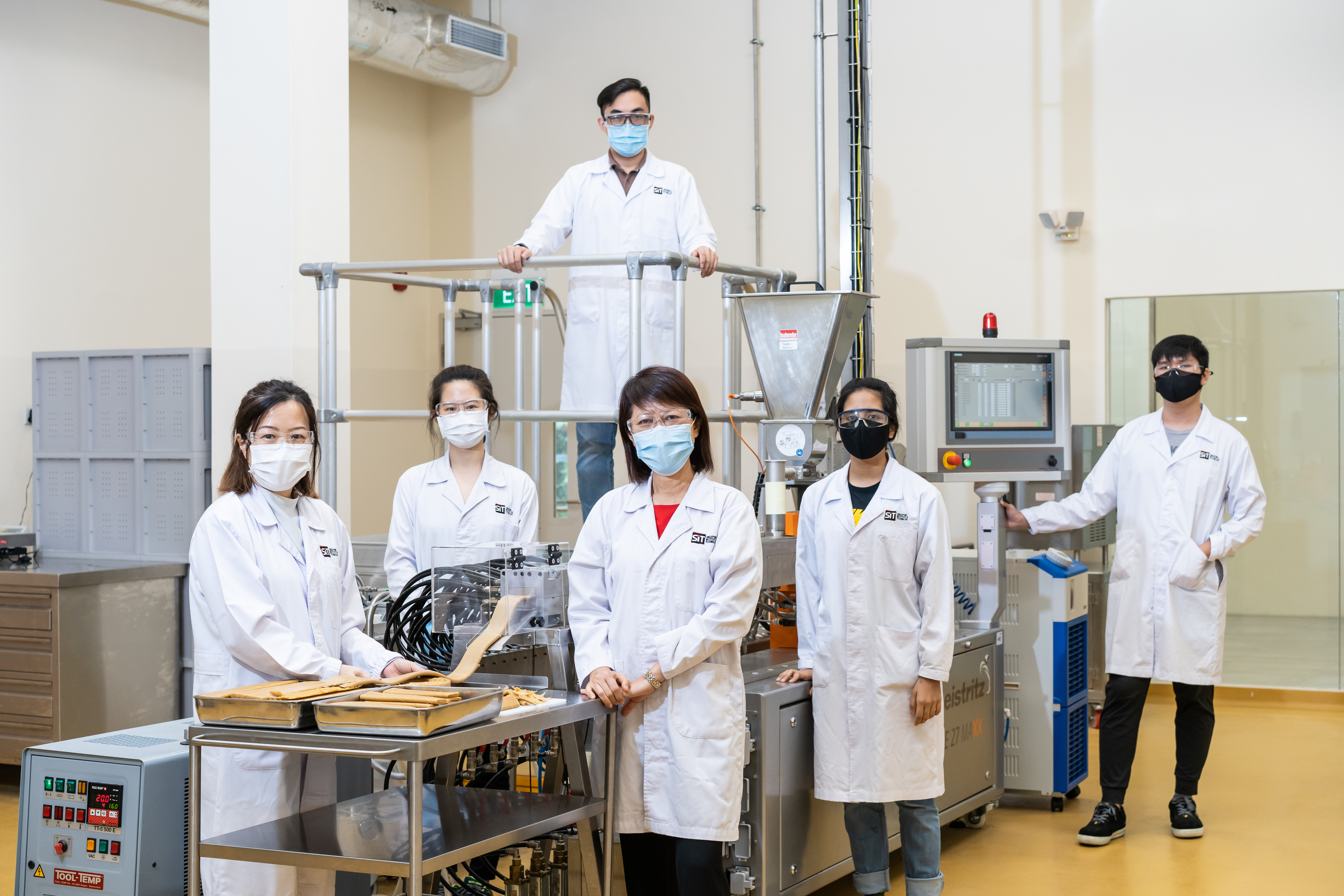 A/Prof Lim (centre) with her team (from left, front row) Fiona Lee, Deputy Head, FoodPlant, Wu Yu Yao, Research Engineer, Dhivvya Sambantham, Year 1 SITizen, Yong Jia Quan, Year 1 SITizen, and (back row) Ong Wai Peng, Research Engineer.
Food companies often grapple with challenges like expensive equipment and large minimum orders when it comes to development and scaling. FoodPlant is a shared facility run by SIT, in partnership with Enterprise Singapore and JTC, designed to reduce high opportunity and operating costs.
For example, instead of having to shell out millions, companies can use available processing equipment such as spray dryers and extruders on a pay-per-use basis. They can also develop new products in small batches without worrying about high upfront costs or meeting minimum order quantity.
Besides hardware support, FoodPlant offers consultancy services and other CET courses to help companies innovate and grow. Their maturity will, in turn boost, SIT's future partnerships with them.
FoodPlant will be officially opened in early 2022 at JTC Food Hub @ Senoko. Startups, small-and-medium sized enterprises and multinational corporations are all welcome to test their products.
These initiatives are part of Singapore's forward-looking food sustainability goals. But with Singapore aiming to produce 30 per cent of its nutritional needs by 2030, the timer is ticking. In the next decade, A/Prof Lim hopes that FoodPlant will accelerate the growth of Singapore's food industry and develop the city into Asia's leading food and nutrition hub.
"There's a concerted push towards the development and use of innovative and sustainable technologies, as well as new biotech-based food and ingredients," she said. "Food manufacturers will be playing an even more important role as they help to diversify and strengthen our food security."
-----
1 The next intake of the 'High Moisture Extrusion Technology for Meat Analogues' course is now open for 26-27 July 2021. Visit SITLEARN Professional Development for more information.
2 FoodPlant is now open to companies for membership registration, featuring pioneer membership benefits including priority bookings and discounted use of FoodPlant's facilities and consultancy services. Visit https://www.foodplant.com.sg/ for more details.