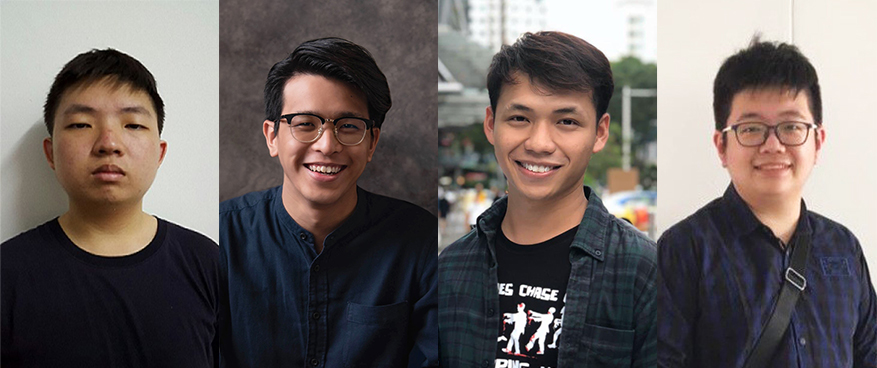 From left: Tan Phee Boon, Elson Pang, Muhammad Haikal Abdull Razak and Darren Ong
When it comes to saving lives, especially in critical conditions, timing and precision matters. For doctors involved in a Neonatal Intensive Care Unit (Neonatal ICU), it is especially stressful when it comes to treating newborn infants, since it involves – among other things – a tedious task of calculating drug measurements and implementing resuscitation procedures for extremely premature babies.
To do their jobs well, doctors also need the best tools in order to have the best chance of success – this is where a team of Year 2 Information and Communications Technology (Software Engineering) students from the Singapore Institute of Technology (SIT) comes in. What began as a student project actually became an innovative productivity tool that was actually used by doctors in the Neonatal ICU.
Students with a mission to make a positive impact on society
When it came time for a team of Software Engineering students – namely Elson Pang, Tan Phee Boon, Darren Ong, and Muhammad Haikal Abdull Razak – to pick their Year 2 project, it was an easy decision. Their first choice from a list of available projects was one with the National University Hospital's (NUH) Neonatal ICU department. "I've always wanted to do something related to healthcare, and that can have a huge impact on society," says Elson. "It's the very reason why I embarked on software engineering – because I was very passionate about helping others through ICT."
Initially, the team assumed that their mobile app was meant simply as a school project, but the team did such a great job with it that it was actually implemented by doctors in the Neonatal ICU! Dr Low Jia Ming, the doctor in charge of the students' project with NUH's Neonatal ICU, found the team easy to work with, and incredibly patient with their requests. "They went beyond the call of duty to ensure that the app could be used, and I am immensely grateful for it," said Dr Low.
High-tech and high-touch – The app that helps saves babies
Initially, the brief to the team was to come up with a mobile database to merely store medical information. However, as the brief evolved, the team later identified opportunities to increase the app's functionalities. They scoped three key workflow areas to improve on:
Minimise human error: The previous process required manual input and calculation using Excel, and the mobile app eliminates this by providing faster and better computation on the spot. In fact, the team managed to resolve the issue of computing the formula right down to the decimal point.
Offline capability: Since medication is updated very frequently, the team managed to create a database that could be updated not just on-the-go but also offline.
Portable solution: In emergencies, a mobile app with its portability is definitely an advantage. In cases of infant resuscitation, a lot of medication and tubings are required, and with the app, doctors only need to input basic details in order to generate life-saving information.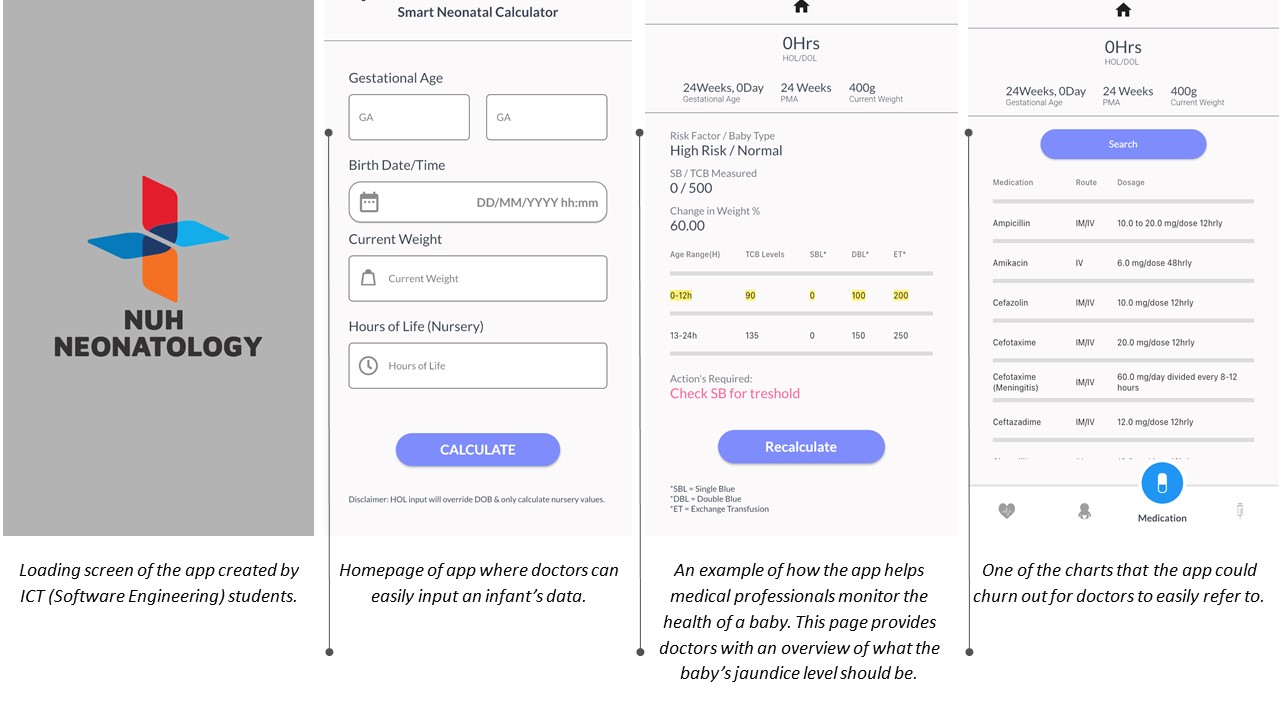 The team worked together on the app for two days a week over a period of about five months, allowing Dr Low and her medical team to pilot test the app for safety before it was rolled out in the Neonatal Department. "It was encouraging to see how everyone worked really hard on the app within the given time, despite having to conduct their research and iterations remotely," said Dr Low, referring to how all the meetings were conducted virtually last year due to COVID-19 measures.
Throughout the entire process, Elson and his teammates learned a lot about newborns, from the many faces of jaundice to the complex infant resuscitation process. At the same time, they also learned how to work within an agile framework, with each member handling their own verticals
The entire project sees a culmination of what the team has learned by Year 2 of their Software Engineering degree, including Mobile App Development, Human-Computer Interaction, and Intro to Software Engineering. These modules helped the team create an intuitive, easy-to-use User Interface (UI) within an agile framework methodology.
Elson and his teammates show us just one way Software Engineering can help build bridge healthcare and ICT to create a meaningful impact on lives.
Be part of the meaningful ICT community
You don't have to be passionate about just healthcare to be able to wield your technical skills – ICT is prevalent in almost every industry, from finance and hospitality to manufacturing and education. Encompassing the design, development, operation, analysis, maintenance, and management of software, ICT is a permanent fixture in the world of today – and well into tomorrow.
If you love a challenge, then software engineering is there to test your problem-solving skills, allowing you to get creative with code. What's more, ICT projects provide excellent opportunities to develop skills as a team player in roles such as Software Engineer, Software Systems Architect, as well as Mobile, Web and Cloud Developer.
With Singapore developing as a Smart Nation, software engineers are definitely in-demand. According to the Economic Development Board of Singapore (EDB), some 50,000 ICT jobs are expected to be created in Singapore in the next few years.
The Bachelor of Engineering in Information and Communications Technology (Software Engineering) offered by SIT aims to produce best-in-class software engineers. Throughout their studies, students will be given an industry-focused and practice-oriented education, with ample opportunities to develop software across a range of devices and systems. High-demand subjects, such as secured software development, mobile computing, cloud-solution architecting, and big data analytics will also be covered.
SIT's unique applied learning pedagogy means that all students get to put their skills to the test in the real world. In the second year, students will work with their team members to undertake a three-month Integrative Team Project (ITP), as well as a 12-month-long Integrated Work Study Programme (IWSP). Both components enable students to integrate theory and practice with industry partners to further hone their skills in the real world. For ITP, students such as Elson, Darren, Haikal and Phee Boon are tasked to work on cutting-edge computing projects as a team – teamwork being a crucial skill set for all Software Engineers and Information Security professionals.
The BEng in Information and Communications Technology (Software Engineering) degree is a four-year direct honours degree programme. 
This article first appeared on Campus.