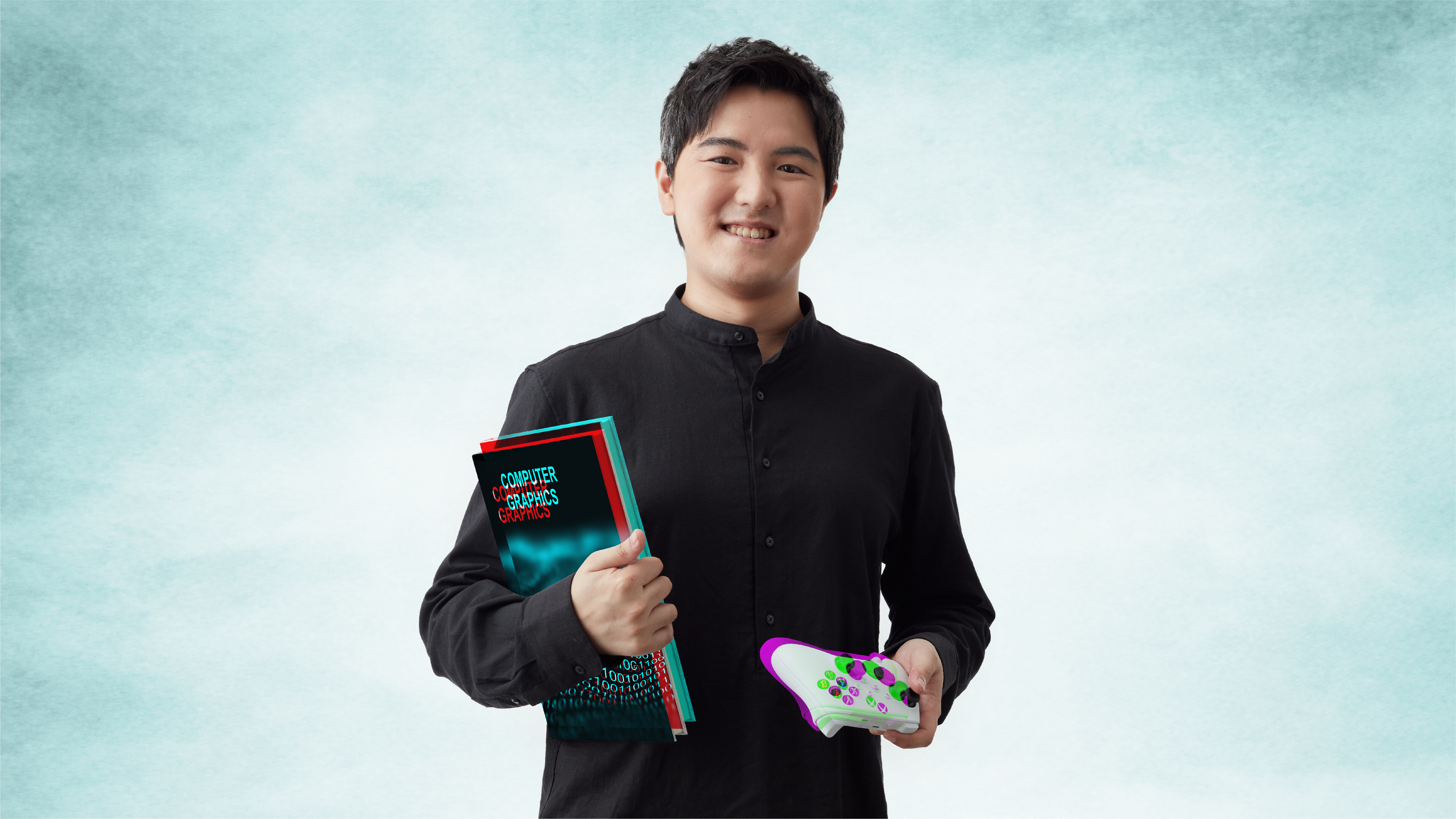 After countless nights of burning the midnight oil to develop a gaming project with his classmates, young Howard Sin's efforts finally paid off – their game Potawatomi won an internal award from DigiPen Institute of Technology Singapore (DigiPen Singapore), and was shortlisted as a finalist in the student category of the prestigious Independent Games Festival China in 2012.
For Howard, games have always been more than just playthings – they are platforms where science and art collide to push the boundaries of knowledge.
Thus it came as no surprise when the avid gamer decided to take up a degree in Computer Science in Real-Time Interactive Simulation, now jointly offered by Singapore Institute of Technology (SIT) and DigiPen (Singapore).
"I have a passion for graphics and programming, so when SIT and DigiPen (Singapore) launched the degree programme, my choice of programme was a no-brainer," he explained.
It was indeed the rewarding experience he had expected. The university's emphasis on integrating theory with practical learning equipped him with the necessary skills to excel in the industry after graduation, even enabling him to set up his own gaming company in 2015.
But after an adjunct teaching stint, he came to a realisation – as eye-opening as managing his own gaming company was, his true calling lay in teaching. Inspired by the sheer dedication of his former mentors, and eager to do the same for the next generation of aspiring students, he has now come full circle as a lecturer at DigiPen (Singapore).
Teaching the rules of the game
Howard knows intimately the paces which his students are being put through. By the time he had graduated from university, he had completed at least four large-scale projects.
While most institutions offer a single Final Year Project (FYP) near the end of a student's education, SIT and DigiPen (Singapore) stay ahead of the pack by offering such opportunities on a yearly basis, at minimum.
The hands-on, multidisciplinary curriculum demonstrates their firm commitment to applied learning.
SIT undergraduates, more fondly known as SITizens, have ample opportunities to develop their own projects and work with people from other disciplines.
Educating the future
As a SITizen, Howard has always believed in giving back to society. But the idea of being 'Grounded in the Community' — a key trait of the SIT-DNA — took on a whole new meaning when he assumed the role of an adjunct lecturer at a local polytechnic in 2018. Apart from imparting knowledge to young minds, he relished the idea of being able to mould the future leaders of tomorrow.
Now a full-time lecturer at DigiPen (Singapore), Howard teaches a wide array of modules, ranging from programming languages to advanced computer graphics and Continuing Education modules.
Inspired by his former lecturers who were always supportive and willing to go the extra mile for their students, he emulates them as much as possible by making himself readily available beyond teaching hours, to brainstorm ideas and troubleshoot issues.
And yet, a typical day of teaching does not simply involve imparting industry knowledge and working closely with his students. Coming from Singapore's University of Applied Learning also meant that he had to constantly improve himself by staying on top of global trends in the technology sphere.
At the end of the day, he hopes that his students — both young and old — dare to dream and continue to embody the determination of a SITizen.
"There's a lot of untapped creative potential hidden in Singapore society," he observed, optimistic about the future of the local industry.
"I hope SIT and DigiPen (Singapore) students will continue to be bold and push the boundaries of what technology can achieve."