Undergraduates at SIT-Massey University Food Technology programme investigate problems faced by the industry, and offer practical solutions as part of their applied learning education.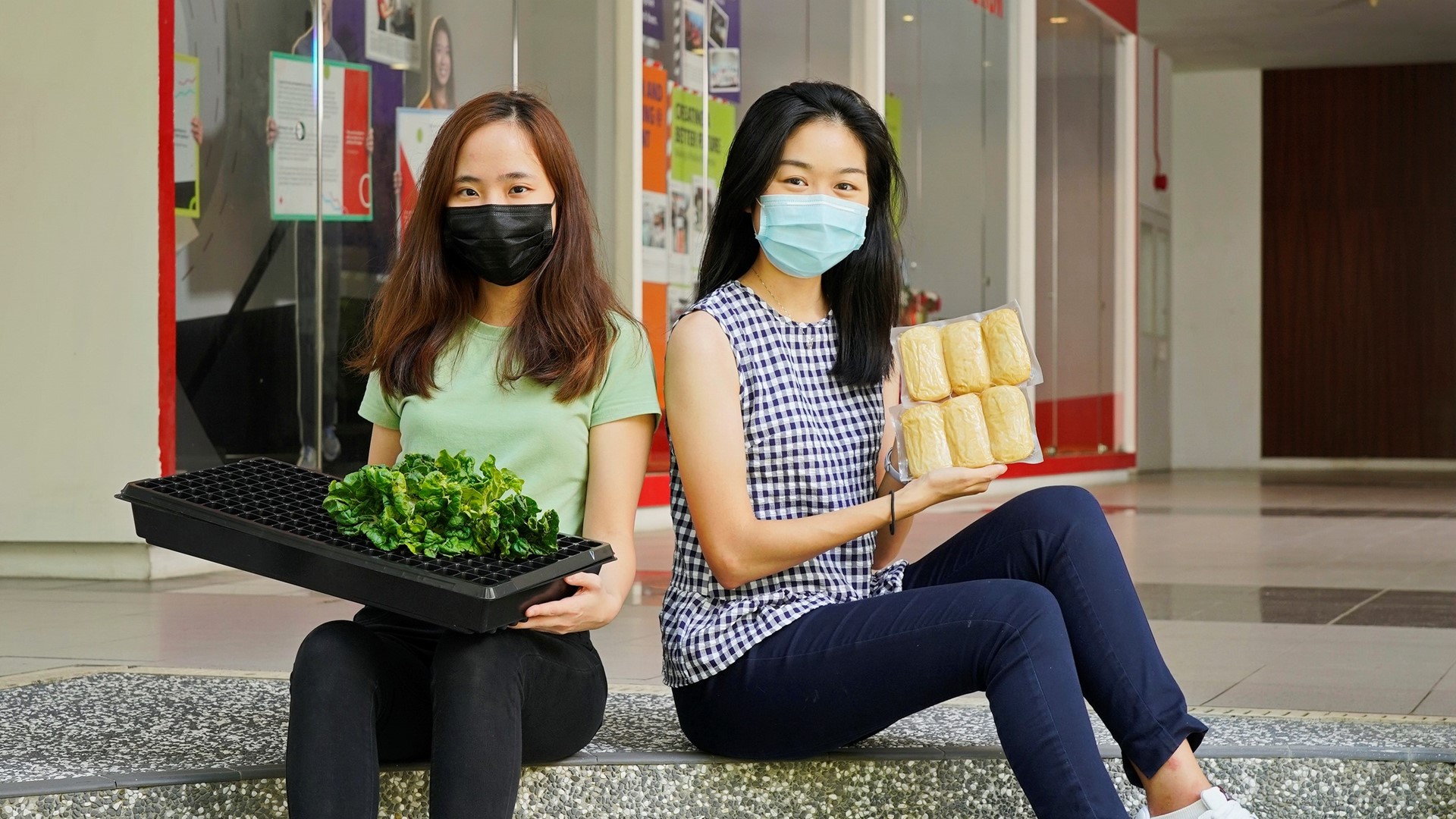 SIT-Massey University Food Technology undergraduates (from left) Cheryl Ng and Poh Mei Chi recently completed a fulfilling seven-month industry attachment where they applied theoretical knowledge and critical problem-solving skills to real-world situations.
At the factory of leading food manufacturer Thong Siek Global in Woodlands, a significant quantity of fish cakes was turning out irregularly shaped or with cracks in them.
It was a pressing problem as any defect meant the product could no longer be sold, resulting in wastage and loss in profit. A solution was urgently needed.
Final-year Food Technology undergraduate Poh Mei Chi, who was attached to the company as part of SIT's Integrated Work Study Programme (IWSP), a distinctive feature of the university's curriculum, was roped in to help solve the issue.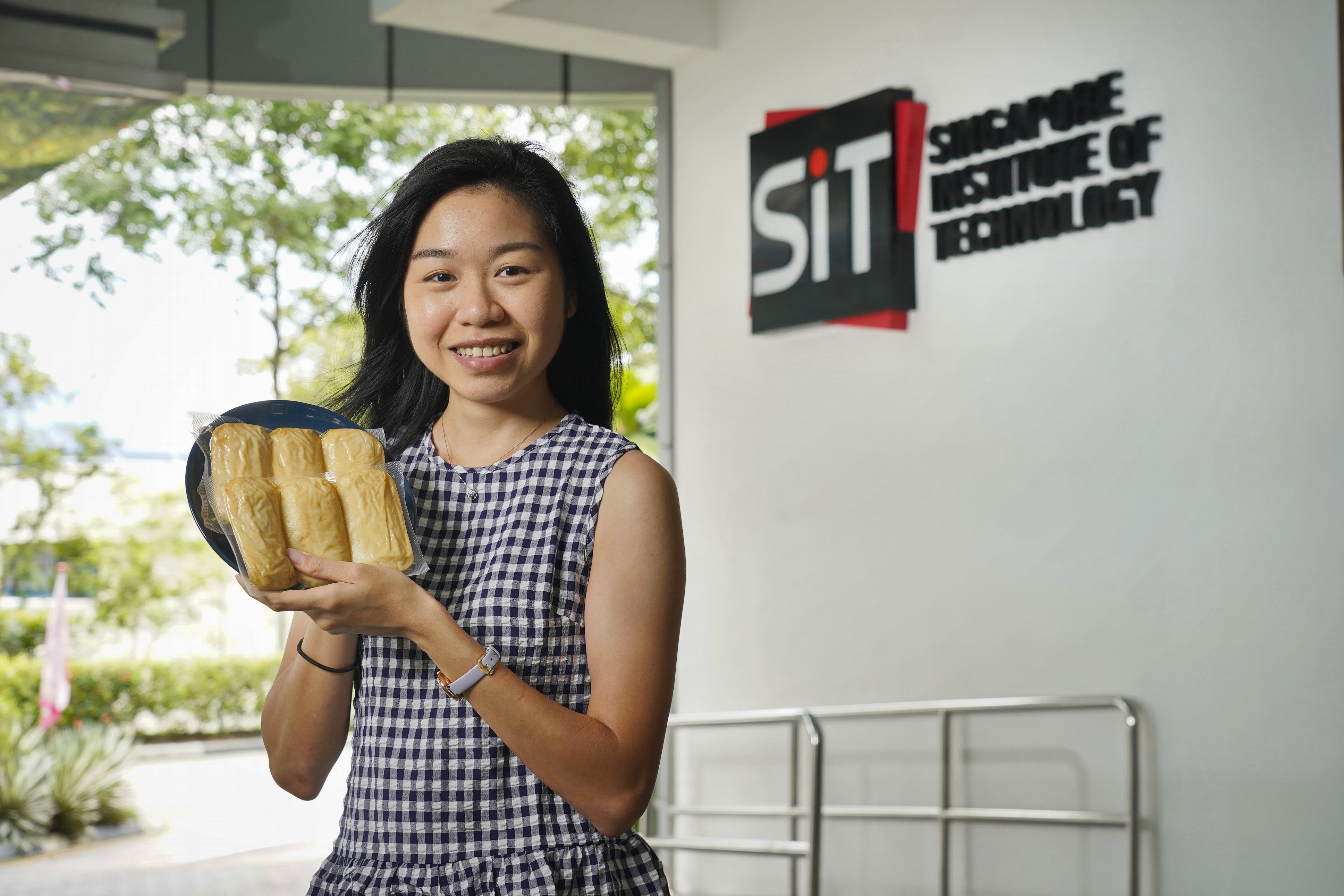 Mei Chi helped her IWSP employer achieve a reduction of production wastage by nearly 10 times, thanks to her novel recommendations.
"When I was first presented with the problem, which was the high occurrence of physical defects in fried goods, I was uncertain of how and where to start! This was my first time being exposed to a real-world industry problem that could have arisen from a myriad of issues," said Mei Chi.
But soon, the skills and knowledge she learnt at SIT came to mind. She took a systematic approach to dissect the problem, starting with a thorough assessment of the production line.
After heading down to the company's 150,000 sq ft headquarters in Senoko Way, she performed a quantitative study of the number of rejected fish cakes to better understand the issues at hand. This also allowed her to identify possible reasons for the defects.
It came down to two problem areas: the machine and processing method. The fish cakes were stacking up at the point of extrusion and getting cut by the edges of the machine.
The solution: a water pump. By installing it at the point of extrusion, the fish cakes could be dispersed and prevented from reaching the edges and corners of the equipment.
"Interestingly, the positive impact of the pump was immediate," she said. Within two weeks of the water pump installation, the percentage of rejected fish cakes was reduced by close to 10 times.
Giving Nai Bai Yield a Boost
For fellow final-year SITizen Cheryl Ng Jia Min, her IWSP project was to improve the yield of the vegetable nai bai for local agri-tech company Archisen.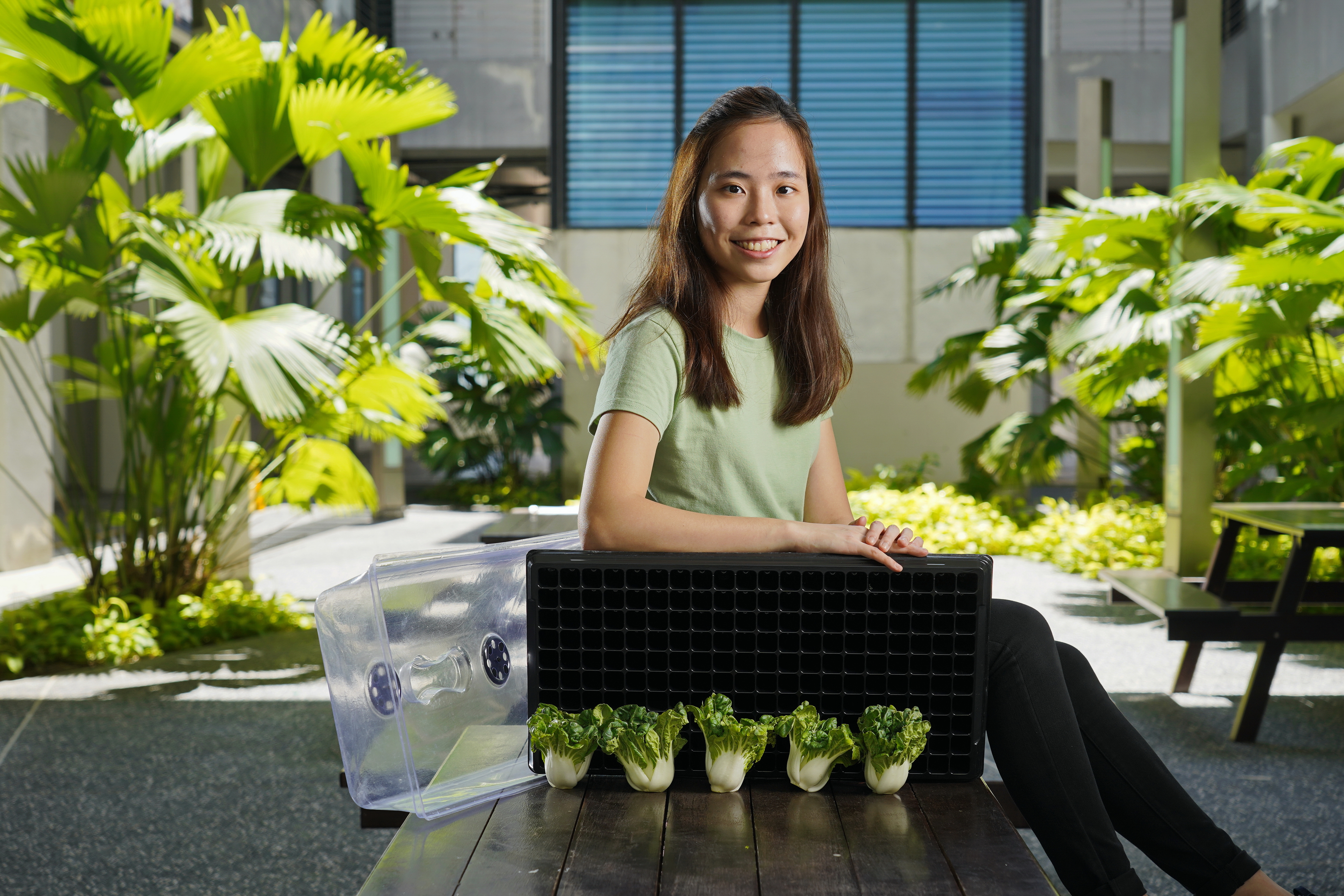 As part of her proposed solutions to improve the growth rate of nai bai, Cheryl came up with design improvements of seed germination trays.
To determine the germination rate of nai bai, she charted the germination growth rate from the start to the end of the germination period. She then listed in detail the processes and growing conditions used to germinate the vegetable to identify possible causes for poor growth.
Several issues were uncovered, including irregular watering, and the improper pre-treatment of seeds and incorrect seeding techniques.
She researched and countered these problems by introducing a watering schedule, implementing various pre-treatment techniques, and creating a seeding guide.
"Implementing countermeasures that are effective and easy to act on required intense thought processes and research. Overall, it took me 1.5 months to see the results," she said.
The project was a success, with germination improving significantly.
From Theory to Application
Mei Chi and Cheryl credit the success of their IWSP projects to a combination of theoretical and hands-on learning as part of SIT's applied learning focus, as well as emphasis on transferable skills such as creative thinking and problem-solving.
As part of their curriculum, they were provided with a strong foundation in food science and food engineering as well as a heavy emphasis on practical experience and critical evaluation. Students also gained specialised knowledge in areas such as process improvement, design of experiments, and rapid prototyping to broaden their skill sets.
Programme Leader of the Food Technology programme, Associate Professor Wang Mei Yin, said applied learning is a cornerstone of the programmes at SIT, offering students an opportunity to practice what they have learnt. This experiential learning takes the form of practical sessions within the modules, integrated assessments, and working on industry problem statements as part of final-year projects.
IWSP, an integral and compulsory component of SIT programmes, reinforces the applied learning pedagogy by immersing students in the industry, allowing them to practice their technical skills and develop their professional competencies under real-world circumstances. The extended duration of the attachment also allows employers to scope out more meaningful job tasks and get the students involved in bigger projects.
Cheryl said the job attachment tested her capabilities to work under pressure and exposed her to the challenges of the working world. "This has certainly improved my time management and problem-solving skills, which would prepare me for my future career," she said.
Meanwhile, Mei Chi said the experience has added to her personal growth. "I found myself challenging the boundaries of my critical thinking and resilience, accomplishing what I thought I could not."
The first of its kind in Singapore, the Bachelor of Food Technology is a four-year direct honours programme jointly offered by SIT and Massey University. The programme includes a seven-month work attachment component under the Integrated Work Study Programme (IWSP), a distinctive feature of SIT programmes.