Aspiring marketeer Phua Yan Er is not your average intern. Her IWSP stint saw her exceeding expectations and clinching industry accolades.
More often than not, students on internships are relegated to performing mundane work tasks.  For 22-year-old Phua Yan Er, however, the reality could not have been further from the truth.
For nine months between August 2022 and April 2023, her experience as a marketing intern at 'Palo Alto Networks' (PANW) Singapore office saw her rising up to the challenge of handling multiple projects. She even won an industry award for the global cybersecurity company.
"The sense of recognition and accomplishment I experienced from that win was truly gratifying," said Yan Er. "My presence in the company was made visible even to the C-suite level." She also appreciated being valued very much like a full-time employee.
 The final-year Digital Communications and Integrated Media student had opted to pursue her work attachment at PANW as part of the Singapore Institute of Technology's (SIT) Integrated Work Study Programme (IWSP).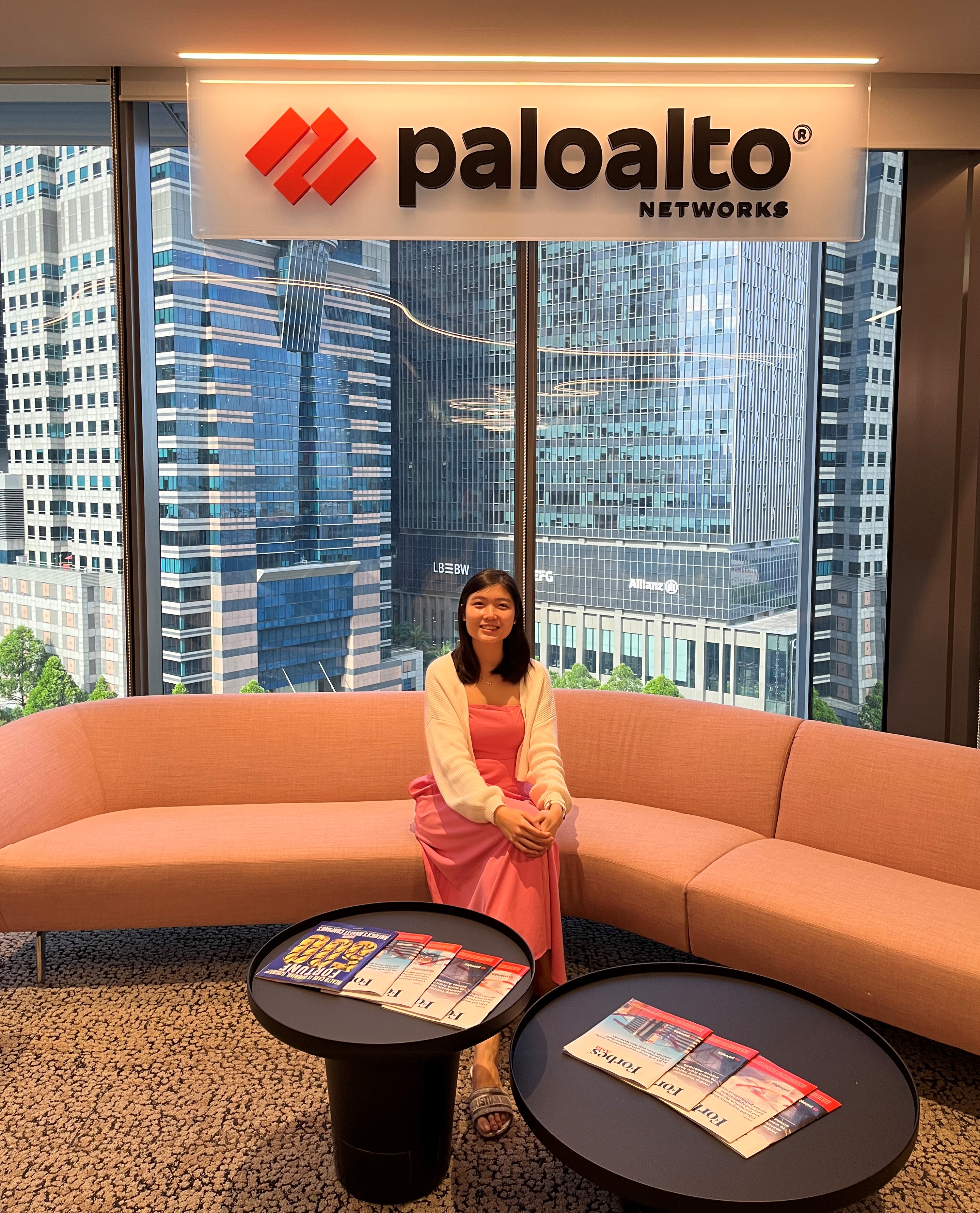 Phua Yan Er had always wanted to experience working in a multinational corporation like Palo Alto Networks and seized the opportunity when she received the traineeship offer. (Photo: Phua Yan Er)
A unique feature of SIT's degree programmes, the IWSP sees students undertaking eight to 12 months of work that is relevant to their course of study. It allows them to integrate what they have learnt with industry experience, and develop deep specialist skills in their chosen field.
 Securing the position with PANW was no easy feat. The selection process was rigorous: three rounds of interviews, with each requiring extensive preparation.
"At each round, I had to pitch why I was the best person for this role. I had to understand the company, its operations, and familiarise myself with the specific job requirements," Yan Er recalled.
 When PANW's offer came through, she was elated but found herself facing a difficult decision – she had received three other offers but ultimately chose PANW. "I was drawn to the field marketing role that I was being offered, and to the firm's welcoming and friendly culture," she said.
Turn Knowledge into Action
Yan Er anticipated a fast-paced, dynamic working environment at PANW and the reality was exactly that. She was given opportunities to learn many new skills and was exposed to a wide range of tasks.
One of the highlights of the IWSP stint for her was the opportunity to spearhead various marketing programmes. She took on a marketing pitch challenge and submitted one of the company's successfully launched programme for a marketing award.
 "Working at PANW was personally fulfilling for me. I was kept engaged and stimulated, and the various tasks allowed me to exercise my creativity while taking ownership of my work," she said.
 Being "surrounded by some of the brightest minds in the industry" also pushed her to do better.
"My field marketing teammates guided me from the get-go, while my supervisor provided invaluable mentorship throughout and, in some instances, empowered me to make decisions. This experience nurtured my growth mindset and positively influenced both my personal and professional development," she added.
Yan Er credits her SIT education for preparing her well for the workplace, especially in the areas of data analytics and project management.
For instance, the Data Visualisation module equipped her with the skills needed to effectively visualise and interpret data, as her role required her to track, extract, and filter the data into a digestible format for analysis. She was also able to apply what she had learnt in this module to data presentation in the company's monthly marketing reports.
During her stint, she was closely involved with various marketing events, some of which required extensive coordination with multiple external agencies and applied what she had learnt from the Project Management module in SIT.
She was tasked with a wide range of responsibilities – from setting up booths and creating surveys to developing event agendas and producing event swag – which honed her project management skills.
Throughout her time at PANW, she was also required to produce various types of content, from LinkedIn posts to website landing pages and electronic direct mails.
For instance, she had to learn to write with the company's target audience in mind, and convince them that PANW's product offerings fulfilled their needs.
She is now confident enough to handle even impromptu copywriting tasks. "On a few occasions, I stepped up and took the initiative to write the copy for company events, as well as for a presentation during a large-scale event."
Contributing Towards a Big Win
The biggest highlight of Yan Er's IWSP experience came at the esteemed Marketing- Interactive Marketing Events Awards 2022, where the submission she put together to showcase the Palo Alto Networks Cyber Safe Kids programme bagged a Gold Award for 'Best Event for a Targeted Community', and also clinched a Finalist Award for 'Best Community Event'.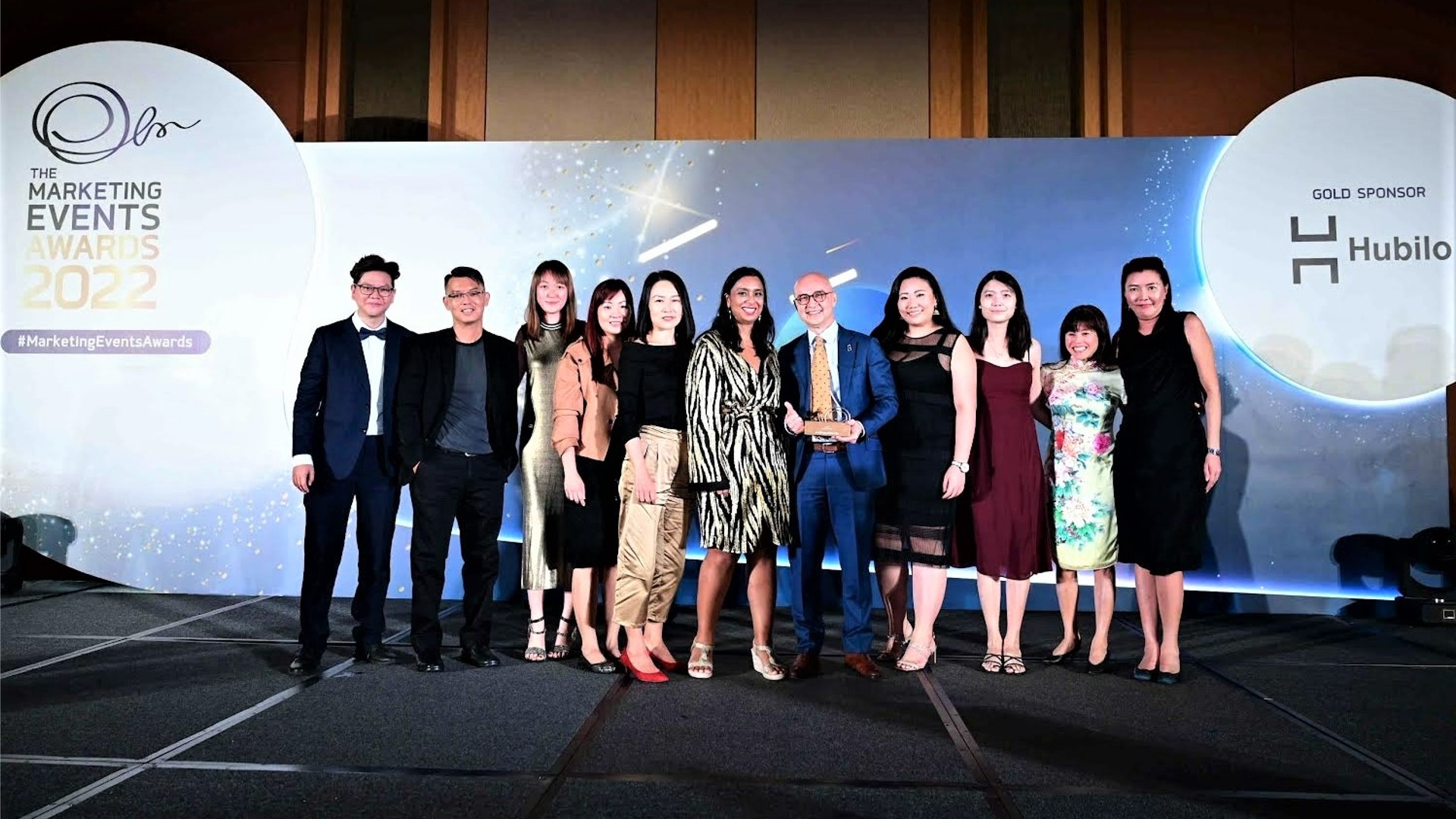 Winning two awards in the Marketing-Interactive Marketing Events Awards 2022 was a key highlight of Yan Er's (third from right) IWSP experience at Palo Alto Networks. (Photo: Phua Yan Er)
"My proficiency in copywriting played a crucial role in this award submission," she said. To showcase the impact of the programme, she took the initiative to craft a comprehensive slide deck that effectively presented the problem, strategy, execution, and results.
"This endeavour allowed me to demonstrate my ability to assimilate and organise a vast amount of information, while conveying the programme's achievements in a compelling and engaging manner."
PANW was so impressed by Yan Er's versatile aptitude and attitude that it offered to extend her work attachment. She is now working with the company on a part-time basis while completing her final semester at SIT. 
"Yan Er consistently showcased a positive and humble mindset, eagerness to learn and adapt, and drive to be successful. She is a dependable team member," said Sharon Ng, Head of ASEAN Marketing, PANW, who mentored Yan Er.
For Yan Er, she values a purpose-driven career. "The importance of cybersecurity is expected to grow even more. The mission of Palo Alto Networks resonates with me, and I want to work in a company like this which makes a real-world impact," said Yan Er.