From preparing for celebrity arrivals to keeping a cool head with nasty guests, Sabrina Koh has seen it all – but her journey is only just beginning.
Nervousness thrummed through Sabrina Koh Chu Ling as she sat in the interview room with the assistant executive housekeeper, front office manager and Human Resources representative of voco Orchard Singapore Hotel.
They quizzed the then second-year Hospitality Business student at the Singapore Institute of Technology (SIT) about her background, interests and why she wanted to join the voco team as a trainee. The stakes were understandably high. The lifestyle hotel, managed by the prestigious IHG Hotels & Resorts, opened its doors at the start of 2022 after a rebranding. It was out to impress, and every host, how voco terms its employees, would be key to the effort.
Sabrina was up for the challenge. In accepting the offer, she would be committing eight months to the hotel as part of her Integrated Work Study Programme (IWSP), a core component of SIT degree programmes that allows students to apply their theoretical knowledge in real-world settings through work attachment.
"I asked to be rotated so that I could learn about the operational side of the hotel," said Sabrina, who wanted to maximise her time in voco Orchard by learning both front and back office operations.
Sabrina learned the ropes of housekeeping in the first four months of her IWSP, which started in May 2022.
From Celebrity Hospitality to Laundry Tagging
Sabrina joined the hotel in the thick of a manpower crunch – as the industry was recovering from the onset of COVID-19. This meant they had more rooms to clean in a single day, but Sabrina was up to the task.
"I realised how difficult the room attendant's job is," Sabrina said. It was to be the first of seven positions she took on as part of her job rotation. Rotating between duties as a room attendant, linen attendant, laundry attendant, runner, and assistant housekeeper painted the 'big picture' of housekeeping operations for Sabrina.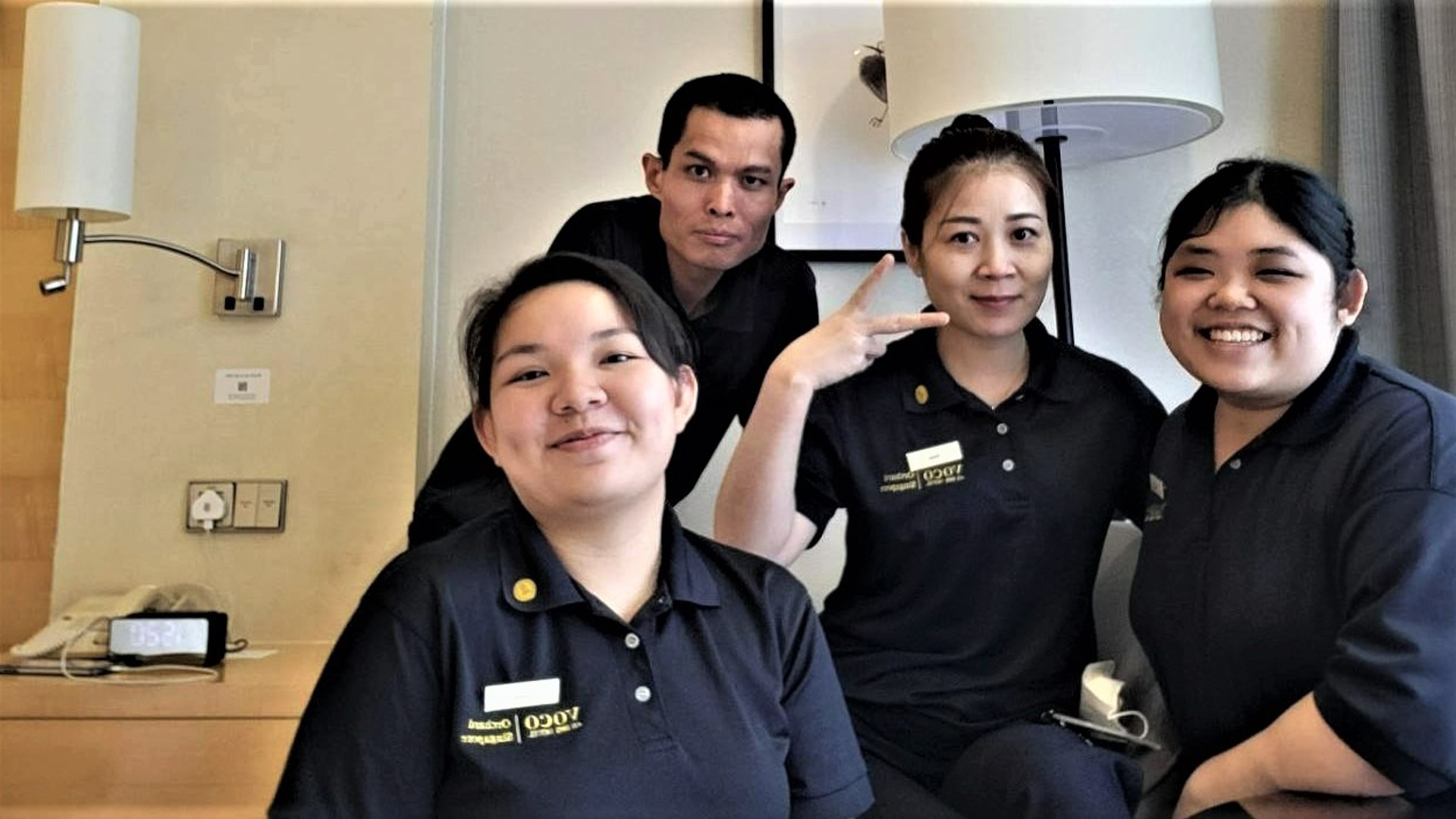 Sabrina (front) with her housekeeping colleagues from voco Orchard Singapore. She enjoyed the various positions in the backend operations of the hotel during the first four months of her work attachment. (Photo: voco Orchard Singapore)
Apart from the usual tasks of stripping bedsheets, changing towels and restocking rooms, special care had to be taken for VIP suites.
She recalled when celebrity rapper Jackson Wang, who was in town to promote his own fashion level TEAM WANG, stayed at the hotel in August last year. "Even up till the last minute, we were cleaning minute dust particles from the room and touching it up to prepare for his arrival," she said. Since a video interview was to be conducted in the room, everything from floral arrangements to 'Pepsi' soft drink – which Wang endorses – in the minibar had to be in place.
At times, Sabrina spotted areas for improvement and took the initiative to plug those gaps. For instance, while working in the in-house laundry department, she noticed that a lack of standardisation in the colour-coding system was causing confusion in the sorting of laundry. To resolve the issue, she standardised the abbreviations for the colours and shared with the team.
Learning on the Job
After spending 16 weeks performing back-end duties, Sabrina moved to a front-facing role. Joining the front office as a front office executive would mean learning a whole new set of skills, which includes mastering the hotel management system and soft skills to provide service to guests.
"On my first day, the crowd at the check-in counter just kept on coming," said Sabrina. "I stood next to my mentor and observed the modus operandi. Being observant helps." Sabrina had learnt the basics of a typical hotel management system during her time in SIT, and with her colleagues' support, she could perform the front office duties effectively.
Sometimes, she had to react on the fly. "During the FIFA World Cup tournament last year, two drunk guests who were watching a 'live' game got into a disagreement," she recalled, adding that they were about to get into a physical fight. "I calmed them down and figured out what went wrong. It was an interesting experience."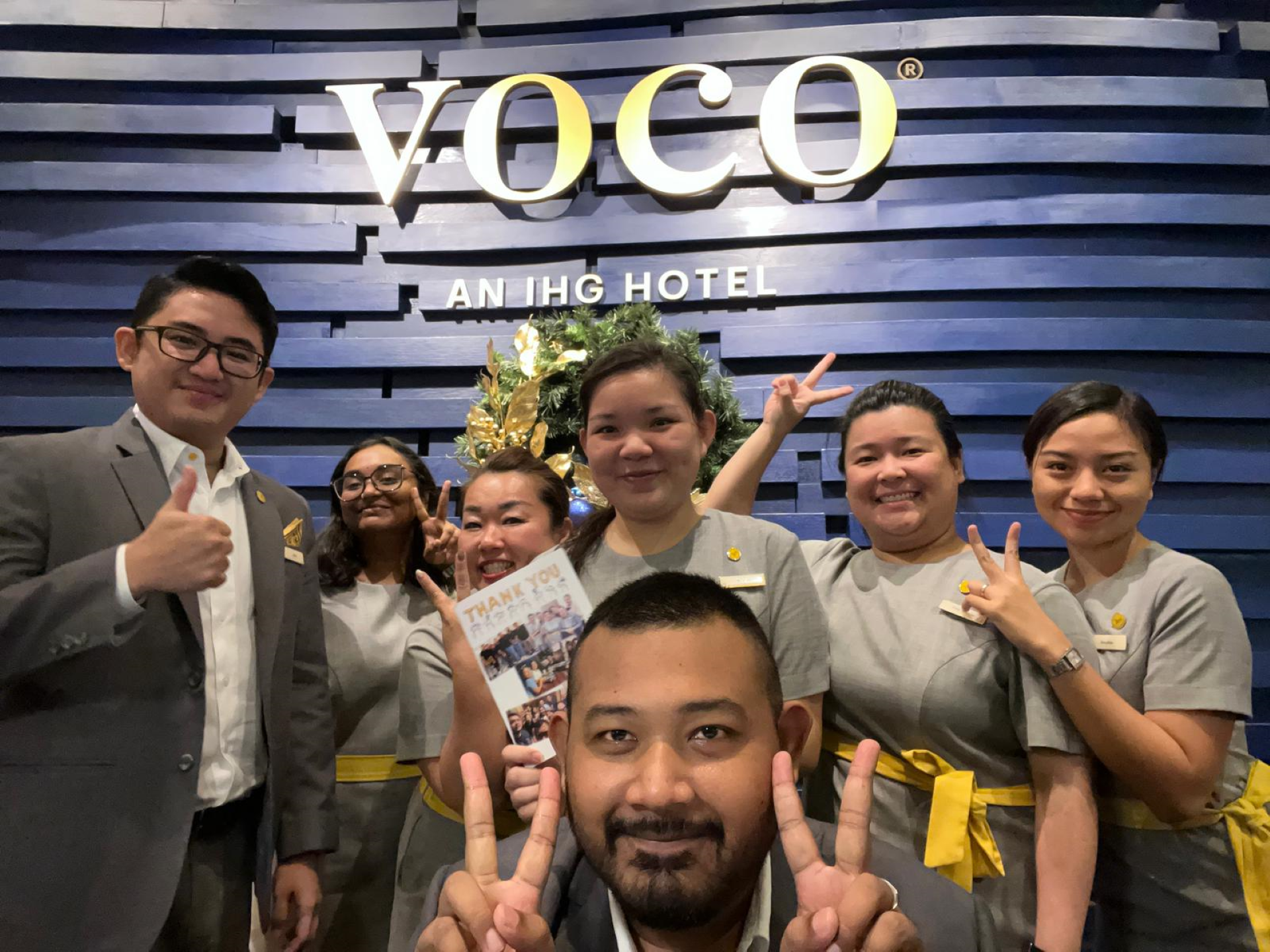 Sabrina (third from right) with her front office colleagues. She appreciates her duty managers who entrusted her to make her own decisions when the situation demands it. (Photo: voco Orchard Singapore)
She soon became familiar with the drill: each day came with a new set of challenges, and she grew in confidence to think on her feet and tackle guest-related issues as they came her way. "There was a certain level of empowerment from my managers when I was in a front-facing role," she said. "They were very supportive of my decisions, especially since I didn't always have the luxury of time to check with them."
Finding Her Calling at voco
Sabrina's passion for work and drive to improvise operations haven't gone unnoticed.
"Students like Sabrina are our next generation of hospitality professionals. During Sabrina's traineeship with us, we were able to tap into her knowledge and fresh perspectives, allowing us to adapt our product offerings to meet the needs of the next-generation traveller. Sabrina's final-year project on mental wellbeing, which was done in collaboration with the hotel, will help the hotel to assess an important aspect of the employee experience and put in place actions to remain as an employer of choice," said Mr Mark Winterton, General Manager, voco Orchard Singapore.
Her IWSP concluded in December 2022, and 25-year-old Sabrina has been offered a full-time position at voco as an assistant housekeeper after she graduates later in the year. Her daily tasks will include inspecting rooms, conducting morning briefs and handling VIP rooms.
Her ambitions don't stop there. "I want to become the Director of Rooms in the future," she said, adding that the role would merge both front-end and back-end duties, and place her right at the heart of the hotel's operations.
For juniors following in her footsteps, she has a word of advice: "Keep an open mind. It makes the experience more interesting, and you will find out what you like and don't like, helping you to make an informed choice in your career pathway."