Tech for Good 2021, an annual innovation challenge, saw a total of 40 teams working to develop innovative solutions for the elderly and people with disabilities. Three SIT teams were among the finalists pitching their assistive technology ideas at a virtual event.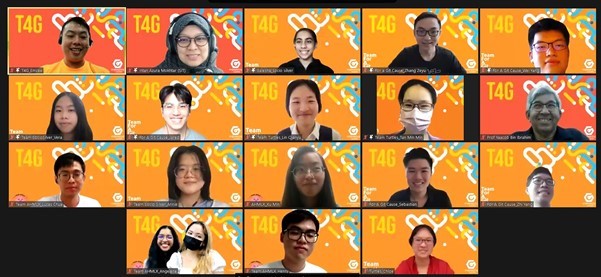 Participants of Tech for Good 2021 put on their best smiles for the camera.
Organised by Engineering Good and co-produced by the Singapore Institute of Technology (SIT), Tech for Good 2021 saw a total of 149 youths in 40 finalist teams solving problem statements from 10 community partners. Each team looked at how to leverage assistive technology to bring Singapore a step closer to becoming an inclusive society. The finals, a virtual event graced by Mr Desmond Lee, Minister for National Development and Minister-in-charge of Social Services Integration, was held on 6 November 2021.
Over a span of three months, youths as young as 13 tackled the real-world "problems" provided by community partners. With fresh perspectives and a sense of empathy, the youths developed solutions under the guidance of appointed mentors and community partners. Three SIT teams from the Information and Communications Technology (Software Engineering), (ICT [SE]), and Telematics (Intelligent Transportation Systems Engineering), (Telematics [ITS]) programmes were among the finalists.
Teams SIT UP, CAAN, and AHMLX each proposed practical and creative solutions that addressed the challenges faced by their respective community partners. In the end, it was AHMLX that clinched the Best Advocate award for their relentless public outreach to promote the event and gather support for their proposal.
SIT's Tech for Good 2021 working team, helmed by the Community Leadership And Social Innovation Centre (CLASIC), together with 10 SIT academic staff mentors and co-mentors, worked closely to support the SIT teams on this learning journey. SITizen Ambassadors, Evan Ang Shau-En, Year 3, Air Transport Management; Sheryl Heng Yi Lin, Year 3, Dietetics and Nutrition; and Frank Fan Yizhi, Year 4, Occupational Therapy volunteered to be emcees at the finals.
"It was heartening to see the youths coming together to propose ideas that have a positive social impact for specific groups of beneficiaries. The participants demonstrated creativity, problem solving, and design thinking skills after working closely with their respective community partners to understand their needs. They were able to leverage technology and innovation to solve real-world problems faced by the elderly and persons with disabilities. Their contributions have enhanced efforts to make Singapore a more inclusive society," said A/Prof Intan Azura Mokhtar, Deputy Director, CLASIC, SIT, and guest presenter at Tech for Good 2021.
Read on to learn more about our SITizen finalists' innovative ideas!
AHMLX – Elder-friendly web application with engaging educational games to encourage cognitive simulation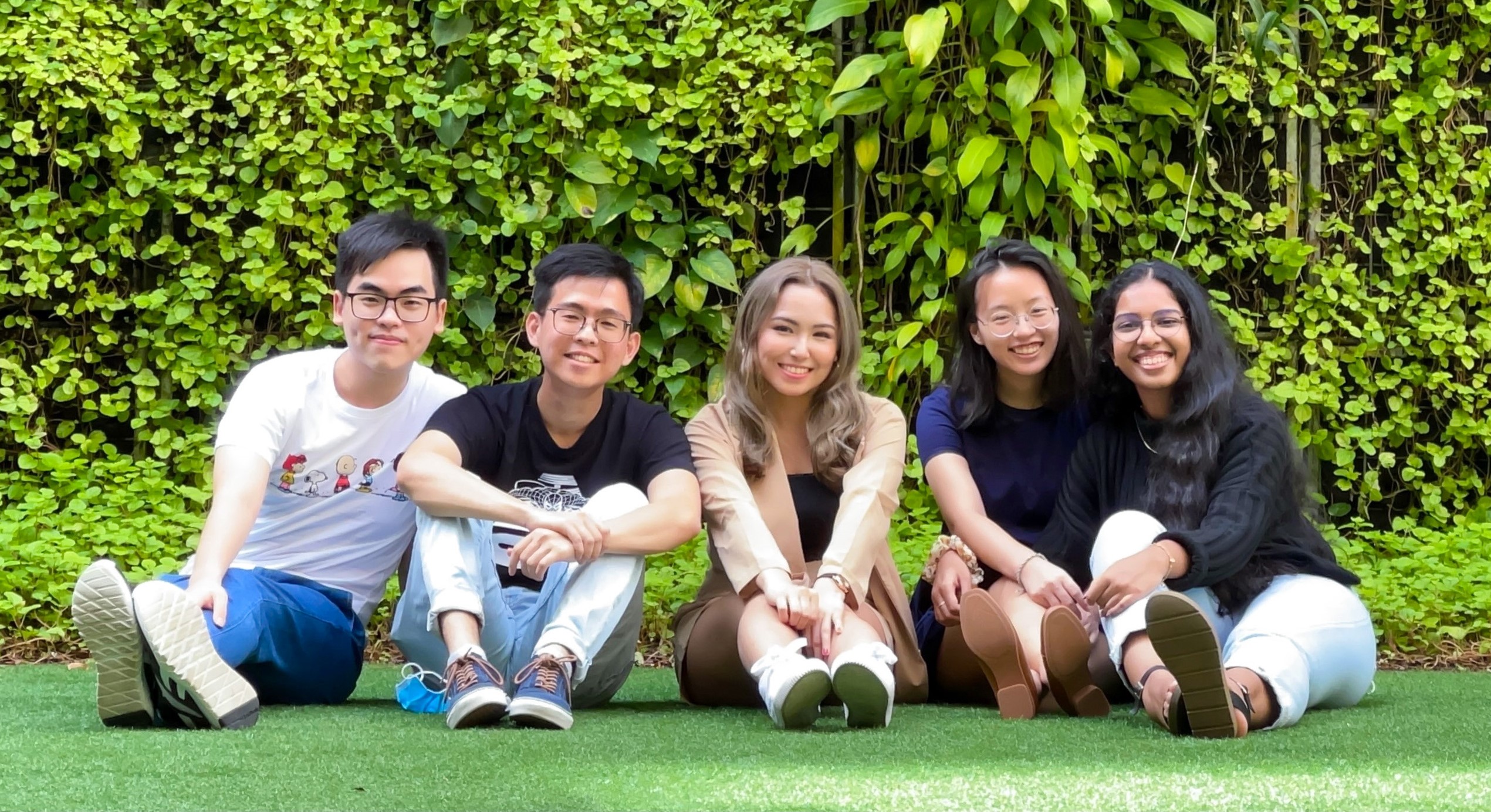 The AHMLX team (from left) Yip Hou Liang, Chua Sheng Yu, Mary Michelle Olivo Ambrosio, Xu Min, and Angelene Joshna.
Team AHMLX, made up of Year 2 ICT (SE) SITizens Xu Min, Angelene Joshna, Chua Sheng Yu, Yip Hou Liang, and Mary Michelle Olivo Ambrosio, worked with social service agency, AWWA to develop reminiscent and localised games. The objective of their proposed solution was to encourage cognitive stimulation in the elderly. Guided by their mentor, A/Prof Malcolm Low, Infocomm Technology, SIT, the team designed a series of memory and logical thinking games with a local touch. The auditory and visual cues in the games were designed to keep elderly users engaged.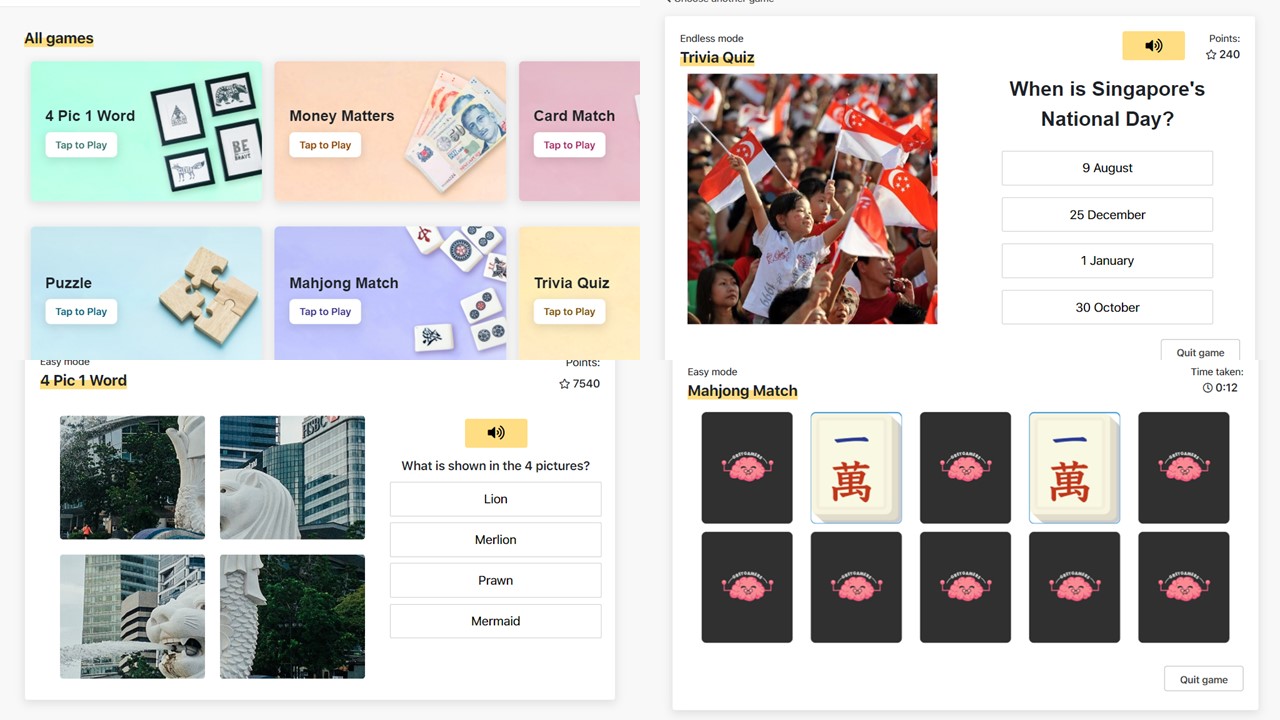 The web application proposed by AHMLX comprised elderly-friendly games that ranged from Singapore trivia to matching mahjong tiles.
Leveraging the power of social media, the team managed to garner public support through 105 followers on Instagram – the highest among the 40 teams. AHMLX followers were able to "join" the team's Tech for Good learning journey through regular posts featuring insights from the team's consultations with community partners. The team's efforts paid off and they won the Best Advocate mini challenge at the event.
Join AHMLX in their journey via their Instagram page, https://www.instagram.com/team.ahmlx/. You can also view their presentation here.
CAAN – Smart walker with sensors for enhanced safety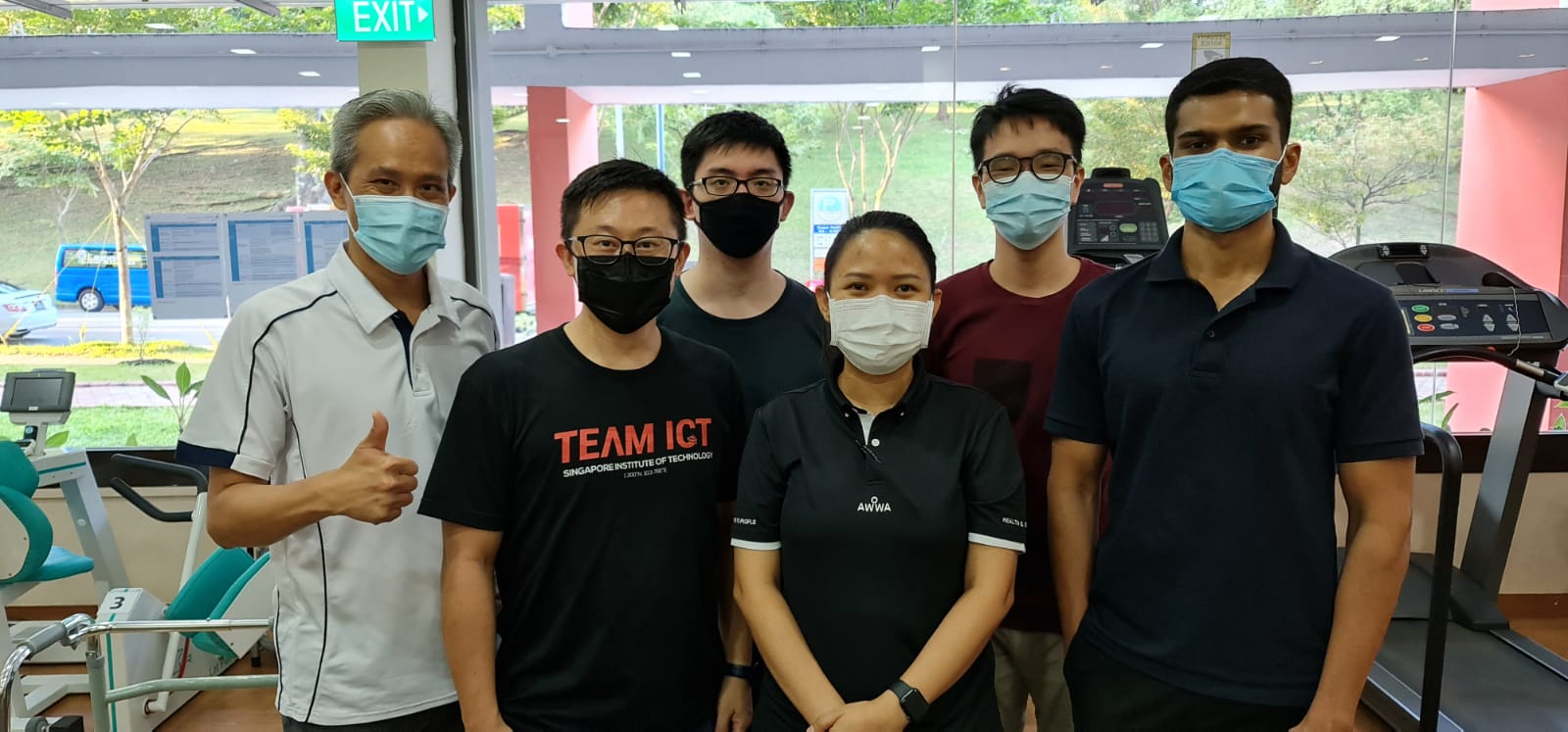 Team CAAN with their industry mentor and community partner. From left: Mr Tan Hock Kwang, Senior Manager, Durapower Technology (Singapore) Pte Ltd; Astor Tran; Nicholas Goh; Ms Pan Myint Wai Wai, Physiotherapist, AWWA; Chan Wei Han and Mohammed Ibrahim.
Team CAAN is made up of Year 2 SITizens, Chan Wei Han, Mohammed Ibrahim Adam, Nicholas Goh Jie Wen, and Astor Tran Kei Chuen from the Telematics (ITS) programme. The team designed a smart walker for elderly persons with walking difficulties and higher risks of falling, to get through their rehabilitation phase safely.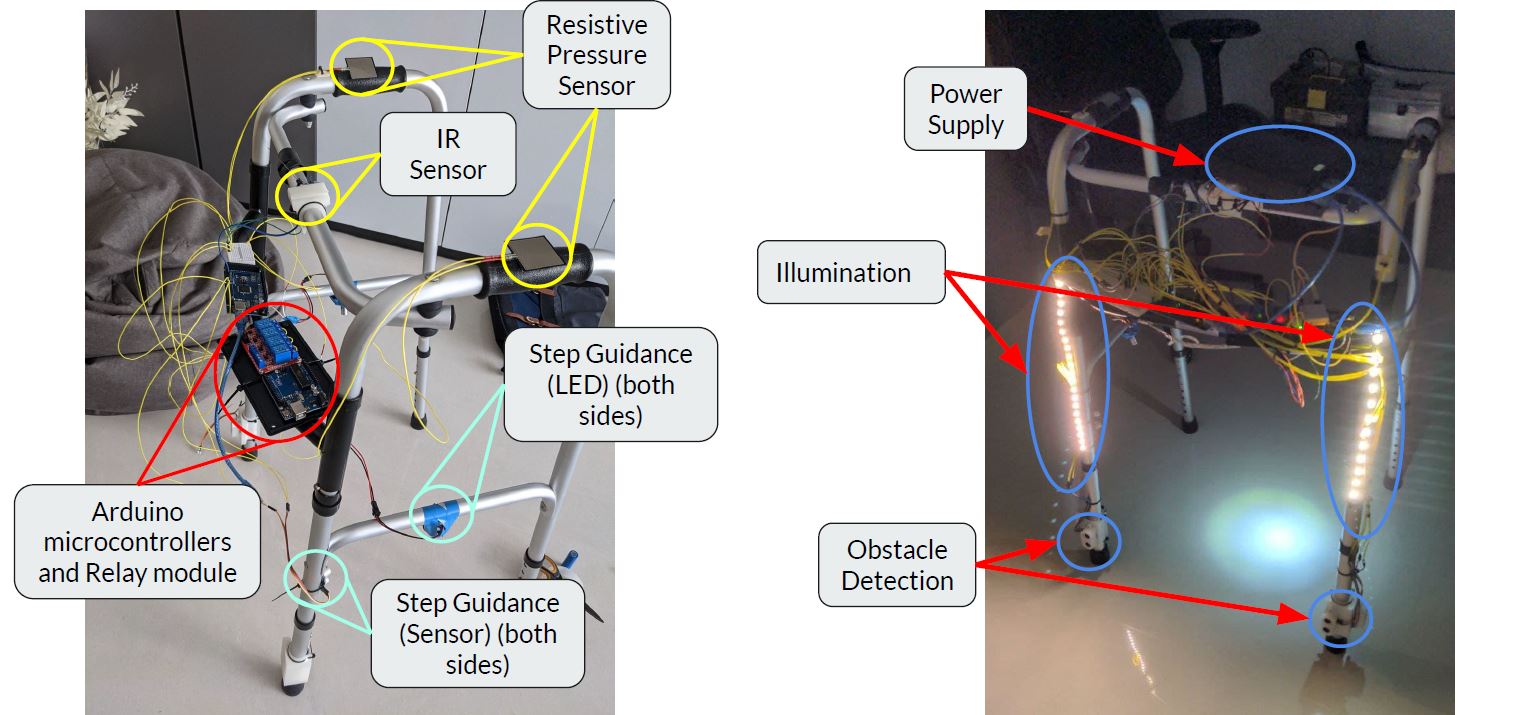 Prototype assembly made up of various pressure and infrared sensors and microcontrollers.
Through their consultations with AWWA, the SITizens created an enhanced version of the walker that comes with sensors and components for added safety features. The enhanced walker is able to detect obstacles, provide step guidance, night light activation, and infrared sensors to check if the user is within the walker's frame. View Team CAAN's presentation here.
SIT UP – Enhanced software interfaces for increased usability by persons with disabilities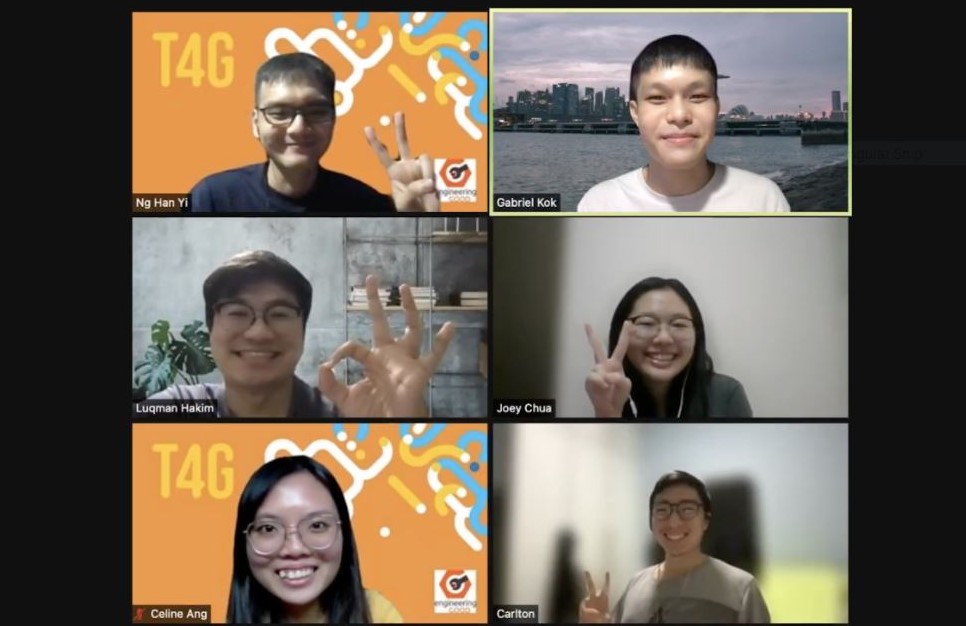 Team SIT UP with their industry mentor, Mr Luqman Nur Hakim bin Tajuddin.
Team SIT UP is made up of Year 2 ICT (SE) students, Chua Xue Ning Joey, Carlton Anthoni Foo, Gabriel Kok Heng Hong, Ang Cai Ting Celine, and Ng Han Yi. They worked with APSN Centre for Adults, a centre that provides vocational training to persons with intellectual disabilities with the goal of placing them for employment. Most of APSN's trainees have comorbidities such as autism spectrum disorder, Down syndrome, cerebral palsy and/or motor skills challenges. The café was looking to improve their training interfaces to support trainees' performance on instructional-based tasks, such as preparing cooking ingredients according to recipes.

The prototype developed by SIT UP has features such as 'Read Aloud', easy-to-understand visuals, and concise instructions.
In consultation with APSN and guided by their mentor, Mr Luqman Nur Hakim bin Tajuddin, Cloud Engineer, Versent, Team SIT UP developed a software that easily integrates visuals and voiceovers for multilingual recipes and checklists. Using the enhanced software interface, trainees were able to carry out daily tasks more efficiently. They were empowered to prepare a dish independently, thus increasing their sense of fulfilment and enjoyment at work. Trainers could also utilise the software to update recipes and kitchen instructions in a timely manner. View Team SIT UP's presentation here.
For a Git Cause – Browser plugins for the visually and hearing impaired
Team For a Git Cause emerged winners in the Most Impactful category. Made up of a group of youths serving their National Service, For a Git Cause is part of the CyberNSF scheme between SIT and Defence Cyber Organisation.
Zhang Zeyu, Jared Marc Song Kye-Jet, Low Wei Yang, Sebastian Yii Xun Hao, and Ng Zhi Yang created Charlotte, a browser plugin to make websites more accessible for the visually and hearing impaired. The plugin features diverse options for users, including six text-to-speech voices, pitch and reading speed adjustments, custom fonts options, 'Read Aloud' function, and more. View their presentation here.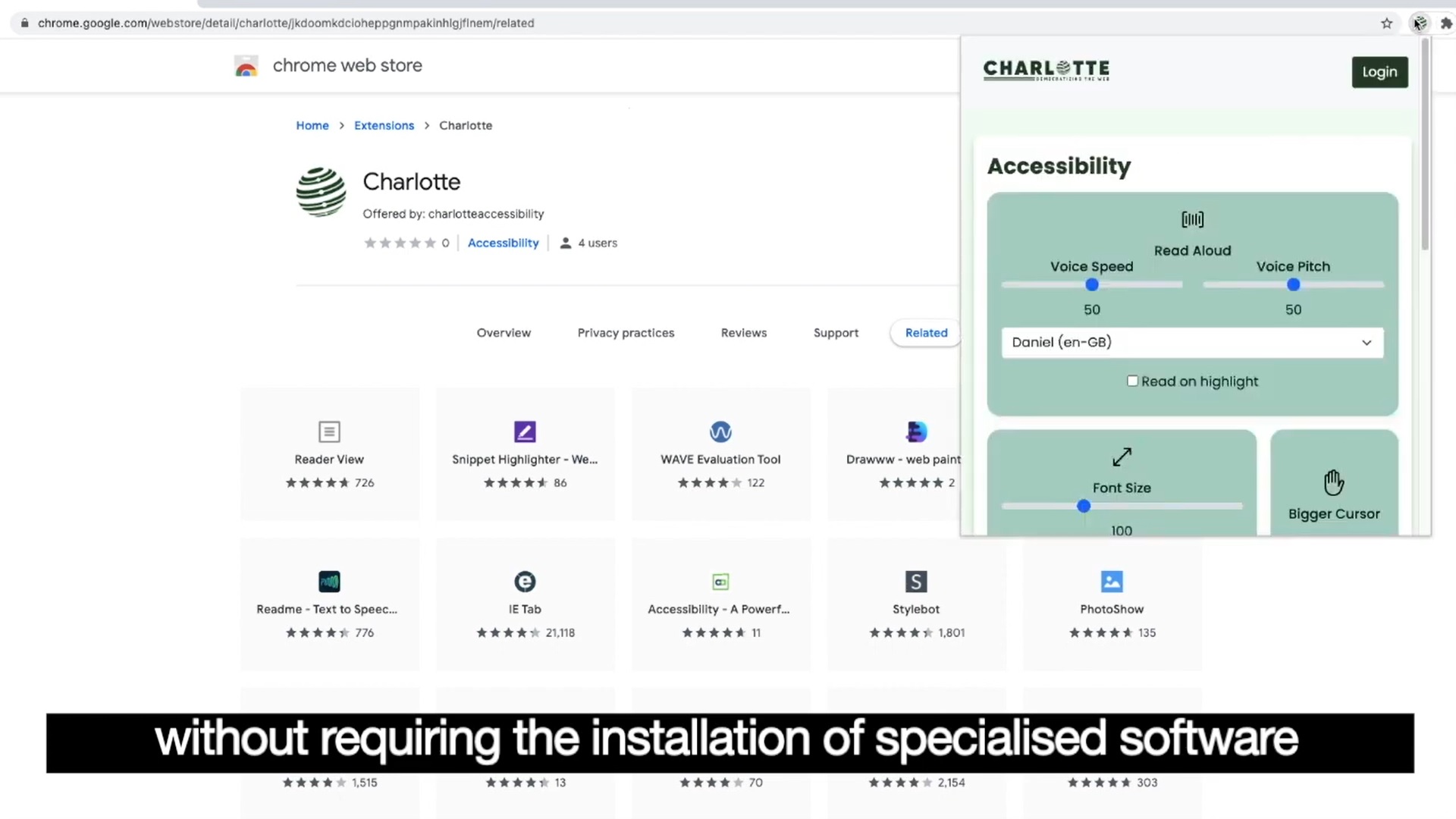 The Charlotte browser plugin by For a Git Cause allows easy download access without the need for specialised software. It is safe and free for users to download from public-access computers such as library terminals.
View all the innovative solutions proposed by the 40 teams from Tech for Good 2021 here.
The Tech for Good 2021 team from SIT was led by Mr Dan Chia Wei Ming, Senior Lecturer, Infocomm Technology, and Assistant Director, CLASIC, who coordinated the event with Engineering Good, the community partners, as well as staff and students of SIT. The collaboration with Engineering Good is CLASIC's first major undertaking since its inception in October 2021, and CLASIC is grateful for the strong support from the SIT family for contributing to the success of the event.