24 April 2019 – As part of the university's strategy in enhancing its close nexus with the industry, the Singapore Institute of Technology (SIT) has launched a new Innovation Development Programme (IDP), in collaboration with Design Factory Global Network (DFGN). The IDP, a SkillsFuture Singapore-funded programme, will be offered by SIT's Lean Transformation Innovation Centre (LTIC), a focal resource centre for local companies to acquire knowledge and training, as well as co-develop innovative technological solutions.
Complementing LTIC's existing lean masterclasses and workshops, which have helped more than 100 organisations achieve efficient work processes since the centre's establishment in March of 2016, the new six-week programme is targeted at local businesses that are keen on adopting design thinking methodologies to best meet customers' needs. IDP will focus on identifying service gaps and developing sustainable solutions to improve customer experience through its guided innovation processes.
As a university that strives to integrate learning, industry and community, SIT brings together an interdisciplinary team from across its ecosystem of faculty, students and network partners to lend their knowledge, skills and insights in addressing diverse challenges. Local companies can tap into SIT's pool of resources that now includes DFGN, a global network comprising innovation hubs within universities and research organisations. As DFGN's first and only Singapore-based partner, SIT will have opportunities to collaborate and tap into 23 partners around the world.
The National Library Board (NLB) is amongst the first organisations to come onboard the new programme, as part of a Memorandum of Understanding (MoU) that was signed today. The collaboration with SIT will allow NLB to co-create digital services and solutions for implementation at the future five-storey Punggol Regional Library in Punggol Town Hub, as well as other branches nationwide. The MoU will see SIT faculty and students embarking with NLB on an array of applied research projects where design, technological and engineering skills will be exercised to address current challenges. There will also be opportunities for students to work with NLB as part of their Integrated Work Study Programme (IWSP*), as well as for the university to support NLB with relevant continuous learning and customised training opportunities.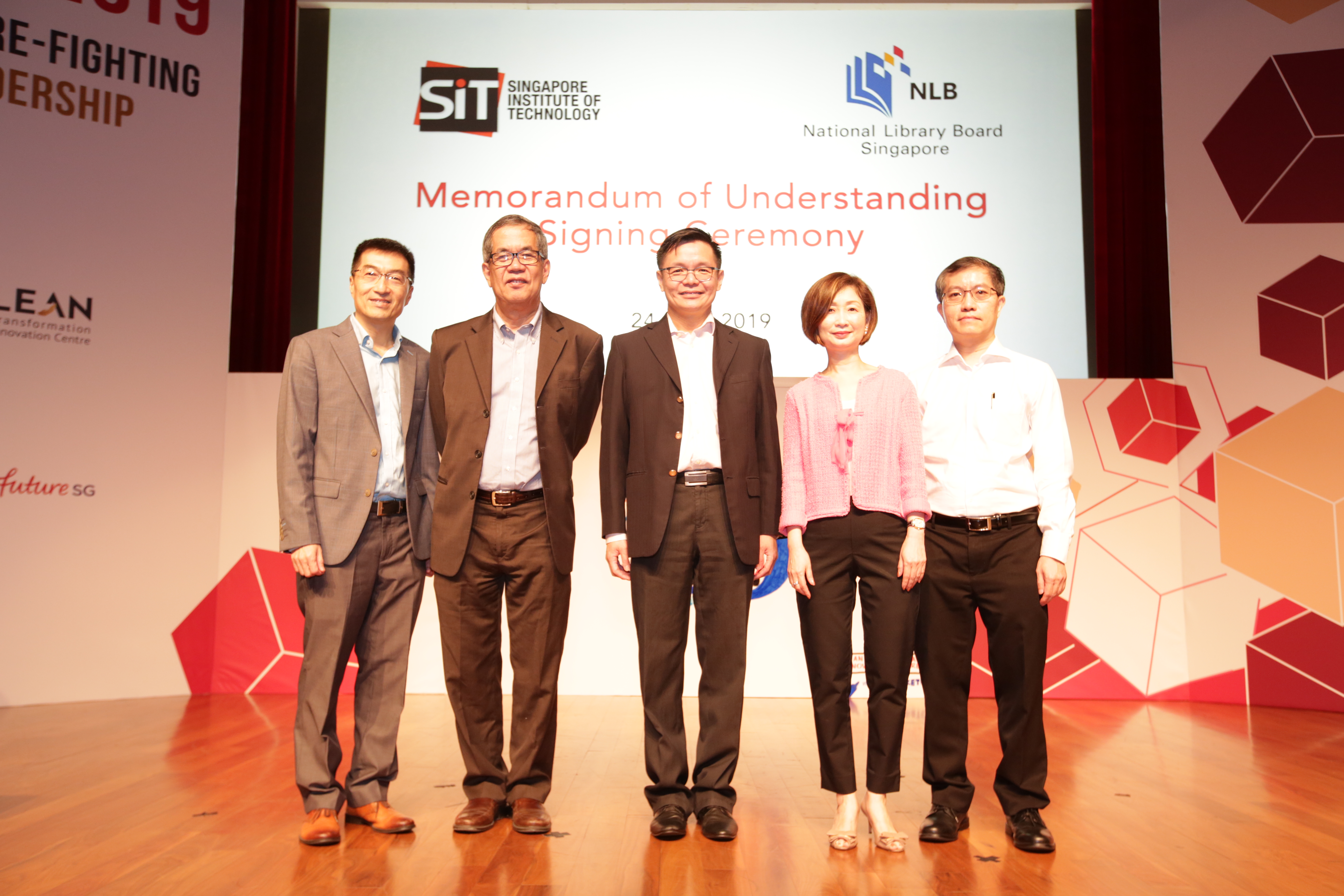 VIPs facilitating and witnessing the SIT and NLB MOU signing (from left): Associate Professor Ivan Lee, Vice President (Industry & Community), Singapore Institute of Technology; Professor Tan Thiam Soon, President, Singapore Institute of Technology; Guest-of-Honour Mr Ng Cher Pong, Chief Executive, SkillsFuture Singapore and Deputy Secretary (SkillsFuture), Ministry of Education; Mrs Elaine Ng, Chief Executive Officer, The National Library Board; Mr William Tan, Assistant Chief Executive Officer, Corporate, The National Library Board
"As global connectivity and technological advancements continuously disrupt our lives, we need to embrace the paradigm shift and be better prepared in using innovative ways to derive solutions and enhance our lives. Co-creation of solutions is fundamental to influencing how we work and think, and we are honoured to have a diverse network of partners with whom we can collaborate with and leverage on for varied knowledge, skills and insights. This will equip local companies with the critical skills needed to address complex inter-disciplinary problems," says Associate Professor Ivan Lee, Vice President (Industry & Community), SIT. "We are also excited to work with NLB to explore the use of innovation and technology to support future library digital services and transformation in the Punggol Digital District, where the future SIT@Punggol campus will be located."
"We are pleased to partner SIT to create innovative library services and design imaginative learning spaces,"says NLB chief executive Mrs Elaine Ng. "We appreciate the opportunity to tap on the skills and knowledge of SIT students and faculty to develop solutions for libraries that benefit Singapore's library users."
The launch of IDP, as well as the signing of the SIT-NLB MoU, were commemorated at the fourth CXO Lean Summit, an annual conference organised by LTIC. The Summit provides a platform for local companies to gather and share successful lean achievements and best practices in business productivity and processes.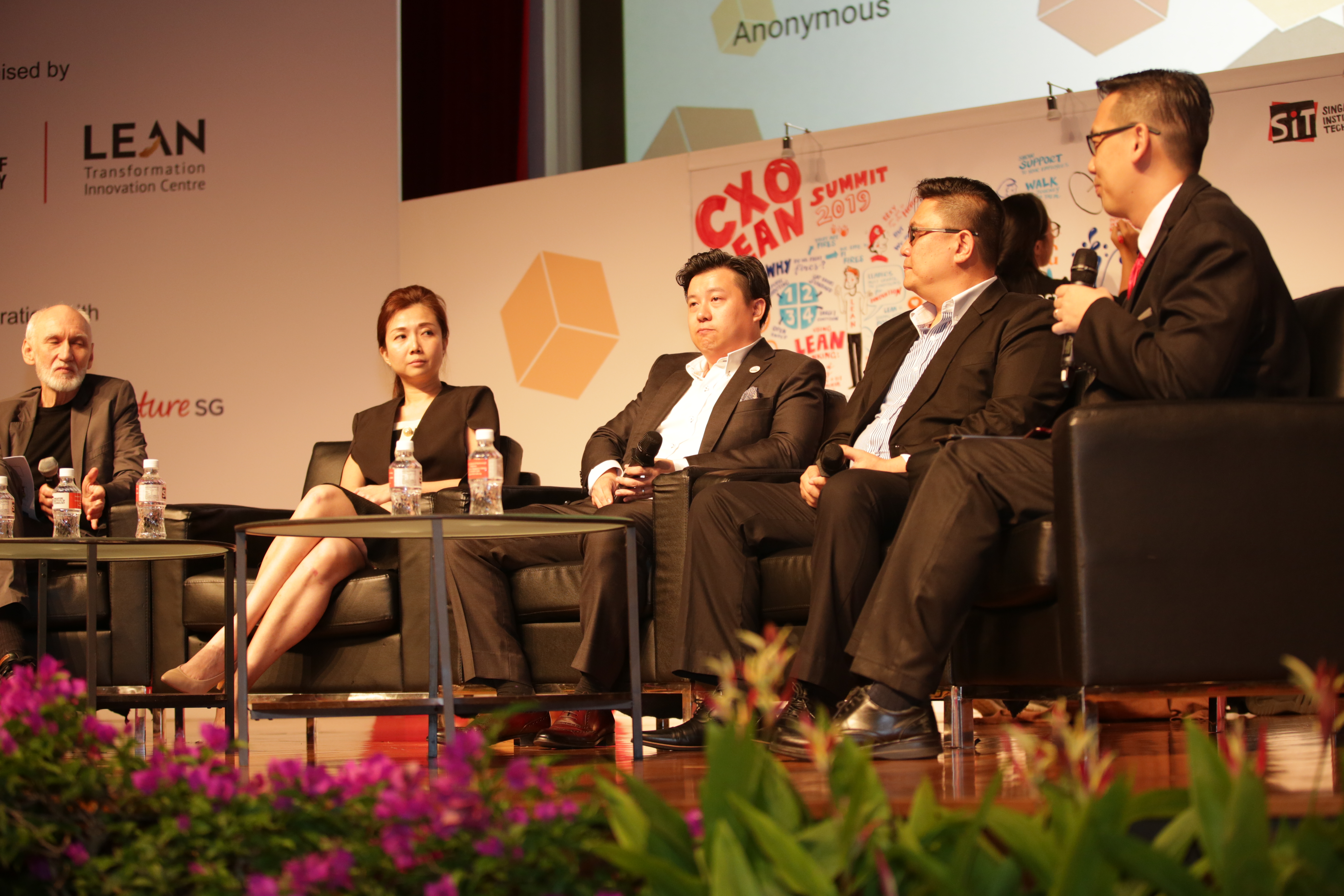 Panel of speakers at the 4th Annual CXO Lean Summit sharing best practices on building lean strategies and capabilities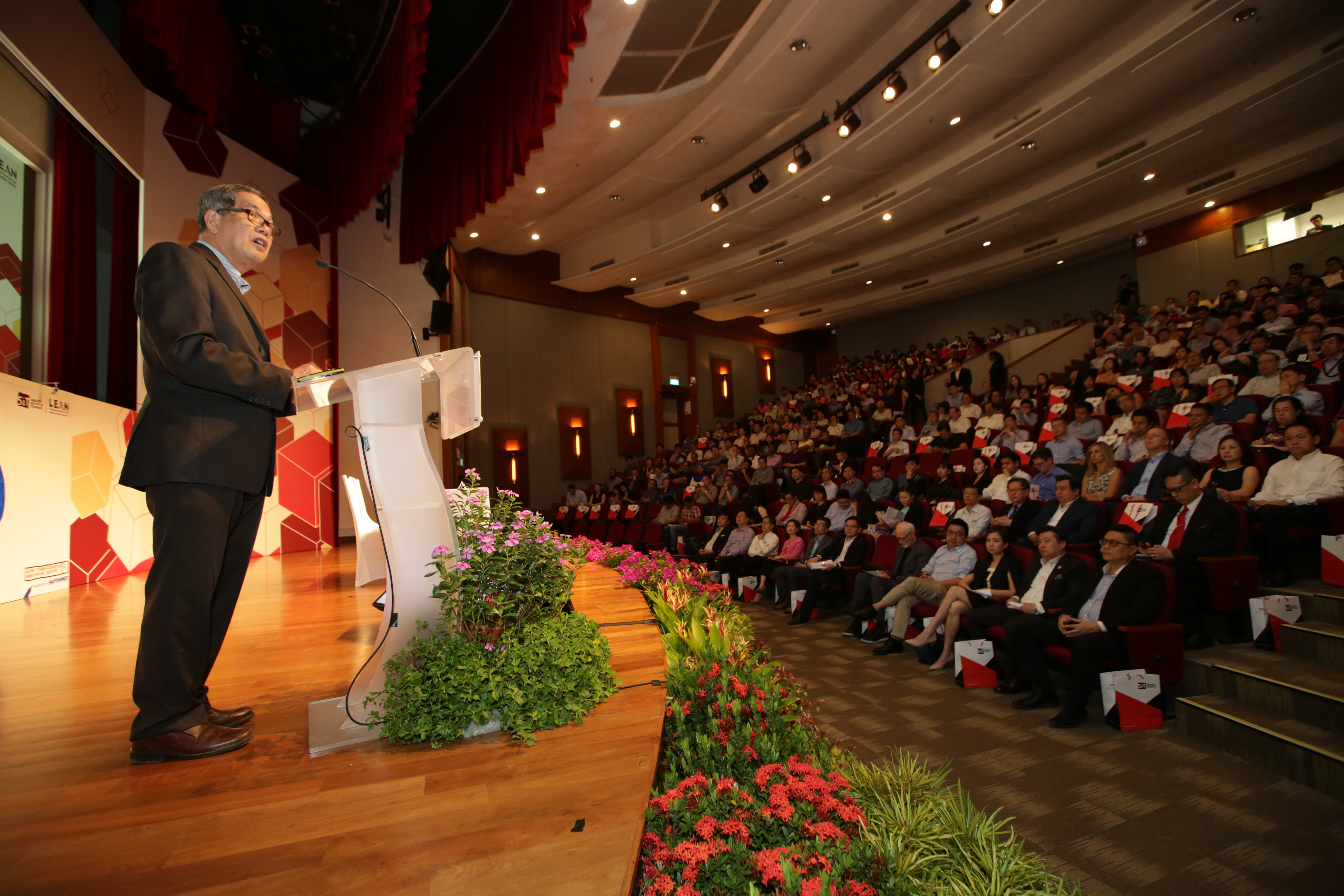 Professor Tan Thiam Soon addressing more than 400 guests present at the CXO Lean Summit
* About the Integrated Work Study Programme (IWSP):
The Integrated Work Study Programme (IWSP) is a distinctive feature of SIT's degree programmes. Providing students with the opportunity to undertake real work that will allowing them to integrate theory and practice and develop deep specialist skills in their chosen field, the IWSP is structured in a unique and distinct way that caters to the specific needs of the industry. Students will undertake a compulsory, significant 8 to 12 months of relevant work within the course of their studies as part of their training to emerge as industry-ready graduates.
For more information, visit: https://www.singaporetech.edu.sg/industry-global-exposure/integrated-work-study-programme
About Singapore Institute of Technology
Singapore Institute of Technology (SIT) is Singapore's university of applied learning. It aims to be a leader in innovative university education by integrating learning, industry and community as part of its unique pedagogy. Partnering world-class universities, SIT offers applied degree programmes targeted at growth sectors of the economy. SIT also aims to cultivate in its students four distinctive traits, or the SIT-DNA, which will prepare them to be 'thinking tinkerers', who are 'able to learn, unlearn and relearn', be 'catalysts for transformation' and finally, become 'grounded in the community'.
For more information, visit www.SingaporeTech.edu.sg.