Associate Professor Cesar Jung-Harada immerses the public in ocean technology with a residency at ArtScience Museum. 
Cesar Jung-Harada is an Associate Professor from the Business, Communication and Design Cluster at SIT. He teaches innovation, design thinking and social entrepreneurship, and serves as a mentor for ocean engineering projects. A/Prof Cesar echoes SIT's applied learning pedagogy with a strong, hands-on teaching philosophy. He encourages students to "get their hands wet" to gain a more meaningful academic experience in university.
He believes that the best way to learn from challenges is not by studying them, but by experiencing them. "I wish for all students to experience challenges, to identify opportunities and work creatively through complex situations – because my role as an educator is to help them create options, provide safe guidance and emotional support."
A/Prof Cesar's approach to teaching stems from his love for nature and the ocean. Having sailed all around the world working on various projects, the French-Japanese academic has dedicated most of his adult life to reducing ocean pollution and developing alternative, renewable energy resources.
A/Prof Cesar is hosting a series of programmes at ArtScience Museum that will immerse participants in sustainable, ocean-related innovations. (Photo: Marina Bay Sands)
A Bigger Purpose in Saving the Ocean
Over the last 15 years, A/Prof Cesar's projects primarily involve the ocean, which he asserts is the main driver for the climate. He regularly delivers workshops for organisations such as the World Wildlife Fund and National Geographic, and has spoken at international conferences organised by the United Nations, MIT, Harvard University, and TED.
"When we are looking for life on other planets, we are always looking for water first. Even today, the ocean is feeding billions of people on this planet. 90% of the goods that we are consuming everyday have been transported by sea. And even the Internet is basically an underwater network. But unfortunately, we are destroying the ocean," said A/Prof Cesar.
The designer's collaborative and innovative projects are a testament to his commitment to protecting the environment. Across the world, A/Prof Cesar has designed boats that move like fish, equipped with abilities to absorb oil from the sea; a robot that can take pictures of plastic pieces in the ocean and measure them; devices that map coral reefs and use artificial intelligence to categorise corals; an oyster hatchery that harvests oysters to promote biodiversity; and a floating hydrogen production equipment that generates cost-effective energy which can be used for household purposes.
Ocean Imagineer: Cesar Jung-Harada's Practice and Work
Residency at ArtScience Museum
This commitment has shifted into high gear with a collaboration with ArtScience Museum. For the next 20 months or so, the designer and environmentalist will be hosting  a series of workshops centered around renewable energy sources, indigenous and cutting-edge naval architecture, futuristic and more sustainable seafaring technologies at the museum.
A/Prof Cesar's workshops will introduce participants to open-source technologies, combining art and science to design machines aimed at solving the climate crisis. From conceptualisation to fabrication, participants can expect to get their hands dirty as they learn how to transform everyday materials into their very own versions of A/Prof Cesar's pioneering inventions.
A/Prof Cesar shares that innovations conceived by participants could potentially be made accessible to the public. "If we develop something that is good for the climate, I believe it is important to share them with the community and the world."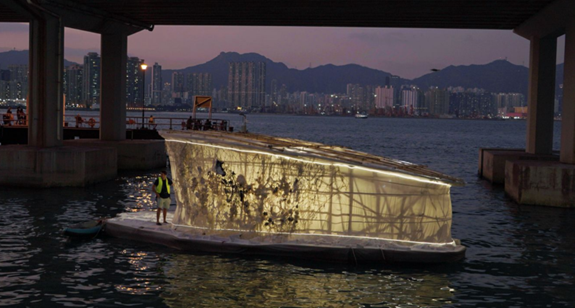 The Ocean Imagineer is a floating platform that produces hydrogen from solar power above water. (Photo: Cesar Jung-Harada)
A/Prof Cesar will work closely with participants to observe the progression of Ocean Imagineer — his biodiversity project launched in 2021. Participants can become 'imagineers' as they creatively contribute to his four ongoing projects:
27 – 29 May | Indigenous Future Outrigger
The Indigenous Future Outrigger project reimagines our relationship with the ocean by integrating local ship-building customs with high-tech, environmentally-sustainable sailing technology. In this workshop, A/Prof Cesar will tap into the features of hydrogen-power vessels to create more powerful and efficient sailing innovations.
2 – 4 June | Ocean Solar Hydrogen
In this hands-on workshop, participants will learn to build floating solar panels and connect them to an electrolyser. The Ocean Solar Hydrogen project looks at oceans as untapped sources of sustainable energy by using solar power to electrolyse hydrogen gas from seawater.
16 – 18 Jun | Shape Shifting Sailing
Seafaring is one of the world's most dangerous professions. The workshop addresses this challenge by teaching participants to design their own shape-shifting boats. Find out first-hand how biomimetic technology, inspired by elements of nature, can be used to make seafaring safer and more energy-efficient.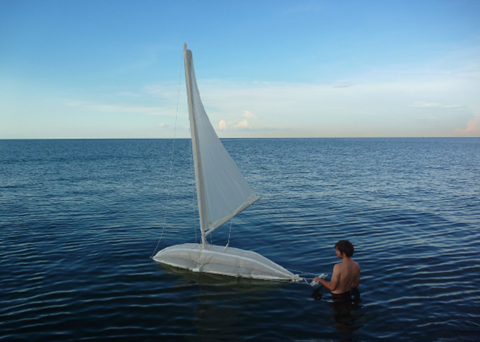 23 – 25 Jun | Ocean Train
Drawing inspiration from freight trains, this workshop experiments with boats that are designed in the same way trains are. Combining robotics, team coordination and a dose of creative thinking, these boats could potentially carry a higher volume of items with lesser energy in the ocean – an innovation that could reshape the shipping industry.
Click here to find out more information about ArtScience Residency: Ocean Imaginnering and to register for the workshops.