Six sustainable innovations pitched at The Grand Final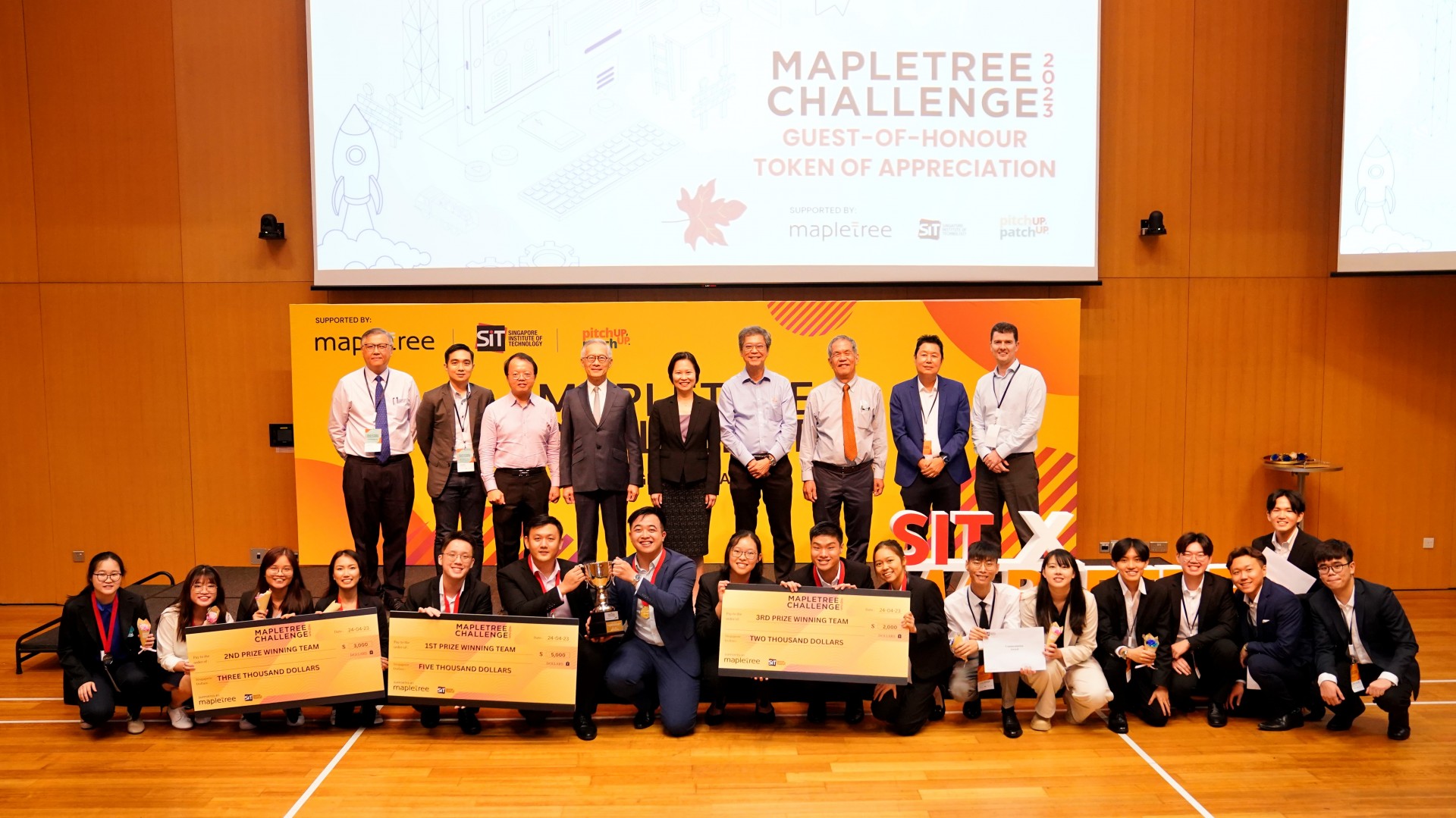 The top three teams of The Mapletree Challenge 2023 with MOS Gan Siow Huang and senior management of SIT and Mapletree. (SIT Photo: Finn/RS Photography)
Mapletree Investments ("Mapletree" or "the Group") and the Singapore Institute of Technology ("SIT") successfully concluded the fourth edition of The Mapletree Challenge Grand Final. Team PowerPod, a group of Year 2 SIT students, impressed the judges and took centre stage with their proposal of a centralised battery charging system for efficiently charging Electric Vehicles (EVs). Emerging as champion among the six finalist teams from SIT, the team walked away with a cash prize of $5,000.
Singapore's target to have 60,000 EV charging points by 2030 as part of its EV Roadmap spurred Team PowerPod to analyse the sustainability of installing and maintaining such EV charging points in the long run. The winning team began exploring renewable energy options such as solar energy and proposed an Energy Storage System which harnesses energy from solar power, as an alternative to charging EVs at fixed charging points.
First held in October 2018, The Mapletree Challenge seeks to groom the next generation of sustainability stewards. With the theme 'Sustainability and Innovation', this year's Challenge was held from February 2023 to April 2023, where participants were equipped with masterclasses on leadership, personal development and value pitching; a forum discussion on entrepreneurship and innovation by leading young entrepreneurs; and gained first-hand insights on their business ideas from industry luminaries through a small group mentorship programme. More information about The Mapletree Challenge is detailed in Annex A (below).
12 teams were selected to compete at the semi-finals, with six teams progressing to the Grand Final to vie for the Mapletree Gold, Mapletree Silver and Mapletree Bronze awards. Ms Gan Siow Huang, Minister of State, Ministry of Education & Ministry of Manpower, presented the awards to the winners, which included cash prizes of S$5,000, S$3,000 and S$2,000 respectively.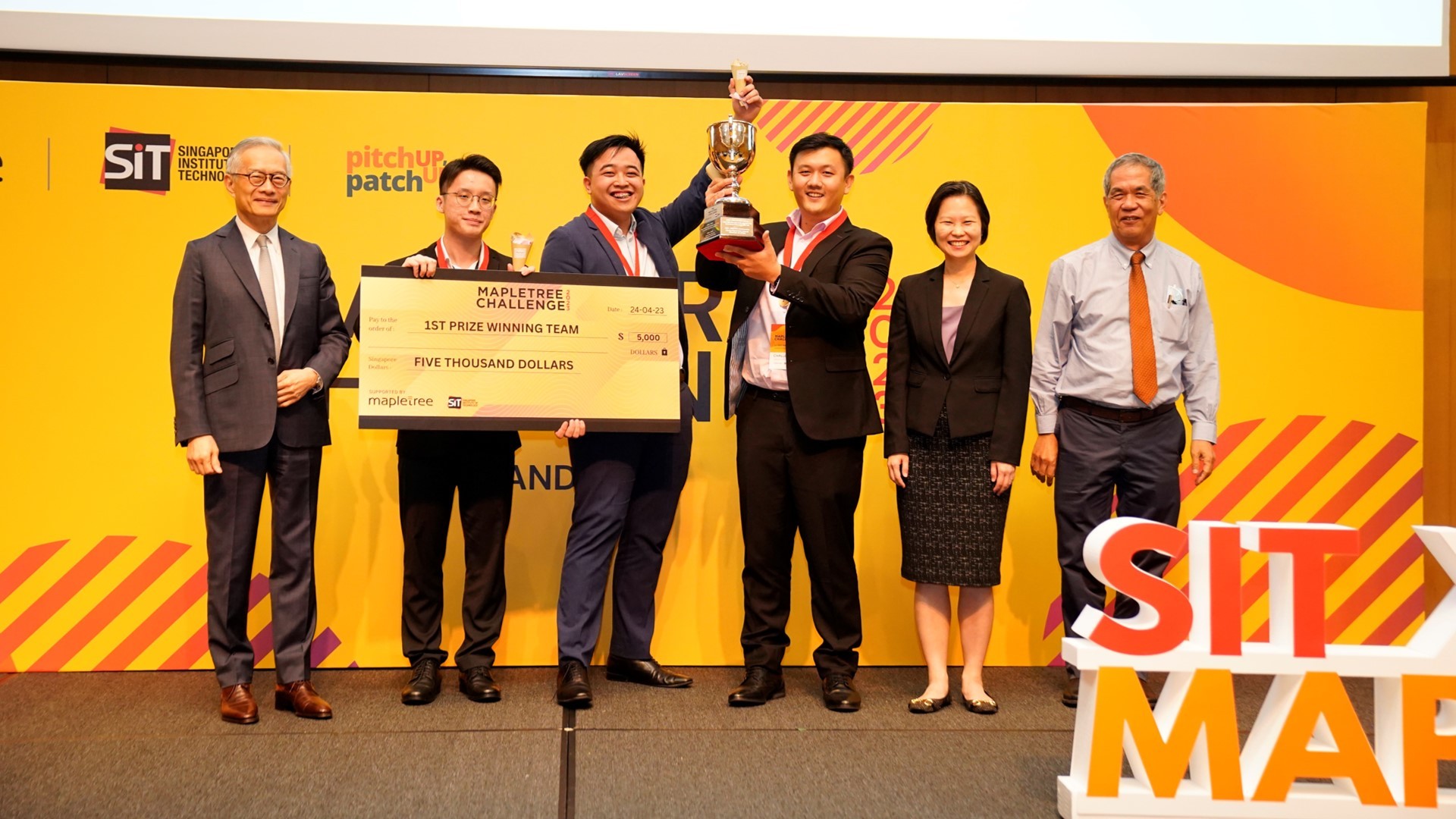 The Mapletree Gold winner, PowerPod, with MOS Gan Siow Huang at The Mapletree Challenge 2023 Grand Final. (SIT Photo: Finn/RS Photography)
Professor Tan Thiam Soon, Institute Professor, SIT said, "As a university that imbues sustainability in our operations, education and research endeavours, our close collaboration with Mapletree has been meaningful in nurturing the next generation of change-makers and building a collective of young entrepreneurs year on year. About 100 students across various disciplines had signed up for the Mapletree Challenge this year and we received proposal submissions from 19 teams. We hope our SITizens will use their knowledge and skills to create value through innovation and make meaningful contributions to society."
Mr Edmund Cheng, Chairman of Mapletree said, "We are heartened to see that the Mapletree Challenge has continued to inspire and enable SIT undergraduates to develop entrepreneurial ideas. We hope that participants will continue pursuing solutions for a sustainable future and bring their innovations to fruition."
The finalist teams spurred several new ideas in the realm of sustainability – from repurposing spent coffee ground to produce food additives, plant-based squid snacks to conserve the ocean habitat, a sustainable EV charging system harnessing solar energy, a mobile app installed on old phones for home security, a clip-on device measuring power consumption, to a smart battery storage facility that prolongs battery life. The full list of winners is in Annex B  (below).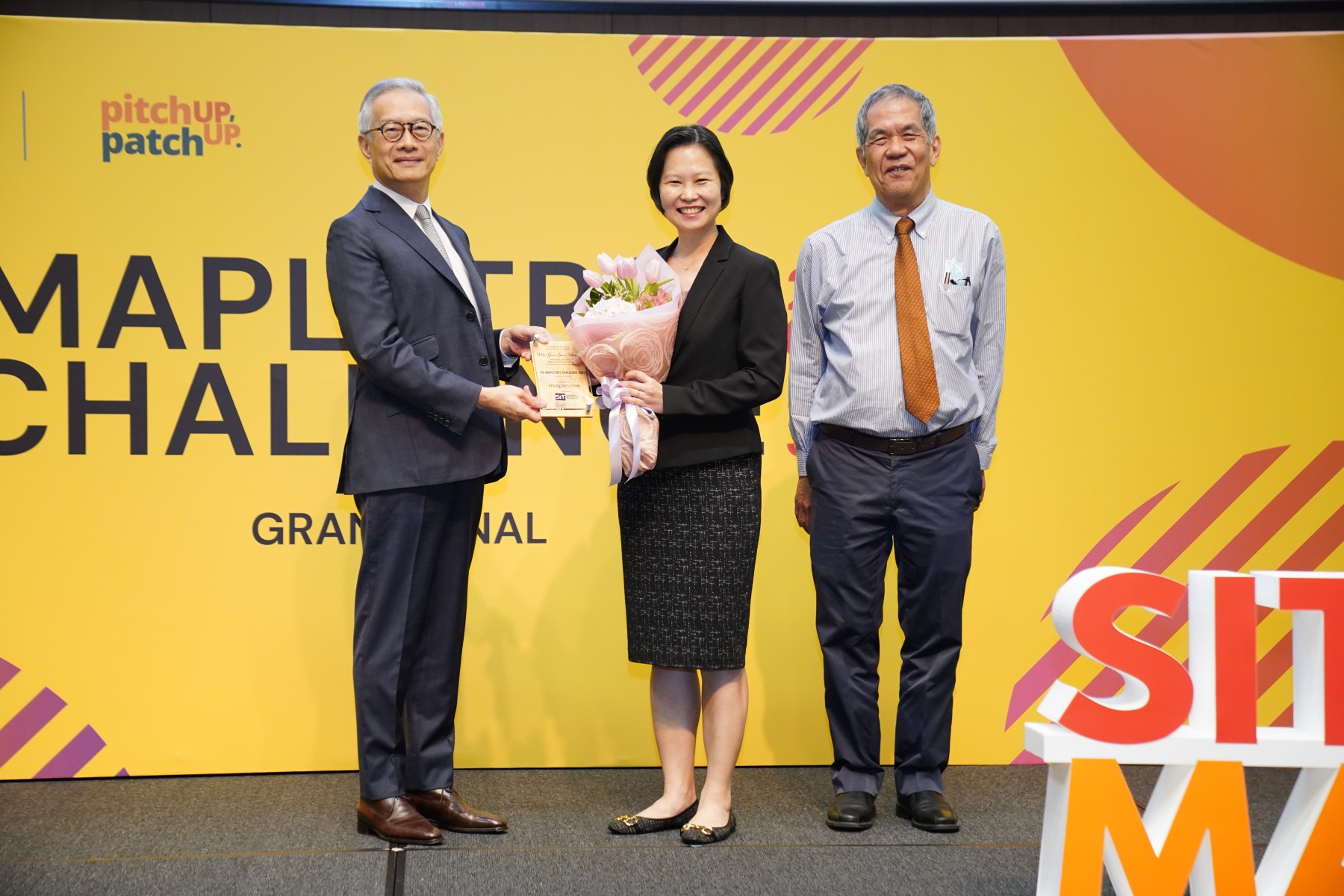 Exchange of token of appreciation between Mr Edmund Cheng, Chairman, Mapletree (left) and Prof Tan Thiam Soon, Institute Professor, SIT (right), witnessed by MOS Gan Siow.  (SIT Photo: Finn/RS Photography)
Annex A
The Mapletree Challenge 2023 in its entirety comprises the following components:
Masterclass sessions (February 2023): The masterclass sessions were conducted by mentors from Compass@Campus – a group of experienced industry leaders, business executives, entrepreneurs and professionals. Over 50 students took part in masterclass sessions on leadership, personal development and value pitching held on 1 Feb and 15 Feb. The participants also received valuable career advice from industry experts.
The Mapletree Innovation and Entrepreneurship Forum (18 March 2023): 106 SIT students attended the panel discussion focused on entrepreneurship and innovation held at Singapore EXPO Convention and Exhibition Centre. The following local young entrepreneurs shared their entrepreneurship journey: 
o Ms Cassandra Yip, Founder, Earth School Singapore      
o Mr Farhan Firdaus, Partner, Meet Ventures      
o Mr Don Ong, Head of Innovation, Advantest      
o Mr Lin Wei, Founder, United Design Practice      
o Ms Carmen Low, Head of Community & Growth, DayDayUp      
o Ms Koh Wei Shan, Director of Sustainable Impact Accelerator, Quest Ventures      
o Mr Ramesh Krish Kumar, Food Scientist, Asmara 
The Mapletree Challenge Semi-Finals (11 April 2023): innovation pitch competition held in SIT with 12 teams vying for the top six spots in the Grand Final.
The Grand Final (24 April 2023): the six selected finalist teams pitched their business plan at Mapletree Business City to a panel of judges in a 15-minute live presentation.
Cash prizes for Grand Final participants:
o Mapletree Gold Award: $5,000     
o Mapletree Silver Award: $3,000
o Mapletree Bronze Award: $2,000 
o Consolation Prizes: $1,000 for selected teams      
The judges for the Grand Final included:      
• Mr Kent Williams, Head, Group Development Management, Regional (excluding China & SEA), Mapletree Investments      
• Mr Eugene Yeo, Chief Executive Officer, Hyperscal      
• Professor Ho Yew Kee, Cluster Director, Business, Communication and Design, Singapore Institute of Technology 
Annex B: List of Winners
Prize

Team & Members

Mapletree Gold

($5,000 cash)

PowerPod

PowerPod analyses the sustainability of installing and maintaining EV charging points in the long-run and explores renewable energy options such as solar energy. The team proposes using a centralised battery charging system (an Energy Storage System which harnesses energy from solar power) to efficiently charge EVs, as opposed to charging EVs at fixed charging points.

When you park your EV at a shopping mall carpark, the centralised battery charging system which is powered by robot and autonomous driving technology, locates your EV with the help of IoT. As the detachable robot approaches the EV, the cover of the charging socket of the EV automatically opens to facilitate battery pack charging. Upon retrieving your EV after an hour or two, there is enough power charge for the EV to cover a distance of 100km. This relieves the driver of maintaining sufficient battery charge on a given day, and eliminates the hassle of finding an EV charging point lot that could be occupied during peak periods.

Team members / Degree Programme:

• Li Haowei (Team Lead), Computer Engineering      
• Tan Kee Yee, Electrical Power Engineering
• Marcus Teo Rui Jie, Electrical Power Engineering 
• Tang Ming Jean, Sustainable Infrastructure Engineering (Land)      

Mapletree Silver

($3,000 cash)

Sea-No-Meat

With the need to preserve the ocean habitat and address the microplastic pollution in the oceans, Team Sea-No-Meat suggests consuming plant-based food options as substitutes for meat and seafood.

The team proposes the production of 'Çumil', a plant-based squid snack made from yellow peas and konjac. High in dietary fibre and being trans-fat free, the easy-to-prepare snack offers a healthier food option to the consumer.

Team members / Degree Programme:

• Nur Ifaaf Ismail – Team Lead
• Ng Wanyu
• Ngee Ee Lin
• Esther Ong Su Xin
• Tor Shi Qi
• Bryan Tan Yi

All the above students are from the Food Technology degree programme.

Mapletree Bronze

($2,000 cash)

The Beans

The Beans propose the idea of repurposing spent coffee ground into functional food in the form of coffee nibs, small pieces of crushed roasted coffee beans that have a bitter, chocolatey flavor and are a good source of fibre, protein and healthy fats. In 2021, the global functional food and beverage market was worth USD281.14 billion. The market is predicted to grow at a compound annual growth rate of about 9.5 percent between 2021 and 2028. 

The coffee nibs to be produced by the team would be used as food additives. These healthy food additives can be added to a range of food products including energy drinks, protein shakes and low GI baked goods. For example, the team proposes to add 5% of coffee nibs to the production of Coffee Soba noodles.

Team members / Degree Programme:

• Jonathan Yee Rou Sun – Team Lead
• Jaedyn Wong
• Teo Wei Shan
• Lim Zhi Xin

All the above students are from the Food Technology degree programme.

Consolation Prizes

($1,000 cash)

SIT Social Entrepreneurs

PwrClip is an IoT-based, non-intrusive clip-on device that measures power usage of electrical appliances in households. Team SIT Social Entrepreneurs designed this sensor device to create awareness on excessive power consumption and encourage sustainable habits in saving energy.

The device is clipped onto the AC cable of an electrical appliance and collects data on power usage through electromagnetism. This electricity usage information is then wirelessly transferred to the user's smartphone. The software application on the smartphone displays usage patterns, trends and provides analysis of the user's energy-saving habits.   

Team members / Degree Programme:

• Gan Jia Le Caleb (Team Lead), Mechatronics Systems
• Johannes Gan Dombrowski, Electronics and Data Engineering
• Clarissa Ow, Computing Science
• Lee Weichen, Information and Communications Technology majoring in Information Security

Team Mobii

Team Mobii addresses the issue of mass disposal of used phones by repurposing them into smart home security systems. This helps to extend the lifespan of a mobile phone and reduce e-waste.

The 'MoBii' app downloaded on the old phone will host a suite of smart home security functions. This phone will be installed at the home entrance. The app features include a doorbell function, 24/7 surveillance monitoring, unlocking of entrance door through face recognition, message notification of food/product delivery and voice communication with delivery personnel.

Team members / Degree Programme:

• Sim Jia Yew – Team Lead
• Tan Jun Peng, Harron
• Bevan Quek
• Shannon Yeo Jun Wei
• Ang Jin Yang
• Cheng Jia Jun Kelvin

All the above students are from the Computer Engineering (specialisation in intelligent transportation) degree programme.

ABDY

Team ABDY proposes a UAV SMART battery storage facility that prolongs the useful life of LiPo batteries. The solution also paves way for a more sustainable, safe and efficient way of charging and maintaining LiPO batteries.

The storage facility can monitor the health status of the battery, which includes current, voltage, internal resistance, state of charge and temperature. This data is transmitted using IoT messaging to a website accessible to the user. The storage facility also periodically monitors the health status of the battery every 3 months and automatically charges/discharges a battery based on the parameters monitored. It also possesses fast charging capability for the LiPo battery to be ready for operational use. There is also a safety circuit breaker feature that disconnects a battery from overcharging.

Team members / Degree Programme:

• Belinda Soh Hui Hui – Team Lead
• Chee Boon Loong, Aloysius
• Darren Au Xian Yong
• Ng Yang Kai

All the above students are from the Systems Engineering (Electromechanical Systems) degree programme.
About Singapore Institute of Technology
The Singapore Institute of Technology (SIT) is Singapore's first University of Applied Learning, offering industry-relevant degree programmes that prepare its graduates to be work- and future-ready professionals. Its mission is to maximise the potential of its learners and to innovate with industry, through an integrated applied learning and research approach, so as to contribute to the economy and society.
The University's unique pedagogy integrates work and study, embracing authentic learning in a real-world environment through collaborations with key strategic partners. Its focus on applied research with business impact is aimed at helping industry innovate and grow. Targeted to be ready in 2024, SIT's centralised campus within the larger Punggol Digital District will feature a vibrant learning environment where academia and industry will be tightly integrated with the community.
For more information, visit www.SingaporeTech.edu.sg.
About Mapletree
Headquartered in Singapore, Mapletree is a global real estate development, investment, capital and property management company committed to sustainability. Its strategic focus is to invest in markets and real estate sectors with good growth potential. By combining its key strengths, the Group has established a track record of award-winning projects, and delivers consistent and high returns across real estate asset classes.
The Group manages three Singapore-listed real estate investment trusts ("REITs") and seven private equity real estate funds, which hold a diverse portfolio of assets in Asia Pacific, Europe, the United Kingdom ("UK") and the United States ("US"). As at 31 March 2022, Mapletree has assets under management of S$78.7 billion, comprising office, retail, logistics, industrial, data centre, residential and student accommodation properties.
The Group's assets are located across 13 markets globally, namely Singapore, Australia, Canada, China, Europe, Hong Kong SAR, India, Japan, Malaysia, South Korea, the UK, the US and Vietnam. To support its global operations, Mapletree has established an extensive network of offices in these countries.
For more information, please visit www.mapletree.com.sg.