To commemorate Earth Day on 22 April, we put the spotlight on the ubiquitous Bloobox, a recycling receptacle designed and created by three SIT students in collaboration with the National Environment Agency.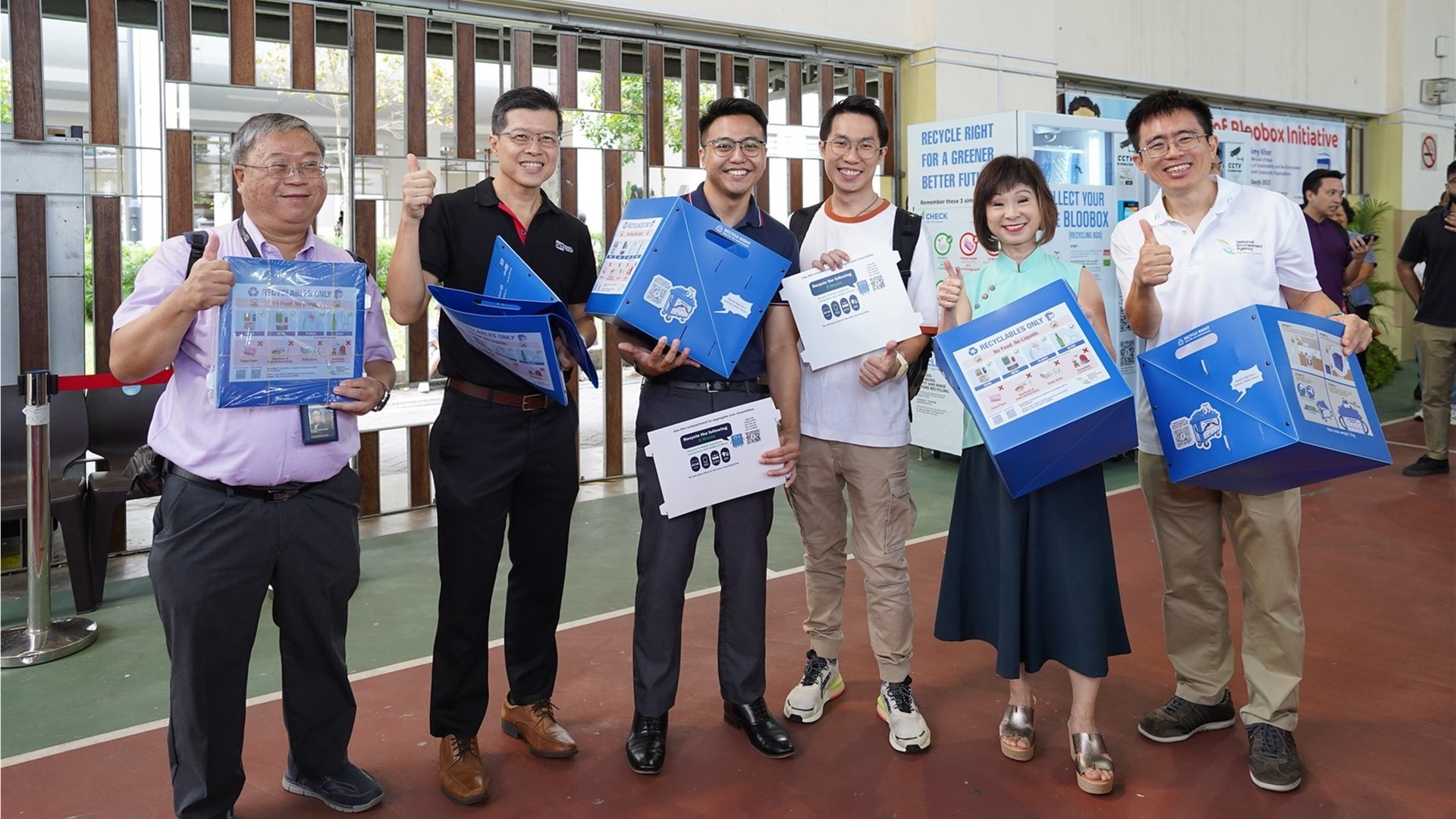 (From left) SIT Professional Officers Kwong Kwok Kuen and Raymond Keh, with SITizens Ralph Faller and Axal Ang, who celebrated the culmination of their hard work at the nationwide launch of Bloobox on 19 March 2023 with Dr Amy Khor (second from right), Senior Minister of State, Ministry of Sustainability and the Environment & Ministry of Transport, and Mr Wong Kang Jet (extreme right), Chief Executive Officer, National Environment Agency. Not pictured: SITizen Sherry Low. (Photo: NEA/Hong Kah North CC/Ms Chan Wai Peng)
It was like the Amazing Race of a different kind. In just one month, SITizens Sherry Low, Ralph Gerald Apostol Faller and Axal Ang Yong Sheng had to conceptualise, design and prototype a recycling receptacle fit for use by all households in Singapore.
Spearheaded by the National Environment Agency (NEA), the project threw up real-world challenges for the three Year 3 students from the Sustainable Infrastructure Engineering (Land)* degree programme. The brief was clear: the receptacle had to be compact, foldable, sturdy, waterproof and washable. It had to also fit different common recyclables and ultimately, encourage more residents to recycle.
With some help from mentors at SIT, the team's efforts paid off in spades. On 19 March 2023, their creation — affectionately named Bloobox — was rolled out to the public via 140 vending machines island-wide.
Behind The Scenes
The Bloobox may look simple, but the process behind creating such a user-friendly product was anything but.
"Many considerations were taken into the overall design of the Bloobox. We aimed to create something that would meet NEA's requirements while being functional and elegant," said Sherry.
That wasn't all. The trio also had to consider the input of some 70 households they surveyed regarding their pain points around recycling and waste management habits. They discovered residents' preferred spots for placing their recycling bins — in the kitchen or at the main door — and more importantly, that educational reinforcements were needed on the dos and don'ts of recycling.
"Without a doubt, one the most challenging aspects during the process was the initial ideation stage," said Ralph. "Within the tight timeline, we worked around the clock to generate different potential ideas from origami to modular concepts. Many prototypes were made from scratch using methods like 3D printing and precise cutting of plastic sheets."
Sherry, Ralph and Axal ended up creating six different prototypes that checked all the boxes. One stood out for its ease of use and cost. With further refinements, the final version of Bloobox took shape.
On top of its ability to hold up to 5kg of recyclable items, Bloobox comes with a removable partition to segregate small electronic waste items to prevent contamination. There are also labels to help users identify what can and cannot be recycled, and the exterior of the box is filled with useful instructions and information.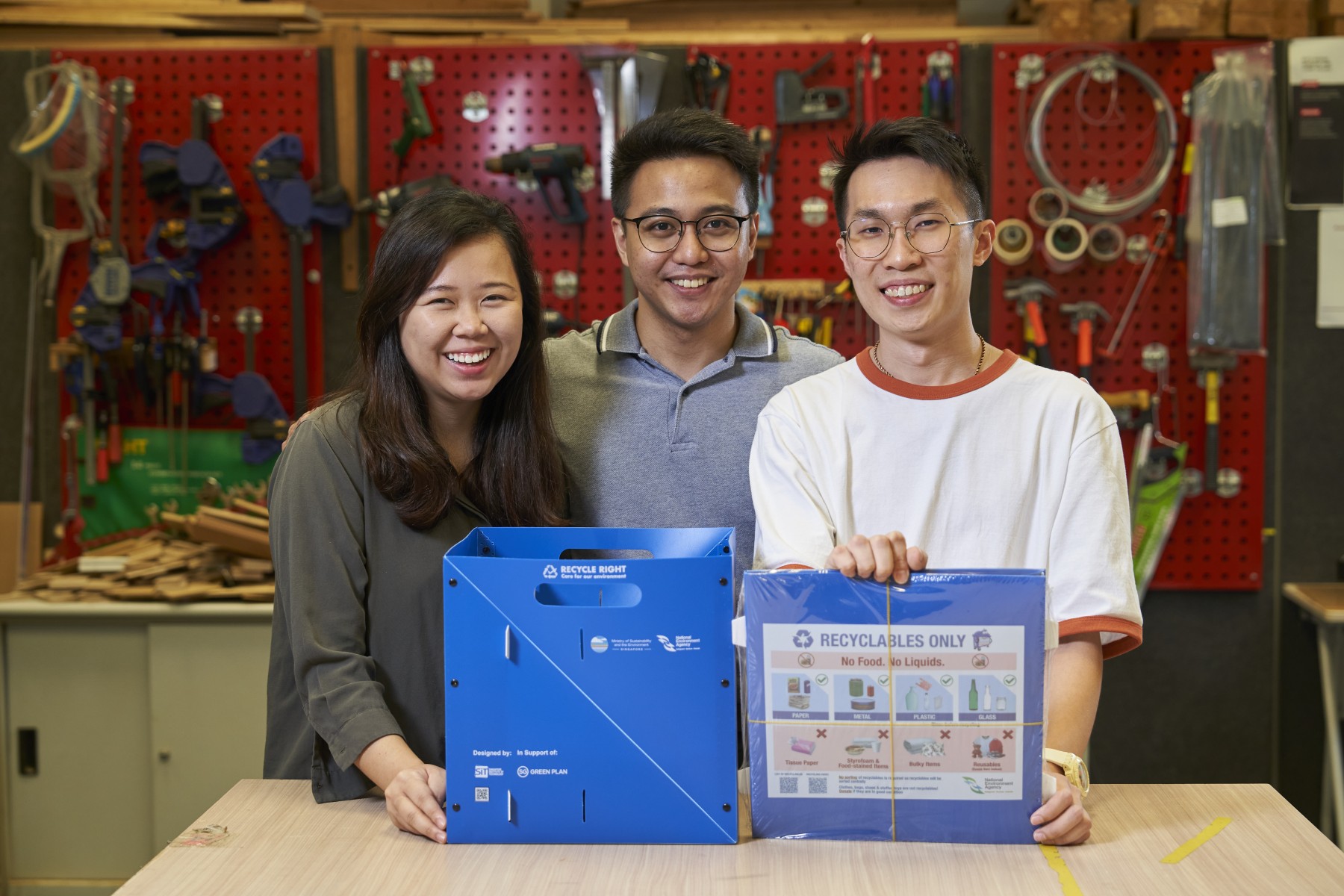 (From left) Sherry, Ralph and Axal hope that the Bloobox initiative will encourage individuals to recycle more and recycle right. (SIT Photo: Keng Photography/Tan Eng Keng)
An Interdisciplinary Effort
While the student team did the heavy lifting, they were aided along the journey by mentors from SIT's Community Leadership And Social Innovation Centre (CLASIC) and InnoHub. Through these set-ups, they connected with multidisciplinary experts at the Rapid Product Innovation and Development (RaPID) Centre and the university's maker space, who were instrumental in the prototyping and product development process.
"We built and created many complex designs, but as one of our mentors, Senior Professional Officer Mr Kwong Kwok Kuen imparted, the simplest design will always be the most desired. This is the case for Bloobox, which embodies all that a recycling receptacle should be," reflected Ralph.
"Our students have a lot of ideas but did not know how their designs could be mass produced. With the mentorship of SIT's Professional Officers, the students learnt to innovate and design a prototype that could be mass produced," said Associate Professor Ivan Lee, Vice President (Innovation), SIT.
Through tight collaboration, the SITizens and their mentors put together a product that impressed their 'clients' at NEA.
"NEA is impressed with the SIT Professional Officers' and students' creativity and professionalism in the creation of Bloobox, from the prototype stage to the development of manufacturing specifications. They have provided NEA with valuable technical knowledge leading to the production of Bloobox. The students are also very passionate about sustainability and recycling, thereby putting their hearts and souls into designing a Bloobox that is suitable for household recycling. We hope that this initiative will encourage households to set up a recycling corner at home and start the habit of recycling at home," shared Ms Jane Wong, Deputy Principal Engineer (Sustainability Strategy-Public Sector and Households), NEA.
Recycling as a Way of Life
Despite its challenges, the meaningful intent of the Bloobox project gave both students and staff the motivation to push on. Now seeing the receptacle available to all residents, the fruit of their labour tastes extra sweet.
Professor Yaacob Ibrahim, Director, CLASIC, said, "Recycling, as a way of life, requires concerted efforts and for many partners to create a conducive ecosystem. I am glad that we are able to contribute to this ecosystem with a design for a recycling receptacle that is affordable and easy to use. It is in our collective interest to see our national recycling rates increase over time. We hope that the contribution will make some difference in this journey."
Axal concurred, "It has been a meaningful and exciting journey for us to be working on such a big project for the past year. It's thrilling that the Bloobox has been launched and is part of someone's home."
The Bloobox is available for collection until 30 April 2023. Click here to find your nearest collection point.
*The programme has been renamed Bachelor of Engineering with Honours in Engineering Systems from Academic Year 2023.